Mental Health - and Poverty - in Crown Point.
Ignore the Obvious...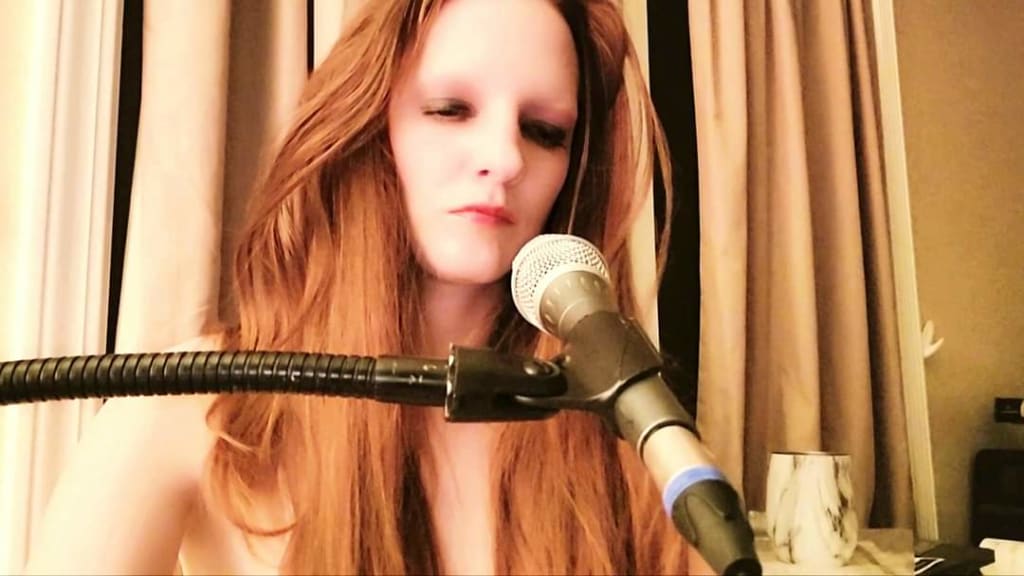 "Never Forget the Roads You've Walked..."
The plastic handles of the dark garbage bag full of "Hand-Me-Down "Panic-Clothes" slung taught behind my shoulders. Twisting and digging into the knots that regularly torment me, as my palms grew sweaty from the heat... walking to the local Goodwill here in Crown Point, Indiana, one recent summer day.
I was heading EAST on 93rd Avenue, where I so DEVIOUSLY crossed the road... to find some shade. Natural red-head's burn easy, and the logic of SUNSCREEN was lost on me... probably somewhere in the PANIC DONATION BAG!
My southern roots weren't bothered by the sun blazing down on me and the cornfield that had grown taller than me, but there were trees and sidewalks across the street, where I stumbled 'cross paths with an older black gentleman. He was waiting for the bus, after his shift at the Goodwill.
He didn't know I had just dropped off a load of clothes at the local community clothing depository located in the Dollar General parking lot. It's near the CVS, Luke Gas Station, Goodwill Store, and Wise Guy's Liquor Store. [Google Maps].
I asked him how we was doing, not really noticing the chapel stoop he was sitting upon. Again, race, age and gender isn't the issue here. People from this part of Crown Point come from all sorts of different backgrounds, and have plenty of houses of worship to choose from. This is actually about a young, mentally-ill, young woman WALKING those roads. Alone.
He told me he was doing well! Just waiting for the bus! He didn't know who I was, but we CONNECTED. It was a pleasant exchange without the dog - given the cars and motorcycles and other vehicles on the busy road. He didn't know I had brought with me an older cat here - and am trying to feed her, a dog, myself and an older sibling who served. He didn't know that I was simply trying to be mindful of my neighbors.
Litter boxes can smell!
Some people don't know that Toxoplasmosis is in infection caused by a parasite commonly found in cat feces (Toxoplasma gondii). [CDC.gov]. [Google.com]. It can be spread to pregnant women and immunocompromised individuals. [CDC.gov]. It is commonly found in cat feces. [CDC.gov. Google.com. Microbiology 101. 08.29.21].
My bark is worse than my bite. Way worse...
Thankfully, I'm pretty gentle, like my old cat and battle buddy, Nitty. I've been blessed enough to donate a little bit of my goodies all around Crown Point, IN. 46307 - a Lake County Region. And back home - to where I was born, in Illinois, Chicago Heights, 60411. I've learned a thing or two along the way. I give it to them with some of that Chicago South-Side Style.
The last time I drove through the Goodwill donation drop off center, I was told they needed food. "Damn, I thought,". "I already donated a bunch of clothing in a panic - won't do that again...". What can I do now, to give my older brother some respite and space on our shared schedule? What can I do for the world?
Get a job! My father says. He's a pretty wise old guy, too, but he needs to get a clue sometimes. He forgets who worked on his car, who put all that time and effort into fixing it up for him.
I'm not trying to be the leader of anyone or anything. I'm just a simple girl, trying to get by, with an old cat, who HAS been blessed to see A LOT of GOOD in this world - and gutted it out through the BAD with the help of friends, family and the community. She's NOT the best traveling kitty - but she's getting much better. It IS hot outside. But I made it to the local vet, again, with the help of friends, family, and the community - to Coyne Veterinarian College - just off route 53-Broadway Ave. [Google Maps.]
She got a fantastic exam by a young veterinarian and wonderful team there! I was grateful for the referral from the Crown Point Pet Supplies Plus store, located off East Summit Street. [Google Maps].
Do you know what the best news is? Her younger, Caribbean canine sister, Roxy, is doing well, too! She got her rabies vaccination and a home-schooled bath! Nitty got a standard exam! And my older sibling - who DOES have a summer cold - tested negative for COVID-19! We both got our vaccines here - and if I tested negative by now, I'm pretty sure I would've known!
People are taking my temperature all the time - I have no symptoms of COVID-19! So with that being said, I think I'll go wipe down my kitchen, and take the dog for a walk. I DO got church service today, early. I've been trying to work on my piano, let my older sibling rest, and manage a household.
Looking forward to a REAL JOB - wherever THAT may be...
goals
Hello readers! While my biggest passion is for music, I've been writing, drawing, and creating since I could crawl. I hope my stories inspire hope, courage, strength, tenacity, humility and laughter in my readers. Join me on this journey!
Receive stories by Unlisted&Twisted! in

your feed