"It's a great feeling when you're alone with the mountains." A famous Saudi photographer dies among the Al-Soudah Mountains
The Saudi photographer, Hani Al-Zahrani, passed away in the place he loved and who had always climbed to its peaks in the bosom of nature, which he immortalized in his photographs and eventually went to.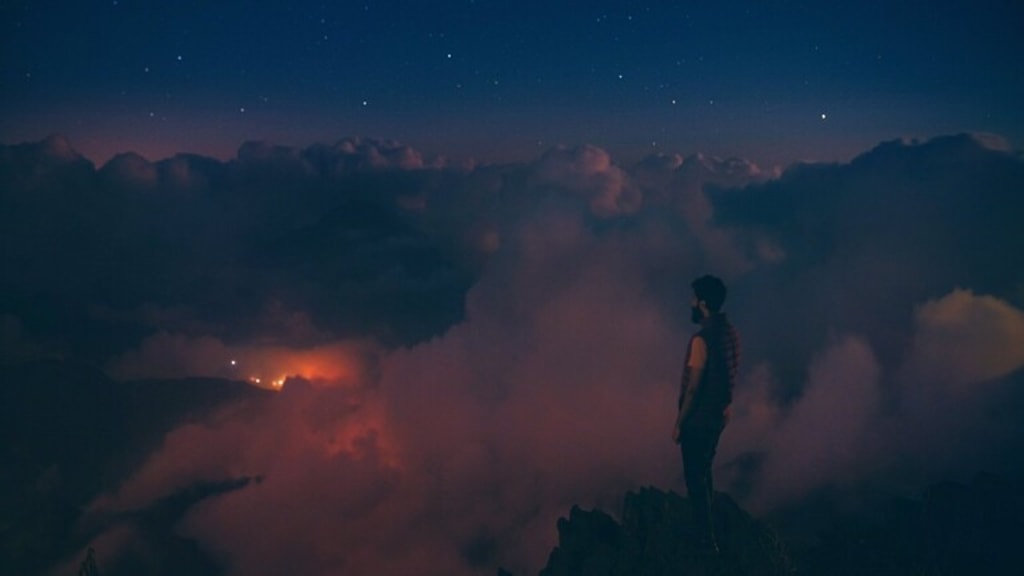 The photographer, Al-Zahrani, passed away after falling from the top of the Al-Souda Mountains in Abha during a filming mission, amidst the shock of his fans, leaving a good impression on them, because he is considered one of the distinguished photographers in his field.
And he had said in one of his tweets, which he attached with his distinctive photos: "It is a great feeling when you are alone in the place with the mountains in the early morning hours." He also said in another video tweet: "Wherever you go, it becomes a part of you in one way or another so I chose to go." to nature."
Many pages and accounts of social networking sites were buzzing with talk about the death of Al-Zahrani, who hails from the village of Al-Nasba in Al-Baha region, and he was the director of the photography department in the Makkah electronic newspaper in the Eastern Province, and he also worked as a photographer in the Saudi Al-Ittihad Club. Source: Saudi media
A study reveals two of the less known symptoms of pancreatic cancer!
Pancreatic cancer is often called the "silent killer" because symptoms are not always present or they can be difficult to detect.
Pancreatic cancer may not be as common as breast, lung, prostate and bowel cancer, but knowing the symptoms of the disease is very important. This is because it does not usually cause symptoms in the early stages, and it cannot occur until the cancer has grown. According to Cancer Research UK, cancer has one of the lowest 10-year survival rates, with only five per cent of people living for more than a decade after diagnosis.
The researchers identified symptoms to look for to help doctors better diagnose the disease: yellowing of the skin (jaundice) and bleeding in the stomach or intestines. These were seen as the two most serious symptoms associated with the disease.
The researchers also found two lesser known warning signs of pancreatic cancer - increased thirst and dark yellow urine.
These symptoms were identified in a study published last year.
Dr Weichi Liao, a data scientist at the University of Oxford, said: 'When pancreatic cancer is diagnosed early, patients have a greater chance of survival. It is possible for patients to be diagnosed when they visit their GP, but both patients and GPs need to be aware. symptoms associated with pancreatic cancer.
Dr Pippa Corey, Head of the Pancreas Workstream in the NCRI Upper Gastrointestinal Group and Consultant Medical Oncologist at Addenbrooke's Hospital in Cambridge, UK, added: "Recognizing early symptoms of pancreatic cancer is critical if we are to diagnose patients early and improve survival from the disease. "Pancreatic cancer. This research can help doctors and their patients learn more about the signs of pancreatic cancer. It is important that people talk to their GP if they notice these symptoms."
The NHS lists the main symptoms of pancreatic cancer as follows:
The whites of your eyes or skin turn yellow (jaundice). You may also have itchy skin, darker urine, and paler stools than usual.
Loss of appetite or losing weight without trying.
Feeling tired or lack of energy.
- High fever, feeling hot or shivering.
Other symptoms can also affect a person's digestion:
Feeling sick.
Diarrhea, constipation, or other changes in your stools.
Pain in your upper abdomen and back, which may get worse when eating or lying down and better when you bend forward.
Symptoms of indigestion, such as feeling bloated.
The NHS advises: "If you have another condition such as irritable bowel syndrome, you may have symptoms like these regularly. You may find that you get used to them. But it is important to be seen by a GP if your symptoms change, get worse or do not feel normal."
Source: Express
A Russian doctor for internal diseases warns against eating harmful foods that "kill" the heart
The Russian doctor, Pavel Raminsky, advised to refrain from eating salty and fatty foods in order to maintain heart health, and the doctor warned of the most harmful foodstuffs, such as those that "kill" the heart.
Internist Pavel Raminsky listed the most dangerous foods and bad habits that "kill" the heart. He said that too much fatty and salty food is harmful, and smoking and a sedentary lifestyle are harmful to him.
He added that lack of physical activity significantly increases the risk of cardiovascular disease. Moreover, a sedentary lifestyle causes high blood pressure.
In an interview with the Russian NEWS.ru agency, he said that fatty foods raise blood cholesterol levels. As for salt, it raises blood pressure and disturbs the work of the heart.
He pointed out, saying: "If a person abuses alcohol and drinks coffee a lot, the kidneys may not be able to bear this pressure, which is responsible for purifying the blood from toxins and waste, as well as maintaining the balance of minerals and water in the body. Excessive pressure on this important organ is not permissible. Otherwise, problems related to blood pressure may begin.
According to the World Health Organization, more than 17.5 million people die each year from cardiovascular disease. Source: Komsomolskaya Pravda
He thought that his foot was the cause of the bad smell A Chinese tourist finds himself sleeping with a corpse under his bed in a hotel!
A guest at a hotel in Tibet thought the stench in his room was coming from his feet, but hours later he discovered it was caused by a dead body under his bed.
The BBC reported that Zhang, a Chinese tourist, was staying at the Guzang Shuhua Inn Hotel, and checked into the hotel on April 21.
According to the report, the tourist noticed a strange smell in his room, and reported it to the hotel staff, who assured him that the smell came from a bakery on the ground floor.
Zhang took a three-hour nap in the room, thinking the stench came from his feet.
Zhang said that he left the room for dinner, and once he returned, the smell became "unbearable" so he asked for another room.
Later that night, he was woken up by the hotel staff and asked to go to his first room where the police told him that they had found a dead body under the bed.
Investigators took his statement and collected a DNA sample, but told him not to worry because they had already arrested a person on a Lanzhou-bound train in connection with the case.
Zhang told local media that he decided to talk about the incident because the hotel denied the whole thing at first.
He also decided to post a review of his harrowing experience on the Chinese social network Weibo, and the story subsequently spread widely on other social media.
"I am very scared and still struggle to sleep," he said during an interview with Shangyou News on Sunday.
The arrested suspect was in possession of the victim's identity card, surnamed Wang, as well as his mobile phone and bank cards.
The body was said to belong to a woman who was killed elsewhere and that the suspect had taken her remains to her hotel room. The exact date of death of the victim is unknown.
The hotel staff initially denied the incident, however, Zhang posted information about his booking, as well as the police statement, on the Chinese hotel review website. The man tried to claim compensation from the hotel for the interruption of his flight and the trauma he was subjected to as a result of the situation. Source: New York Post
Reader insights
Be the first to share your insights about this piece.
Add your insights