Digital Love
Can We Fall in Love With a Voice?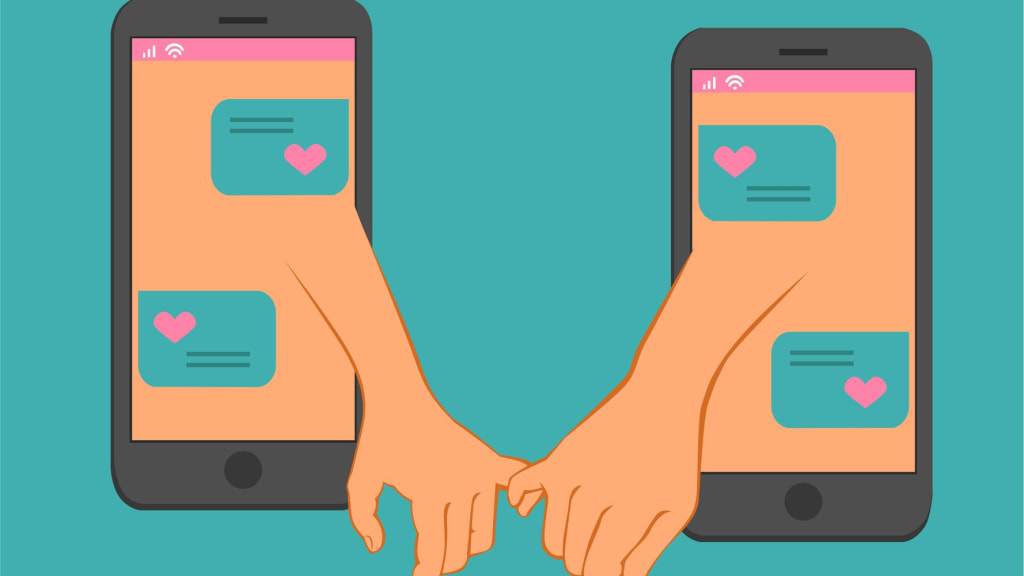 What can I say about love on the internet? It's a combination of excitement, thrill, and the mystery of the closeness of somebody's body next to you. The imagination, if you will. We rely on the internet for research, communications, and entertainment. The biggest thing is the entertainment. We are so entertained by TikTok, Instagram, snapchat, and Facebook that we can't help but check it every single day. I check mines 4 or 5 times a day. Once you hear the notification sound of a text or a ring of a FaceTime call then there is a jump for joy. There is a huge jump for joy when the one you are infatuated with calls. You put their name on a caller ID with a kissing emoji or a simple heart emoji. When talking for a long amount of time then it turns into a 'honey' or a 'babe'. We crave the attention online when it comes to meeting someone long distance. I am not talking about 1 or 2 hours away. I am talking about 2 or 3 days away. Someone who is in the UK that wooed you over a simple English accent and a promise that you will have the world when you are in their hands. Someone who lives in an Arabian country who promise a sensual Arabian night. This is online dating which can end badly or can be successful depending on if you tread carefully or not. Online dating is a sticky situation; emotionally, you are longing for that person. If certain, in reality they may show up on your front step with a one single handed red rose showing you the world they promised you. If you don't tread carefully then it will end up being a 50-year-old bald man who still lives with his mother in Kentucky with a beer belly. SO, TREAD CAREFULLY GIRLS!
The term catfish was non existent in the olden days. I am talking about when our parents were teens and bopping to the 60's through 80's music. They never had to deal with someone who wasn't real because their idea of meeting someone on a first date was face to face. They never had to deal with the technology era where a text was a way of communicating. Nowadays, it is all about dating apps, broadcasting apps, and the famous TikTok videos which make people 'instafamous'. You have to be careful with online dating because of catfishes. Catfish is defined as to 'lure (someone) into a relationship by means of a fictional online persona'. It is so hard these days to date in person, especially when someone is insecure of their body, mind, and soul. The thing is, they are also hurting their heart when getting lured into a false relationship. Talking to the person on the phone doesn't mean anything when you don't have them close by. Words can be expressed in many ways; the biggest way is manipulation. When a person tells you that you can have everything in the world and that you are the only person in the world, they see growing old with, but you only hear their voice? It should make you think that you can't grow old with only a voice. Some catfishes give the victim false hope that they will soon be together and absolutely nothing can get in the way of that. Catfishes also tell their victims that they will soon facetime. If you keep making promises catfishes, then why break them? If you can't even keep a promise like facetiming that person then why make a bigger promise of seeing them in person? These are all the things' people need to think about, especially the ladies out there.
We all know women have their insecurities, that is why most women get lured in more than men do. It is sad, yes, but it is reality. Most women don't survive heartbreaks. Pace yourself when dealing with heartbreak, it is okay to experience and feel it. People tend to replace that person who broke their hearts and think it is the way to mend their hearts. It is not the best way to go. Being alone is good temporarily. Just be alone and breathe; a new breath of fresh air is a good way to deal with things. There are some people who can't be alone and need company 24/7, but does that mean they have to put themselves in another relationship? No. There is someone who cares about and understands you out there that doesn't need a commitment. For example, family members and friends. Remember? The ones who got pushed away for this toxic long-distance relationship? Let them back in because they were the ones who cared and loved you for the way you were before this relationship. They will help you love yourself again or love yourself even more than before. They knew your worth. They knew your light. They knew your strength. They knew your love for the world. They are the only ones to bring you out of the darkness. Lean on them if they are willing to let you lean on them. Getting out of a long-distance relationship is hard because there is so much effort put into it. Truthfully, it was nonexistent if that person can't even hold your hand, put their arms over you to protect you, give you that kiss and hug when you need it.
For your own good, love carefully. For your own good, protect your heart. For your own good, save your energy for yourself. Honestly, I am not perfect and I have a lot of self-loving to do myself. I am not completely recovered from my last heartbreak, but I realized I am better than the person who broke me. The energy that you put forth in the person will make you think and regret it all. They are not worth it and they never were. I honestly had to realize how pathetic someone is when they beg for my energy. Ladies, they always come back so no need to chase a guy who wasn't even with it.
About the Creator
Hello my name is Nikki. I have two blog sites; one is my poetry blog site and the other is my news media blog site. My dreams is to be a journalist.
Youtube Channel:
https://www.youtube.com/channel/UC4YQ85bW9UJmV6XbHHeKkTA
Reader insights
Be the first to share your insights about this piece.
Add your insights