A Lonely Path
A path I took to get to know me.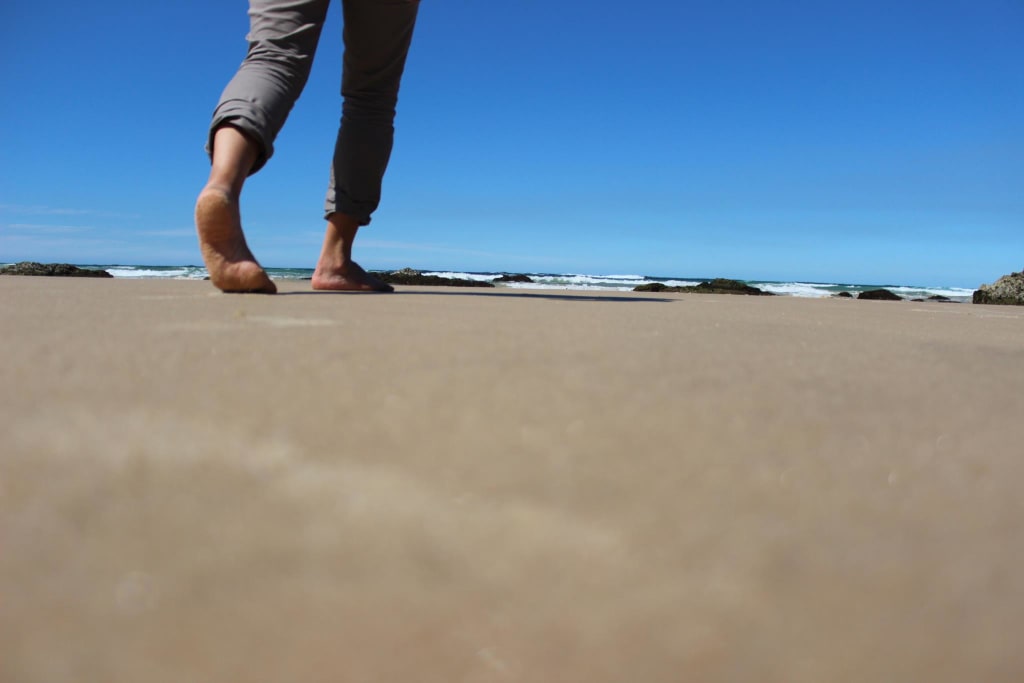 The only company one foot has, is its other half.
Healing for me has been a long and continuous journey that I will probably never stop doing until I die. It is because I am a human and in human nature there is always room to grow, develop and mature. Nobody is perfect and it is in the imperfection that one can heal. That one can find the beauty and strength in healing.
In my journey of healing I have overcome many trials in my life. They are personal to me, which is what is beautiful and unique about being human- we all have a story and within the story we all get our unique lessons to learn and grow from.
My first obstacle in life is to find out what the heck am I doing here?
Seriously, this question always comes up for me. I remember being in my bedroom when I was eleven or so and watching my sister come in to talk to my other sister, just like a stage play. I watched her talk and she left the room as if her line had been said and her presence was no longer required like a character being directed. The scene was incredibly ordinary but I remember thinking, everyone is an actor just playing a role.
I played a role and I didn't know my authentic voice until I left my immediate family, I left the nest to find my place in the world. Although it is a lonely path to take, I needed to do it so I could find a truer sense of who I was. I sought out people who were different from the rest, the misfits, the ones that looked like they had a hard time finding their place in a rigid societal structure. They helped me to find my voice because probably in a spiritual way, my spirit was letting me know that these people that I was attracted to, they have also chosen to walk the solitary path.
Robert Frost in his poem: The Road Not Taken puts it like this:
"Two roads diverged in a wood, and I-

I took the one less traveled by,

And that has made all the difference."
A Friend to walk with
The companion I have held the longest since I was 7 years old is my best friend and probably the person I talk to after my partner if something is troubling me. She is my mirror and she and I have a very different way of expressing ourselves but we understand each other's language and intention behind what we say. She is a doctor, a misfit, a bit eccentric, youngest of 7 siblings, ADHD might be undiagnosed in her family, she lost her eldest brother to cancer and I just know that a person like this is meant to be unique. She wouldn't stand out in a crowd because she would hate the attention. Yet, she has the capacity to help people with her wisdom and trustworthiness, but her social awkwardness gets in the way of revealing her authentic voice. She has the greatest empathy and generosity of anyone I know, yet she struggles existentially just like me.
We both have anxiety and according to the philosopher Soren Kierkegaard:
"Anxiety is the dizziness of freedom."
This rings true to me. Anxiety to me has a spinning quality inducing a state of dizziness with reality. It is a shake up of my body and mind, perhaps in a way to re-calibrate myself and prepare myself for an adventure where I need all the knowledge and resources I need, and what better way to get these then by getting life lessons and learning and growing. Then the anxiety eases and I find I hold enough strength to move on freely; within a state of freedom.
A Method Which Helped Me
"Life can only be understood backwards; but it must be lived forwards."
Again wrote Soren Kierkegaard
I physically move ahead with a vision in mind and only think of the past, so that I learn from my mistakes and move ahead by honoring the past, without dwelling in it. It just had to happen that way so I could learn and understand what happened and why.
That is the study of history. Learning from the story, often a tragedy, see the beautiful lie inside it and then things appear differently.
The Lone Wolf
A Lone Wolf-A metaphor for one that walks the path alone.
The lone wolves of society are misfits of society. They do not fit in well, probably because the systems and institutions are not designed for people like them. Society can be too rigid and imposing. Too disconnected and separate from what humans really want. Which is to feel connected, safe and supported. Humanity hasn't reached that yet, but maybe one day. Look at how the Golden Ages in different eras achieved greatness, leaps in thought and science and created revolutions.
Here is a poem by Filza Chaudhry. The perfect poem to get my perspective across. Her profile is here
Thank you! Have a great day! Peace!
healing
About the author
Love words and their origin. Like poetry. Rumi is my favorite.
Thank you for stopping by.
Facebook: Alfiya Re Lax
Reader insights
Nice work
Very well written. Keep up the good work!
Top insight
Heartfelt and relatable

The story invoked strong personal emotions
Add your insights