Successful Weddings During a Pandemic
This is a crazy time for brides and vendors, here's some ideas from personal experience on how to have a good celebration with limitations on what you can do.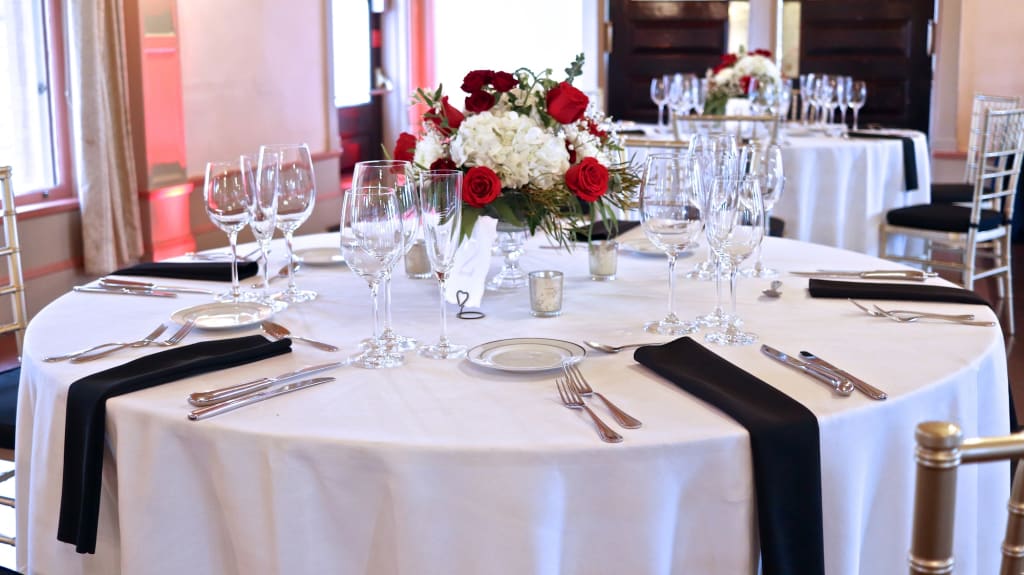 Table at Tom & Andrea's Wedding 10/25/20
COVID-19 has affected every industry but perhaps one of the most disrupted is the wedding industry. As a wedding DJ, I was deeply affected by this, but I did still was able to do 2 weddings this in 2020 and I believe there is a lot to be said about the success of those weddings.
Good Entertainment = Good Wedding
As I have said many times before on Vocal, cheap wedding DJ's suck, if your having a COVID wedding, I believe it is more important than ever to have a good DJ, which might mean speanding a bit more. Here's why... cheap DJ's are less experienced, and have less knowledge of games and other forms of entertainment, this will be clearly important in the next paragraph. Also a more experienced DJ will know to use disposable microphone covers for guests, which is crucial to safety during these times.
Dancing Is Fun, But Games Are Too
Most couples hate the idea of having games on their wedding day, I would assume because they have a memory at some point in their life, of a cheesy DJ playing cheesy games. Generally even I prefer to focus on dancing, and in many areas dancing was prohibited. For the wedding pictured above I adapted many common games and a layout for timing with special dances and toasts, to make things more fun without being able to have dancing.
If you are feeling stuck and want some games for your wedding, shoot me an email at [email protected], I would be happy to send some over. Here's the review that the groom for that wedding wrote for me, in case you doubted that the wedding was fun:
"Not only was he an outstanding DJ that was willing to work with us during these unprecedented times in 2020, creating custom games and activities for our guests during dinner but he was also the glue that held together all of our other vendors." -Tom M.
Good games are important to any wedding, I personally prefer to do funny games because, when done right, they are funny, not cheesy. Many of the games I play make jokes, but rarely at people. In one instance, I have couples dance til' we find the longest married, then I ask them to give their marriage advice to the bride and groom, its often a funny remark and gets people laughing, and it's a guest making the remark, not the DJ, which helps to keep it from being cheesy.
It's also important that you ask a good set of questions when hiring a wedding DJ, I wrote an article "11 Questions To Ask A Wedding DJ (or Vendor)" which you see here. I would aslo checkout my widely popular story "2 Top Wedding Fears and How to Avoid Them Happening to You".
I plan to write a new version of this specifically for booking vendors during this unprecedented time. If it were my choice, this story would end here, but Vocal says I need to make it longer... So for the brides and grooms that are still reading at this point, I pose a question: What are you looking for on wedding DJ/vendors website?
The reason I ask is I have a beautifully designed website that is easy to navigate, loads fast enough for most, and has detailled information about my services, pictures, videos, and even FAQ's, but out of 25 visitors a week, I get about one email/call per month from the site. I am sure its primarily acovid thing, since site traffic is down and I'm sure that 15 of every 25 visitors is a bot or a human trying to sell me something, but for the real ones... Why aren't they contacting me. To those still reading go to my website here: djalexbrown.com/wedding-dj/ and let me know if you thing something should be changed, added, or taken off!
To end this article off, I have to obviously give you a subtle plug of my business:
DJ Alex Brown, RI Wedding and Event DJ
alex @djalexbrown.com
401-248-4224
ceremony and reception
I wear many hats; here's a few you should know about:
Business Owner, Business Administration Degree (Student), and YouTuber.