The 10 Best Exercise Bikes
There are plenty of people that enjoy working out but don't like the gym—those people would do well purchasing any of the best exercise bikes.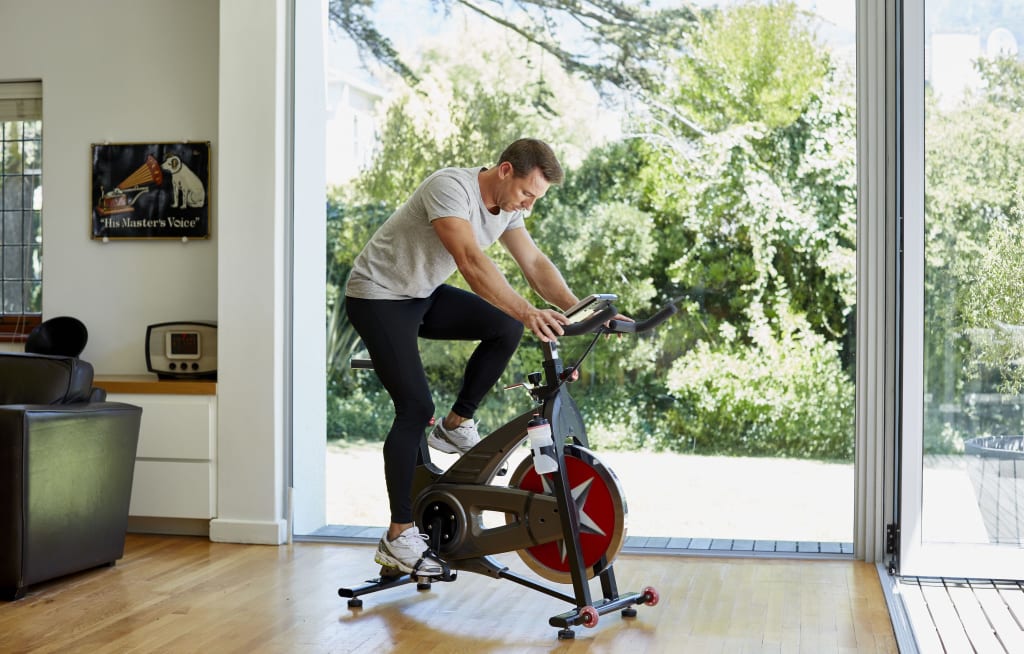 If you've ever seen me in person, you'd realize that I'm NOT a huge fitness buff. I have chicken arms, a beer gut, and I think my mile time is somewhere around 15 minutes. While I've, admittedly, slacked off the past couple of years, that doesn't make me anti-exercise. In fact, it's quite the opposite—I'm looking to get back to my prime in a big way.
The reason I'm so out of shape isn't necessarily because I'm lazy—again, it's the antithesis. I work close to 60 hours a week, in addition to the variety of new responsibilities I have as a young adult. Adulting is far from a mundane task, so in between my long work hours, I'm either grabbing some sort of greasy fast food (since I hate cooking), going out for happy hour with coworkers, or running around doing errands. Couple all of this with the fact that I don't have much time to go to the gym, and it's not hard to see why I'm in the worst shape of my life. However, I'm not going to let all of that stop me from getting healthy again.
One thing I have looked into are stationary bikes. The way I look at it, I don't need to focus as much on lifting in my older years—whether it be high reps or high weight—but working on cardio is an absolute must. I need to shed about 20 pounds MINIMUM, so getting something like an at-home exercise bike should be the perfect solution. However, I never realized just how many stationary bikes are out there. Like, hundreds, if not thousands.
So, in a concerted effort to find the right one for me, I want to look at some of the best exercise bikes on the market today. I think at least writing about it—while simultaneously going over the pros and cons of each machine—will help me finally pull the trigger on getting back in shape.
But, I've been wrong before. Not to mention fat...
We'll kick this list off with one of the more pricey bikes I've looked at—the Nautilus U618 Upright Bike. Originally around $1,200, it's currently going for around $700 on Amazon, which is kind of a steal. What makes this a cut above the competition is how adjustable it is, in both form and function. The seat, handlebars, and console are all fully adjustable, and it comes complete with 29 different built-in exercise programs and 25 tiers of digital resistance. Also, if you're a pretty big data-fiend, the metrics are given to you on an easy-to-read screen in the front. This bike closely mirrors some of the ones you'll see at some upper-echelon gyms.
If you're in the market for something more cost-effective—not to mention less intrusive—then look into some of the other stationary bikes out there. This XTERRA Fitness Folding exercise bike is great if you don't have much room in your house, apartment, etc., and need to put the machine away after use. It's also just a hair above $100 (Currently listed at $129), so it's a relative steal in that regard. If I decide to opt for something cheaper, this is certainly a top option.
With all the added weight to my big fat gut, I've naturally had a few issues with my back. One way I've thought about coping with this is opting for a recumbent bike, which adds a little more stability for my back, while also letting me lean back as needed. This particular bike is a bit costly, but remains amongst the best exercise bikes I've come across. Complete with bluetooth connectivity, DualTrack LCD displays, 29 different programs (including a heart rate tracker), and 25 resistant speeds, this bike can give me a pretty intense workout from the comfort of my own home. And, with a brand like Schwinn—known for their real bicycles—I could only imagine how comfortable of a ride this will be.
NordicTrack is another big brand when it comes to fitness equipment, so I looked into this Gx 2.7 U exercise bike. By all accounts, this is a pretty standard stationary bike. While it doesn't have the frills, or even convenience, of some of the other bikes, it's a comfortable and reliable piece of equipment to say the least. With an auxiliary music port, auto breeze workout fan, and the fact that it's iFit compatible, it's also not like it's from the stone age. I'm not someone who absolutely requires having the latest in exercise tech, so I might end up going in the direction of something like this.
My ex constantly tried to get me to go to her spin classes, but I always refused emphatically. I hope she's reading this article now, so that she can see I'm now considering buying my own spin bike. Talk about (sort of) winning a breakup.
This pro indoor cycling bike is definitely more traditional than the rest of the stationary bikes I mentioned, but that doesn't mean it's not effective. This is the type of machine that you just put a pair of headphones on for, put your head down, and cycle until you want to puke. With fully adjustable seat and handlebars, a high quality crank, and smooth chain drive mechanism, this bike will definitely help me lose the pounds so, you know, I can finally get another girlfriend. But even that is far from a sure-thing...
This Indoor training cycle from ProGear is also of the "spin bikes" mold; albeit, with a few more bells and whistles. This bike comes complete with a four-way seat adjustment (up, down, left, and right), heart pulse sensors to ensure you stay within your targeted heart rate zone, easy dial tension adjustment, and more. I can't imagine the amount of calories burned on this thing when it's all said and done. Hopefully, it's enough to make me lose my beer belly...
Unfortunately, my apartment isn't very big, so I might have some trouble with some of the bigger models I mentioned. This Folding Magnetic Upright Bike with Pulse from Exerpeutic, however, is easily storable. One just has to simply fold it up, and roll it away; so even I can throw it in my tiny little shoe closet and call it a day. Despite its small size, it supports a weight capacity of up to 300 pounds. I don't weight quite that much, but I guess it's better to be safe than sorry.
Since I'm weighing my options here, I decided to look into another foldable, magnetic, upright bike; this time, courtesy of ProGear. This particular design comes with an adjustable eight-level magnetic tension control system, a super compatible and easy to read computer LCD display that depicts your heart rate and calories burned, along with distance, time, and speed. With all of the cool features on this bad boy, I have quite the difficult decision ahead of me...
As I already mentioned, I'm quite the busy bee. While I do work upwards of 60 hours a week, I do get to do a good portion of my work from home days (one of the main perks of technology, in my lazy opinion). For the days I am working from home, I think something like this Desk Exercise Bike from DeskCycle is the perfect way to get my workout in while I'm in a time crunch. All I have to do is slide this thing right under my desk, and I get the perks of a recumbent bike—all while sitting in my comfy office chair. The only caveat—I've also looked into some of the best exercise bikes with moving arms, so I'm not sure how I feel about the no-arm thing on this one. I feel like this particular model might be one I have to try before I buy, so to speak.
Staying on the theme of "exercising at my desk," I could also go with this exercise bike that actually doubles as a desk. It's sort of the opposite of the aforementioned piece of equipment, as it more closely resembles a regular exercise bike; but, by all accounts, it's a pretty sweet way to get your work done. And, it's pretty comfortable too, especially considering that both the bike itself and the desk portion are fully adjustable. This definitely looks like one of the best exercise bikes for me, but I still have yet to make an executive decision. Procrastination and indecision are definitely two of my lackluster qualities—especially when it comes to exercise. When it's all said and done, I don't plan on winning any life-changing bicycle races, but just getting into slightly better shape is a win in and of itself.

Brett Tortorello
I'm a middle aged man currently working as a Shift Supervisor at Bob's Furniture. I'm thinking about opening up my own restaurant some day, but my real passion is expressing myself through writing.
See all posts by Brett Tortorello →