Symptoms That Your Hemorrhoids Require Medical Attention
Rectal bleeding is a typical symptom of hemorrhoids, but it could indicate something more serious, like colon cancer.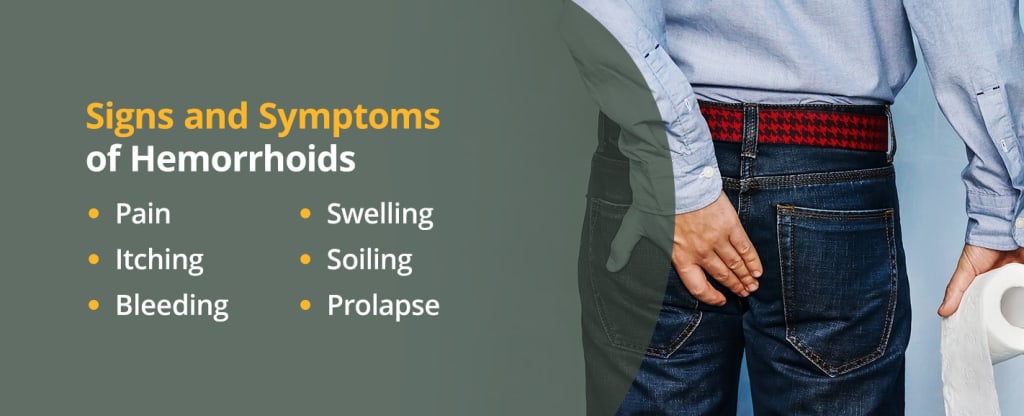 Rectal bleeding is a typical symptom of hemorrhoids, but it could indicate something more serious, like colon cancer.
People frequently make and hear jokes about hemorrhoids or piles, a medical ailment characterized by inflammation and swelling of the anal and rectum tissues. One out of every four persons is at risk of developing piles. If you're one of them or your friends or family members have heaps, you know they're not amusing.
Hemorrhoids are generally expected in the age category of 40-75, according to Dr. Dipesh Thacker, who conducts piles treatment in Bhuj. Most of the time, the symptoms are minor and can be treated with over-the-counter medications alone. However, there are situations when medical care is essential.
Although piles do not pose a life-threatening hazard, it is usually a good idea to get medical help as soon as possible. However, to receive the necessary treatment at the appropriate time, it is vital to recognize and understand the warning indications of hemorrhoids.
Symptoms that you should consult a doctor about your hemorrhoids include:
If you see rectal bleeding, there are a few things you should do.
Consult a proctologist if you notice a mass in your anus or if you have rectal bleeding or pain in the rectum. Rectal bleeding is a typical symptom of hemorrhoids, but it could indicate something more serious, like colon cancer. The distinction between rectum bleeding produced by piles and rectum bleeding caused by hemorrhoids is razor-thin. It is critical to consult with a doctor before deciding on the best course of action.
2. If you have constant pain from your hemorrhoids,
If your hemorrhoids are causing you persistent agony and discomfort, it's time to abandon the home treatments and seek medical help. In the early stages of piles, home treatments may help manage the pain and suffering. However, relying on those therapies alone will not work if the pain persists or worsens over time. It can cause the piles to worsen over time, putting your health at risk.
3. If the color of your stool is maroon or tarry,
This symptom indicates internal bleeding. It's possible that there aren't any blood drops on the tissue paper. However, if the color of your stool changes, becoming dark red, maroon, or tarry, you should see a proctologist. If you have dizziness or faintness due to this illness, you should seek emergency medical attention.
4. You've tried natural remedies, but your anal lump is becoming more prominent.
If the lump in your rectal area continues to expand in size after using home remedies, it is apparent that the cures are not effective enough to treat your hemorrhoids. In this instance, you should see an anorectal doctor or a piles expert as soon as possible.
Dr. Dipesh Thacker, Bhuj's outstanding piles specialist, claims that "If you lump your anus, rectum bleeding, or are having problems passing a bowel movement, you should see a doctor right away before the symptoms become serious. However, if your symptoms last longer than you expected, you should see a doctor."
He goes on to say, "It is critical to seek medical help. However, keeping track of your fiber intake and daily water consumption is equally important. So, in addition to the medical treatment recommended by the doctor, one should continue to take sitz baths, eat a fiber-rich diet, and visit the doctor regularly."
Treatments for Piles in Medicine
A proctologist may recommend a combination of surgical and nonsurgical treatment options for piles.
Treatments for piles that aren't surgical
1. Pharmaceuticals - If home remedies aren't working, your doctor may prescribe medications such as pain relievers, laxatives, ointments, and corticosteroids. These medications may help to reduce swelling in the anal area and make bowel movements more comfortable.
2. Coagulation is a nonsurgical method for treating tiny and medium-sized piles. The surgeon destroys the mounds with an infrared light beam. Only when home remedies fail to relieve internal hemorrhoids is this treatment employed.
3. Rubber-band ligation - This non-invasive procedure is widely used. The anorectal surgeon wraps a rubber band around the base of the internal piles in this operation to treat internal piles. Within 5-7 days, the rubber band cuts off blood circulation to the piles' tissues, causing them to shrink and fall.
If the hemorrhoids' condition worsens to the point where nonsurgical treatments are no longer effective, the doctor may decide that surgery is the best option. The following are some of the most effective surgical procedures for treating piles:
Surgical treatment for piles
1. Hemorrhoidectomy - This procedure removes the anal tissues that cause bleeding. This treatment is usually used to treat severe piles or piles with protruding anal tissues. The process can be done with either a general or local anesthetic. The surgeon makes a few incisions around the hemorrhoidal tissue during this surgery. The enlarged veins inside the hemorrhoids are then tied off to stop bleeding, and the hemorrhoid is subsequently removed. This is the most popular and well-known type of piles surgery.
2. Laser surgery - A relatively newer type of surgical treatment for piles is laser surgery. This hemorrhoid therapy results from continuous medical advancements; it is more advanced, safer, more successful than any other method available to date. The hemorrhoid tissues are cut off and shrunk with a laser beam in this process. The tiny, carefully focused beam of light disturbs and kills blood flow to the tissues. This procedure is non-invasive, results in no bleeding at the surgery site, and allows for a quick recovery.
According to a Bhuj-based piles doctor, the sooner the therapy begins, the better the results. It is not good to wait for symptoms to become so severe that a doctor visit is necessary. Everyone must realize that therapy and prevention cannot exist without the other.