Receiving a Fatty Liver Diagnosis As A Nutritionist
I thought I was doing everything right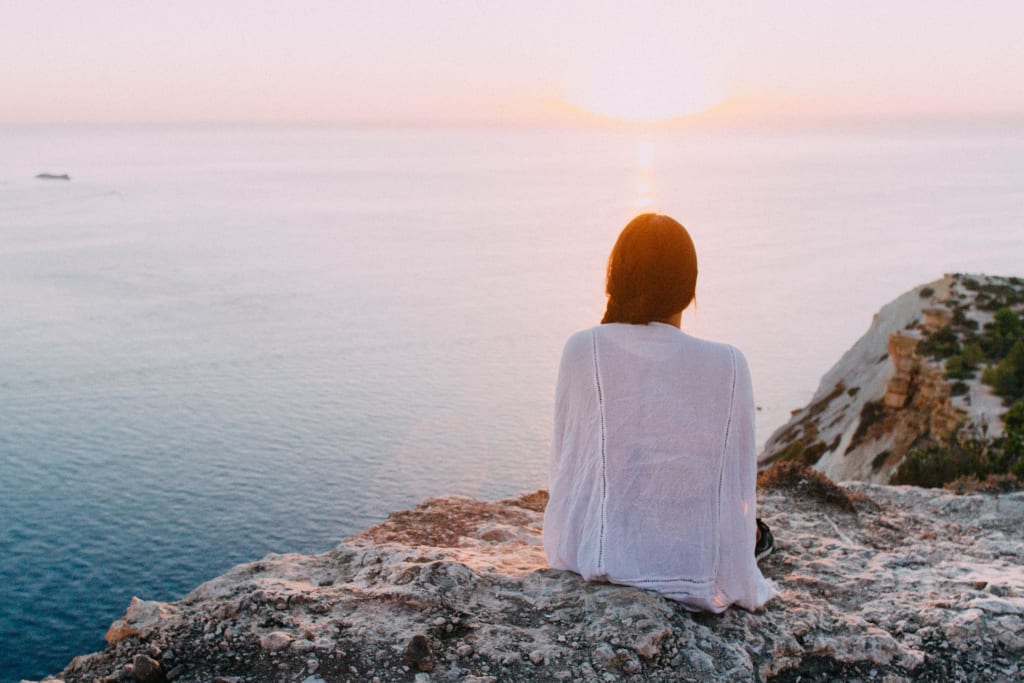 Photo by Riccardo from Pexels: https://www.pexels.com/photo/woman-sitting-on-gray-rock-near-body-of-water-185801/
Yesterday my doctor confirmed that I have "moderate fatty liver" (the non-alcoholic type). This all started from seeking help for extreme menstrual irregularities that have been happening off and on since I had a hormonal IUD for 6 months back in 2019. My hormones are a little low, but otherwise my bloodwork and pelvic ultrasound showed nothing of concern. But the liver ultrasound was a different story.
Throughout the last day I've been experiencing feelings of frustration, shame, embarrassment and confusion. I'm a nutritionist and I take my health seriously! I do all the things that I encourage others to do. I eat my vegetables, fruit and fibre daily, drink my water, limit my intake of alcohol, refined sugar and most meat products. I rarely eat fast food or ultra processed foods. I make time for self-care, I get outside when I can, make a point of exercising daily or near daily, and use as many natural products as possible.
I contemplated sharing this publicly, thinking to myself, "well if I can't even manage my own health properly, how will others trust me to help improve theirs?" But this just goes to show that no matter how much knowledge you have about health and how many things you do "right," no one is immune to health issues.
Every day I learn a little bit more about what works and what doesn't, what approach to take, how to take better care of myself, and how to best advise others when it comes to nutrition and holistic health habits. This is just a learning curve on my journey.
This quote about perfectionism by Brené Brown in her latest book, Atlas of the Heart: Mapping Meaningful Connection and the Language of Human Experience really resonated with me:
"It may seem counterintuitive, but one of the biggest barriers to working toward mastery is perfectionism. In our leadership research, we've learned that achieving mastery requires curiosity and viewing mistakes and failures as opportunities for learning. Perfectionism kills curiosity by telling us that we have to know everything or we risk looking 'less than.' Perfectionism tells us that our mistakes and failures are personal defects, so we either avoid trying new things or we barely recover every time we inevitably fall short."
Now I'm embarking on a mission to learn everything I can about liver health and the myriad ways that it's connected to the rest of the body, including especially female hormone health.
So far, I have learned through health professionals and my own research that non-alcoholic fatty liver (NAFLD) may be connected to polycystic ovarian syndrome (PCOS) and Celiac disease. For now, I have ruled out PCOS and am getting tested for Celiac next week.
I have also learned that in addition to (of course) good nutrition and adequate exercise, there are certain natural supplements that may help support the liver, such as milk thistle. Whereas environmental toxins such as heavy metals, mold, pesticides and chemicals in our home and hygiene products can contribute to the disease since, as my doctor said, "the liver is like a sponge."
If you've come this far, thank you for reading this. I will be sure to continue updating you along the way as I learn more and hopefully make progress in my liver health and my overall health.
For now, my general advice—to eat your dark leafy greens, other vegetables, complex carbs, healthy fats and protein, drink your water, manage your stress, and get quality sleep and regular exercise—still stands!
Disclaimer: I am not a doctor. I am a Certified Holistic Nutritionist with knowledge regarding nutrition's impact on overall health and wellbeing. The information in this article is intended to tell my own personal health story, and is not to be used or relied on for any diagnostic or treatment purposes. If you have concerns about your health, please consult a trusted healthcare expert.
health
About the author
Certified Holistic Nutritionist, recipe creator & wellness event host at wellandfree.ca | Also a wellness brand designer at erinracheldesigns.com
Reader insights
Be the first to share your insights about this piece.
Add your insights