Rebel With a Cause :  Why We Should All Take Notes from Rebel Wilson's "Year of Health"
"Be whatever size you want, just try to be the healthiest version of you."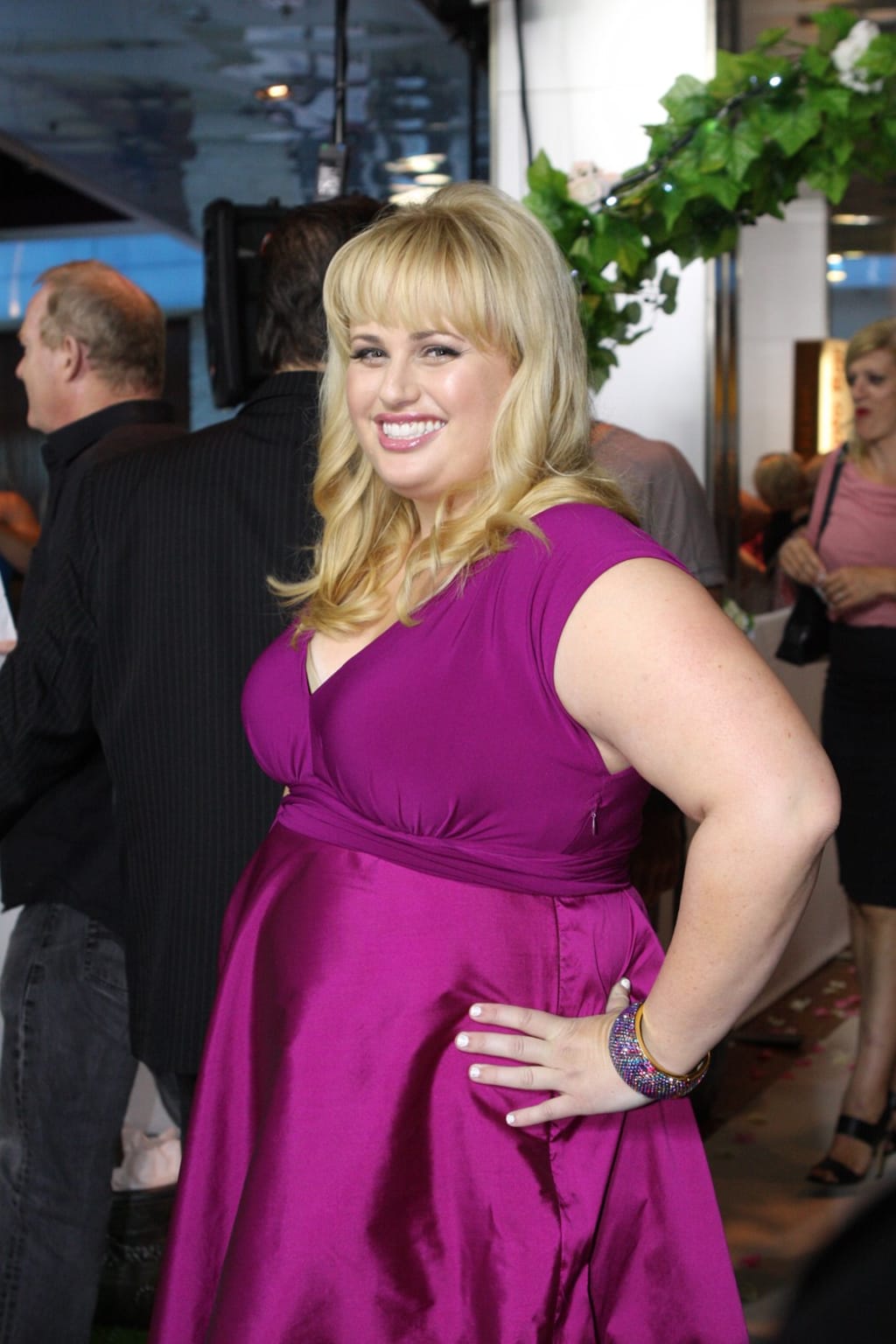 Image via Wikimedia Commons
In an interview with BBC World Service, popular Cats, Pitch Perfect and Bridesmaids actress Rebel Wilson says that she announced her "Year of Health" on Instagram for accountability. When asked why this was important to her, she says because she "wanted to make a lasting change" and hold herself accountable to this change.
She says that in the past when she has lost weight and then put it back on, she has received criticism for this weight cycling. Shocking! Not… we all know how being in the Hollywood spotlight goes. Bodies of women in the public eye are especially monitored and criticized for both minor and major changes.
"So is that what a woman has to do in the world, is just lose weight to get attention?"
Rebel had been working hard in her acting career pre-pandemic, and then during the pandemic she lost 80 pounds, laughing as she says "the attention that gets is way more than being in an academy award nominated film and producing my first movie."
The headlines were quick to press. Some of them include:
"Rebel Wilson looks red hot as she poses for sexy poolside and beach pictures"
"Rebel Wilson captivates fans in figure-flattering jumpsuit and metallic shoes"
"Rebel Wilson stuns in swimsuit showing 70-pound weight loss"
"Rebel Wilson has a Bond girl moment in an incredible curve-hugging swimsuit"
When asked how she feels about the headlines, she says she wonders to herself "so is that what a woman has to do in the world, is just lose weight to get attention?" Sadly, it seems this has been the case for quite some time, especially in Hollywood. But with more actresses like Rebel advocating for health regardless of size, things are slowly but surely beginning to change for the better.
For her, her year of health was never about attaining a certain number or size at all, rather being the healthiest version of herself.
Rebel scoffs at the twisted attention she has now been receiving in her smaller body, and says that for her, her year of health was never about attaining a certain number or size at all, rather being the healthiest version of herself.
With hopes to encourage others on their personal health journeys, Rebel's position is that health should always be the goal, and not to "fit some certain weird beauty standard" decided by society.
Worst of all, she says that she received negative reactions and pushback from her own team when she told them she wanted to transform her health. The response she received was "why would you want to do that?" since, as Rebel puts it, she was "earning millions of dollars being the funny fat girl" in films. From a business perspective, to her team, her health shouldn't be a priority because she was already successful as is.
On the topic of being the "funny fat girl," Rebel says that she felt confident in her former size and enjoyed rocking the red carpet in gowns that made her feel great, but size aside, she knew deep down that some of her eating behaviours—which she describes as emotional eating and using food to numb emotions—were not in the best interest of her health.
When looking at a photo of herself in a larger body, wearing a custom-made black leather bodysuit, she gushes over the photo, saying that she loves that girl and that she was living her best life. Personally, I aspire to be able to look back at photos of myself with nothing but admiration, no matter what size I was.
Some of the backlash Rebel has received has been the question of "will she not be funny now?" to which she responds, "well, check out my movies in a year."
The actress is aware of the influence she may have on other women and says while she has always been an advocate for loving yourself, she has never wanted to promote extremes in size or health. Her recommendation to others is to "be whatever size you want, just try to be the healthiest version of you."
Society as we know it today has a hard time separating health and weight, with the assumption that being in a larger body automatically means poorer health, while being in a smaller body automatically means better health, though this is certainly not always the case. While, yes, Rebel did lose a significant amount of weight during her year of health, this was never her goal, nor is it one that she encourages other people set. She suggests that the healthiest version of oneself varies person to person.
A big motivator behind Rebel's year of health was her journey with fertility. After being diagnosed in her early twenties with Polycystic Ovarian Syndrome (PCOS), Rebel says it made sense that she had gained a lot of weight. PCOS is a (sadly, common) condition amongst women in which the hormone androgen is produced in excess. Infertility is a complication of the condition, but chances can be improved through a healthier lifestyle.
Rebel says that she hadn't thought about kids until about her mid-thirties. Being a busy actress and former lawyer, she decided to freeze her eggs only to find out that the quality of the eggs weren't sufficient and that the process needed to be repeated. She describes her fertility journey as an emotional rollercoaster, and that she feels for any woman going through a similar journey.
So to summarize, Rebel has always been an advocate for loving yourself at any size, as well as health being possible at every size. Her motivation and goals when she began her year of health were to tackle her emotional eating behaviours and replace them with healthier behaviours, and to improve her chances of fertility. Weight loss happened to be a side effect of making the lifestyle changes that were required to improve her health.
As a Holistic Nutritionist and advocate of true guilt-free eating in the pursuit of health, I encourage my clients not to focus on weight loss as a goal. Instead I help them look at their lifestyle from a holistic lens, taking into account not only diet and meal planning, but stress, sleep, work/life balance, personal relationships, and exercise. Sometimes the journey can lead to weight loss, and sometimes it doesn't.
When our health and wellbeing is made a priority, our bodies are designed to arrive at a place in which they are comfortable and able to thrive. This also isn't static, and is likely to evolve as we move through different stages of life based on gender and genetics, in addition to lifestyle. Focusing on weight as a primary goal takes the focus away from much more important markers of good health, often leading to even more unhealthy behaviours such as food restriction, bingeing or over-exercising.
So to take inspiration from Rebel's year of health, I encourage you to focus on the following:
Remove the morality out of food and refrain from categorizing food as good or bad. This over time will help to remove the power that certain foods hold over you so you can find greater balance in your eating patterns.
Instead of focusing on removing foods from the diet, focus on adding in more fruits, vegetables and whole grains.
Incorporate regular exercise into your routine that feels good to you and is fun. Do set yourself up for success through scheduling it in and using an accountable buddy, and don't force it too hard or overdo it.
Work towards a bedtime routine that you look forward to and getting at least 7 hours of sleep per night.
Practice regular stress management and self-care activities that you enjoy such as taking a bath, reading a book, going for a walk, listening to music, calling a friend, singing and dancing, being creative, participating in hobbies, and so on.
Express yourself! Work on your communication skills by getting things off your chest in a kind and constructive way, instead of bottling things up and letting them fester.
Thanks for reading!
celebrities
About the author
Certified Holistic Nutritionist, recipe creator & wellness event host at wellandfree.ca | Also a wellness brand designer at erinracheldesigns.com
Reader insights
Be the first to share your insights about this piece.
Add your insights