Picture Perfect Home Pedicures
Putting your best foot forward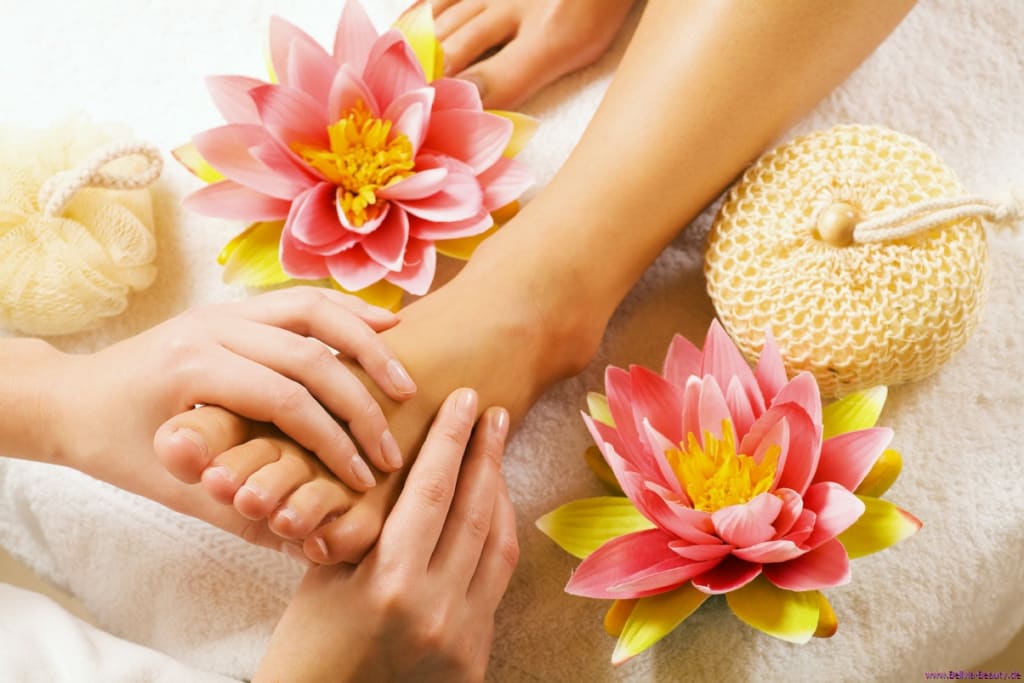 The seasons can be cruel to your feet. In winter, they're trussed up in boots and thick socks, never seeing the light of day. Then by the time winter's over, the idea of swapping those boots for a pair of sexy new peep-toes for summer can give you a case of cold feet.
Cracked heels, dry peeling skin, and unsightly toenails can quickly turn your look from hot to horrendous. It's time for a restorative pedicure.
The idea of the manicure and pedicure has been around for thousands of years, and if you care to step back as far as 3000 BC, you'll find that the ancient Babylonians and Chinese were fond of manicures and painting their nails in bright, vivacious hues. The Egyptians loved to focus on prettying their legs and feet with paint and various adornments.
The word pedicure itself comes from the Latin pedis (meaning "of the foot") and cura (meaning "care").
If you can't bring yourself to expose your feet in public just yet, even to the qualified staff at a nail salon, you can carry out your own pedicure in the comfort of your home, and restore your feet to their glorious best. With some simple, inexpensive equipment and a little time to relax, your feet will be fabulous in no time.
Here's what you'll need:
A pair of quality (not blunt) nail clippers
Emery boards and buffer
If your budget can accommodate it, invest in an electric foot spa, available from most department stores and chemists. If not, fill a tub with warm water to your ankles and cover the bottom with marbles to massage the soles of your feet (pure bliss!)
Epsom salts, body wash or liquid soap, eucalyptus oil and lavender oil
A foot file or pumice stone to remove dead skin
Cuticle tool and cuticle cream
A good quality foot scrub
Foot moisturiser
Nail polish to suit your mood
1. Start by trimming and shaping your toenails.
2. Fill your tub or foot spa with warm (not hot) water and add around a half cup of Epsom salts. This will help to ease the pain of swollen aching feet. Add some liquid soap and a dozen drops of eucalyptus oil to act as an antiseptic. The same amount of lavender oil in the water will have a calming effect, as you relax for around 15 minutes while your feet soak.
3. Once the skin is softened, you'll find it easy to remove rough, dead skin with your foot file or pumice stone. Add some cuticle cream and gently work it into the base of your toe nail with the cuticle tool.
4. Massage your feet with a foot scrub, including between your toes.
5. Apply a specific foot moisturiser to hydrate the skin and leave your feet feeling soft and supple. A good friend of mine simply smothers her feet in olive oil and dons a pair of cotton socks. Her feet look amazing.
6. Paint your toes in your favourite colour and step out in style.
If your heels are cracked particularly badly, bringing your feet back to life could take a little more patience. You'll need to buy a specific cream and slather it on after a foot soak or hot bath at night, cover with a pair of cotton socks and let the rejuvenating process begin. It could take a week or so if the damage is severe, but the effort will be well worth it when you step out in your favourite strappy sandals with the perfect pedicure.
And finally, it goes without saying that pedicures are not just for ladies. Offering to carry out a session of indulgent foot pampering is a great way to garner some easy brownie points with your significant other. Who knows, he or she might even reward you by footing the bill for your first pair of new season open-toed stilettos...