My Story: Diagnosis and Battle
The background of my diagnosis and ongoing fight to beat pancreatic cancer.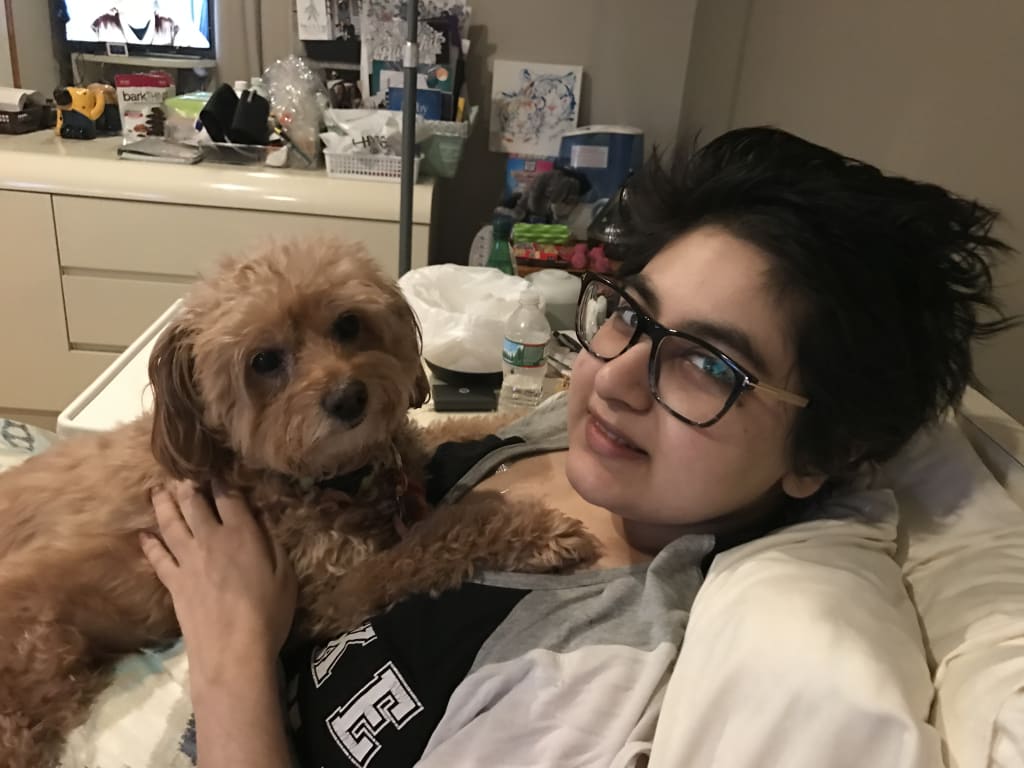 It was by pure chance that I went to the emergency room one day in May. I had packed my work bag thinking I would be in and out within two hours, but that wasn't the case. Who knew what I thought was "gas pain" would change my life forever.
10 hours and an ultrasound later, I was given the news. They had found a mass on my pancreas and I would need to be admitted for further testing. I ended up leaving the hospital three days later, after many IVs, nurses, and tests, but not with many answers or information. I was originally told that the masses were nothing to be worried about, but I had a feeling that this just wasn't the case. My family felt the same way, and thanks to my Uncle Mickey, we immediately set up an appointment with a highly rated doctor at Memorial Sloan Kettering. We were fortunate enough to quickly get a liver biopsy followed by an appointment with two oncologists who told us the news. I was diagnosed with a rare cancer called Neuroendocrine Carcinoma of the pancreas which spread to the liver. We were told that we would have to move quickly in order to tackle this cancer and I began IV chemotherapy within the week.
After three rounds of chemo followed by a CT scan, I was told that there was minimal improvement for me; I thought, hey improvement is improvement, minimal or not. We continued IV chemo for seven rounds before switching to an oral chemotherapy. During this time I began losing my hair and after talking to others who had been through this process, I made the brave decision to shave my head. I am fortunate enough to have a sister and hair stylist who made that difficult decision easier. I was still working during this time, so the thought of going back to work bald was terrifying; however with the support of my family and friends, I decided to go for it. My co-workers were wonderful and created a safe and playful environment which enabled me to feel comfortable in my bald state. We even went wig shopping together (of course, I got a hot pink wig). Unfortunately, the fun was short-lived and I began feeling the grueling side effects of the chemo. I decided to move back to New Jersey so that my parents could help me with my daily pain. My sister also moved back into my parent's house as an extra pair of hands during this rough time.
Although I was home with my loved ones, it didn't make the fight any easier. I spent weeks at a time in the hospital and became beat down by the disease. Many times I felt like I was going to die. My family and friends remained hopeful and continued to push me through that time. They are the reason I am alive today and fighting as hard as I am, even when my oncologist had given us the news that she believed hospice was the best way to proceed. Thank God for my stubborn family who refused to accept losing me to this cancer. They began researching again to find new doctors, studies, and anything else that we can try next and I couldn't be more grateful to them for not giving up on me. I am currently awaiting results of a test that can possibly help reduce the tumor growth and I am going to remain hopeful and positive.
As I await my results, my family and I have decided to focus our time and energy to the Purple Stride walk. I am determined to use my recourses to help raise money for pancreatic cancer research and help others who have either lost loved ones, survived this disease or are battling the disease with me. I am blown away by how, in such a short period of time, we were able to put together such a great team and raise an incredible amount of money ($77,000+) for such an important cause. The amount of support and encouragement for #TEAMKHUSHBU has proven to me once again that I am not alone in my battle and with the help of my family and friends; I will keep fighting and survive!
beauty
science
health