Is the Shiatsu Back, Shoulder, and Neck Massager Comparable to a Private Massage?
My Christmas Gift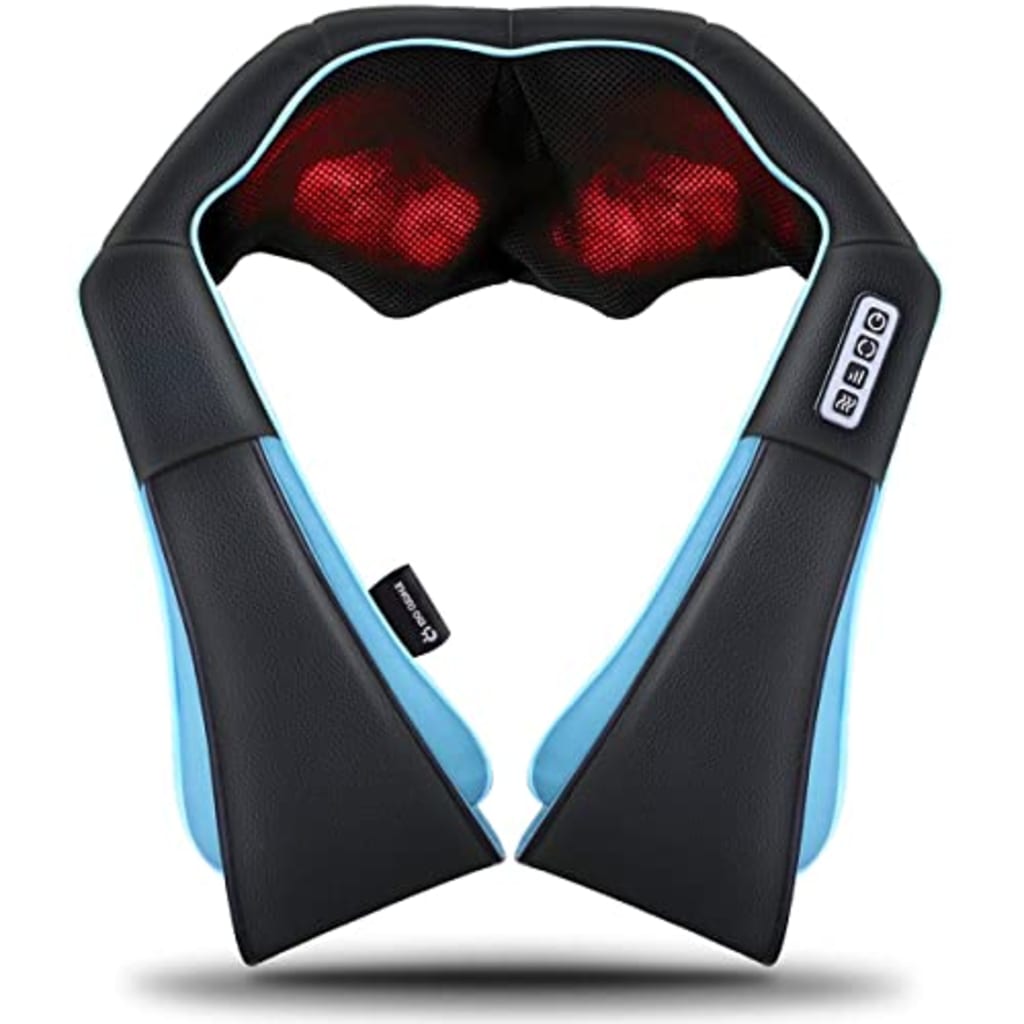 Shiatsu Back, Shoulder, and Neck Massager - image by MoCuishle Store
Massages at our Finger Tips
I love massages. I mean, who doesn't? It feels so wonderful and relaxing. Although it can be painful sometimes, to get a deep tissue massage. There are many local massage parlors locally. But, massages can be expensive and not everyone can afford them - especially if you need a massager more than once a month. However, I received the Shiatsu Massager as a Christmas gift from my daughter. What a splendid gift she gave me. Now I can have a massage whenever and wherever I want to. I am loving it!
What is the Shiatsu Massager?
It is a back, shoulder, and neck deep tissue electric massager and it also has heat. It has eight massaging nodes, which are covered with a mesh-type fabric and leather band. The band has two loops to insert your hands to keep it in place while massaging your neck. On the left sideband are four buttons for power, rotation, speed, and heat. The massager includes an electric adapter and a car charger too.
What are the Four Buttons for?
The first button is the power button. It is obvious, right? We need to power it.
The second button allows you to change the direction of the massaging nodes. But I also noticed that after about a minute, it changes direction on its own. I'm not sure why it needs the rotating button.
The third button is the speed control. It has three speeds–slow, medium, and fast. And I just discovered that it shuts off after 15 minutes. Therefore, you do not have to worry about falling asleep while using it. Except if you are driving. Hence why I don't suggest using it in your car.
The fourth button is the heating element. I do not feel that the heating element is effective. Frankly, I felt the same amount of heat with the button switched on or off. I know I am not sensitive to heat; therefore, I most likely need the heating element to be a little hotter. Then again, it just might not be working.
Take Precautions While Driving
According to the manual, you can use it in your car while driving. Seeing how it makes me feel, I would not use it while operating a vehicle. It would be hazardous for me. I recommend you take caution if using in your car while driving—better yet, don't use it at all while driving.
Its Use and How I Feel
The manual also states it can massage your belly, waist, thighs, calves, and feet. I have only used it on my shoulders, and upper and lower back. As I write this, I have it massaging my neck and I already did 30 minutes on my back. Now and then I catch myself with my eyes closed, almost dozing off, enjoying the relaxing pressure of the massage instead of writing. The pressure is on point and not painful—at least for me.
My Impression
There are many similar massagers out there. But I can only talk about this particular one since I have not tried the others. I am not an affiliate member of this company or any other, therefore I'm only suggesting it as a consumer and providing no links to it. You can see how much I enjoy it when it took me more than an hour to write this review since I was using the massager while writing. Therefore, is the Shiatsu Back, Shoulder, and Neck Massager comparable to a private massage? No, but it is affordable and I love it. Therefore, if you're in the market searching for a massager, I think the Shiatsu Back, Shoulder, and Neck Massager is a great product and totally worth buying.
Originally published on Newsbreak on January 5, 2022.
product review
About the author
Debbie is an active spiritualist and medium. Yoga and meditation are part of her daily routines. She loves to travel and enjoys writing. Her blogs are Debbie's Reflection (www.debbiesreflection.com) and Traveler Wows (www.travelerwows.com).
Reader insights
Be the first to share your insights about this piece.
Add your insights