Insomnia
Learning How to Calm Down Mentally and Find Sleep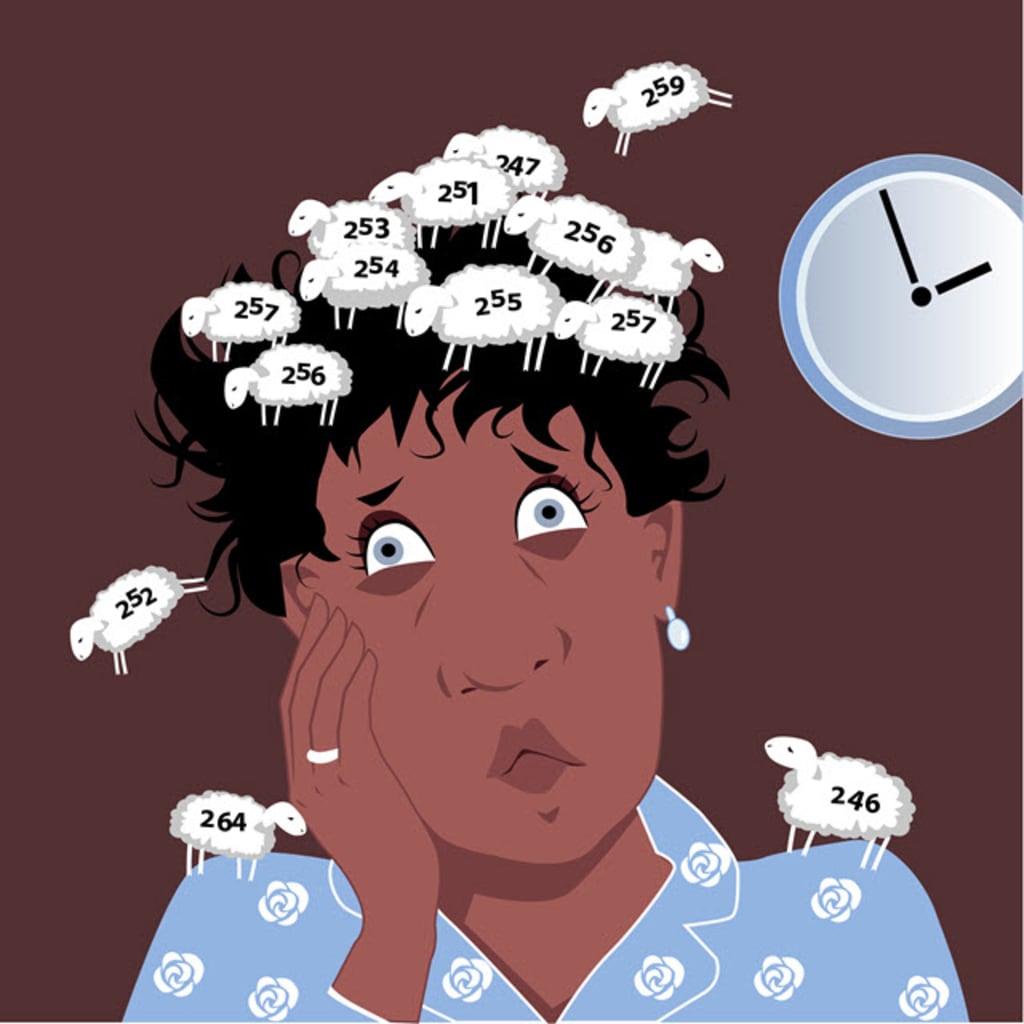 Many people around the world suffer from insomnia daily. There are so many factors as to what causes this to happen to so many people. I know I'm personally one. Actually, the idea for this blog came from a late night of sitting up looking at the walls. I've tried taking sleeping medication and even making sure I do the normal things that will allow the body to relax. Things like a hot shower, soothing lotion, and relaxing with a good book. However, I find myself still wide awake with not an ounce of sleep in sight at 5 in the morning. I actually saw the sun rise this morning. I've grown tired of watching my husband sleep all night like a giant baby and I get up cleaning the kitchen or eating leftovers from dinner. I had to start finding ways to find sleep around the same time that he does or I knew it was going to be a long night.
I've tried the mix of cold meds that make you sleepy and a hint of pain reliever so that I would drift off into a good sleep. By the time the fan hit me and my blanket did just enough, I would be in that perfect state of sleep that I needed so bad. I think that has been my go-to routine for months now. We moved into a new apartment and for me it's a new city so it's taken some time for me to mentally get adjusted to a new place and get settled down. My sleeping habits don't help with this at all. I feel like I should have purchased stock in some pharmaceutical company as much as I have to take to get a good night's sleep.
I've tried the hot shower and get a massage from my husband thing, too. Nope, doesn't work for me. I get relaxed and then just as my body says let's get some rest, my mind says not today! Let's think of a million things that you've wanted to do your entire life and stay up until the sun rises. It's annoying! You get tired of counting trying to fade into sleep land like you are at a dentist office going under.
So, for anyone that is suffering from insomnia, here are a few things that you can do that maybe will help you. They rarely work for me, but I know that it's helped out a few family members and friends.
Essential Oils
Things like lavender oil can be very relaxing and soothing if used in a device that will disperse the scent slowly over time. Do a little research on the oils and what they can do for you before you go and buy out your local health food store. I'm sure they will greatly appreciate your business but you don't need them all!
Hot Shower
Taking a hot shower will allow the body to relax. Now if you can get your mind to shut off for a while, this will work out just fine. I sometimes will drop a little Vicks Vapor into my shower. Especially if I have any head congestion. It will knock it right out mixed with the steam of the shower. Enjoy the water and the steam. Relax from it .
Reading a Good Book
Now, this option has it's pros and cons. Pros, you get into a really good book by your favorite author. Cons, you've been reading for 3 hours straight and you ate an entire bowl of chips with your glass of wine. You just have to know when to shut down from the book.
advice
I'm a somewhat single mother of 2 boys. 3, if you count my husband. Born and raised in Texas. I love anything with food, diy, love & relationships... I've been there and done that on so many topics :)