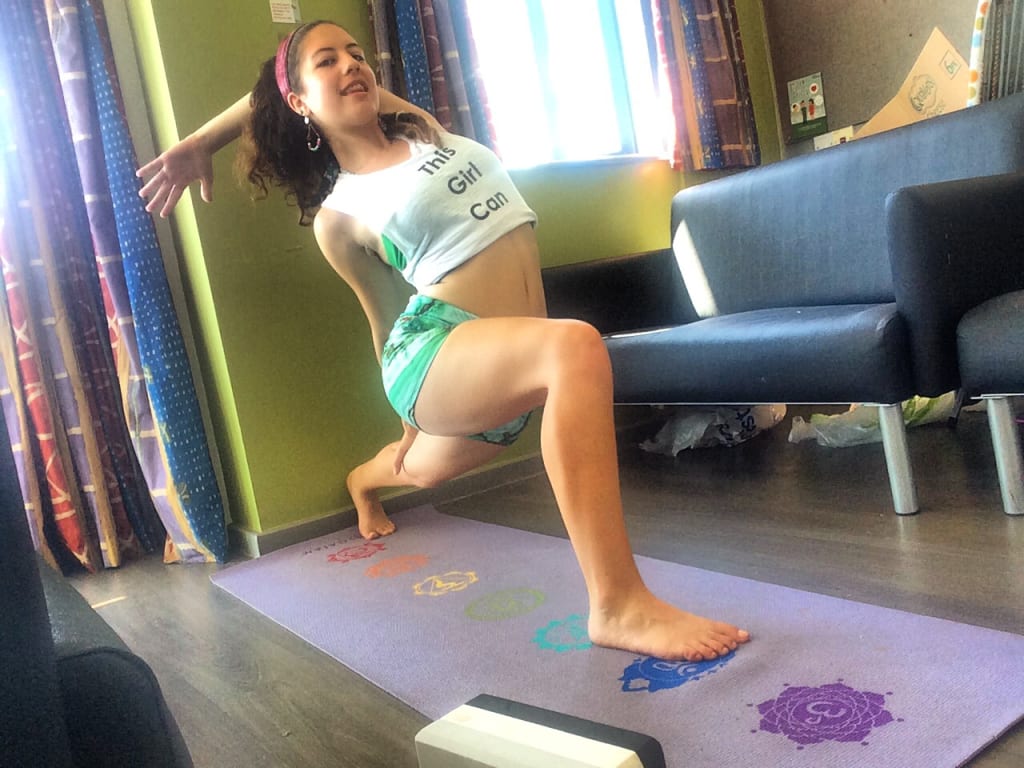 I couldn't breathe when I was fourteen years old, on my way to my Honors Biology class. I woke up in the cafeteria, with my then boyfriend peering over me. Discovering that I suffered from panic attacks which were so bad that they made me faint felt like it caused a huge change in my life, because I quickly realized that I never wanted to feel that way again. It felt like another thing to add to my seemingly ever-growing laundry list of personal problems, like it was the whipped cream on top of my sundae of cycling insomnia and clinical depression.
In hindsight, the anxiety makes sense. The cycling insomnia was a clear symptom of the anxiety, which I had suffered from since I was ten; and the panic attacks followed four years later. I had been diagnosed with depression at age twelve, and since discovering my panic attacks, I was surprised that my then therapist hadn't diagnosed me with anxiety as well. However, my anxiety quickly started ruling my life. I was often close to tears, panicking, or overthinking. Anxiety often prevents us from thinking clearly, and by fifteen, I was vulnerable enough to be taken advantage of in my anxious state, adding PTSD to my problem sundae.
My brother introduced me to yoga when I was sixteen and suffering from Mononucleosis (Glandular Fever). Mono makes you weak, so weak that even emptying the dishwasher was exhausting. I was out of school for close to two months, and prohibited from strenuous physical activity for six months. I had been off the soccer team for about a year, and had taken an interest in skateboarding and swing dancing. Being so ill, I couldn't participate in those activities, and didn't like being inactive. My brother let me borrow some of his books on yoga so that I could have a gentle form of movement to practice, and so that I would be able to build my strength back up.
My first practice was in home, self taught, out of a book, and it was just Surya Namaskar A and B, the Sun Salutations. When I was sixteen and had mono, I practiced when I could, when my body felt up to it. For a brief period of time, I had yoga on my mind. When I had healed from mono, my mind shifted to different activities, though I still practiced particular poses, but at the time thought of it more as stretching than as yoga.
Yoga formally came back into my life when I was seventeen and close to graduating high school. Through a boy I was interested in, I met an amazing girl he was friends with, who wanted to become a yoga teacher. I was incredibly keen to chat with her about yoga, especially since I wanted to teach children, because I was convinced that yoga would be a huge benefit to a classroom. With a mutual friend, I ended up attending my first yoga class at a local LA Fitness. I liked the class, but not the gym setting, and never went back to LA Fitness for yoga classes.
Since then, my practice became more regular. I remembered how yoga had helped me regain my strength, and realized that it could help me get stronger for things that I loved to do, like going surfing for example. I followed a community of practitioners of yoga on Instagram, where I was able to learn more as I was teaching myself through books and other channels of the Internet. When I was seventeen, I decided that I wanted to learn how to do inversions and work on my core strength so that I would be a stronger surfer, because stronger arm muscles would help me to paddle out harder, and a stronger core would help me with balancing on the board.
My practice has grown with me over the years. I started a job at a children's museum when I was eighteen; and at the same time reconnected with an old friend, who introduced me to a friend of his who was suffering from eating disorders, a girl called Meredith. The job at the children's museum introduced me to Didi McKay, author of Gifts of the Animals and Gifts of the Seas, who used her books as a springboard to teach yoga to children. I was inspired by her, and spoke to her about how I could incorporate yoga into my future classroom. Her advice to me was to become a yoga teacher, and I took it.
That summer, I developed a friendship with Meredith. She was struggling with anorexia and bulimia, and it was very hard for me, because I had never had a friend who had those problems before. In my attempts to convince Meredith that she could eat, and that if she wanted to stay slim she needed to exercise, I got her to try yoga with me. I told her that practicing yoga could make her stronger, because the anorexia had made her muscles and bones very weak.
Within six months after speaking to Didi, when I was nineteen, I was at an info session for a yoga teacher training at Elements Yoga and Wellness Center, a place which felt like home the moment I stepped inside. This studio was everything I was ever looking for in a studio, because it welcomed people of all kinds, all body types, and all abilities, and offered a range of classes and teachers to suit everyone's unique needs and tastes. I felt comfortable taking a class alongside older people, and people with different body types. I had tried other studios before, but I had found the one for me.
I started regularly attending classes, and as a young, semi-fit nineteen year old, my favorite classes at the time were the core power classes taught by Danielle Brown, of ThumbSUPYoga, and the intermediate classes taught by Susan Phillips. I also loved the musical flow led by the owner of the studio, Bruce Bassock. Through these wonderful teachers, I discovered the magic piece of yoga that I had been missing from all of my days of being self taught, and that was the way the instructor could create a feeling through centering, and guide everyone through feeling their bodies through alignment cues. I was avidly munching all of the books required for the yoga teacher training like the bookworm I am, and absorbing all of their nutrients. I was feeling better than I thought I could feel, learning more than I thought I could know, and starting to have an easier time sleeping at night.
I was also getting cockier with my yoga, and yoga does not like cockiness. One day, I was so excited about how I had finally been able to stretch myself back to Hanumanasana, a full split, I was throwing myself into them left, right, and center without the proper prep work, and tore my hamstring. At nineteen, I found myself humbled as I limped into a gentle Yin yoga class, full of older people, taught by the amazing Robert Ortner. Robert taught me to appreciate stillness, silence, and softness much more. When my hamstring healed, I still loved his class, feeling like it filled my soul to go.
While I was getting settled into my home studio, my friend Meredith had found her home studio as well, where someone offered to help her pursue yoga teacher training as well. At nineteen and twenty, we were the youngest trainees in our groups. She was recovering from her eating disorders, and we were building a meaningful friendship.
I got my 200 Hour Hatha Yoga Teacher certification on my twentieth birthday, and immediately went into teaching yoga to girls between the ages of seven and fourteen at my home studio, by one of the biggest strokes of luck I've ever been blessed with. I was teaching girls who were the age that I had needed the most help at, and knew that yoga would give them the tools that would help them later in life.
Yoga taught me to breathe again. Yoga taught me how to learn about myself. It was through yoga I learned that I had trouble sleeping flat on my back, because of emotional trauma stored in my sacral chakra. Yoga taught me how to be okay with going back to therapy, and helped me make going to therapy better for me. Yoga helped me deal with jealousy and heartbreak. Through yoga, I became empowered to discover more about my body, including why it hurt the way that it did, and it was because of yoga that I ended up going to a chiropractor and finding out that I had lumbar intersegmental dysfunction accompanied by intermittent sciatica. Through yoga, I am constantly creating and re-creating myself.
In my early twenties, I was so inspired and empowered by yoga that I spent three years writing a book about it. During those three years, I researched the other limbs of yoga that I had started learning about in my teacher training, I read the Bhagavad Gita, and learned about how to start decolonizing my practice.
These days, at nearly 24, every time I get on my mat, I wonder why I ever got off it. I don't practice every day anymore, because life gets in the way, and that's not to say that every day is so great that I don't need to practice anymore. I will always need to practice. Yoga changed my life by helping me to see how to become a better version of myself.
You can find Robert Ortner's yoga information on his website, here.