How to Set Attainable Fitness Goals and Actually Reach Them
No gym, no problem.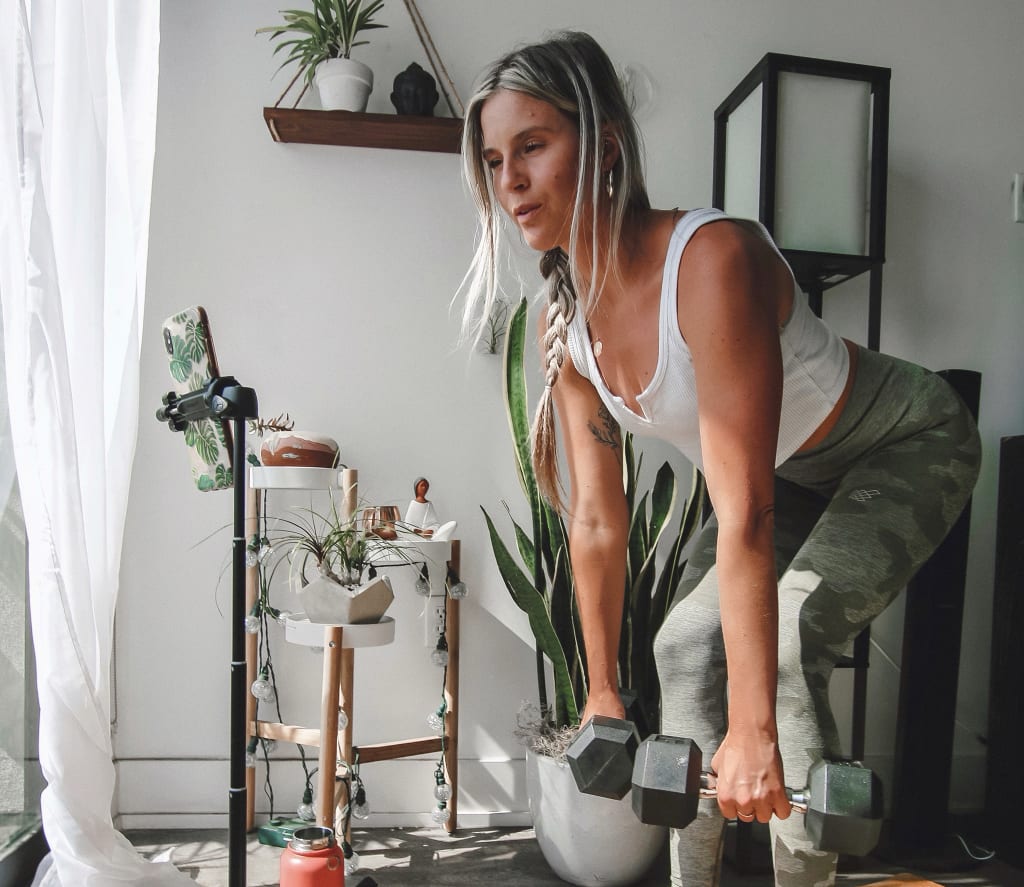 With most fitness centers closed (at least in LA) or only partially open with smaller classes, one of the most significant conversations I've been having with people is how to stay on track and motivated during these times. I'm happy to report that you can still set fitness goals and actually reach them all from the comfort of your living room. There are some serious perks to home workouts like the fact that you can do it in your underwear if that makes you happy or how convenient and easy it is to fit into your schedule without worrying about a commute or traffic. I don't think it gets much better than that!! There's no need to compromise the quality of your workout or have the mindset that you can't hit your goals just because you're working out at home. So you ask how do we do it? Stay tuned because I'm going to share an incredible app that I recently found out about + a few other tips and tricks that will help you stay successful on your journey!
I know that social media is booming with workouts right now. From pre-recorded videos or an IG post with a few images that tell you the move and how many reps to do. Generic content that feels repetitive & lacking a particular something. What's missing? The 1-on-1 interaction you get to experience during a class or working with a personal trainer in-person, which unfortunately isn't an option for most right now. Enter Magic Fitness, the only fitness app that provides personal training from the comfort of your own home.
Magic Fitness is a platform that connects you with fitness and wellness experts by video call (Yes! Live 1-on-1 sessions). Listen, I know we're all a little camera shy, and this might sound weird, but hear me out. Since the trainer can see you, they can keep you accountable, correct your form, push you harder, especially during the hard moments when you want to give up. Plus, everything is directly focused on you and your workout. Nothing beats the experience of a real personal trainer.
All you have to do is download the app & create an account. Then you can start browsing the different types of workouts provided - from HIIT, yoga, exercises with weights, and classes that target specific muscle groups. Maybe you pick Legs & Glutes because you're trying to grow that cute peach of yours! Once you have a workout selected, you can choose the intensity, review the tips & how to prepare for your session, and finally the equipment you'll need to have a fun, sweaty sesh! From there, you'll select your trainer - pick a day and time and mark it on your calendar!
Magic Fitness even throws in a free personal training session with a trainer of your choice – so there's no reason not to try it!
If you're new to fitness or a long-time veteran, I think it's crucial to think about your why. Why are you committing to your fitness journey? Is it to feel more fluid and connected to your body? Do you want to grow your booty or feel stronger? Setting goals is the best and most effective way of ensuring you get there! Here are my secrets to achieving what you want!
Set Short-Term Goals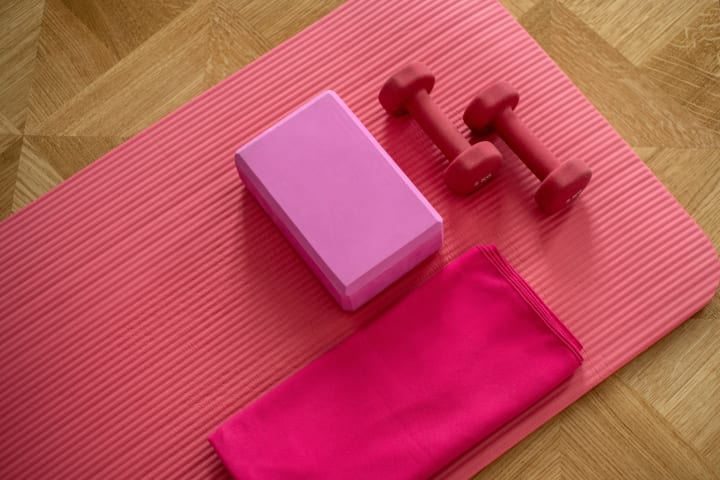 Attainable goals help you hit those significant small victories. The more success you have, the more likely you'll stick with it! Plus, these goals help snowball you into you hitting those long-term goals. Win-Win!
I think it's essential to make your goals measurable and set with a deadline. If the goal is to get stronger, take it a step further. Perhaps you love push-ups, so to get stronger, you want to increase the number of push-ups you can do. By giving yourself a specific amount to hit, your goal becomes measurable. Suppose the long-term goal is to do 30 push-ups. The short-term goal can be to do 15 push-ups in X amount of days. Let's say you can do 3 push-ups. Your goal would be to do 15 push-ups in 12 days, increasing by one each day. This method will help you see what you've accomplished, and you'll be able to celebrate those small wins!
Long-Term Goals
With any big goals in life, the key to success is to play the long game. I know we live in a world where we want instant gratification, but it's essential to be realistic. This type of thinking eventually turns into more of a lifestyle change rather than a quick fix, long-lasting, and sustainable, which is the magic recipe for success.
With Magic Fitness, you can discuss your long-term goals with your experienced trainer. They can give you some guidance on how realistic your goals are and help set those micro markers that are sustainable for you to achieve over the course of several months or even a year.
Remember - slow and steady wins the race.
Keep Track of Your Progress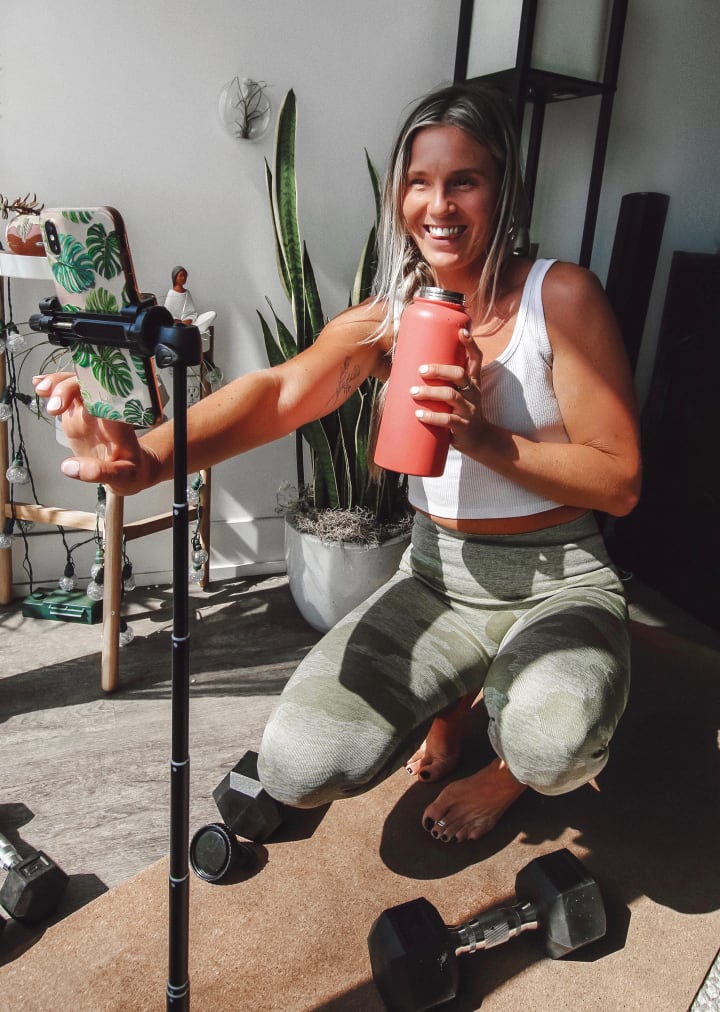 Treat yourself to a lovely journal. There are so many options on the market these days! You can get a generic one or one that's directly correlated to fitness. It's easy to think about our short and long terms goals, but writing them down takes it to the next level. Each day you'll be able to revisit your goals & your "why." Use this journal to track the workouts you've completed and how you felt after each one. You'll learn a little bit about what you like and don't like. On the days you're not feeling good, you can revisit that determined feeling you had at the beginning of your journey, look at your progress and remember how GOOD you felt after each workout.
Create a Schedule and Stick to it
We're all busier than ever these days. To keep organized, we schedule skype friend dates, essential zoom work meetings & other "important" tasks that need to get done on our daily calendars…but are you scheduling time for yourself? Put a meeting on your calendar for your workout, and don't bail on yourself! Just as you wouldn't miss an important meeting, make your scheduled "me" time! Prove to yourself that you're committed to the things you want in life.
Focus on One Goal at a Time
We're already hard enough on ourselves, so the last thing we need is more "disappointment." Which is why I think it's important to focus on one goal at a time. Focus on it until that goal becomes more of a habit. Let's say you want to stop drinking 5 cups of coffee, increase your water intake, cut out added sugar, and workout five days a week. Trying to tackle that much at once is setting yourself up for failure. With so many things to achieve at once, this can leave you feeling anxious and like you're not doing enough, which begins the vicious cycle of negative self-talk and leaves you feeling defeated and unmotivated. Things get easier with time & practice - once you establish the change as a habit, you can shift your focus to your next goal!
Work With a Professional
I'm talking to everyone here - experienced fitness goers or humans brand new to working out! Sometimes it's hard to evaluate your current fitness level alone, or maybe you feel like you've hit a roadblock and aren't making progress, getting input from a professional will help you stay on track. This is why Magic Fitness App is a perfect tool to keep moving forward. Once you select what type of class you want to try, you get to choose a personal trainer. They have preferred gender & language options to pick from, which I found super helpful! I went with one of the female trainers because I'm all about women supporting women + it made me feel the most comfortable since this was the first time I was doing a personal training session via video. I know it might seem like an awkward experience, but virtual trainers are here to stay, so we might as get ahead of the game and get used to it now. When you're deciding who you want to work with, my best advice is go with your gut instinct! Whoever feels most approachable & inviting to you.
Fuel Yourself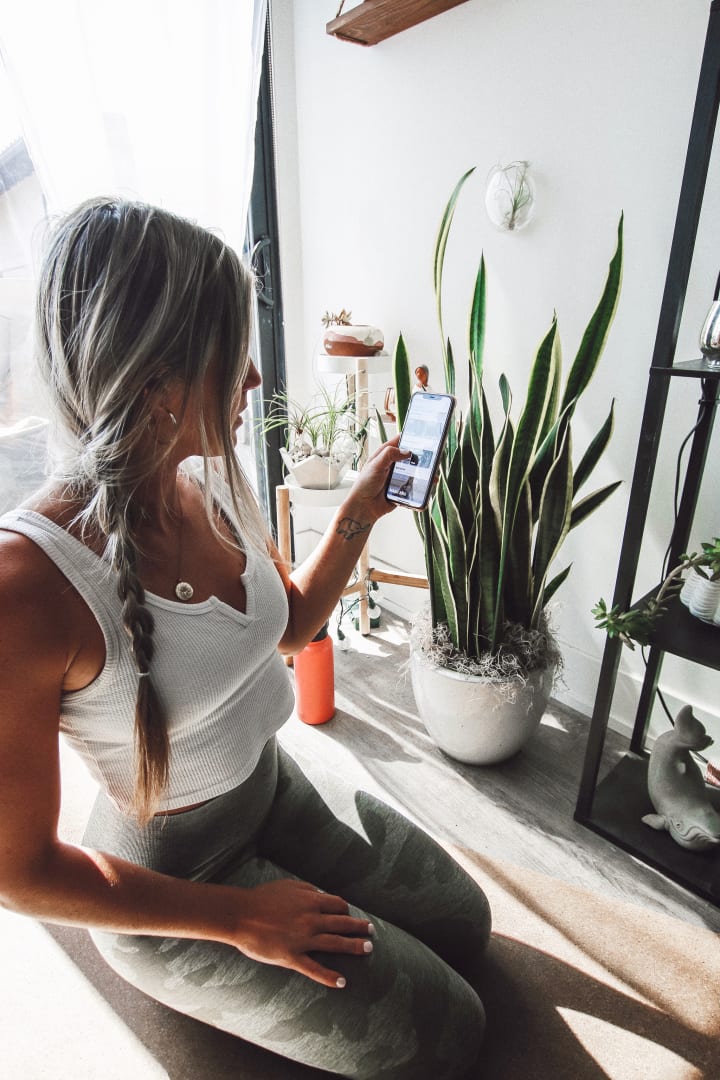 I'm talking nutrition (& water intake), sleep & rest days. Be honest with yourself about your prior and current habits. Are you skipping meals? Are you staying up late every night even though you want to become more of a morning workout person? Are you skipping rest days, pushing your body to total fatigue with zero recovery? You must take care of yourself, so you can show up to each day as your best self. Food nourishes and fuels your body, which means you'll have the energy to show up for your workout. Sleep & rest days are just as important as anything else. Overtraining happens, and if you don't give your body adequate rest, it's not going to perform at optimal levels. Take care of yourself & listen to your body!
Reward Yourself and Have Fun
I think this is one of the most essential tips I have for you. HAVE FUN. If you're not doing something you love, you're not likely to stick to your goals, and finding the motivation to show up each day will be a challenge. I hate running, I'm miserable the entire time, so I choose not to do it. The great thing about fitness is there are so many options! For cardio, I'll do a fun HIIT sesh, or even go for a long walk. Some days my body craves a heavy weight lifting session, and other times I want to do a gentle yoga flow. What works for me won't necessarily work for you. You have to experiment with different types of workouts to figure out what works best for you. Another reason why Magic Fitness is a great option! There are so many types of classes and types of workouts to try out.
Fitness is a beautiful thing that can change every aspect of your life positively. And I think it's safe to assume that working out from home is going to be the new norm for a while, so we might as well embrace and make the best of it! If anything, this time at home gives each of us more time to think about our goals and how we can get creative in achieving them.
The time and effort you put into something you wanted to accomplish, and the feeling you get when it's achieved is something no one can ever give to you. IT FEELS GOOD. Be proud of knowing you did something for yourself to better your life. Make it happen, and never lose sight of your goals!