Holistic Gym Bag Must Haves 
Start living a holistic lifestyle and get on your way to healthier living with these holistic gym bag must haves.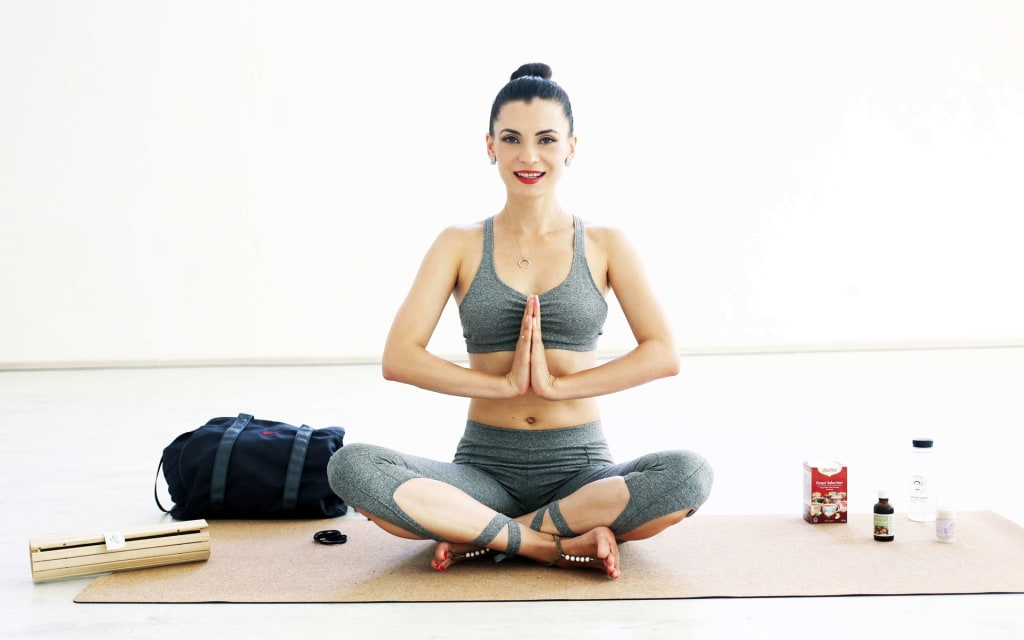 The word "holistic" has been throw around a lot lately in the world of health and fitness, but what does it really mean? Living a holistic lifestyle means practicing preventative care, namely through exercise and healthy eating. Rather than the traditional healthcare system which focuses on specific symptoms, holistic living takes a whole person approach. We often don't realize the effects that nutritional deficiencies, food allergies, lack of exercise, stress, and lifestyle choices can have on our bodies. You can start living a holistic lifestyle by stocking up on these holistic gym bag must haves to set you up for success before, during, and after your workouts.
Every holistic gym goer and yogi needs the proper attire. Upgrade your classic yoga pants for new leggings in an exciting pattern or natural material. When you look great, you feel great, and new leggings will have you feeling confident and looking amazing before and after your workout session. Try these moto-inspired leggings with their mix of matte and shine mesh detail to elevate your mood before you hit the gym next.
No yoga outfit is complete without a comfy and lightweight pullover, especially for cool fall and spring days. They're easy to tote around in your gym bag or tie around your waist when you get too warm wearing it during a workout, then throw it back on as you head out the door! Try out this comfy pullover from A.P.C x Outdoor Voices for a holistic friendly gym hoodie.
You can't hit up the gym without a water bottle, and as part of the holistic lifestyle, you should always be using a refillable water bottle to save the environment and improve your own health by not reusing plastic water bottles. Keep yourself hydrated with this beautiful and fun water bottle from S'well!
Nobody wants to lug around a heavy gym bag so don't weigh yourself down with heavy sneakers. You can try Adidas Ultra Boost Uncaged training shoes. They're lightweight lightweight and super trendy.
No holistic gym bag is complete without hair ties! A lot of hair ties can be damaging to hair and leave dents and marks which can be very inconvenient if you have somewhere to be after hitting the gym. Try a stretchy fabric elastic that won't pull your hair, and these Emi Jay hair ties even come in neon colors for an added mood booster!
You can do yoga anywhere with this holistic gym bag must have! With a quick-drying microfiber surface, Gaiam's Grippy Yoga Mat Towel lets you do yoga in style and comfort. With yoga's many mind and body benefits, it's a staple exercise for most who stick to a holistic lifestyle.
Nobody enjoys the stiffness and soreness that comes as the result of a great workout. A mini foam roller is a holistic gym bag must have for working out stiffness on the go. Many gyms provide foam rollers but if you don't have time to foam roll before you leave the gym or prefer to use your own equipment, this mini foam roller is the answer to all of your holistic muscle needs! Try the Triggerpoint GRID Mini from TPTherapy for a compact foam roller that's just 4 inches long and weighs only half a pound.
Make your foam rolling even more effective by adding a cooling muscle pain therapy to it. The soreness you feel after a gym class or tough workout can be relieved by anti-inflammatory and cooling menthol to sooth and relax your tight muscles. For a great option, try Jason Cooling Minerals & Tea Tree Muscle Pain Therapy which has added avocado, evening primrose, and hazelnut oil for skin softening.
Everyone wants to leave the gym feeling refreshed, including your skin. Restore your skin with a holistic moisturizer that won't clog your pores or make your skin feel oily. Try a spritz of this Cellular Lifting Moisture Mist from Clark's Botanicals, made from St. John's wort, jasmine, and algae extracts. Plus, it's also antibacterial!
A lot of people living a holistic lifestyle try to avoid the harmful chemicals found in a lot of beauty products, but if you choose the right products, there's no reason you can't add a little makeup here and there. Try a simple lip crayon to spice up your look when you're leaving the gym, especially if you're headed off to work or out with friends after. Clinque's Chubby Stick Lip Colour Balm provides no-smudge color and moisture with jojoba seed oil and mango seed butter.
Anyone living a holistic lifestyle shouldn't settle for just any drug store brand deodorant. Try using an all-natural deodorant to help get rid of smells from the gym. Milk Makeup's Natural Deodorant prevents unwanted smells and soothes your underarms with lavender oil. Plus it's made WITHOUT parabens, sulfates and phthalates.
Everyone wants to leave the gym feeling clean and refreshed, not smelly and sweaty. For an added pick-me-up before you leave the gym, grab a handy face and body towelette for a holistic gym bag must have. Acure Organics Coconut and Argan Oil Cleansing Towelettes will cleanse, smooth, and detoxify your skin, plus their infused coconut is naturally antibacterial and the argan oils will nourish your skin.
Everyone needs a post-gym snack to refuel, but it's important to make healthy snack decisions when you are sticking to a holistic lifestyle. It's always a good idea to carry healthy whole foods with you like a piece of fruit, sliced veggies, or a handful of nuts. However, if bars are your go to snack, stick with a holistic brand that isn't full of added sugars and fats like ProBar.
Last but not least, you need a gym bag to hold all of your holistic gym bag must haves! Don't settle for just any old gym bag; find something you love and that will fit all of your belongings for every trip to the gym. It's even better if your gym bag holds a yoga mat for the essential holistic workout. Try this gym bag from Lole which secures your yoga mat in its own compartment.