Gemstone Healing
Does It Actually Work?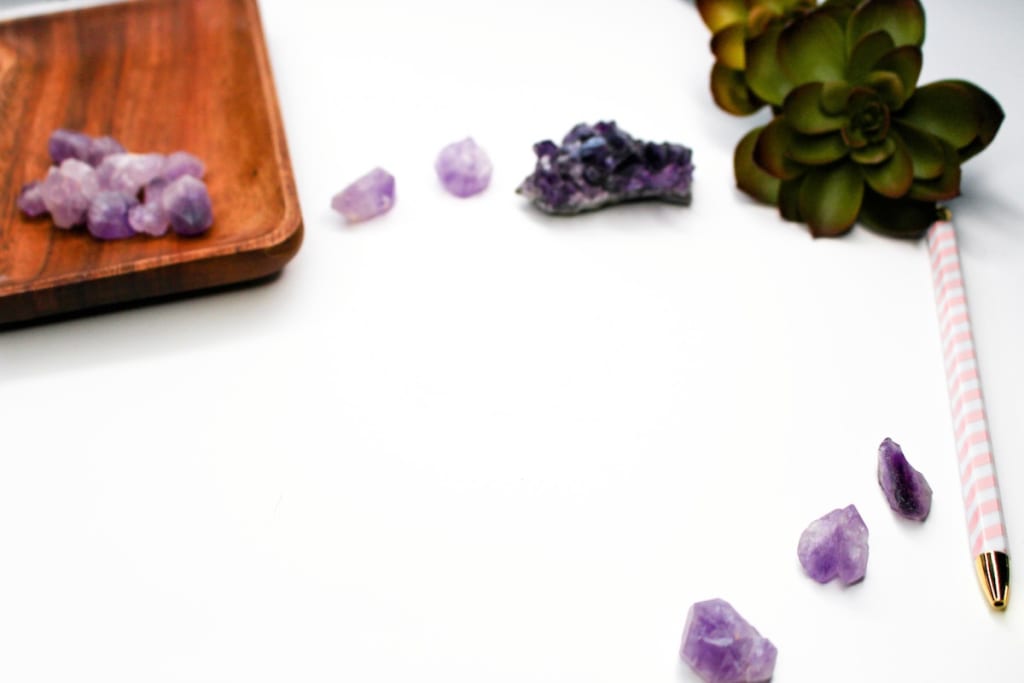 Back in my present life's past, I was into studying gemstones, and crystals, and what they could do for various health problems. Recently, before the pandemic hit full force, I have gone back to studying gemstones that I'd like to do studies on when I go back to school to see if using them is effective. Being forewarned is forearmed, gemstones do not substitute medication, I'm only writing about my personal experience, don't bother taking this piece as concrete advice. I only know my observations, and this article is going to cover the effects of carnelian, rose quartz, angelite, amethyst, sodalite, selenite, turquoise, black tourmaline, quartz, and aventurine.
I have used carnelian on my energy levels dipping at certain times of the day with great success. I keep it on my desk near me, along with my "Lemurian crystal," which for some reason is helping me sort out my brain. I witnessed someone using rose quartz to make herself kinder, and softer a long time ago. Hell, its even worked on my mother, making her less wacky than usual. But once again, gemstones do not substitute a medication. Apparently, one piece of quartz can clean and align the chakras. Crystals are designated to have a certain "vibration" or energy frequency that also refers to the energy centers that vibrate at a certain level.
I've used black tourmaline to deflect negative energy. I've also used angelite to calm my acid reflux from my hernia. You connect with a gemstone by letting it into your energy field, using the influence of the gemstone's stated purpose to heal you. I have witnessed turquoise prevent big time infections as turquoise generates new tissue. In 2015, I swear that my cystic acne was stable, more stable than it is now that I lost that piece of turquoise I used to have.
Amethyst, I have found, helps me sleep while the Lemurian quartz crystal is helping calm the flow of ideas in my head. Lemurians were the ancient citizens of a lost civilization on this planet that existed thousands of years before modern times. Lemurians had much spiritual technology that influenced the existing civilizations during those times. Sodalite is also helpful with sleeping problems, I used some last night, and my blood sugar stayed stable. Selenite makes me feel safe, calm and mellow despite how paranoid I am about coronavirus right now. You connect with a stone by touching it or putting it near you, so that the energy can fill your energy body, and then, by extension, your physical body. https://www.healingcrystals.com/Lemurian_Quartz_-_Lemurian_Seed_Crystals___Brazil_.html
Amethyst can also control psychic stuff. Sodalite can also lower blood pressure. I have black tourmaline all over my bedroom since it deflects psychic attack. I used to use it to shield myself. Normal quartz crystal can be programmed but when used with black tourmaline both stones can clear the chakras. Those of us with frequent worrying like me can use black tourmaline to calm OCD. I used to majorly carry this stone in my pocket, back when I had pants with pockets. Black tourmaline strengthens the immune system, and is useful for bronchitis, and pneumonia, both of which I've experienced in the past due to my hernia or being easily prone to infection from frequent colds. Aventurine is the final gemstone that I have personal experience with. I've been using it to calm myself down. Aventurine is used for manifestation, which I'm trying to do on various levels, such as get multiple streams of income going. It clears anger stuck in the heart center, which I have plenty of. The energymuse.com website suggests that you sit with a stone in your hand for 20 minutes. Aventurine is a stone that is useful to see the brightside during tough times. Aventurine properties can bring healing forces to your body, and crystals eventually need to be cleared unless it is selenite, which can go bad using gel or liquids of any kind. I need more experience with aventurine.
Works Cited
https://www.charmsoflight.com/amethyst-healing-properties https://www.charmsoflight.com/carnelian-healing-properties https://www.charmsoflight.com/turquoise-healing-properties https://www.charmsoflight.com/sodalite-healing-properties https://www.crystalinks.com/lemuria.html https://www.energymuse.com/aventurine-meaning https://www.healingcrystals.com/Angelite__Anhydrite__Articles_889.html https://www.healingcrystals.com/Black_Tourmaline__Schorl__Articles_27.html https://www.healingcrystals.com/Clear_Quartz_Articles_115.html https://www.healingcrystals.com/Green_Aventurine_Articles_103.html https://en.wikipedia.org/wiki/Lemuria_(continent) https://www.healingcrystals.com/Lemurian_Quartz_-_Lemurian_Seed_Crystals___Brazil_.html