Friendship Bracelets
A Wallflower's Hobby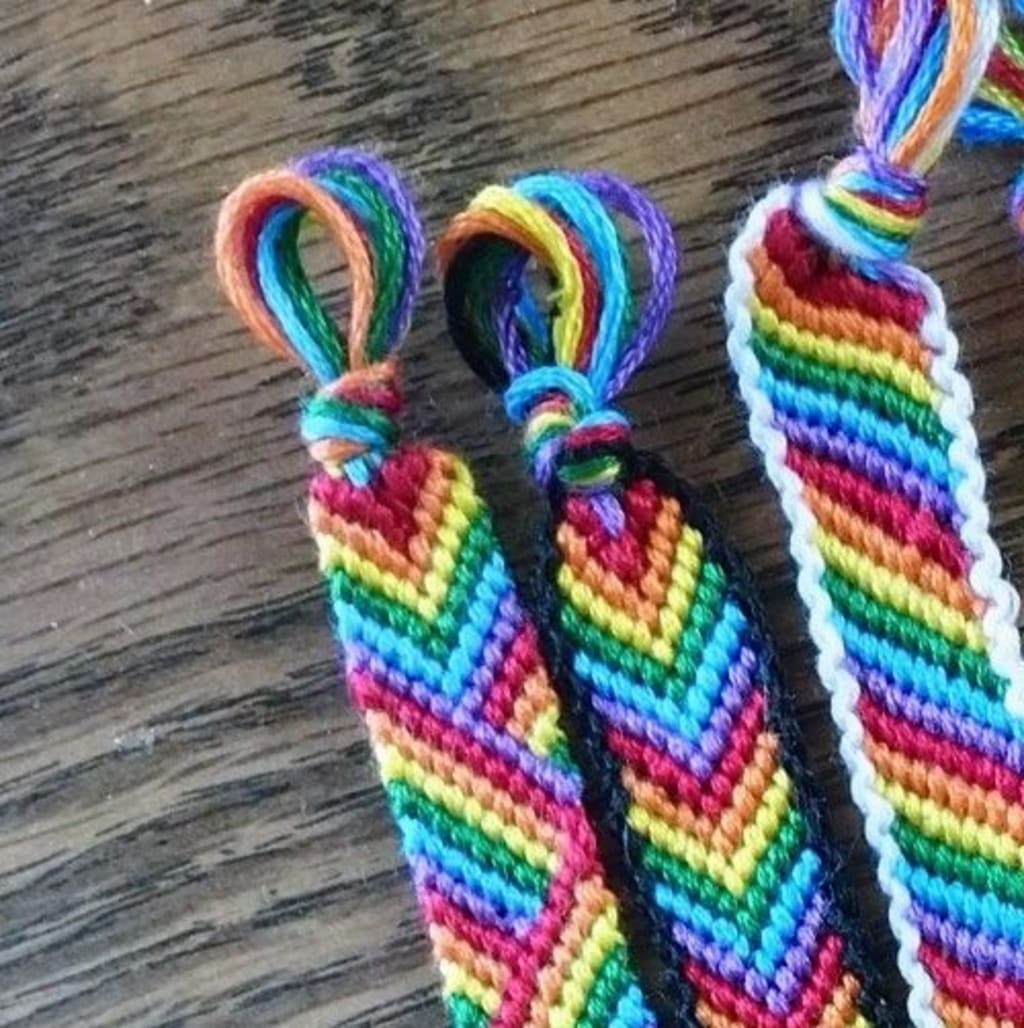 Shhhhwwwwt. My first cut is always slow and cautious. The snip is drawn out and always seems to ring out loudest in my head. It is satisfying and full of hope as the first-string falls limp to my lap. I see the future and it is bright for my friendship bracelets. From there it is short, clipped snip, snip, snips, as I wheeled my yellow handled scissors over my choice of colored twines.
I am not a child. I do not even like enough people to keep making friendship bracelets, so I guess I should name my woven bits of string something else, but the habit had stemmed long ago from camp crafts, and they had named it such. For me they could be anything from a bookmark to a hair tie. Mostly, though, they just become clutter.
The corded braids I weave together do not have the practicality of a knitted blanket or a crocheted hat. They do not even hold the beauty of an embroidered piece or a woven tapestry especially when I do not care about color. I pick up whatever string, yarn, twine, mailable plastic, pipe cleaners, cord, thin metal, or any long fibers that are on hand and I begin to twist them into familiar patterns that do not need thinking about. Why waste fine materials on senseless fripperies?
The craft is meant to take idleness from my hands and leave my mind free to wonder. My mind is free to meditate over the day and keep my body free of boredom. It is cathartic and lacks the disruptions that typically forms with creativity. I guess what I am saying is it doesn't consume me, and I am not lost in its construction. It is all muscle memory and takes the edge off the way a cigarette soothes a smoker.
I am not shutting out the world like I would with other crafts and unlike a smoker I am not isolating myself. I am opening myself up to possibilities without getting lost or feeling exposed. I can easily ease drop on public conversations without my eyes wondering over to the speakers. As a wallflower this is advantageous to me because I can feel connected to people without having to engage them. It coyly shields me from speculation while I learn something new about my fellow man.
Likewise, I can just as easily get into a tv show without having that craving to look at my phone every five seconds. I listen more to the story line and pick up more from the story than I would if I had just watched all the action porn. I find myself getting more engrossed in the characters development and it helps me understand the hero's journey better. I also pick up more of the underlying wit than my partner sitting with me on the couch.
Best of all and what I used the craft for most is to reflect on my days without the nervous energy building up, because it flows through my hands and ends in physical bonds. The knots twisted inside me manifest into looped patterns of cemetery and balance at my lap. I can throw those corded patterns away; letting go of all the angst built up inside. Likewise, I can choose to carry them with me until I forget what those knots meant to me.
Overall, I feel constructive in these mental oblations. I know it seems silly and I am sure I can look a bit ridiculous, but I don't care. To me those cleansing effects give me peace and balance, which to me is the quintessence of happiness, so try it sometime and let me know what you think.
About the Creator
I am new to the writing community but hope to publish a novel one day. I am simple minded and sucker for romance.
Reader insights
Be the first to share your insights about this piece.
Add your insights