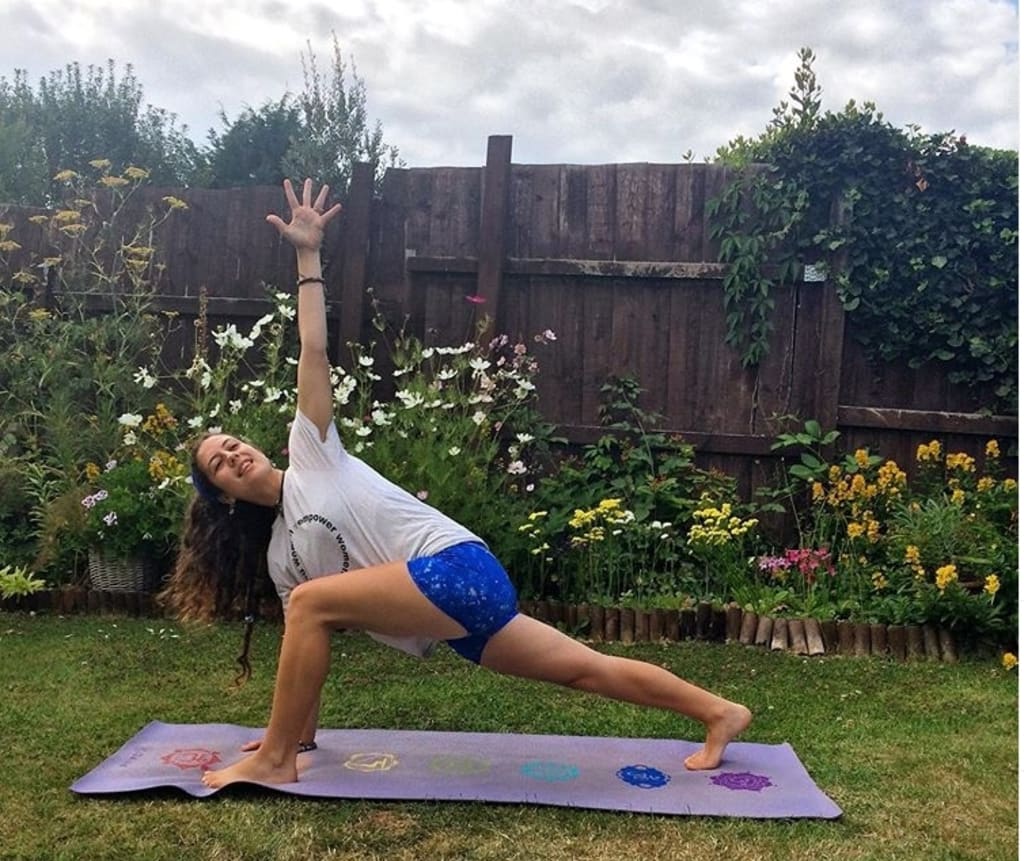 If you practice yoga, then you already know that spending money isn't necessarily going to be helping you live your yoga off the mat, but that, neither, is making money, or having money. But, if you're looking to start your yoga practice, or even if you're a regular practitioner, you know that the ways in which you spend your money will impact the way you live your yoga off the mat; and that in this current society, in this day and age, the right yoga mat, prop, or outfit can really help your physical practice of the asana.
In the Eight Limbs of Patanjali's Yoga Sutras, which you can read all about at Yoga Journal, two of the yamas could be referring to money. These two yamas are Asteya and Aprigraha. Asteya is the principle of non stealing, and Aprigraha is the principle of non possessiveness, non hoarding, and non greediness. If you are wanting to live according to these principles, as well as other principles mentioned in the Eight Limbs of Patanjali's Yoga Sutras, then you must make the choices that you feel are appropriate.
However, I am here to recommend just five companies that might be able to help you live your yoga. In our current society, we are always going to have to spend money, but it is always nice to spend it places where we know that it won't just be hoarded by a person or corporation, as well as places where we know our money will be doing more than just paying for whatever we purchase.
Disclaimer: This article is mainly intended for people with uteri.
Gaiam values the environment, a sustainable economy, and healthy lifestyles, and provides eco-friendly yoga mats as well as a plethora of yoga props such as blocks, bolsters, and straps to help us get into poses, deepen stretches, and hold for longer. They also have a yoga studio app and operate Gaia, which offers many videos besides just yoga lessons, including topics such as meditation, mindfulness, and sustainability.
The company says that the word Gaiam represents planetary awareness, preservation, and support of the interconnectivity of all living things; and that by nurturing, protecting, and respecting our planet, its natural resources and its inhabitants, we enrich our own lives and those of future generations. They have also stated that at Gaiam, they believe that all of the Earth's living matter; air, oceans, and land; form an interconnected system that can be seen as a single entity.
The Mooncup is a soft, medical grade silicone menstrual cup created by women. I have a whole article all about the wonders of the Mooncup, but one simple fact is that an individual who menstruates will go through approximately 11,000 disposable menstruation products in a lifetime, and most of these disposable products are not disposed of properly, are full of plastic, and are not good for the environment. The Mooncup is an eco-friendly alternative to end the waste, discomfort, and the expense of disposable products. I recommend one to everyone I know who has a uterus. Any practitioner of yoga will find the Mooncup easy to wear while practicing, and will be pleased to be doing their bit for our planet.
Confused Girl in the City activewear is designed and produced in the USA and Europe. Their lines feature crystal-inspired leggings, motivational shirts, and accessories for an active lifestyle, as well as crystal jewellery. The clothes and towels are printed with eco-friendly, water-based ink. Additionally, Confused Girl in the City partners with the Jodie O'Shea Orphanage in Bali to provide food, clothes, and education to children in need. This is the company's seva, or service, and the girl boss Giovanna Silvestre personally visits the orphanage.
If the price concerns you, know that you are paying for the quality of the printing. I have clothes I bought from Confused Girl in the City three and four years ago that have been through the wash many times, and still have the same brightness and colour as the day I bought them. If the price still puts you off, you are always able to use my code "twistermarierocket" for 20% off site wide.
Yoga Download is a website and an app developed by yoga teachers and yoga students. They say that it is their mission to make the benefits of yoga accessible and affordable for everyone, everywhere, and support teachers in finding new ways to succeed on their path. This site was founded by people who love yoga, love music, and experience life as an extension of their practice; and it offers a few big selling points including convenience, variety, and quality.
All Yoga Download classes are recorded, edited, and mastered in a professional recording studio, creating optimal sound quality designed for your portable audio player and DVD. Additionally, each class is accompanied by original music, created by professional artists and producers, to help you stay focused and find your flow. They also provide easy-to-follow pose guides that you can print out and review before and during your yoga classes for a safe and complete yoga experience. Many of their 20 minute classes are FREE, and a month's subscription is only $12. Yoga Download also offers options galore—choose audio classes (with printable PDF guides), video classes, slideshows, or build your own custom class from your favorite poses, then choose to stream it, or download it and keep it forever.
Yoga Outlet offers a great selection of yoga mats and props, as well as educational tools and meditation essentials that encourage and support an active and holistic lifestyle for the socially minded individual. They pride themselves on expert and upbeat customer service, and industry-recognized fast shipping. Yoga Outlet has been featured in Yoga Journal and other publications for its vast selection.
Yoga Outlet carries brands such as Gaiam, Hugger Mugger, Jade Yoga, Free People, Onzie, and Manduka, who all care about their environmental impact. Yoga Outlet brings them together with other brands in one online superstore, streamlining things for you; which, to me, can be a representation of the niyamaShaucha, or cleanliness, by keeping our brains and computers uncluttered with all of the different websites on which we could be searching for yoga products, and providing us with one source for many.
There are many other ways to live your yoga on and off the mat, and I will definitely be writing about some of these. It is always useful to keep in mind, though, when you are next buying yoga clothes; or, if you are ever looking at purchasing props, where your money is going and if it represents who you are and how you practice. I hope that my recommendations are helpful for creating the yoga life you wish to lead.
If you liked this article, please share it with your friends, and consider leaving a tip.