Fiskars to the rescue - the mental health benefits of craft
Sew good for the soul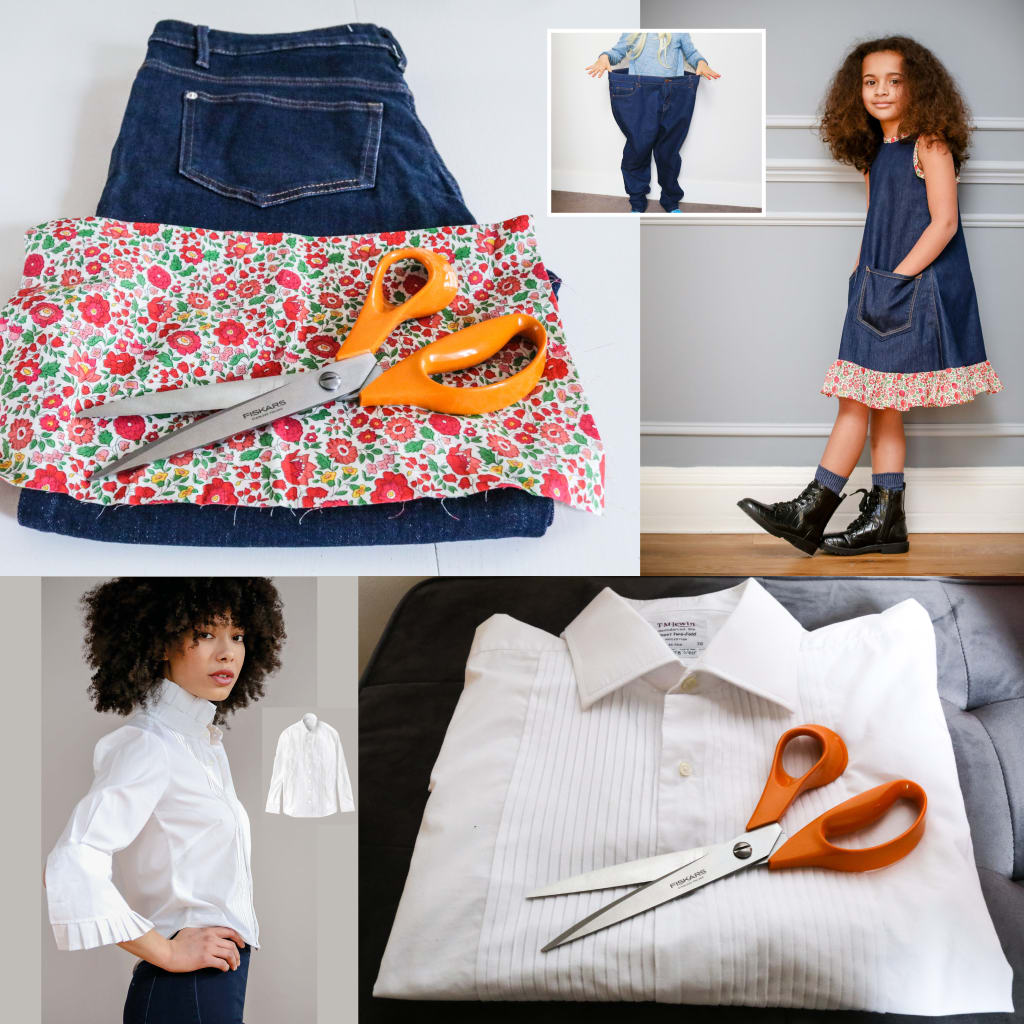 Joppa Dress made from unwanted jeans and a Stockbridge Top made from a shirt
For me, I rediscovered my love of crafting and sewing after the death of my father 8 years ago at a time when I was a mum to an 8 month old and a 3 year old. Don't get me wrong, I am so very blessed with my children and would not change it for the world but sometimes the Groundhog-Day-ness of the endless washing/cleaning/tidying/feeding/juggling/responsibility/ lack of sleep coupled with grief or other life troubles can get you down. I realised it provided me with comfort, an escape from the troubles of the day, a bubble of calm where I could shut out the anxieties of day to day life and gave me a feeling of accomplishment however small that was and insignificant to the rest of the world. It made me feel happy and productive. The impact was so significant that I now run my own sewing pattern business, Greyfriars and Grace, allowing me to do what I love as a job and, hopefully, encouraging more people to take up sewing along the way.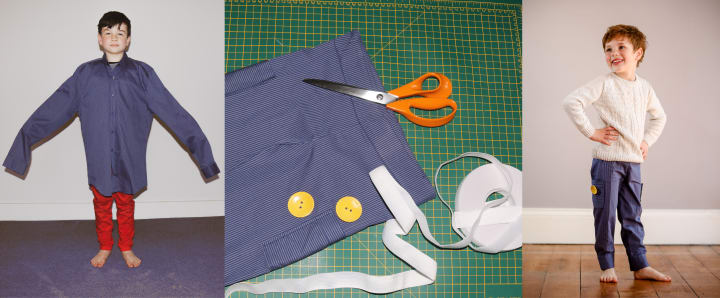 If you haven't tried sewing and want to, some essential basic tools are dressmaking scissors (Fiskars are the best), pins or sewing clips, a metal 1m ruler, measuring tape and tailors chalk.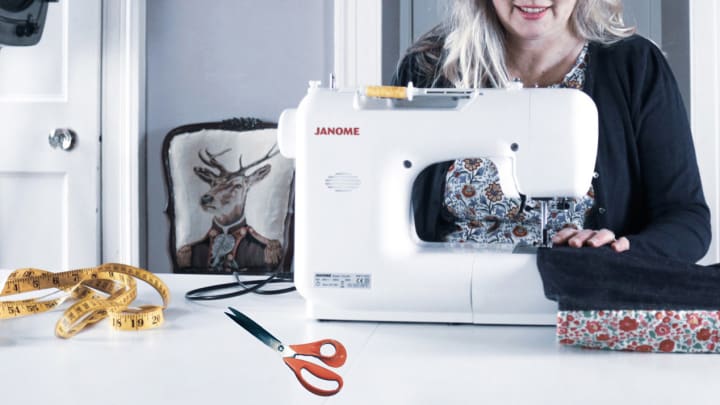 I would recommend borrowing a sewing machine or perhaps renting one or taking a beginners class (where they provide the machine) if you don't want to buy a machine just yet. You might want to see if you like it first or save up before buying your own machine.
Start with something simple like an apron, baby bibs, scarf, tote bag, or envelope cushion/pillowcase. You Tube is your best friend. There are literally hundreds of thousands of "How to....." videos showing you how to thread your machine, do basic stitching and make things.
Discover the world of fabric. There are so many beautiful, interesting and unusual designs. Even better, head to your local thrift/charity shop and seek out unwanted clothes or textiles that you can use. I have plenty of cushions, tops and dresses with a previous life as curtains, tablecloths or duvet covers. You will be supporting the charity and reusing fabric and textiles that might otherwise end up as landfill.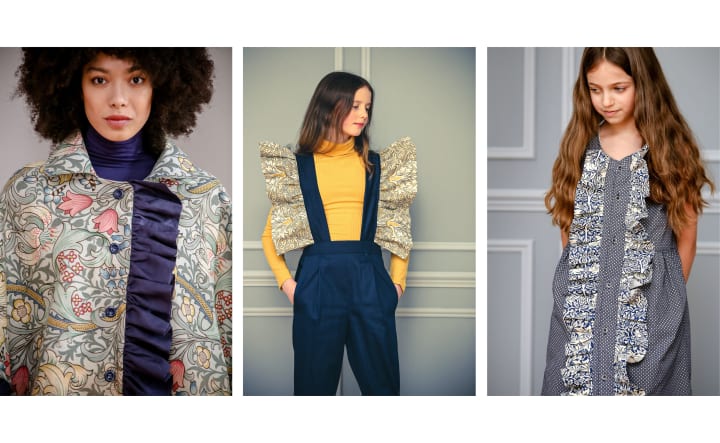 The mental health benefits of craft hobbies such as sewing, knitting and card making are becoming more widely appreciated especially following long periods of COVID lockdown endured by so many of us around the World. It is no coincidence that the online sales of the UK's largest arts and craft retailer tripled during lockdown.
In no particular order here are my thoughts on some of the mental health benefits of sewing although I expect most would apply to any craft:
1. Mindfulness - the problem with the human brain is that there is no temporary off switch. It can go into overdrive and, in more serious cases, you start to catastrophise (where you perceive a situation to be considerably worse than it is) and there is no escape from dark thoughts. Often these thoughts are caused by a traumatic experience, death or divorce. They can also be caused by so called "first world problems" but unfortunately, the human brain doesn't do perspective or rationality very well when it is fragile and once you start down the rabbit hole of anxiety and/or depression it can be difficult to think straight and see the wood for the trees. Practising mindfulness - focussing only on the present - helps slow down the brain and put some brakes on the brain train that is running out of control. Use your craft time to take a break from everything else that is whirling around your head. I know, easier said than done but if you can do this and sometimes it does take practice, it can create a feeling of calm and be a break from anxiety or depressive thoughts.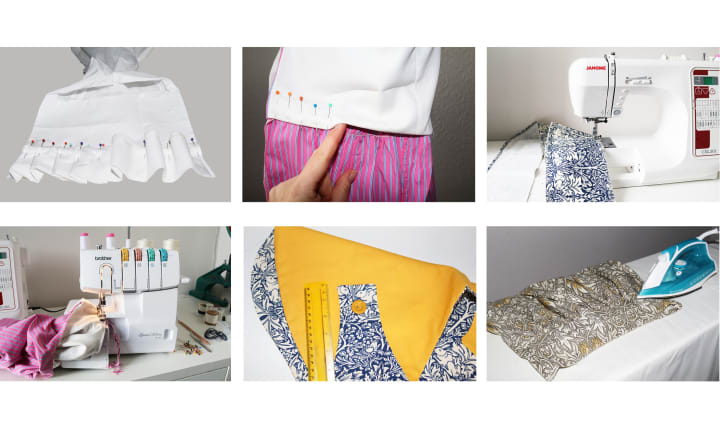 2. Satisfaction/Feeling accomplished - busy modern life can be a constant juggle of work and home life, running around all day and feeling like you have accomplished very little and often leaving jobs half done. Of course, most of the time this is untrue. You are doing your best and are achieving a lot it is just that it is easier for our brains to focus on what we are not doing rather than patting ourselves on the back for what we have achieved. What I like about sewing is that you have a project that you plan, do and finish. You have an actual end product to look at and say, I made this. Done. Mission accomplished. And, unless you are sewing a wedding gown, this is usually something that can be achieved in half a day or an hour every other day over the course of a week.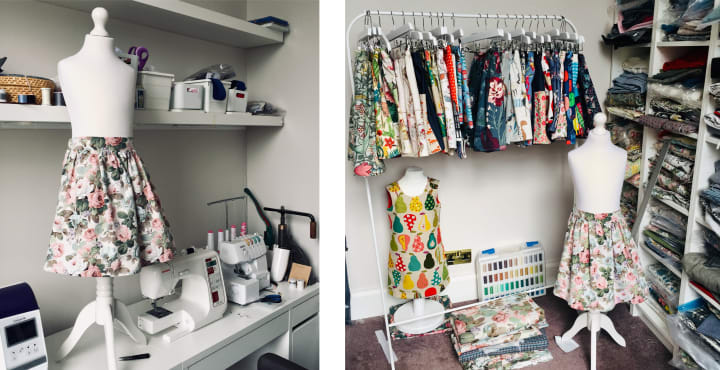 3. Time away from screens - we, well most of us, love our Netflix binges, Instagram, Facebook, Twitter or whatever is your social media of choice and can spend many happy hours watching, scrolling, reading, learning and connecting which for most of us is a good thing. However, particularly following COVID, screen time has increased with many of us working from home, microsoft teams instead of in person meetings, online schooling instead of lectures, online grocery and general online shopping has increased and in lockdown drinks in the pub had to be replaced by zoom parties. Screens are an overload on our senses which can be stimulating and fun but too much can lead to anxiety, restlessness and affect your internal body clock. Finding the time can often be hard but if you can, a walk/run/swim will do you the power of good as will doing something else away from a screen such as sewing or another form of craft.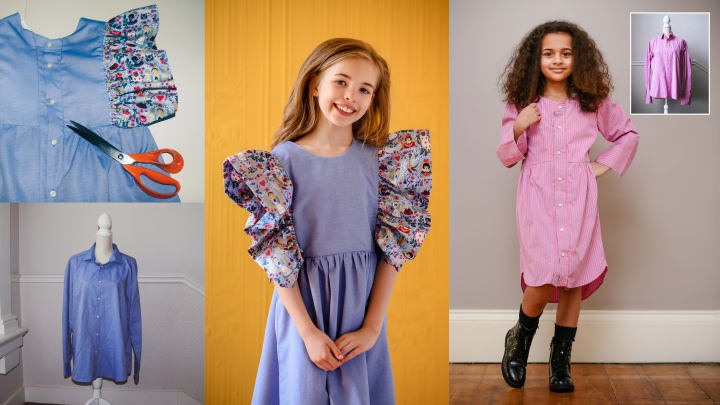 4. Me time - If you love and take care of yourself, you will be happier and better at caring for those around you. Crafting gives you some head space to do something for yourself and be happy, which has a ripple effect.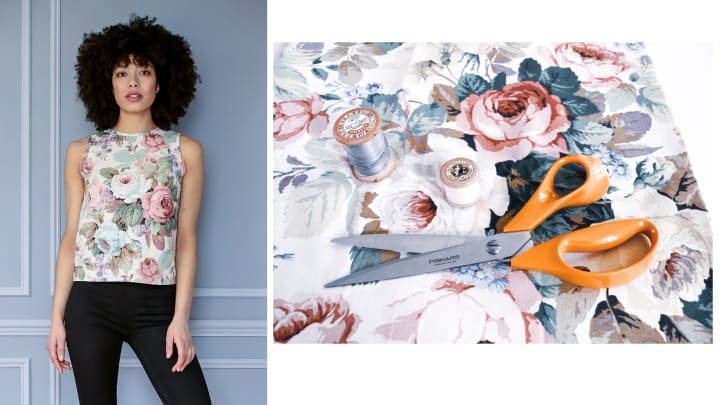 Life is not always easy. There can be many pressures and worries and whilst crafting is, of course, not the answer to everything and cannot by itself solve these issues, it can help your brain to relax and have some down time. Those mountains might become more like molehills and, after a bit of breathing space, you will hopefully find some peace and happiness and feel better able to take on what life throws at you.

Fiona Alexander
Designer creating sewing patterns with environmental focus on reusing existing natural textiles to help reduce excessive manufacturing, the release of plastic microfibres into our oceans and landfill
greyfriarsandgrace.com
@greyfriarsandgrace
See all posts by Fiona Alexander →