Daily Tarot Reading for Tuesday, January 24th, 2023
A daily reading for the day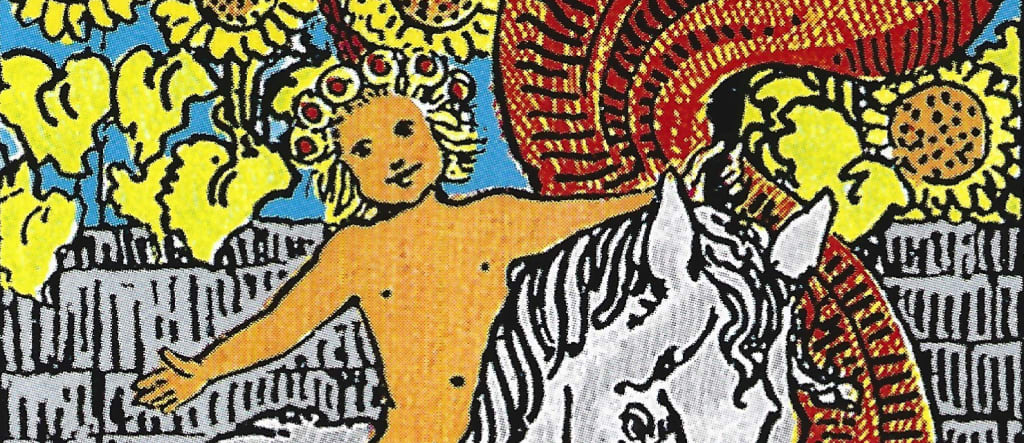 Yesterday's reading left me with much more than I first realized. I'm always amazed at how I'll finish a reading and then two hours later I'm hit again with another wave of insights about the cards. I realized after I finished the reading for yesterday that it had been the first day of the new lunar year. Which means there was a definite ending and a new beginning as well. So that really gave me more to ponder.
In general, I'm really enjoying doing readings for the day. so I've decided to continue doing just that. As I shuffled the cards I thought about today's date. The day of the week, the day of the month, and the year. The cards that I was given today are The Hierophant and The Sun.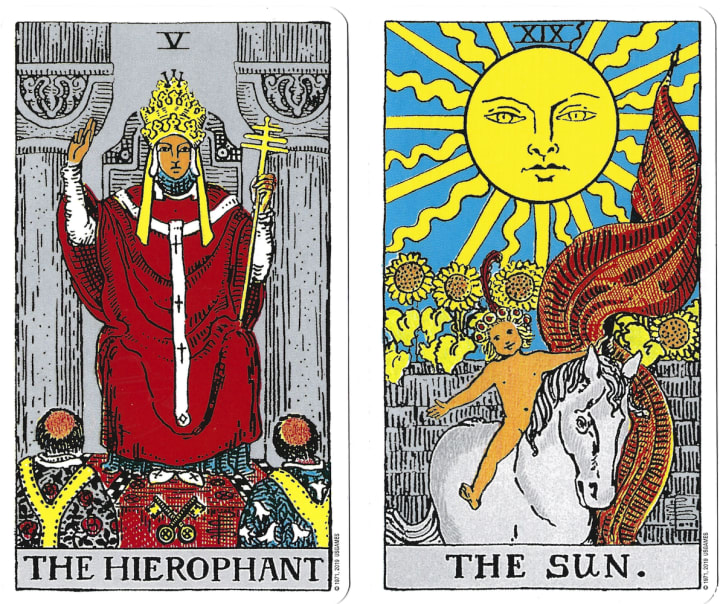 The hierophant is dressed in a full red robe, seated on a throne of some kind. And he has two disciples or associates at his feet. He has a serious look about him and seems to be commanding something of the two people at his feet. This card feels like bad news or maybe it's that unexpected talk from your boss about your choice to dye your hair, or maybe your boss wants you to smile more when greeting customers. It feels really mundane like that but I feel the energy of a boss or other authority figure in the process of scolding or commanding some kind of change. The card represents conformity, traditions that must be upheld. Conventional thoughts and actions. But he's a bad guy. I"m not yet sure how this relates to the day. If yesterday was about starting over then perhaps today will feel like things are the way they've always been or perhaps that's what the day wants of us to continue as we have been doing. I feel that it's a continuation of having had a great celebration. We sang songs, made jokes, laughed, and had a great with friends and family. But the party is over, and the universe is asking us to come back to our lives to do things as we have always done. It doesn't mean we can't have fun, just that we have to do all the adult things we always do. We have to be responsible and take care of what we need to take care of.
Now onto The Sun.
I have to say that out of the entire deck, the cards of the Major Arcana are still new to me and having pulled two cards from the Major Arcana is definitely a challenge for me. The last card feels a little like a downer. And this card feels like a warm sunny summer day. The kind of day where you can run outside and not bring a jacket. There is a carefree attitude about this card. The Sun is happy card, full of warmth and vitality. It represents happiness and joy. It represents success. The sun is massive and takes up a third of the card. There is a naked child riding a horse and he looks like he's having the best day of his life. There are four sunflowers. 4 is a number that represents stability and security. There's a red sash being thrown off and floating down to the ground.
I get the feeling that while there are rules to follow and things we have to do, we can throw off the robe and still have fun. We can still enjoy ourselves while doing all that we have to do. What I'm getting is a sense of not buying into the garbage that you have to be miserable in order to do your job. That you can be responsible and play at the same time. Following the rules doesn't have to suck out your soul. You can be who you are, have all the fun, and still do all that this world is requiring of you. That your boss can scold you for dying your hair blue and you don't have to be mad or angry about it. You can still bring your vibrant and happy energy to your work despite all those things that are trying to bring you down. You don't have to be brought down into someone else's misery. If they want to be unhappy that's them, not you.
I say skip from the car to that meeting you're dreading. Hum a happy song while waiting in line at the bank. Make someone laugh today. Smile and be happy in spite of all that may be trying to bring you down. Don't let them do that to you. Have fun and be who you are. And smile!
Thanks again for reading. If this resonates with you or if you enjoyed this one please let me know by leaving a comment. If it doesn't resonate with you perhaps you know someone who might need to hear this message today. Send it to a friend. Thanks again and have a great day!
####
About the Creator
I'm an intuituve tarot reader studying the tarot and writing about my journey. To purchase readings please visit my livelogue site.
Reader insights
Be the first to share your insights about this piece.
Add your insights