COVID-19 Vaccines Aren't Enough for Immunosuppressed
I am fully vaccinated but will continue living like I'm not.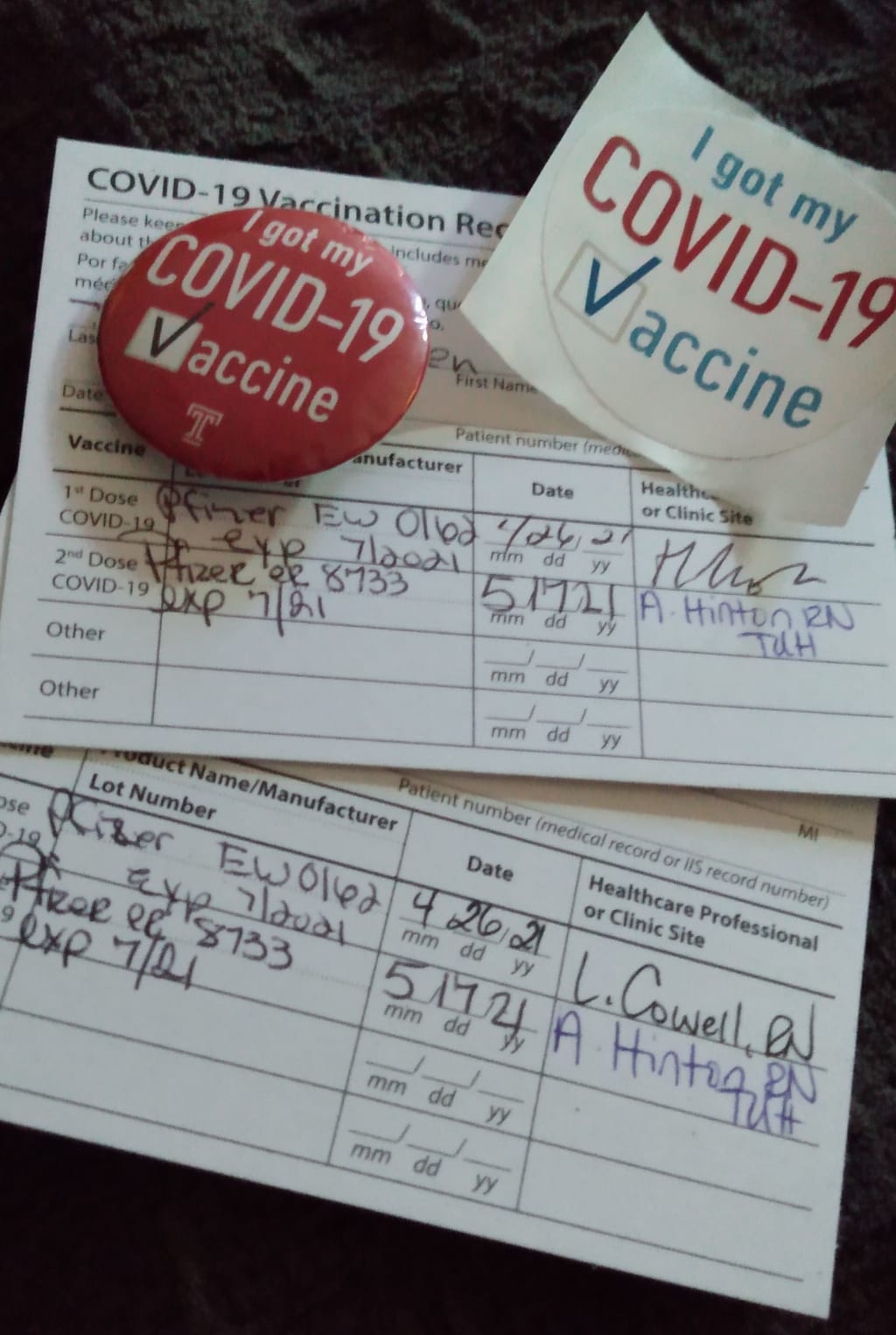 Fully COVID-19 Vaccinated not enough for Immunosuppressed Robin L. Jessie-Green
I was afraid to get the COVID-19 vaccination. There isn't much promising information for someone like me. As an immunosuppressed, double lung transplant recipient, there isn't much hope for me surviving COVID-19 if I contract it.
Initially, I was against getting the vaccine. After reading about the Johns Hopkins study that states only a 17% likeliness of a transplantee developing antibodies after the first dose of Pfizer or Moderna and up to 54% effectiveness after the second dose, I wasn't left feeling secure about the idea.
In fact, I figured there was a greater chance of being at risk for contracting COVID while venturing out in the world to receive the vaccination. I also read about speculation of the vaccine putting transplant recipients at risk for rejection of their new organs, but my transplant doctor assured me there is no evidence of the vaccine being harmful to transplant patients. I just wasn't convinced the COVID-19 vaccine was for me.
What Changed My Mind:
After a follow-up appointment with my Lung Transplant Specialist, my mindset shifted. During my visit, my lovely and competent Transplant Nurse Coordinator asked if I'd been vaccinated. I told her, "No." and why. The conversation quickly turned more serious.
This typically jovial woman turned to face me to share with me the hard truths of the matter. She had recently lost a long-time colleague and friend from the Respiratory team. Someone dedicated to helping individuals like myself. They did all they could to fight for her life but they weren't able to save her.
Then she expressed her concerns for me. She gave me the impression that if a lung transplant recipient catches COVID, there is little they can do. They had just admitted a transplant patient with COVID.
She convinced me to go on faith without instructing me to do so. Her reasoning was that this thing is so unrelenting that I should do all I can to take whatever measures to possibly protect myself from contracting it and give myself a chance at continued life even if I do. So, I left my appointment that day and immediately went to the nearest location that takes walk-ins for COVID-19 vaccines.
My Reasoning:
The facts remain unchanged. I am immunosuppressed, I take the anti-rejection medication mycophenolate also known as Cellcept twice daily. That medication is known to block the development of antibodies that protect you from Coronavirus. However, my transplant doctor suggested that antibodies are not the only sign of protection.
So, I justify my actions this way: much was done to save my life. After being diagnosed with a rare autoimmune disease called polymyositis, which attacked my lungs, a 24-year-old former drug addict had to die in order for me to survive with her lungs becoming my own.
My heart stopped and I was brought back. I was put on various forms of life support. On more than one occasion, my doctors thought I was going to die. Despite things not looking very promising, they still fought for me. I still fought to live. So, getting the vaccine even if there isn't much scientific information on the benefit is inconsequential. I'll continue moving by faith. It's what kept me here this long.
My Advice to the Immunocompromised Community:
This is what I would say to those who are immunosuppressed and or have had a transplant, there is no evidence that the COVID-19 vaccine is harmful to us. There is evidence that COVID is fatal.
Do whatever you can to stay alive and remain diligent with taking precautions to prevent yourself from contracting the virus.
It is suggested by Brian Boyarsky, M.D., a surgery resident at the Johns Hopkins University School of Medicine that "based on [their] findings, [it is] recommend[ed] that transplant recipients and other immunocompromised patients continue to practice strict COVID-19 safety precautions, even after vaccination."
Even though I am now fully vaccinated with the Pfizer COVID-19 vaccine, I will continue to behave as if I haven't been vaccinated. Frequent handwashing, using hand sanitizer, wearing masks, and social distancing. Additionally, I will make certain to only spend time with those who are fully vaccinated. For someone like me, the COVID-19 vaccine is not enough.
Resources:
Organ Transplant Recipients Remain Vulnerable to COVID-19 Even After Second Vaccine Dose
COVID-19 Story Tip: Covid-19 Vaccines May Not Produce Sufficient Antibody Response in Transplant Recipients
Not just antibodies: B cells and T cells mediate immunity to COVID-19
science
Temple University BA and AIU Online MBA Alumna.
Content Contributor for Medium, eHow, Examiner, Experts123, AnswerBag, Medicine-guides.com and various other sites spanning a decade.
Visit my Writing Portfolio to see what else I've written.