Brighten Your Day by Doing These Amazing Things
10 simple ways of cheering up.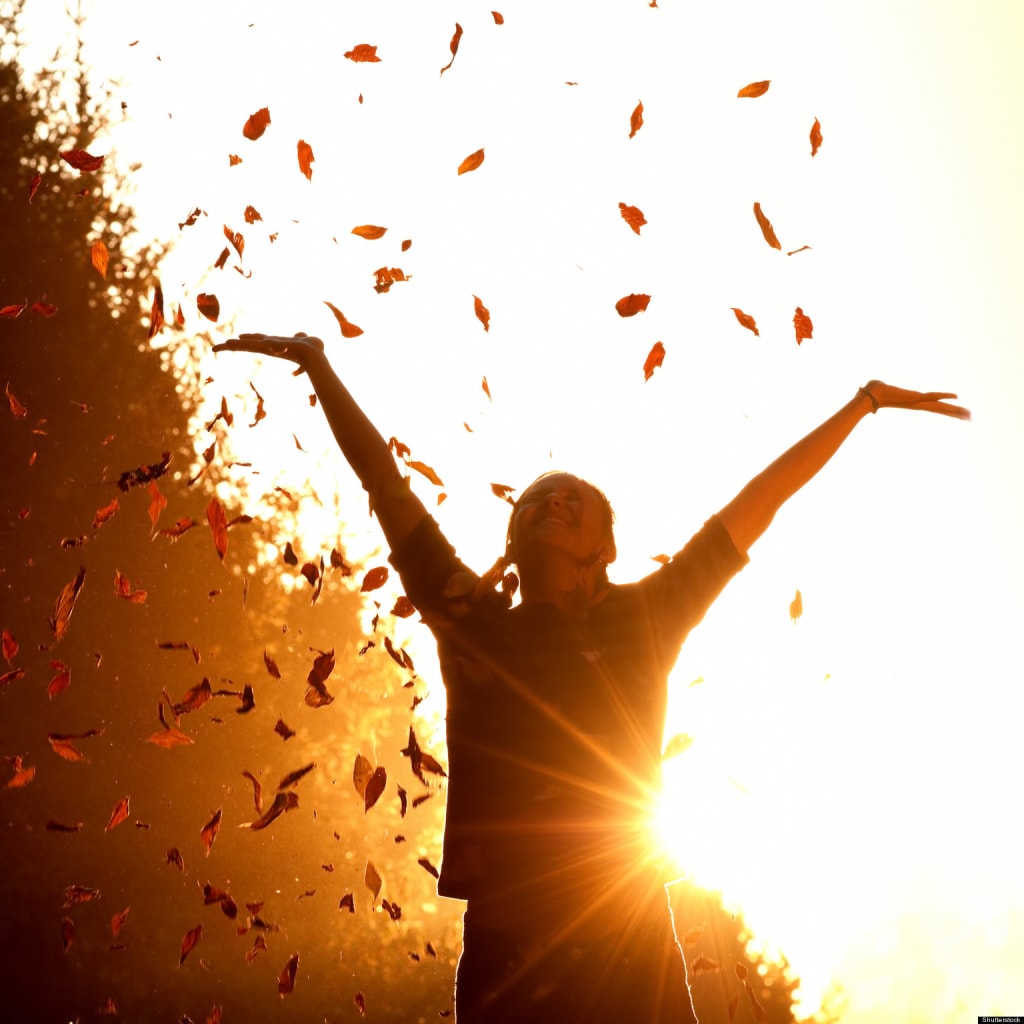 I: Listen to music. Happiness is dance music. I know it's very tempting to listen to songs that match your mood but don't you think that is slightly masochistic? I always question why I am listening to a sad song like an idiot while crying. Just when I am sad, by the way, not when I am cheery like a cherry. Here are some recommendations in case you have no idea what to listen to. Some of these songs are in different languages, but the beat is to dance.
Don't Stop Believing by Journey. This one never fails to cheer me up, and I sing along for at least a day or two.
Juke Box Hero by Foreigner. After hearing this song, you will feel like the jukebox hero indeed.
Fire by BTS. If you do not know the Bangtan Boys, they are a seven-member Korean group that sings songs to boost your self-esteem. Highly recommend -- check them out.
Price Tag by Jessie J. This song is amazing! More if you are watching the music video and singing along to Jessie J, Ariana Grande, and Nicki Minaj.
Bang Bang Bang by BigBang. Another Korean group band composed of five talented men. Sadly, they are going separate ways for a couple of years but will hopefully come back when they finish their duty with their country. One thing though is that BigBang albums are just as reliable as BTS. Not only do their songs boost your self-confidence and be relatable but their songs also makes you want to party.
II. Watch a comedy movie or show... or a rom-com if you want to, the point is to look for a source of laughter. It could be by watching youtube videos or romcoms that have no tragedy, blue theme going on.
Recommendations:
Youtube:
The Gabbie Show: this youtuber makes me laugh with her storytelling techniques and recreations of others people short clips.
Thomas Sanders: He films himself trying to find a solution to his problems with his others personalities and to be honest, his little debates among himself helps me figure out whatever is bothering me.
Compilation of vines and try not laugh challenges also work.
Movies:
Legally Blond
Miss Congeniality
White Chicks
III. Move around… dance, work out or even clean. Doing any activity that includes a lot of body movement produces endorphins, also known as the happy hormone.
So basically what Elle Wood from Legally Blond said, "Exercise gives you endorphins. Endorphins make you happy. Happy people just don't shoot their husbands; they just don't." Just don't go so far to murder someone because you are sad. Let's just not go there in this article.
IV. Read a book. You know that book you have been postponing because you were too busy? That book your friends keep commenting about it because of how funny it is? Yes, the one that is being adapted to a movie. Go and read it. Personally, reading a book gives me the opportunity to escape reality and go on a journey with the protagonist of the story and be glad that he/she got the chance to overcome her obstacles. Recommendations:
Standalone:
Fangirl by Rainbow Rowell
Series:
Rebel Girl trilogy by Rachel Hawkins
Bedeviled by Shani Petroff
V. Play with your pet. Do you own a pet? It does not matter if your pet is inside a tank. As long as it is safe, meaning you won't get poisoned or choked while playing with your pet, go for it. Besides the obvious production of endorphins, the happiness in your pet's eyes is worth it. Trust me; your pet will appreciate it too.
VI. Hang out with friends. Sometimes being alone and sad is not a good combination. Call your bros and girls to go out clubbing, bowling or the movies. Heck! Just going out with them to get ice cream is brilliant! Not only can you distract yourself and feel happy but also get advice from them whenever you decide to open up.
VII. Go for a long drive. Ever since I learned to drive and got my license, going for a long drive (or just driving around when given the opportunity) releases unwanted feeling and let any mumble jumble thought to sort themselves out.
The purpose of a long drive is to drive around with no real destination. To hop in a car, be you the driver or passenger, and go around enjoying the view and conversation if you are with someone is the best thing ever!
Warning! Drive carefully and avoid rush hours. Otherwise, the results will be different.
VIII. Pamper yourself. Go shopping, do your nails, go to the beauty salon, go to the spa if you can afford it and allow yourself be treated like a princess or a prince. I know you guys also like getting pampered every once in a while, don't deny it. The point is to let someone else take of you.
IX. Win a game. For all hardcore gamers out there as well as casual gamers, there is no greater feeling than a passing game or winning a match. I love it when I get to be the conqueror of a match. It gives me the sensation of having some control in my life.
Now my recommendation is to go ahead and play Mario because a classic never fails if you play on the PC…or try League of Legends, or Skyrim.
X. Let it out. This one seems contradictory to the whole purpose of this article. However, sometimes it is best just to let it out. Be it by crying until no more tears come, out or to shout at the top of your lungs until you get a sore throat. The point is just to let it out. Make sure you don't hurt someone or yourself physically and don't scar yourself emotionally. You can also talk about it with someone. The point is to let it out.
Hopefully, these ten things help you cheer up somewhat. Remember, sadness is not invincible.