Aerial Fitness Will Be Your New Obsession
Abs, Inverts, and Addictive Classes...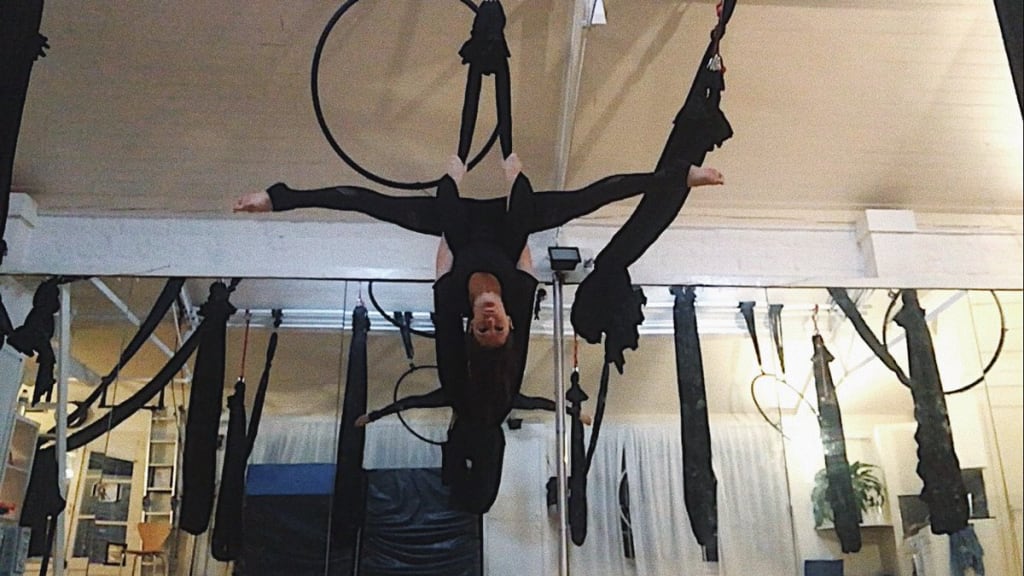 Skylab Studios
At a young age, my mother used to take me to showcases on the Southbank and around London. She worked with the London arts council and ran her own carnivals within schools, taught dance, marked arts awards training, and generally spent a lot of time around the London creative scene. I've always been artistic, largely due to her. My grandparents on my mum's side are both artists. My dad I credit my musical ear to; he brought me up listening to every kind of music possible, took me to concerts as a child all the way through to now. I was blessed to have parents that loved the arts, and in turn, passed their love on to me.
One of the main attributes that caught my attention was circus acts; I'm not talking about clowns and ringleaders, I refer to the nimble athletes that fly through the air via hoop, silk, and pole. Defying gravity with gymnastics in the sky. I had always wanted to be up there with them.
When I was at uni, just turned 18 and had already decided, after one shift, that waitressing and bartending were definitely not for me, I turned towards the pole. I didn't particularly want to be a stripper, but I had heard you could make big bucks and it meant I could finally learn to glide around the pole, upside down.
It was not as easy as it looked. In actual fact, it was incredibly hard, but I pushed on and eventually became pretty good at my art; now, if only I could take it OUT of the strip club... After a few years, I regretfully left my nighttime hustle in search of a more permanent career. I trained to teach yoga alongside my other music and modelling projects, but I did start getting invited to feature dance at conventions which kept my pole dancing strong.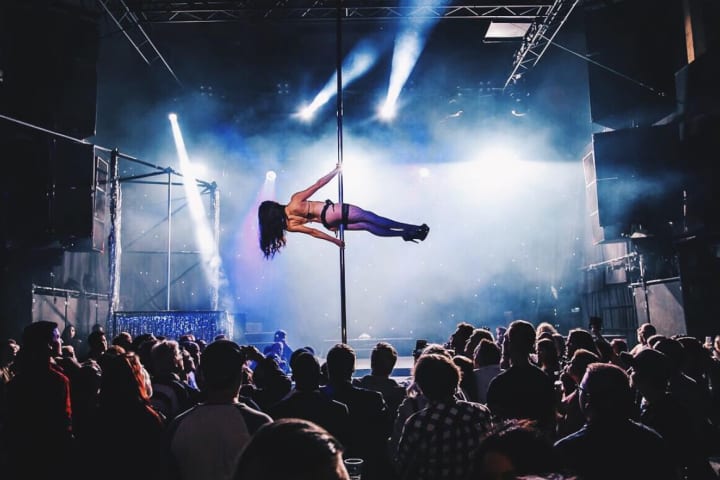 It was around this time that aerial and pole were spilling slowly but surely into the mainstream fitness world. Pole was no longer being looked down upon as a dirty stripper hobby, but was becoming a liberating, empowering... albeit sexy... way to keep fit. Pole schools were opening up, dance schools and gyms were erecting poles in their studios.
I have a weekly gig DJing at Gymbox in London, a very cool, new wave gym that promotes itself as more of a club. Live DJs spin nightly and they play host to some bizarre classes... amongst them "Circus Fit" and "Aerial Yoga"... as a yoga teacher and pole dancer, I immediately signed up for any and all air-bound classes.
It is important to note here that I HATE the gym. I hate it with a vengeance I cannot describe in words. Gyms give me anxiety; if I'm working out alone I have no idea what I'm doing at all. I usually spend 20 minutes on the treadmill and leave. If I work out with a trainer, I hate every second of it, I dread coming in, I dread the work out, I dread how stupid I look lifting puny little weights. I hate the way men look at girls in the gym... are you checking me out or laughing out how dumb I look? I hate the way girls look at girls in the gym... are you checking out how cool my leggings are or laughing at how out of shape I am compared to you? Every single insecurity I have is magnified in the gym, and on top of that, and I cannot stress this enough, I find it mind-numbingly boring. It is a chore. Something I disdain. Why on earth am I paying upwards of £75 per month for something I absolutely despise? Oh yes, of course, to stay in shape. To look good naked. To look good clothed. To keep my body healthy... to lower the levels of self hatred a few notches.
So, back on track. I brought my ass along to my first aerial class, brimming with anticipation and excitement. And. It. Delivered. Every second of was exhilarating. It was one of the hardest workouts I have ever done; sweat was pouring off me, my muscles ached like never before, but I LOVED it. There is something about being upside down in the air that fills you with elation. Aerial was exciting and interesting and DIFFERENT to any other gym class I had ever been to. I couldn't wait for my next class.
After a couple of months, I decided this was what I wanted to do. I signed up to train as an aerial yoga instructor having already trained my yoga and pilates certifications. Shortly after I completed the aerial course I began training at Skylab Studio in Camden to teach aerial conditioning. I now teach up to 9 hours of aerial a week. I never get bored. I wake up every morning and I cannot wait to get to the studio, many of my students come to every single class, the obsession with aerial goes deep.
Of course, aerial is not for all. Not everyone wants to be upside down or in the air. It is also incredibly difficult; you need to be willing to put in the time and effort to get to that stage where you can invert on a pole or silk. Some people show up never having worked out and never setting foot in an aerial studio, and expect to be in the circus by the end of an hour. It doesn't work like that, but give it time. Enjoy the journey, enjoy watching your body and your practice change. Practice anywhere and everywhere! I do pull ups on the tube (and occasionally pole tricks if the cart is empty).
I am so excited every single day that I get to do something I love for a living! If I'm not spinning in the sky, I make music and DJ by night, I am living my little musical circus dream. I encourage anyone and everyone to just give aerial a try. Age, gender, race... they are not important. We love and welcome you all.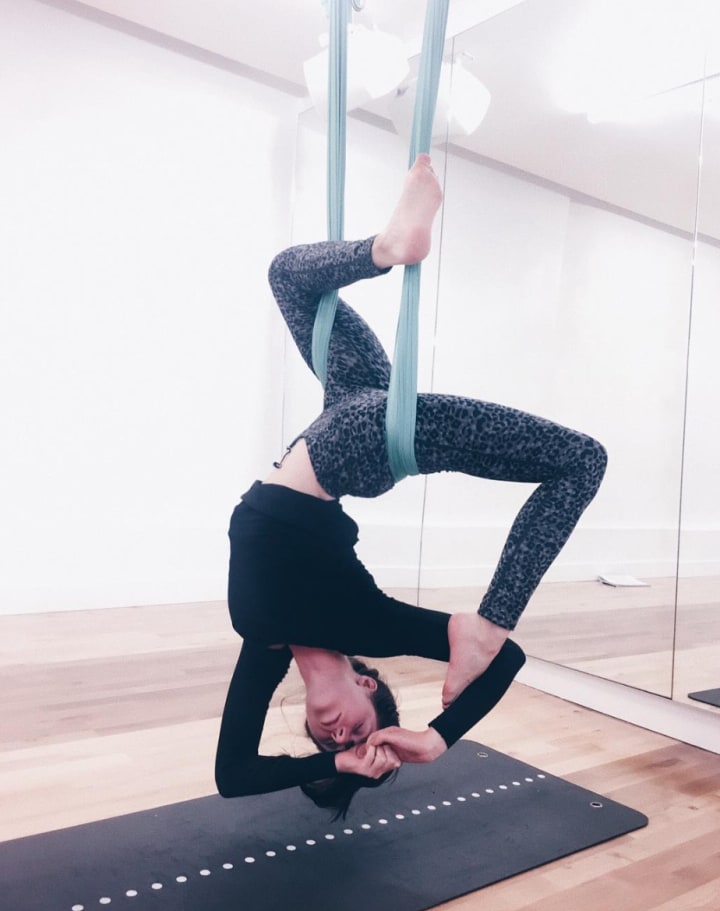 fitness
About the author
Born and Bred Londoner, Mother to baby Roman and my two pooches, Plant Eater, Yoga and Aerial Teacher + Learner, Music Maker... was once in Game Of Thrones, was once a Penthouse Pet, used to win awards for getting naked.
Reader insights
Be the first to share your insights about this piece.
Add your insights