A simple coronavirus test can detect antibodies in 15 minutes
A UK lab are selling the testing kits online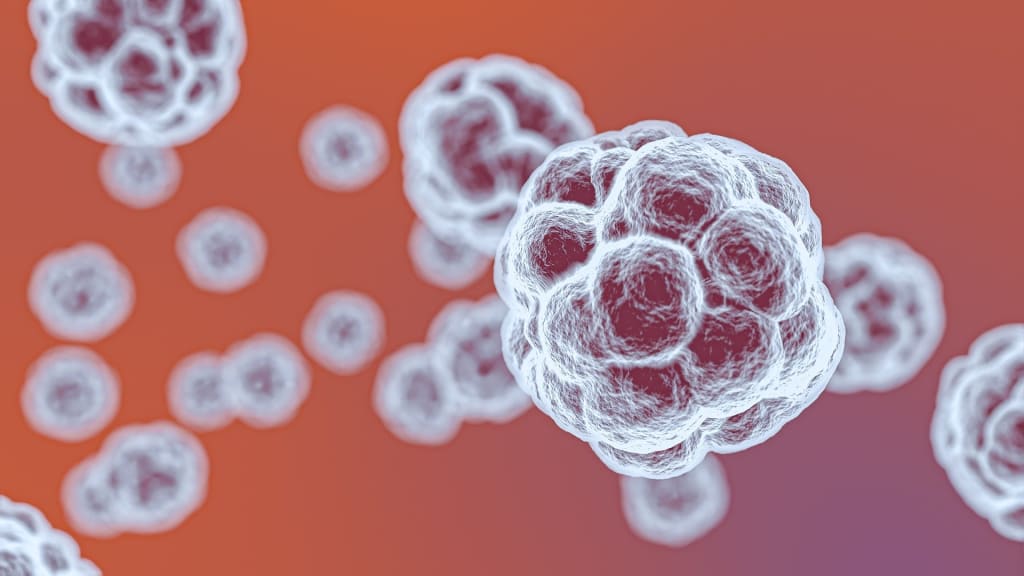 A UK based laboratory has developed a rapid coronavirus testing kit that uses a finger-prick blood sample, and gives out a result in just 15 minutes.
The coronavirus test is being geared towards employers rather than individual private customers. With more and more people becoming infected and being forced to self-isolate, it's crucial that vital industries can keep their workforce safe and keep things running as normal. The rapid antibody tests allows companies to screen their employees - potentially picking up a coronavirus case before the person even begins to show symptoms.
How does the test work?
The test is different to the nasopharyngeal method, which is used by hospitals to confirm a diagnosis. Rather than looking for the virus directly, this coronavirus test detects two specific antibodies that indicate a COVID-19 infection. They are Immunoglobulin M (often referred to as IgM) and Immunoglobulin G (or IgG).
IgM is the body's largest antibody and the first to appear in response to a antigen such as coronavirus. If IgM is present in the donor's bloodstream, it tends to indicate a recent exposure to the virus.
IgG antibodies are highly adaptive, and produced to combat a specific infection. If IgG is detected in the bloodstream, it tends to indicate a later stage of infection. It can also indicate a past infection that the donor has recovered from.
If one or both antibodies are detected, the test gives a positive readout. Although the antibody is test is highly accurate, the manufacturer suggests that it best used as an initial screening test. Anybody who tests positive should seek medical advice and have further confirmatory testing done at a hospital.
4 step test
The test takes minutes and can be carried our practically anywhere.
First a lancet (or 'pin-prick' device) is used to draw a small drop of blood from the donor's finger.
The blood sample is placed in the sample well on the testing device
A few drops of buffer fluid are added to the sample. This helps to speed up the reaction.
15 minutes later the result appears on the device's display. It can show one of four results, as shown below.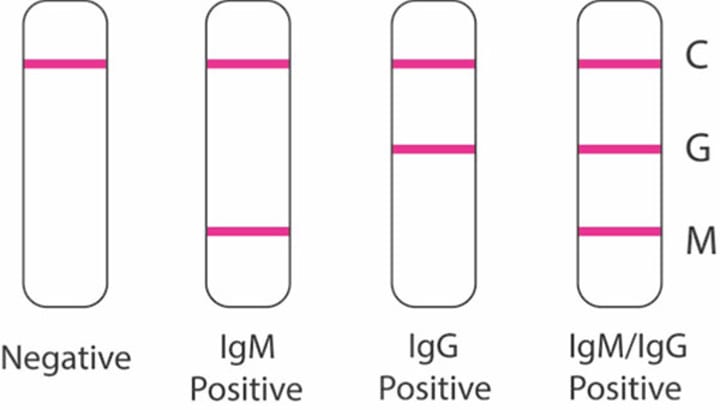 The display window resembles that of a home pregnancy test. The single-use test can be disposed of after use.
It can detect an infection even if there are no symptoms
Speaking to the Evening Standard, a spokesperson for the lab explained:
"Recent studies suggest that a high percentage of patients show no clinical symptoms, which is why the spread of coronavirus is creating major logistical and operational problems for businesses, with no way of predicting how long the pandemic will last or the impact it will have.

"Human resources teams are having to deal with the physical and emotional concerns of their staff while continuing to perform their duties in this climate of uncertainty.

"Immediate results are essential if employees need to be isolated or quarantined.

"As a testing services provider, we have been inundated by requests from our customers to help address the issue, as a lot of the advice currently available from government, health bodies and the media is very mixed.

"We are pleased to be able to respond to this demand by offering a fully-certificated European-registered device which can be used in a healthcare or commercial premises environment. We are proud to be the first UK laboratory equipped to process test results on a mass scale, although we have a limited supply of the kits available."
Is the test accurate?
The manufacturer describes the test as a "reliable, rapid, cost effective means to quickly identity COVID 19 infection", which they say is in high demand at the current time. A very similar test was employed by the Chinese Centre for Disease Control and Prevention during the early stages of the coronavirus pandemic in Wuhan, China. It is described as over 90% accurate, and should be followed up by laboratory confirmatory testing if it gives a positive result.
What should I do if I can't get a test?
The latest advice for UK residents is to stay at home and practice social distancing - whether you think you are infected or not. Workers have already been asked to work from home if possible, and all schools across the country were closed in mid-March.
If you believe you are infected, the advice from the NHS is to stay at home at not to visit a hospital or GP surgery. If your symptoms are mild, you will not be offered a test - you will simply be expected to self-isolate. Only people who are ill enough to be admitted to hospital are being routinely tested.
According to the NHS, the symptoms of COVID-19 are:
a high temperature – this means you feel hot to touch on your chest or back (you do not need to measure your temperature)
a new, continuous cough – this means coughing a lot for more than an hour, or 3 or more coughing episodes in 24 hours (if you usually have a cough, it may be worse than usual)
More information can be found at https://111.nhs.uk/covid-19/