A Sense Of Purpose Improves Mental Health
And there are many ways to find purpose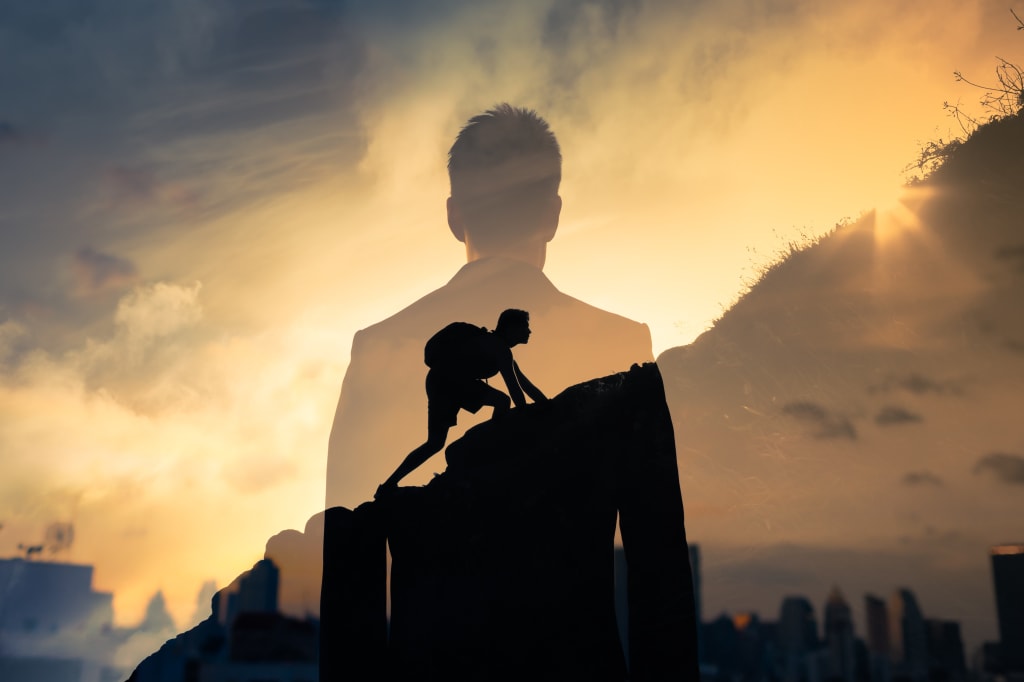 People never giving up | credit: kieferpix | iStock (under license)
"A life void-of-purpose is no life at all"

― Iain Cameron Williams
When my husband died, I was able to take a significant amount of time off work. Initially, I had no responsibilities other than caring for myself and my two daughters, ages 17 and 19. I was aware that there was a dark abyss of sadness and grief waiting to swallow me.
I knew if I went into the abyss, it would be hard to get back out.
I found it was essential to plan and keep to a schedule, even if I was scheduling unimportant tasks. Having a plan kept me moving forward.
~
Finding my purpose
Eventually, I found purpose and began a graduate program in mental health. Today, I am a practicing Associate Professional Clinical Counselor on the path to full licensure. I work for a non-profit, and all of our clients are from underserved populations. Although some do have jobs, many of my clients struggle to find a sense of purpose.
Burrow and Hill (2020) explain that having a sense of purpose is linked to well-being and healthy functioning. The authors describe three types of interactions that impact a sense of purpose: work, education, and physical proximity (Burrow & Hill, 2020). When I treat clients, especially those experiencing depression, these are a few of my focus areas.
~
Finding purpose in education and career
When I see a client for the first time, I ask questions about their educational history, work history, and social support to determine potential stressors. I have a lot of adolescent clients, and I enjoy discussing future goals with them. Many of them have not had the opportunity to explore what type of occupation they would like.
The U.S. Department of Labor, Employment and Training Administration supports the O*NET OnLine website. This site has resources and statistics on various occupations, including the level of education required. The site also includes a link to another sponsored site, My Next Move, which provides additional resources and an Interest Profiler, which helps determine the types of occupations that match the individual's interests. The resources are free for anyone to utilize, and I frequently share them with my clients.
~
Finding purpose through connection
Another important aspect of finding purpose is having connections with others. To determine relationships, I spend time asking my clients about their social support. Many people are fortunate to have close family connections they can lean on during difficult times. My clients do not always have these types of family connections.
Friends are another vital source of support. Even if someone is not regularly in touch with friends, they may have the type of relationship that endures without regular contact. I encourage my clients to reach out to these types of friends.
There are times when my clients don't have the support of friends or family. When this happens, I try to dig deeper and find interests they have that might provide a source for other connections. There are many clubs and groups that individuals can participate in and meet people with similar interests. Volunteering also provides opportunities for connections.
Unfortunately, many of these connections are unavailable during a pandemic.
~
Finding purpose during a pandemic
In a study on isolation during the pandemic, Diamond and Willan (2020) proposed using the Five Ways to Wellbeing, a set of evidence-based actions developed by the New Economics Foundation in 2008 and updated in 2020. These actions include some of those mentioned above, as well as a few additional activities.
~
"Live as if you were to die tomorrow. Learn as if you were to live forever."

~ Mahatma Gandhi
Learn
While enrolling in structured classes is one way to learn, the sense of accomplishment gained from learning doesn't need to involve formal education. According to AARP, many older Americans chose to learn to play an instrument during the pandemic. New York Magazine lists hobbies people have taken up during quarantine, including learning to bake and sew.
~
"I define connection as the energy that exists between people when they feel seen, heard, and valued; when they can give and receive without judgment; and when they derive sustenance and strength from the relationship."

~ Brené Brown
Connecting during a pandemic
Although social distancing and business closures limit the type of interactions we have, there are still ways to maintain connections. Many of us are utilizing Zoom or Microsoft Teams to connect for work or school. You can also use these platforms to communicate with family and friends.
My family meets every Sunday for a Zoom call, and we talk more often than we did before the pandemic. My children watch movies or play games online with their friend groups using Discord or Messenger to interact while watching/playing. Maintaining connections is vital.
~
"If you want to conquer the anxiety of life, live in the moment, live in the breath."

~ Amit Ray, Om Chanting and Meditation
Take notice, be curious, be mindful
Meditation or mindfulness activities are great ways to take notice and be curious, but you can do this casually as well. Sit outside and take in the sights and sounds. Go into nature if you can. Clearing your mind and noticing the little things can improve your mood.
~
"Remember that the happiest people are not those getting more, but those giving more.". ~ H. Jackson Brown Jr.
Give
You don't need to give money or physical items. Give time, run an errand, or call someone who lives alone. During the pandemic, many people are limiting their excursions due to health concerns. In my neighborhood, the Nextdoor Neighbor app has a feature that allows you to sign up to help others. Giving your time can be another way to have connections.
~
"Not only does exercise keep the body young, but it also keeps the mind vital and promotes emotional well-being. The important thing is to start off slowly, find physical activities you enjoy, and do them regularly." ~ Deepak Chopra
Be active
With many people working from home and limiting their excursions, physical activity has dropped during the pandemic. Getting exercise is more important than ever. And many gyms are closed. Walking is an excellent form of physical activity that only requires comfortable shoes. There are also activities you can do at home, such as yoga and other exercises. Many websites provide videos and suggestions for activities at no cost.
~
Finding purpose improves mental well-being. Depending on how you find your purpose, it may even improve physical health. Give it a try!
References
Burrow, A. L., & Hill, P. L. (2020). Purpose by design or disaster: Preserving a sense of purpose amid environmental uncertainty. Journal of Environmental Psychology, 69, 101436. doi:https://doi.org/10.1016/j.jenvp.2020.101436
Diamond, R., & Willan, J. (2020). Coronavirus disease 2019: Achieving good mental health during social isolation. The British Journal of Psychiatry, 217(2), 408–409. doi:10.1192/bjp.2020.91
Originally published 12/7/20 on Medium.com
mental health
I began writing after my late husband's death in 2016. I created a blog, My Life After Patrick to write about my experience and how I was moving forward. In the five years since then I have finished my Masters in Counseling and remarried.
Receive stories by Danell Boyles TeNyenhuis Black in

your feed