9 Gym Bag Essentials You Can't Work Out Without
Looking for the best gym bag essentials? Look no further! From sneakers to a smartwatch, we've put together this list of the top essentials you can't work out without.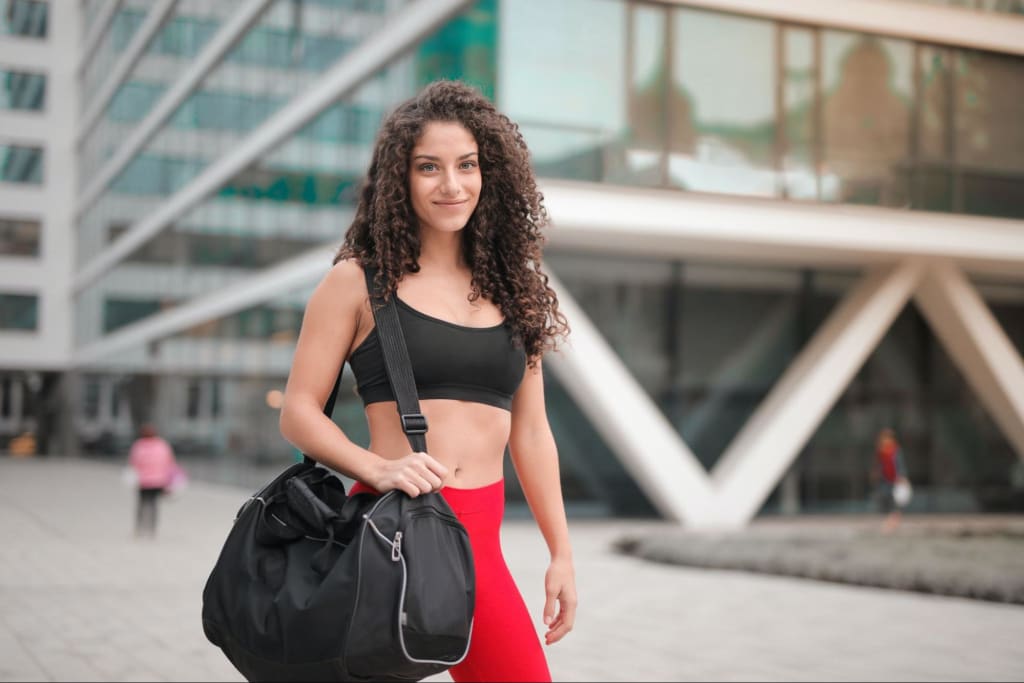 Working out is hard enough as it is, without having to worry about forgetting your essentials. From sneakers to a smart watch, we've put together this list of the top gym bag essentials you can't work out without.
Keep reading for suggestions on what to look for when buying each item and tips on making the most of them during your next workout!
1. Sneakers - A Must-Have for Any Workout
No matter what type of workout you're doing, a good pair of sneakers is a must. They provide support and stability for your feet and can help prevent injuries.
How to choose the right pair of sneakers:
When choosing a pair of sneakers, it's important to consider the type of activity you'll be doing. For example, if you're going to be running, you'll want a pair of shoes specifically designed for that.
Additionally, try them on before you buy to ensure they're comfortable and the right fit. Finally, don't forget to break them in before your first workout! Going for a short walk or jogging around the block a few times should do the trick. Some great sneakers for working out at the gym are:
Nike
Adidas
Reebok
New Balance
2. Smartwatch - the Perfect Workout Companion
Few things are more motivating than seeing your progress as you work out; a smartwatch is the perfect way to do that.
A smartwatch can track your steps, heart rate, and calories burned; some also come with features like GPS and music storage! This makes them the perfect workout companion and fitness gadget.
How to choose the right smartwatch:
When choosing a smartwatch, consider what type of workouts you'll be doing and what features are most important to you. For example, if you're interested in tracking your heart rate, choose a watch with that capability.
Additionally, decide whether you want a watch with GPS or one that stores music.
Finally, consider your budget; smartwatches can range in price from $100 to $500 or more. Huawei, for example, does a great job of offering high-end features without breaking the bank.
3. Water Bottle or Flask - Stay Hydrated on the Go
Staying hydrated is essential, both for your health and your workout. A water bottle or flask makes it easy to take your water wherever you go. In fact, we recommend bringing one with you even if you're not working out!
How to choose the right water bottle or flask:
When choosing a water bottle or flask, consider how much water you'll need to stay hydrated throughout the day. A small water bottle or flask of around 20 ounces should be sufficient if you're only working out for an hour.
On the other hand, if you're working out for several hours or in hot weather, you'll need a larger water bottle or flask.
There are also a variety of materials to choose from, such as stainless steel, glass, and plastic. Opt for a material that's durable and BPA-free. Some of our favorite water bottles and flasks are:
S'well
CamelBak
Hydro Flask
Klean Kanteen
4. Protein Bars - Fuel Your Workout
You can't work out on an empty stomach, which is where protein bars come in. Protein bars are a great way to fuel your workout and help you recover afterward.
They're packed with nutrients like protein, carbs, and healthy fats, which can help you perform your best.
How to choose the right protein bar:
When choosing a protein bar, look for one that contains around 20 grams of protein and is low in sugar. Sugar can give you a quick burst of energy, but it will also cause an energy crash later on.
Also, check the ingredient list to ensure the bar doesn't contain any unhealthy additives like artificial sweeteners or preservatives.
Finally, consider your dietary restrictions; many protein bars are gluten-free, dairy-free, and vegan. Some of our favorite protein bars are:
RXBAR
Quest Bar
LaraBar
One Bar
5. Gym Clothes - Dress for Success
You wouldn't wear a business suit to the beach, so don't wear your everyday clothes to the gym. Gym clothes are designed to be comfortable and allow you to move freely.
How to choose the right gym clothes:
When choosing gym clothes, think about the type of workouts you'll be doing. If you're going to be lifting weights, for example, you'll need clothes that allow you to move freely and don't restrict your range of motion.
Additionally, consider the climate; if it's hot outside, opt for light and breathable fabrics. Some of our favorite gym clothes brands are:
Nike
Under Armour
Adidas
Puma
6. Toiletry Bag - Stay fresh After a sweaty workout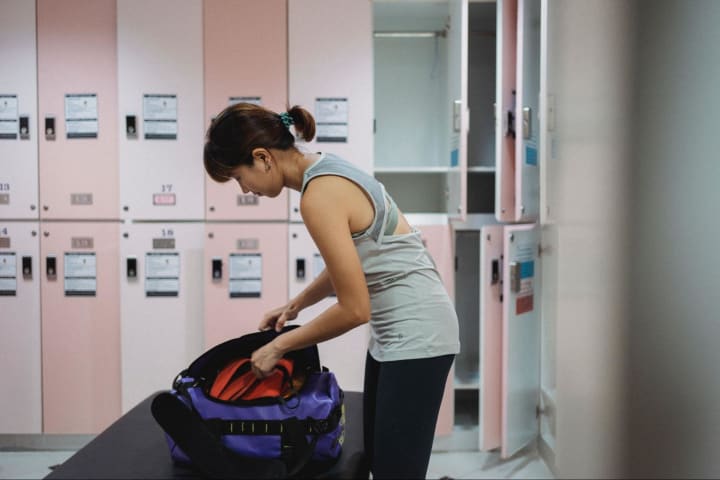 Trust us, the last thing you want to do is rummage through your gym bag for your deodorant or face wash while you're sweating bullets. A toiletry bag helps you stay organized and keep your essentials within reach.
How to choose the right toiletry bag:
When choosing a toiletry bag, consider its size and its many compartments. You'll also want an easy-to-clean bag, so look for one made of waterproof or water-resistant material. Pick a bag with enough space to store all of your essentials, including:
Deodorant
Face wash
Body lotion
Sunscreen
Lip balm
Dry Shampoo
Cleansing wipes
7. Gym towel - A necessary staple
More than anything else, gym towels are absolutely essential in your gym bag. They wipe away sweat, prevent chafing, and protect your equipment from bacteria. As a ma
How to choose the right gym towel:
You probably shouldn't just pack your bath towels in your gym bag. Gym towels are typically smaller and more absorbent than regular towels.
They're also often made of quick-drying material so they won't stay wet and musty in your bag. Most importantly, look for an antimicrobial gym towel so that it won't harbor bacteria.
8. Resistance bands - The versatile workout tool
Whether you're a beginner or a seasoned athlete, resistance bands are a great bonus to your workout routine or add resistance to your workouts without using weights.
They're versatile and can be used for a variety of exercises as well, such as bicep curls, triceps extensions, and leg squats.
How to choose the right resistance band:
When choosing a resistance band, consider its length, width, and thickness. Get a band that's comfortable for you to use and is the right level of resistance.
You can usually find resistance bands in packs of different levels, so you can gradually increase the level of difficulty as you get stronger. Some of our favorite resistance bands are:
Fitness Mad
PhysioRoom
Power guidance
Bala Bangles
9. Sweat-proof headphones - Work out with your favorite tunes
Listening to music while you work out can help you stay motivated and pump you up. But, not just any headphones will do.
You need a pair of sweat-proof headphones that won't fall out of your ears when you're moving around and won't get ruined by your sweat dripping all over.
How to choose the right sweat-proof headphones:
Of course, you'll want to look for a pair of headphones that are comfortable and won't fall out of your ears. Consider how they fit; if they're too loose, they'll likely fall out when you start sweating.
Look for headphones that are specifically designed to withstand moisture, and plenty of movement. After all, you don't want to have to replace your headphones every few months.
Final Thoughts
Are you all set with your gym bag essentials? Remember, it's important to have the right gear so you can focus on your workout and reach your fitness goals.
Don't forget the basics like a good pair of shoes, comfortable clothes, and a water bottle. Then, add in a few extras like resistance bands and sweat-proof headphones to take your workouts to the next level!
list
About the author
Reader insights
Be the first to share your insights about this piece.
Add your insights