Pantry Organization Hacks to Save You Space and Money
Declutter your cabinets with these pantry organization hacks.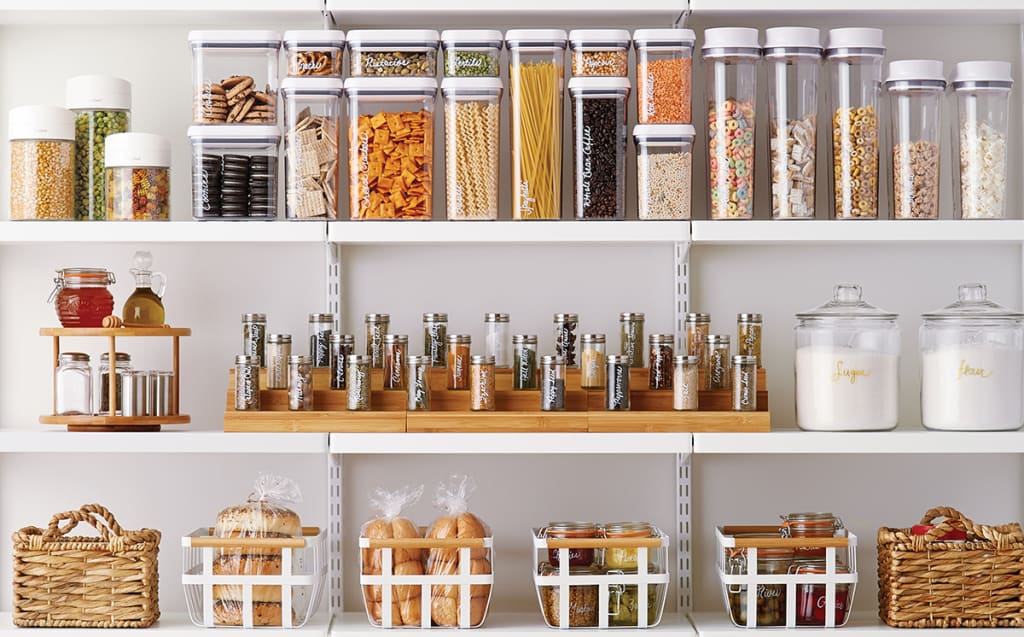 Pantry organization is an extremely underrated aspect of having a clean and tidy kitchen. When your cupboards are a disorganized mess, finding ingredients and tools can take as long as cooking the meal. Why waste precious time digging around in your cabinets when this can all be easily avoided?
All these hacks can be done with minimal cash and effort, and they are some of the best DIY storage ideas for your home. You can keep even the tiniest pantry organized with these clever and inventive storage tips, as well as these smart, space-saving products.
When you don't have much space, utilizing every single inch is going to be key. The kitchen is full of small items that are easily lost or misplaced, something to keep in mind when thinking about pantry organization. You likely already have what you need right at home. Even better, some of the disorganized items you have thrown around right now could be exactly what you need to reel in the rest of the chaos. Try some of these out next time you decide to declutter your home.
Use the doors.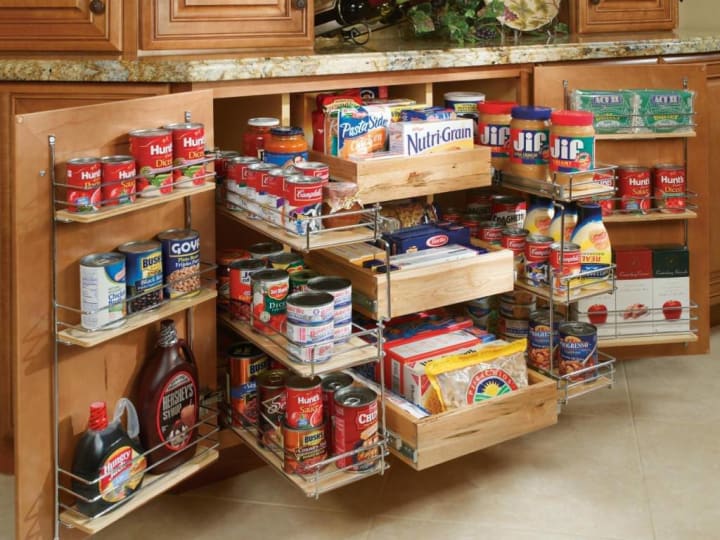 A great area for pantry organization that you're probably overlooking is the doors themselves. More accurately, the insides of the doors. Take full advantage of the backs of cabinet doors by installing wire racks. It's a great place for your condiments, spices, sugars, and assorted cooking oils.
You can either buy these wire racks on the cheap, or find some around the house that aren't being used and repurpose them. Either way, they won't cost you much if you have to go out of pocket. You'd be shocked just how much space and money will be saved with such a simple little trick like using the inner doors.
Double Duty
There are many things in your pantry that don't get used every day, or even every month, so give those items double duty. Store smaller items inside larger ones, or in some cases, stack things on top of them — if they're sturdy enough.
Put them into service as two-tiered storage, and you'll be shocked by just how much you can jam into a simple pantry without making it look like a cluttered mess. It's a simple step towards pantry organization, and the best part of all, it doesn't cost you a dime.
Stack food containers.
With various sized bins, containers, and a range of lids, it doesn't take much for your collection of leftover storage holders to get out of hand in a hurry. A good trick is to stack all the tops and bottoms of containers together, and don't worry about keeping specific ones together. They will sit nicer together — a quality pantry organization hack.
If you are feeling fancy, you can even put in a plate rack and stack the lids vertically if you need more space. It's all about making things fit nicely together, like a game of Tetris.
Categorize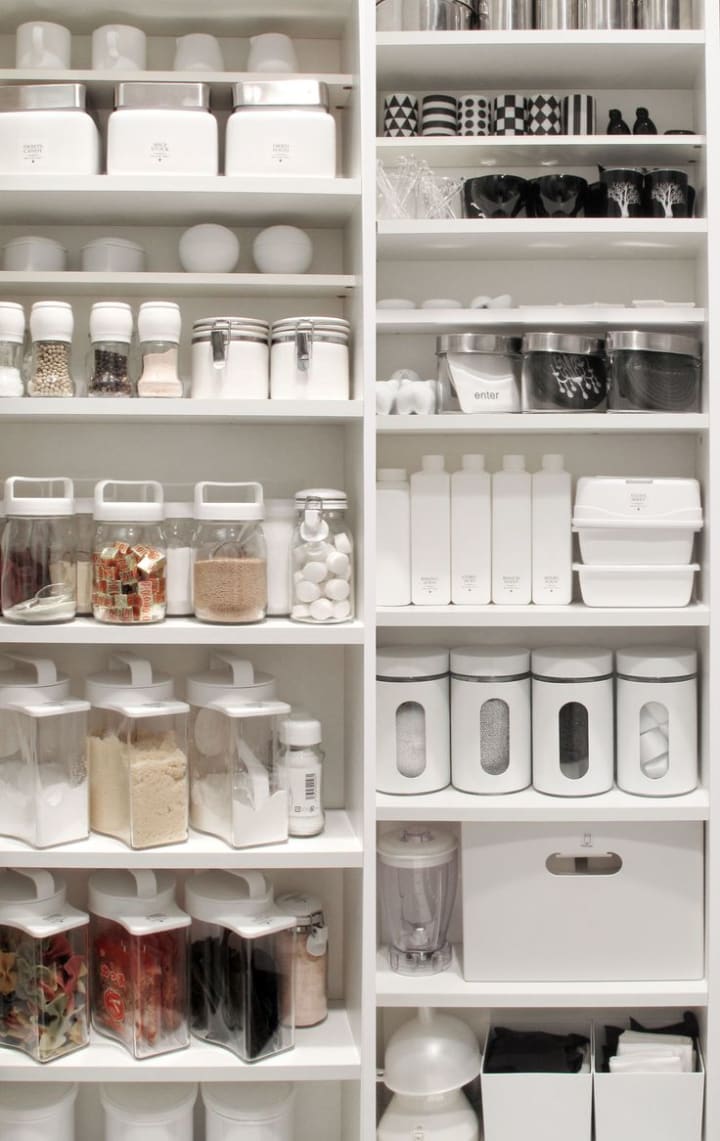 When thinking about pantry organization hack to save you space and money, you'd be wise to consider categorizing all your foods and assorted treats. Start with basic groups like baking, breakfast, grains, and snacks.
This one isn't just great for saving you space, this one also saves some of your most valuable resource: time. It will only take a quick look and you'll see exactly what you want and where it is; no need to go rooting around in your pantry anymore.
Base Layers
If you've got deep shelves, there is a great trick for making the most of that space. Line up boxes and jars of food on top of a bin, basket, or serving tray that's not in your everyday rotation. Slide those things to the back, so you're only seeing the stuff you need most on a daily basis.
It works well for pantry organization, and if you do happen to need access to those items deep in the back, simply pull out the whole bin and get what you need. Otherwise, tuck it away and keep it out of sight — a great tip for pantry organization.
Snack Station
Snacks are important, and visibility is key here. Most likely, these will be the things you will be grabbing early and often, so put them together for a clearer pantry. A narrow strip of wall space is the ideal spot for single-serving bags, and you should hang them to avoid stepping on crunchy snacks.
Taking better care of your snacks will also help them last longer — saving you money in the long run. You won't have to be constantly clearing your cabinets of stale snacks, because your snack station will make it easier to keep track of, one of the kitchen life hacks that'll change your life, trust me.
Reserve Spaces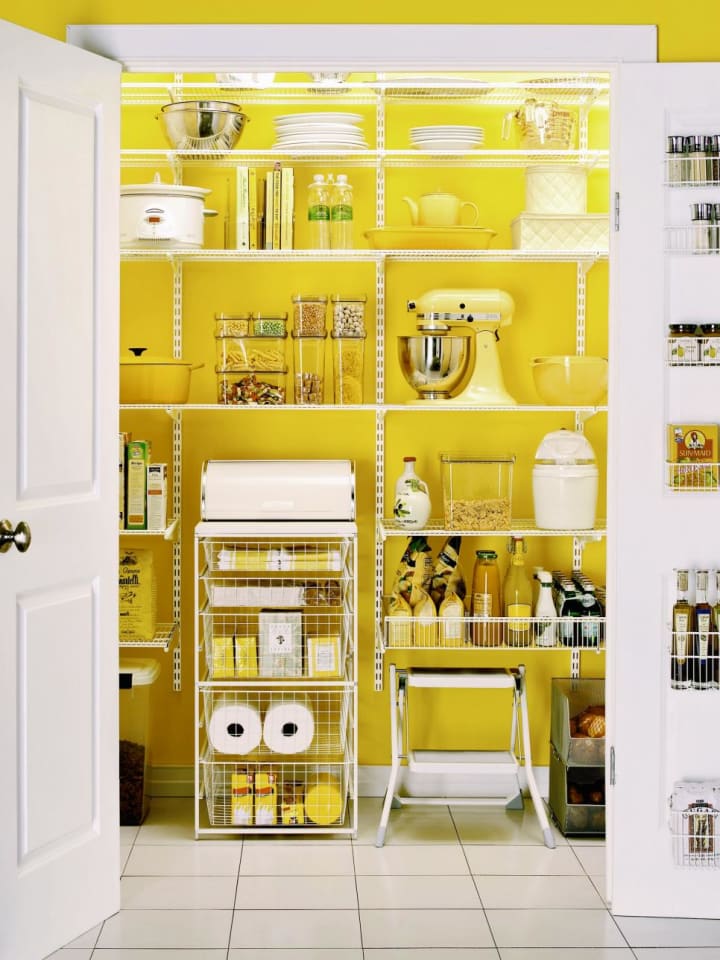 Give each specific item you pick up at the grocery store a specific space in your pantry. This will save you time later, and you won't spend an hour unpacking the groceries each time you go. It will remove all thought and become systematic, and pantry organization will be the result.
Designate a specific spot for the items you buy most often, so there's no question where things go when it's time to unload your grocery haul. The quicker you do all this, the quicker you can make dinner for your family, or set yourself up with a snack.
Vertical Storage
Max out your vertical storage by adding under-shelf baskets. They instantly multiply your cabinet's capacity by multitudes, and create designated areas for different types of ingredients, increasing pantry organization and storage capacity.
It's definitely something many people overlook. They jam things into the back of the cabinet, or stuff items as wide as humanly possible, all the while they have feet of unused space staring right at them in the face. Don't be that person, take full advantage and economize all of your space, especially important if you have a tiny kitchen. It'll even give you space to include bigger items, like slow-cookers and blenders.
house
About the author
Joseph Farley is a North Jersey based writer who loves short fiction and stand-up comedy
Reader insights
Be the first to share your insights about this piece.
Add your insights