How To Turn Your Phone Into A Passive Income Machine
By installing a few apps on your phone you can generate a steady flow of passive income with very little effort.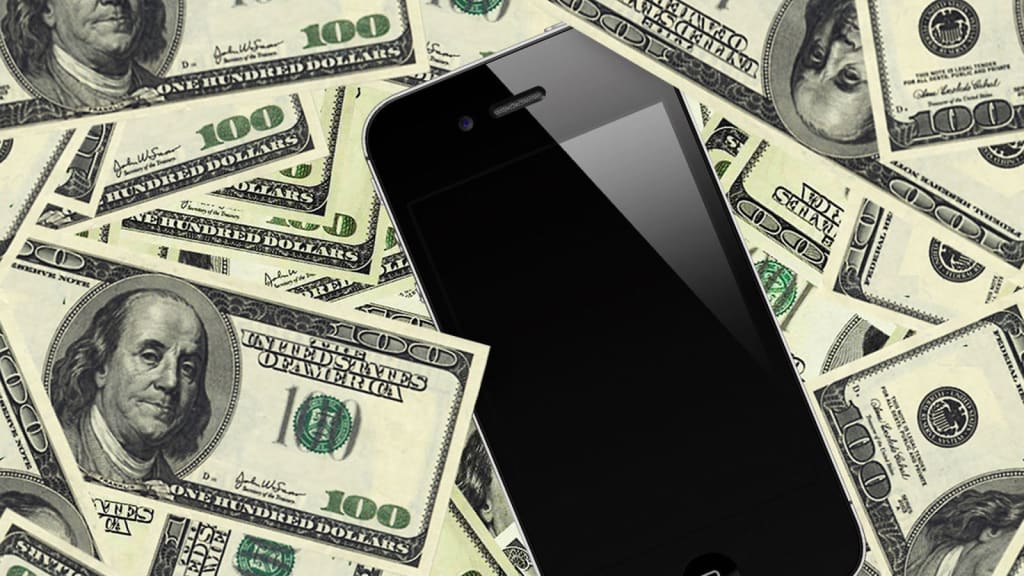 Just about everyone in the world has a mobile phone today. Smartphones are amazing devices with limitless possibilities. One thing that people don't often take advantage of is their phones ability to make them money. If you download a few apps you can easily turn your phone into a money making machine.
Rent Out Your Lock Screen
Before you even start using your phone you can earn a few cents each day just by renting out your lock screen to advertisers. Companies know that people check their phones several times per day and they see your lock screen as valuable advertising space.
Here are a few apps that will place advertisements on your lock screen:
If you want to learn more about the individual apps and renting our your lock screen I recommend reading this article.
Join S'more today and get a $0.25 bonus!
Join Slidejoy today and get $0.20 bonus!
Join ScreenLift today and get $0.10 bonus!
Selling Your Extra Bandwidth
If your phone is connected to WiFi or has an unlimited data plan you can earn money by selling your extra bandwidth. All you have to do is install a program called HoneyGain on your phone. Then the app will run in the background and pay you every time it uses your data. If you want to learn more about selling your extra bandwidth check out this article.
Join HoneyGain today and get a $5 bonus!
Sell Your Location Data
You've probably already heard of how app track your location and sell your information to advertisers. This has caused some controversy because people were not aware that their location was being tracked. However, there are some apps that are attempting to rewards people for willingly sharing their location data.
One such app is called Panel App which pays you for just having your the app on your phone. It will occasionally send you push notifications asking for clarification on where you were. The more places you go the more points you will earn.
Join Panel App now and get a $5 bonus!
Selling Signal Strength Information
Do you remember those Verizon commercials with the "do you hear me now" guy? Believe it or not, that's something that telecom companies actually do. They are constantly paying people to go to various locations, and report on call quality, internet quality and so on.
If you want to help telecom companies gather data on mobile performance and get rewarded download Mobile Performance Meter and have it run passively in the background of your phone. As the "meter" runs you will earn coins which can be redeemed for gift cards.
You'll receive a guaranteed $0.10 a day with an additional $0.50 every month you have the app running. You might also be sent some surveys worth varying amounts.
Join Mobile Performance Meter now and get a $1 bonus!
Run An AutoSurfer
In past I have written about how you can run AutoSurfers on your PC to generate passive income. The same can be done on your phone with an app called CashMagnet. When you install the app you will be asked to install a few games and change some configurations. Then you can start the CashMagnet app and let it start earning points.
Each point is worth $0.001 and you can earn up to 500 points a day. Accumulation of points takes place every 5 minutes, the longer your program will work on your phone, the more money you will receive.
Join CashMagnet now and get a $0.25 bonus!
PRO TIP: Buy A Dedicated Phone For Making Money
While you can install all these apps on your main phone it is better if you buy a cheap smartphone just to make you money. These apps won't damage your phone but having them all running at the same time might slow it down. Furthermore, apps like CashMagnet should be left running 24/7/365 to maximize earnings.
There are dozens of phones on Amazon for under $100 that can you can use to build a passive income stream. You will probably make the money back in the first month or two if you are running all the apps.
If you don't want to invest the money up-front, then start by running a few apps on your personal phone and see how much you make. If you're happy with your earnings you can invest them in a second smartphone.
Want More Passive Income Methods?
If you're interested in learning more about passive income visit my website to see what method I am using to generate passive income right now. You'll see a full list of passive income methods as well as my monthly earnings. I update the website regularly so bookmark and check-in to learn new methods of generating passive income.
tech
About the author
Reader insights
Be the first to share your insights about this piece.
Add your insights