Great Home Wifi Solution
Amazing Mesh System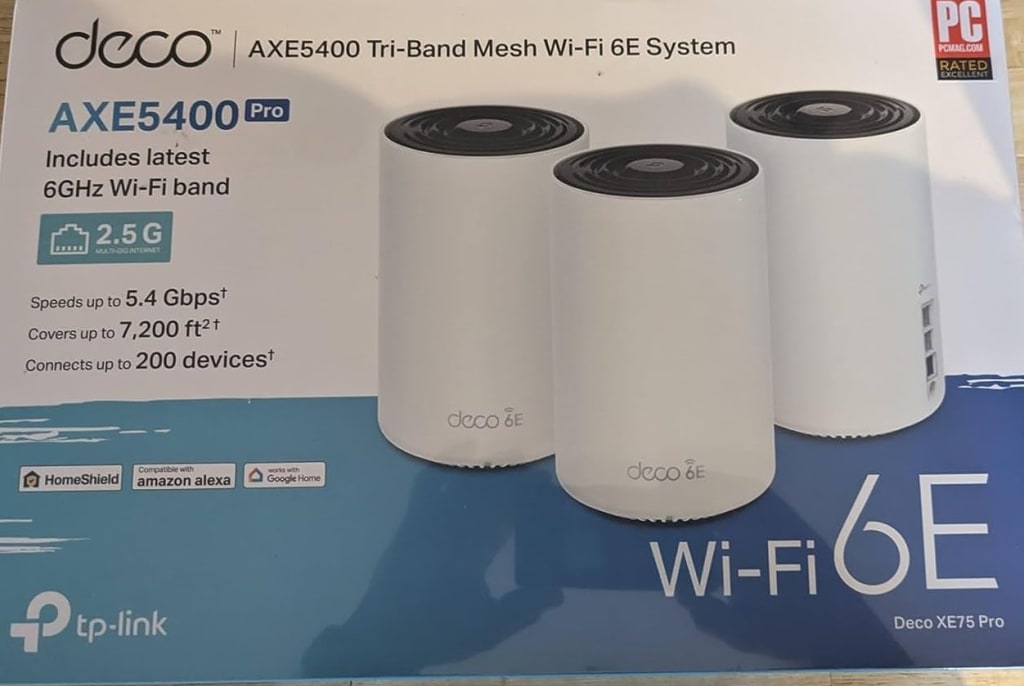 TP-Link Deco AXE5400 Tri-Band WiFi 6E Mesh System
TP-Link Deco AXE5400 Tri-Band WiFi 6E Mesh System
Our previous system was giving us a lot of intermittent Wi-Fi issues. We have a Netgear cable modem/router upstairs and a Netgear Wi-Fi extension downstairs because our house is two stories. In several rooms of the house, there were gaps in the coverage. Our Ring cameras and doorbells would occasionally function properly before failing again. Our iPads would occasionally work and then abruptly stop. To make things work, I had to turn off both the WiFi extender and the modem router and then turn them back on.
All issues were solved by this mesh system! Both within the house and outside, we have considerably better coverage. Since these were deployed, we have not encountered a single problem. Installation was quite simple. The most challenging step was reconfiguring my Netgear cable modem/router to function as a cable modem only. Our TV streaming has been faultless. No issues have arisen with my Pelaton rides. At our home, mobile phone reception can be patchy, but iPhone Wi-Fi calling works flawlessly, with no disconnected conversations like we used to.
It was quite simple to set up. The Deco app must first be downloaded (more on that in a second). Then, if you already have a router, disconnect it and swap it out with one of the other three devices. Since the Netgear Orbi approach is different in that Orbi specifically designated one device as the router (I had the RBR50 router) and the other devices as satellites (RBS50 satellites are what I had), the idea that it can be any of the three units was fairly surprising to me. Each Deco XE75 or XE75 Pro device is an incredibly powerful wifi 6E router in and of itself, capable of covering up to 200 connected devices and 2,900 square feet of living area. The LAN ethernet cable from your modem can be plugged into any of the three auto-sensing ports, and the devices will recognize the connection and identify that device as the router. The software encourages you to simply plug in the other two routers after the first one is operational so that they will be recognized as satellites, nodes, etc. (each manufacturer uses a different terminology) and joined to the network. I was up and running in 8–10 minutes after it performed just as it had been described.
Lastly, I'll need to mention that the app is fantastic and highly capable for novice and more advance networking setup. You can name all the routers, name all client devices, set up push alerts when designated devices join and leave the network, set up a routine router reboot schedule, and so much more. And most of all to me what I like is that you can access all of these settings while away from the home. For some reason, with the Orbi app, Netgear required you to be home and on the home wifi to access these settings. This was my first TP-Link product purchase, and I am extremely impressed. Highly recommended. I wish I had purchased this sooner!
The TP-Link Deco AXE5400 Tri-Band WiFi 6E Mesh System, in conclusion, is a game-changer in the realm of home networking. It comes in a compact, user-friendly package that blends cutting-edge technology, fast connectivity, and flawless coverage. It's a smart investment for a connected home, and it truly raises the bar for what a mesh WiFi system can achieve. My long and narrow house now has dependable, high-speed coverage thanks to Deco. It's a bonus that it has a 2.5Gbps Ethernet port so I can use all of the gigabit internet bandwidth and obtain the most possible performance from my modem. The reliability has been unwavering. The absence of customizable options and add-on services that need a subscription is the sole negative.
Reader insights
Be the first to share your insights about this piece.
Add your insights