DIY Fire Pit Ideas to Make Your Backyard Look Hot
Want to make your backyard look more inviting, but don't want to splurge for a professional mason to help? These DIY fire pit ideas will let you add a little warmth to your home—without a big price tag.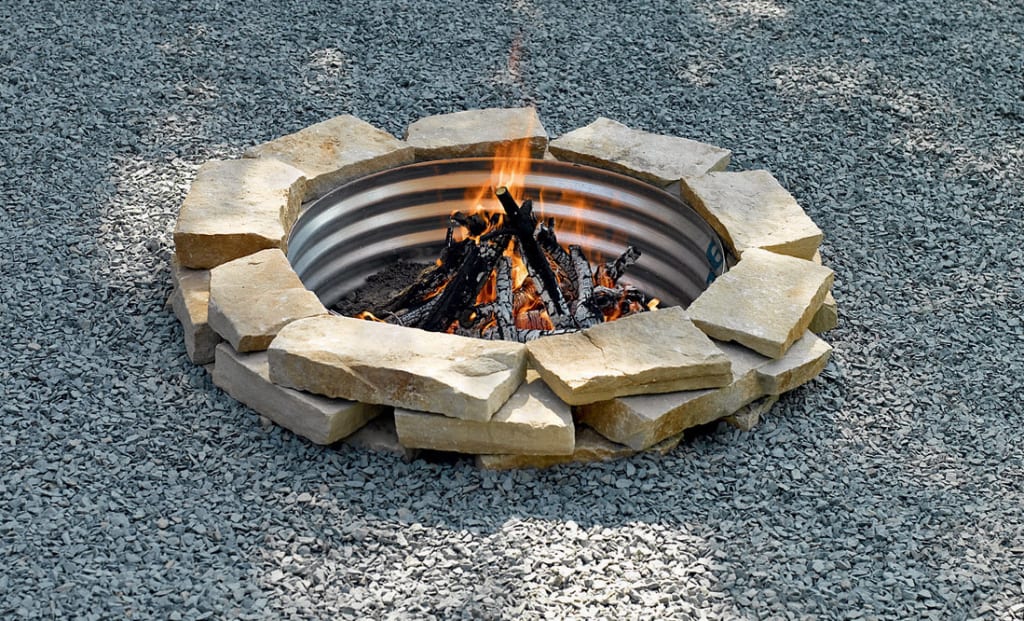 If there's one backyard addition that can make a winter session outside sound okay, and make summer gatherings way better, it's a fire pit. There's something primally satisfying about sitting around a roaring fire with friends, and truth be told, fire pits also look awesome.
With many people, the only reason why they don't have a fire pit is because they can't afford to pay someone to make one for them. On average, a fire pit that's professionally built can cost as much as $500 to $1000, if not more.
Though you could splurge and get a contractor to make a fire pit for you, there are plenty of easy DIY fire pit ideas that you can do which will give you a great pit—and also help you save money. If you have a flair for DIY projects, these ideas are a great way to upgrade your home.
A Round Stone Fire Pit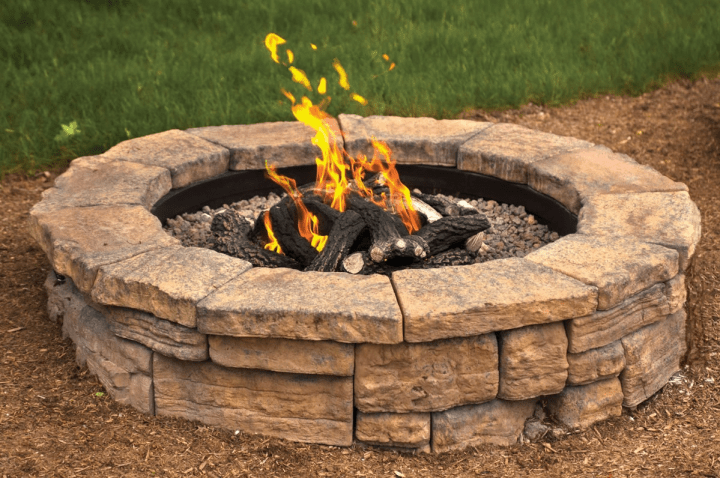 If you love the idea of going old school and enjoy the aesthetic of stone, then one of the best DIY fire pit ideas you can choose to pursue is a stone fire pit. These have a classic appeal, offer protection from "free-roaming" fire, and also can be outfitted to offer a nice place to sit.
This guide on how to DIY a stone fire pit is a great place to start, and it even comes with step-by-step pictures that show every little detail of the process, including how to build a wall around it.
A Fire Pit Made From Concrete Tree Rings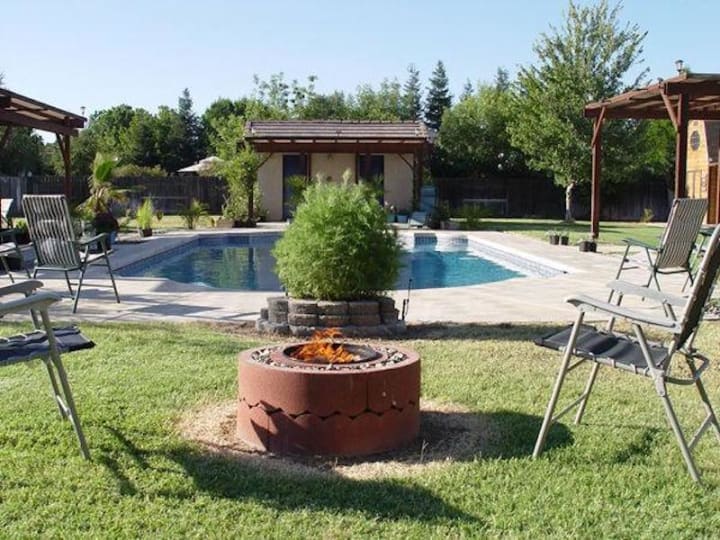 Low on money? Still want a fire pit? No problem—one of the easiest DIY fire pit ideas trending online is a fire pit that is made from concrete tree rings. What makes this such a great DIY project for folks on a budget is the fact that the supplies cost less than $50.
Hard to believe, isn't it? This guide on how to make your own $50 fire pit will prove to you that you don't need too much money to have a fun addition to your backyard.
A Washer Drum Fire Pit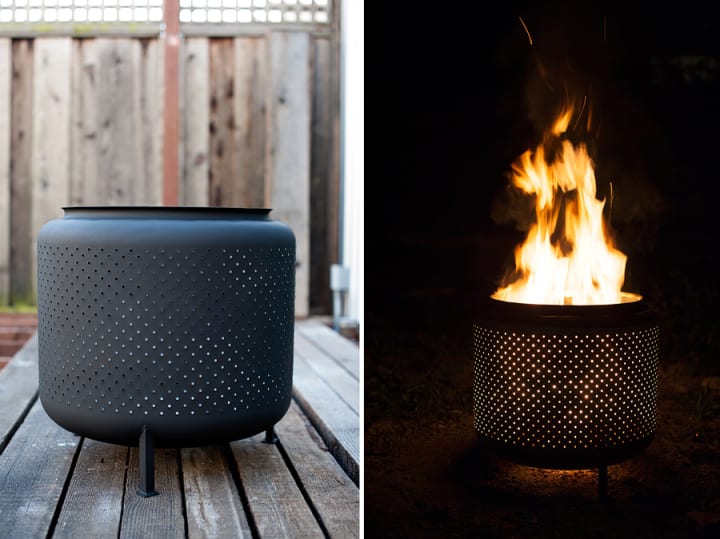 Perhaps one of the most industrial-looking DIY fire pit ideas comes from House and Fig. These guys used an old washing machine drum to create a stylish fire pit out that glows like a beautiful lantern at night and can even be used on pavement.
Whoever thought they needed a lawn for a pretty fire pit clearly hasn't seen this setup. Their guide on how to make a washer drum fire pit will show you how to do it, and make it look gorgeous.
A Three-Tiered Fire Pit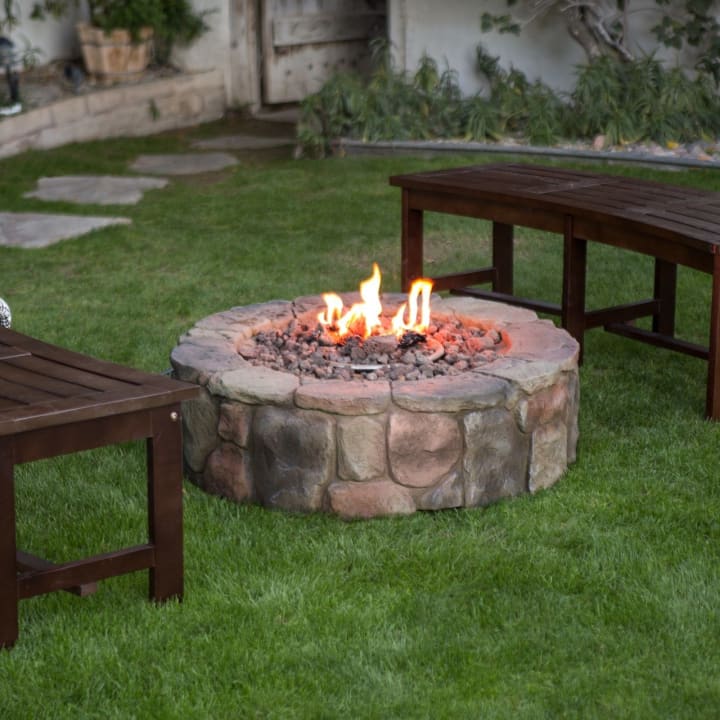 A lot of people tend to assume that you need to use grout if you're going to have tiles and concrete bricks as part of your fire pit. Though you might believe that at first glance, it's actually not true. This three-tiered fire pit involved no grout whatsoever—just simple placement of bricks and a little paver sand.
If you hate grout and cement spreading, this guide for a three-tiered fire pit will be the breath of fresh air you've been wanting. Oh, and the price tag? The total supplies cost only $60, total.
Poured Concrete Fire Pit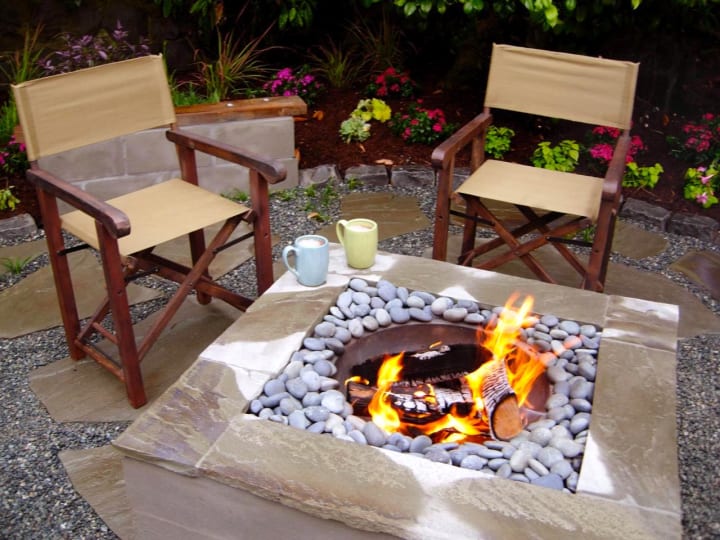 If you're willing to put in some work and have a little craftsman skill already, then you might be interested in trying one of the trickier DIY fire pit ideas on the net. Of course, I'm talking about making a professional quality poured concrete fire pit by yourself.
This project is a bit trickier than most on here, but when done properly, it's absolutely breathtaking. Assuming you're patient and have a little experience with concrete, you might find that this poured concrete fire pit will be a fun way to spend the next day or two.
It's sleek. It looks pricey. It keeps you warm. No matter how you look at it, this is a really smart way to decorate your outdoor space.
Stacked Stone Fire Pit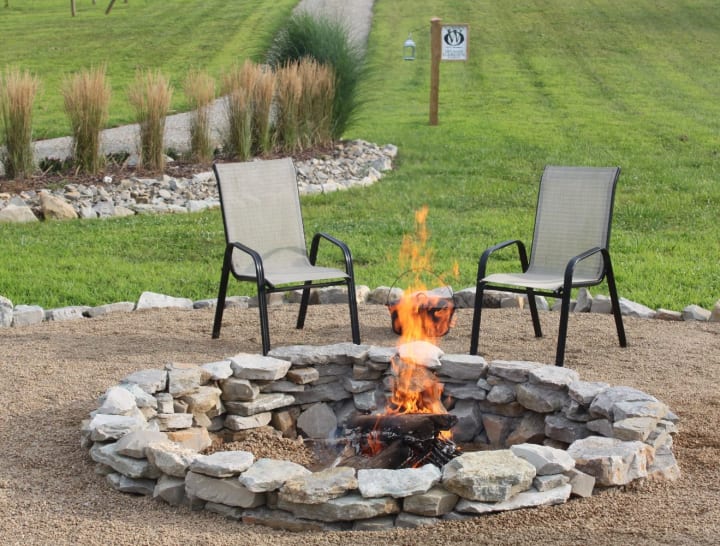 Muddy grounds and bad terrain often puts many DIY fire pit ideas out of reach—but not this one. A simple stacked stone fire pit is always doable, even in the soggiest of areas. To get this baby going, you might need extra gravel to ensure you won't have mud in your pit, but it's always doable.
This guide shows how to make a stacked stone fire pit, step-by-step. According to the guide's creators, they only spent about $120 supplies for their rustic-looking fire pit. Not too shabby, and definitely worth a shot at Shabby Chic.
Truck Wheel Fire Pit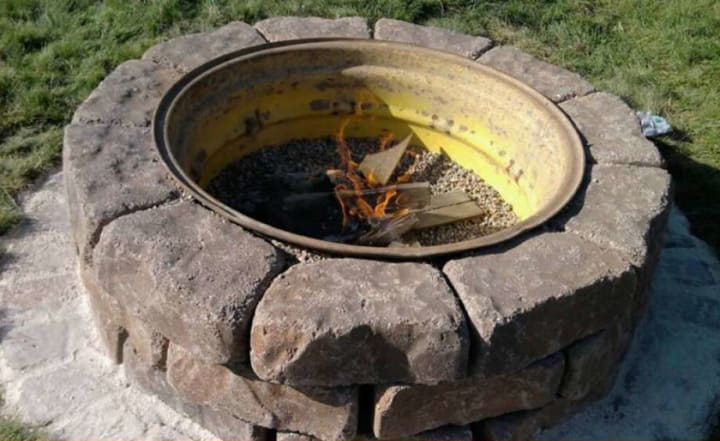 There's a legit fandom surrounding trucks; that's why people always want to be seen driving the best pickup trucks and why so many people love to watch Monster Trucks drive over cars. Believe it or not, you can add a little trucker flair to your fire pit.
Handimania came up with a really cool idea that brings trucker-dom and tractor paraphernalia to DIY fire pit ideas. Take a look to see how they made a tractor wheel fire pit, and you might just get some inspiration.
If there's anything more epic than having a barbecue party, it's having a fire pit barbecue party. Thankfully, people know many ways to build a fire pit that has a BBQ built into it—and that means plenty of DIY fire pit ideas surround that concept, too.
Gizmodo ran an article that shows you how to make a BBQ fire pit without having masonry skills. It may be a lot of work, but it definitely seems like it'll be a hit once it's time for summer to come around.
An In-Ground Fire Pit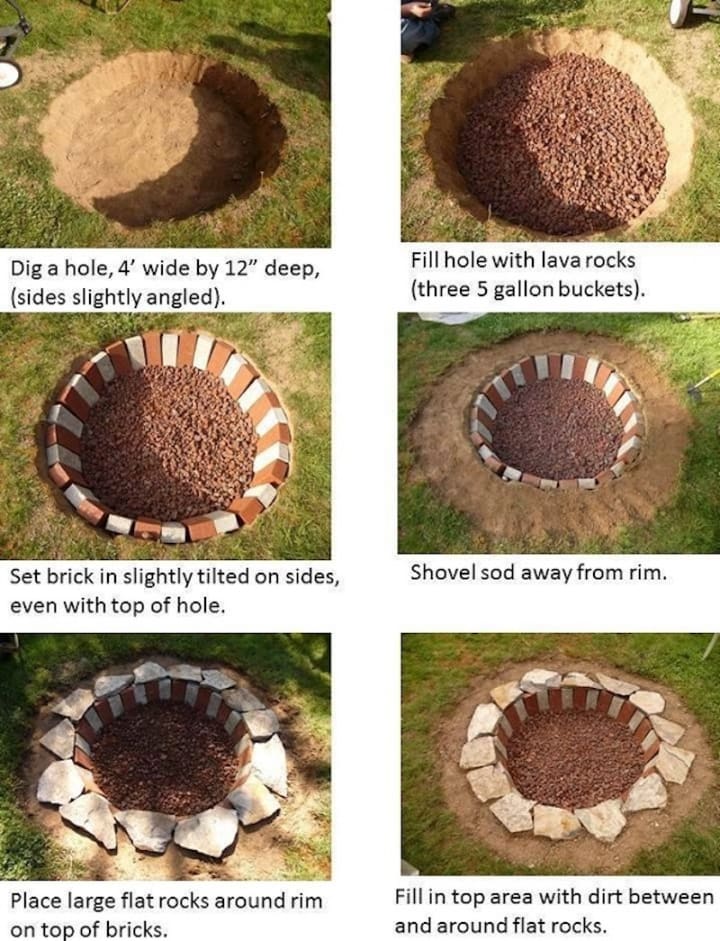 Tired of seeing massive fire pits that jut out of the ground like an eyesore? Well, you might want to browse some DIY fire pit ideas that involve making an in-ground fire pit. These setups are safe, easy to make, and tend to be very low-key as well.
This tutorial shows you how to make a good in-ground fire pit with minimal supplies and minimal skill. What more can we say? It's an easy DIY backyard project, and also makes you feel like you're going camping without the hefty prices. It's a win-win!
A Table Top Fire Pit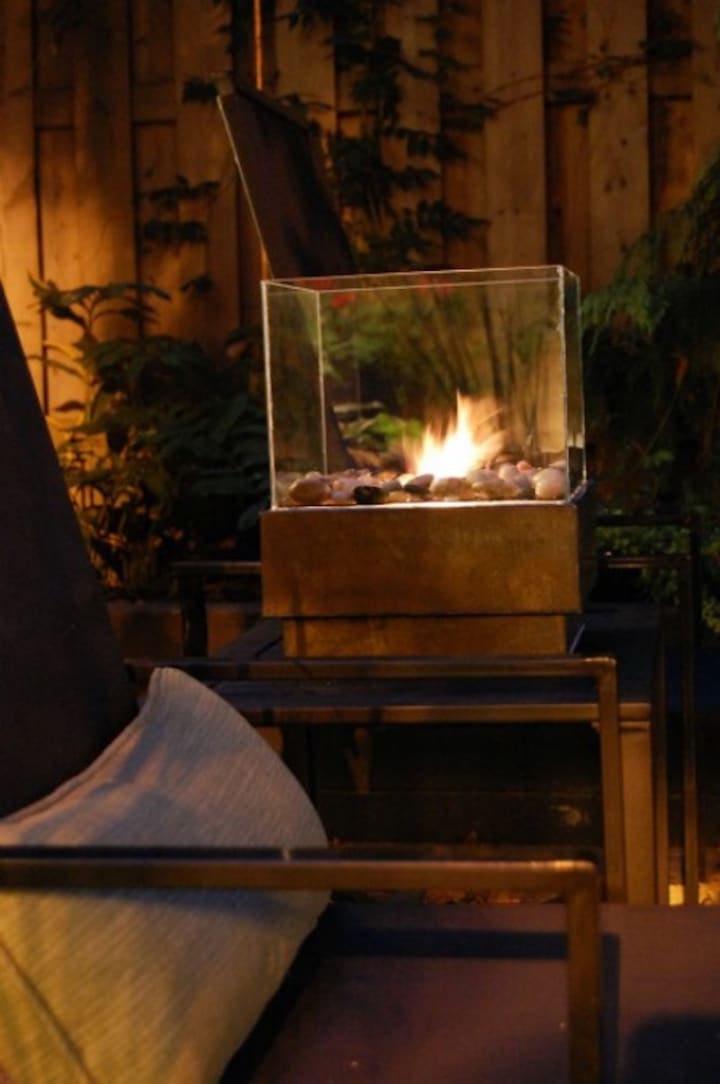 Though most of us would love to have an outdoor fire pit that everyone can sit around, a lot of us don't have a backyard. Some of us only have balconies or studio apartments. Though you might expect that to mean a fire pit's out of the question, there are ways around this.
For example, this guide on how to make a table top fire pit gives a lot of larger DIY fire pit ideas a run for their money. Since it's meant to be tiny, you can use it indoors and outdoors—and you never have to worry about not having a big enough yard to keep it.