DIY Backyard Projects That Are Easy to Do
These awesome DIY backyard projects will surely spice up your backyard!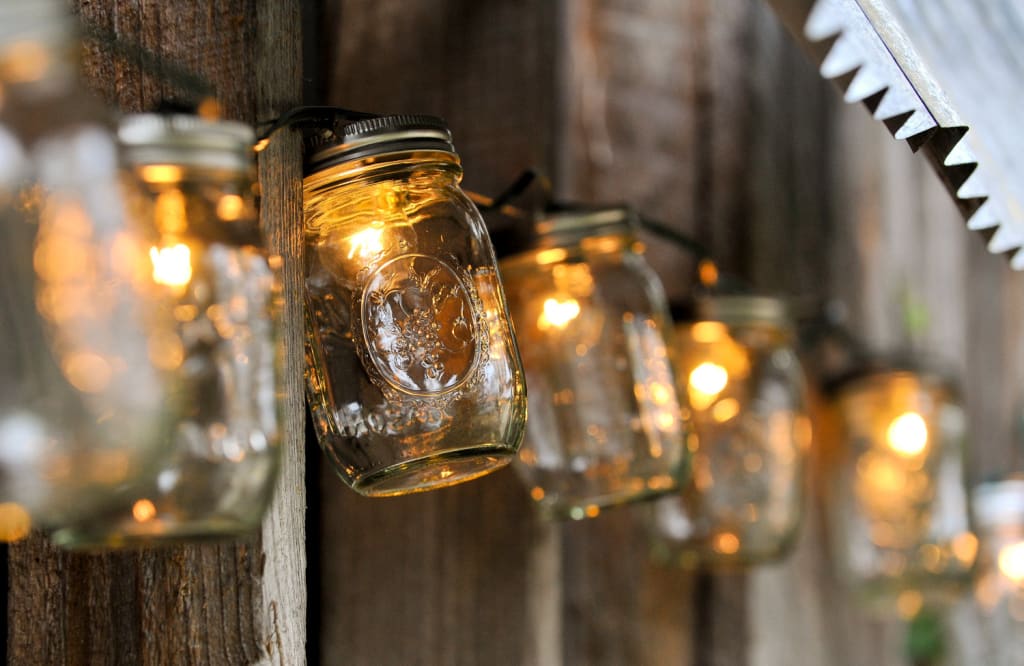 How many of us have that one potted plant, two filthy lawn chairs, and a busted up firepit? I did, until I completely transformed my backyard into a cool place to have friends and family over. Backyards are meant to reflect nature and be creative with design, whether you have a small backyard or a larger one. You'll now want to have company over during the summer and whip up some barbecue on the grill.
To renew your backyard into one of the coolest aspects of your home, consider trying out any of these unique DIY backyard projects! Projects like DIY hammocks or even making a fishpond are great. Not only are they easy to accomplish, but the majority of them will look store bought and expensive! Don't wind down in a dull-looking backyard anymore, after doing any of these DIY backyard projects!
DIY Glow in the Dark Stepping Stones
For starters, this is one of the coolest DIY backyard projects ever. This DIY Glow in the Dark Stepping Stones will always look as though you're walking in an enchanted forest. And if you happen to have stepping stones in your backyard, then I highly suggest doing this project.
It's very simple. All you need is glow in the dark pigment, mix it with grout, and paint the mixture on the stones. The pigment also absorbs sunlight, so once the sun sets, your stepping stones will glow beautifully in the night.
Outdoor Hanging Lights Using Mason Jars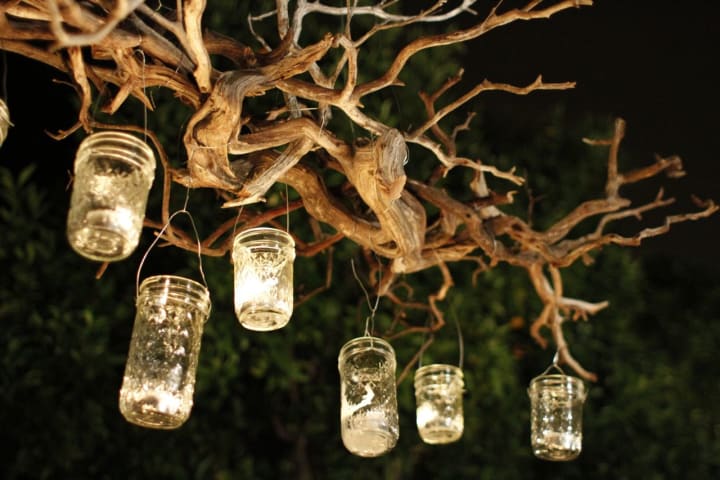 Don't have cool lights around your backyard? The Outdoor Hanging Lights Using Mason Jars project can help you give your backyard a beautiful, mysterious atmosphere. Cheap and easy, the steps are very simple. It's also one of the best Pinterest crafts for home.
All you need are Mason jars and bands, garden hooks, tea lights, a #5 clock chain, and a few more simple accessories to complete this project. You can hang these lights anywhere. From the fence around your backyard to the outside wall of your house. This is also perfect if you're throwing a backyard party at night.
Tire Coffee Table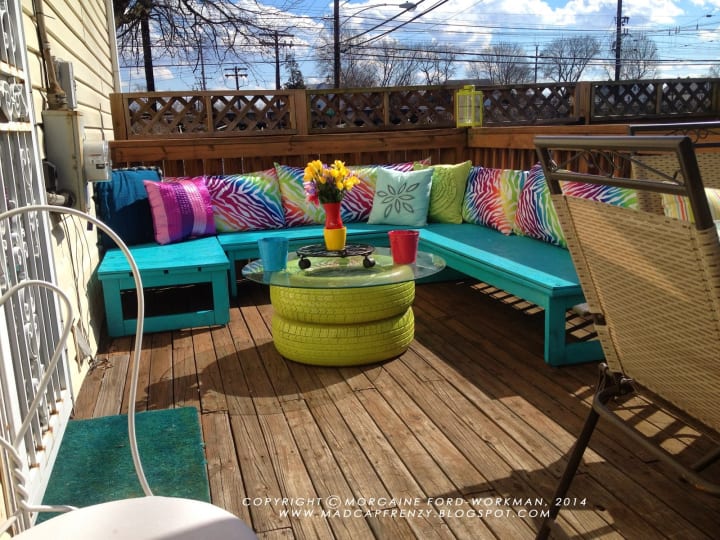 Among one of the coolest DIY backyard projects, this Tire Coffee Table idea is a unique one. If you don't want to spend too much on a coffee table for your backyard, this is a cheaper alternative.
Grab two tires that you aren't using, spray paint them whatever color you like, stack the two together, and place a glass on top of the tires. To finish the look, place some really neat and cute coffee table decor to really add character to the table.
Backyard Scrabble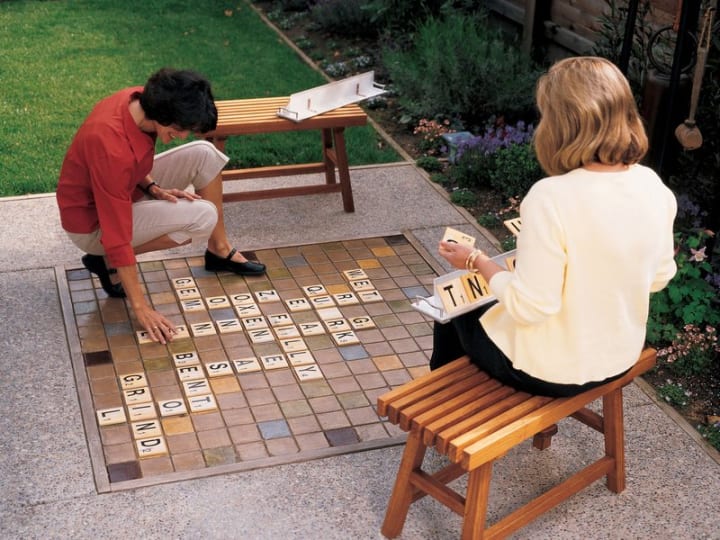 Who doesn't like giant backyard boardgames? Well, now you can play Scrabble in its most massive form! Verse your family members or friends in your backyard to a battle of giant Scrabble. Seems complicated to create? It really isn't.
To make Backyard Scrabble, you just need to create a large board with the exact squares from the boardgames and the wooden pieces for the letters. Make sure you get the exact numbers for an accurate game of Scrabble!
DIY Pallet Swing Bed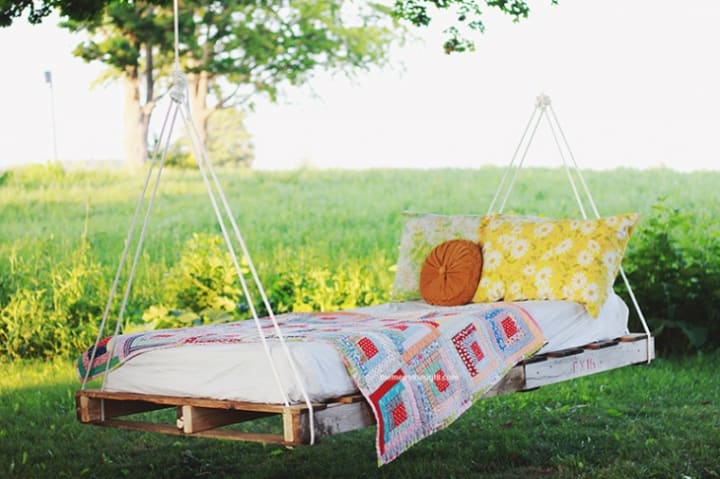 Don't you just wish that you could nap outside on a soft and comfortable bed? Now you can, with this awesome DIY Pallet Swing Bed. If you have a large tree in your backyard, then don't let this project slide so easily.
While it's one of the best DIY backyard projects to do, it's also pretty easy to accomplish. All you need is pallets, a drill, screws, and other tools to put them together. Once the base is finished, tie ropes to the pallet and hang it on the branches of the tree. Then, place a mattress on top, along with pillows and blankets. Now you've got yourself a soft bed to nap on outside!
Flower Pot Table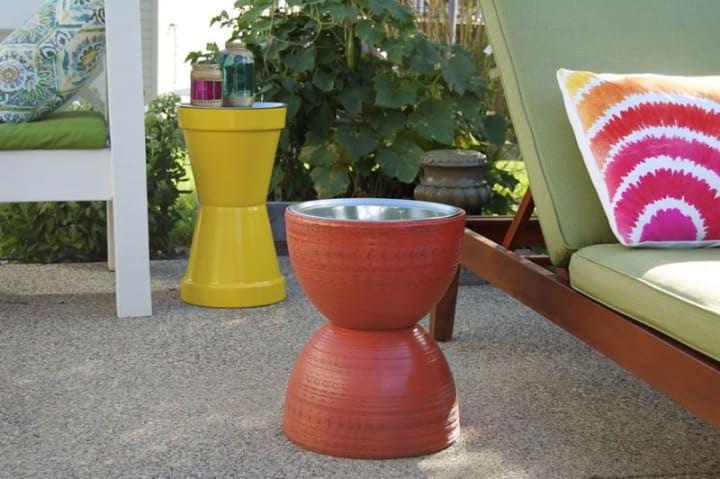 Here's another idea for a coffee table for your backyard, this Flower Pot Table. If you weren't fond of the tire table, then this is probably a better idea for you. If you have pots that you aren't using, use them for this DIY project.
Just drill a hole in both ends and two scraps a wood, bolt the two scraps of wood inside both pots and bolt them all together. Make sure you tighten the bolts so they aren't loose. Then spray paint the pots with any color you like, and place a circular pan on the top. And you've got yourself a flower pot table. Even decorate the top with some flowers to add more color.
Hanging Plant Display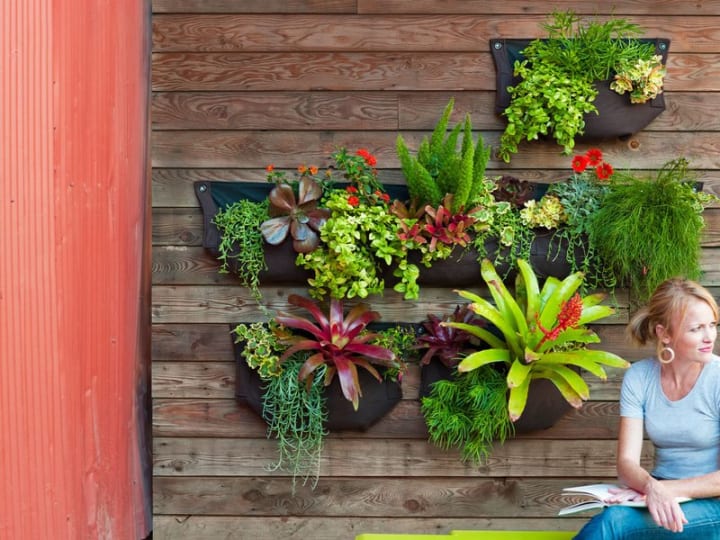 Speaking of flowers, can't get enough of them? Even though you might already have a flower garden in your backyard, this Hanging Plant Display will surely fulfill your vibrant and flowery needs. You'll basically have a wall full of flowers after completing one of the coolest DIY backyard projects!
What you'll need is a Hang Woolly Pocket, fill them with soil, then add the plants! Once you've done that, nail the pockets on the walls outside of your house. Now your backyard will be filled with gorgeous, colorful flowers and plants with this garden wall.
Backyard Tipi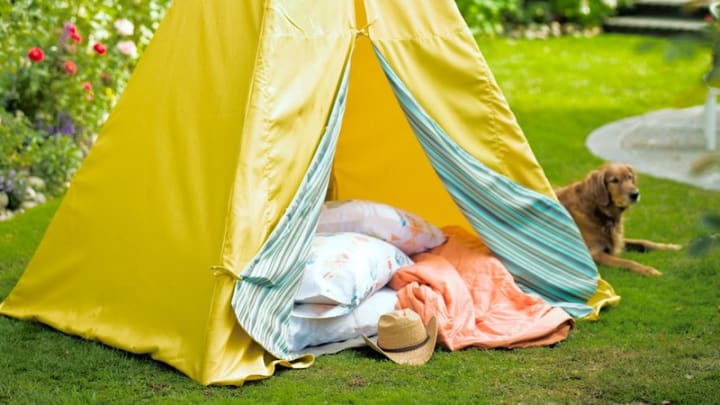 Want to go camping, but don't want to travel too far from your home? Why not camp right in your backyard? You'll still be dealing with nature, so there basically isn't a difference. And this DIY Backyard Tipi will make it happen, making it one of the best DIY backyard projects ever.
All you need is five 10-foot bamboo poles, rope, 15 yards of water-resistant fabric, and a sewing machine. After you stick the bamboo poles in properly, sew the fabric together, drape it over the poles, and secure the fabric onto the ground. You can now camp in your backyard whenever you please. This is also the perfect idea to stargaze with friends!
Hammock Swing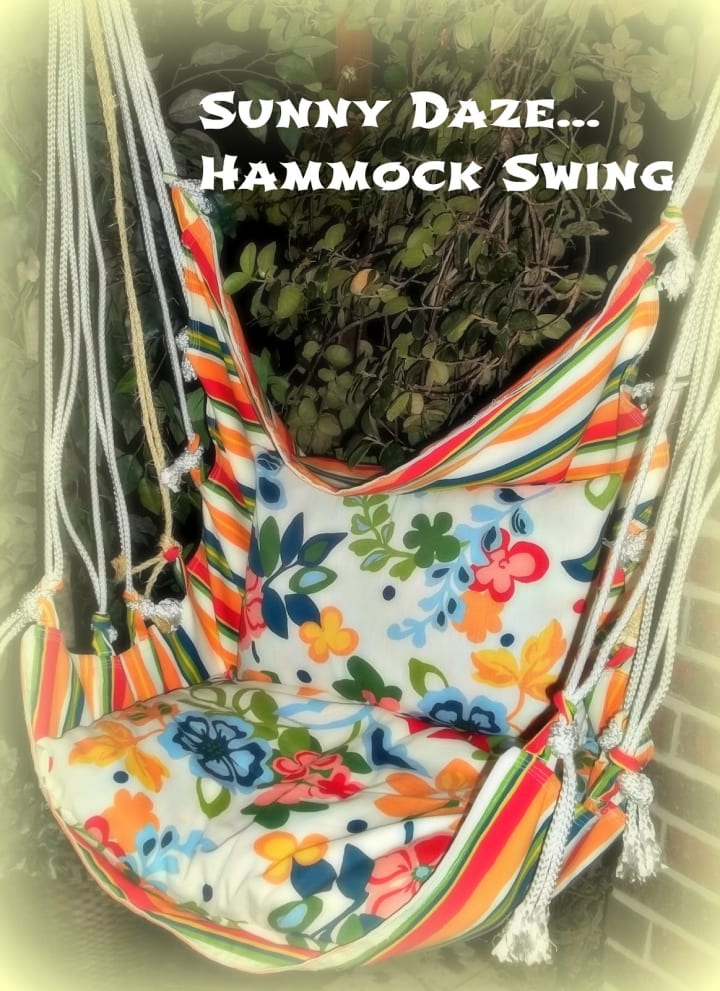 Finally, a DIY Hammock Swing! Hammocks that are sold in stores can be a bit pricy. But now you don't have to buy one—make one instead. It's fairly easy and very comfortable to chill in all day.
What you'll need to make this awesome hammock is 45 x 36 fabric. Sew loops on the sides of the fabric, and tie rope through each loop, then hang the hammock on the branch of your backyard tree. Once tied and secure, add soft cushions, and it's ready to enjoy and relax on.
Mosaic Garden Rocks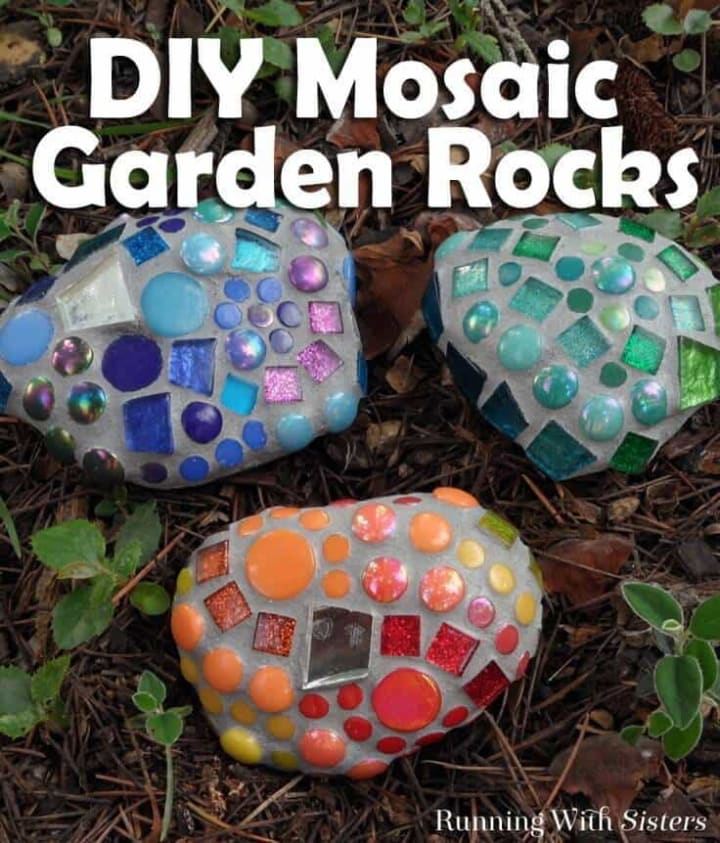 Last on the list of amazing DIY backyard projects to get into, these Mosaic Garden Rocks are stunning once put together. They're perfect to place in your flower garden, on your coffee table, or simply beside your bushes. This is a great idea to decorate your outdoor space.
You can simply grab any sized rocks and glue pieces of colorful tiles on them. Either focusing on a single color for one rock or making all of your mosaic rocks multicolored, these rocks will definitely glam up your backyard. They're even stunning in daylight when the sun's rays shine on them!