What It's Really Like to Be a Barista
Making coffee isn't as easy as you might think.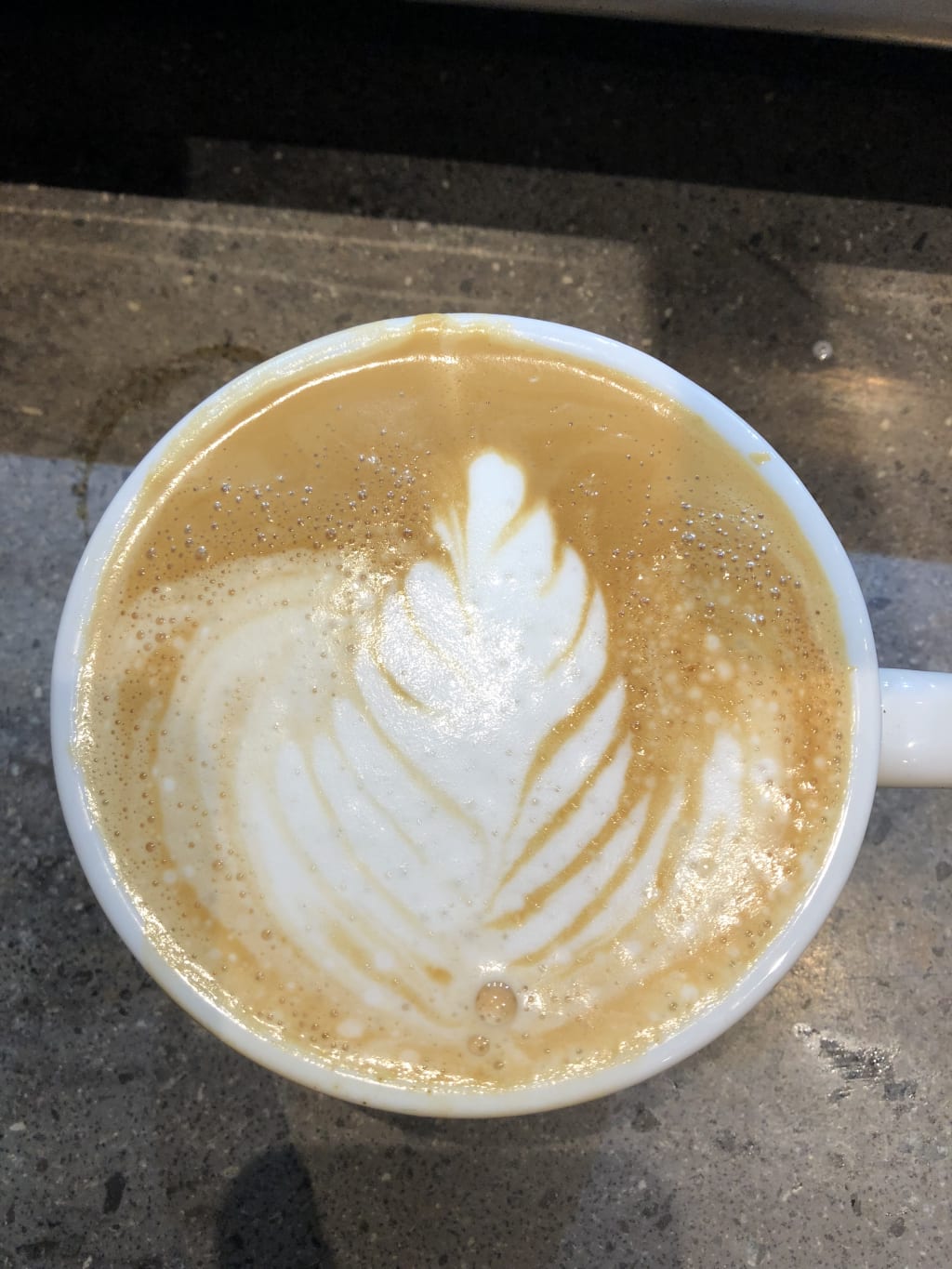 My best attempt at a Flat White
In this day and age, coffee is everything. It is something we drink to wake us up, something we have for a mid-morning rest break, something we drink when seeing friends. Millions of people enter coffee shops every day for hundreds of different reasons, but not many consider what it's like being on the other side of the bar.
I work for one of the most popular coffee chains in the UK. We make twelve different drinks that can then be customised to suit the customer's needs, which I have to remember at the drop of a hat. Each drink has different amounts of coffee and the shot is extracted for different lengths of time. It takes about two months to fully learn the theory behind everything you do, and a further month to have grasped it in practice. I have now been a barista for five months and was only fully trained a month ago.
When you see us making your coffee in seemingly unnecessary ways, it is not just for your entertainment. Every single thing that a barista does is to create the coffee that you ordered to the perfect standard. In fact, although making it look like an easy flourish, it's actually quite hard work. Even now, after five months, I cannot make a perfect flat white. My milk can be right and the coffee perfectly extracted, but I really struggle with the patterns and as a fairly new team it is often the case on a quiet afternoon for us all to be practicing them.
Then you talk to us. I don't mind speaking to customers when I'm not very busy, but when I have 6 different orders to remember, all with their own customisations on top of the differences that already exist in the making of them, talking to me isn't helpful. I get customers coming up to me and editing their order, i.e. asking me if their latte can be decaf. When I have four lattes to make, that doesn't help. Then, having determined which latte will be decaf, I have lost track of the other orders and my colleague will have to stop what they are doing to tell me again what they were.
In such a fast-paced environment, it can be very stressful when things start changing and customers change their minds or add to their orders. Sometimes, you have made all their drinks and are on to the next order and then they ask for a glass of water, when it would have been much more helpful to ask the person on till whose job it is to get such things. If these procedures are followed, everything runs smoothly.
At the end of the day, you then have to clean everything and so want the shop to be empty as soon as possible. However, people want to stay and just finish their conversation. I once had a customer come in half an hour after we had closed asking me to make an exception for her and make her a coffee, which I wouldn't have minded if we had been closed five minutes but after half an hour everything was shut down and she was very rude to me.
But don't get me wrong, I love my job. Everyday I go to work and meet hundreds of people, all living different lives. I learn snippets about them and make their days a little better with a smile and their drink of choice. I give away free drinks and cakes when I think a customer is in need, which has made many a customer walk out much happier than they did when they came in. I see couples on their first dates, old friends reuniting, family spending some quality time together. And me making those drinks is the starting point for all of those amazing things, which makes it worth it. I work long, irregular hours and go home exhausted from the day, but I sleep well knowing I have made a difference to someone's life.
Coffee isn't just a drink anymore, it's a part of our culture; a part of life.
career
I have Asperger's Syndrome, Depression and Anxiety. I work full time as a Barista in a year out from University where I read English.