Vocal Creators Chronicle
Vol. 1 September 11, 2021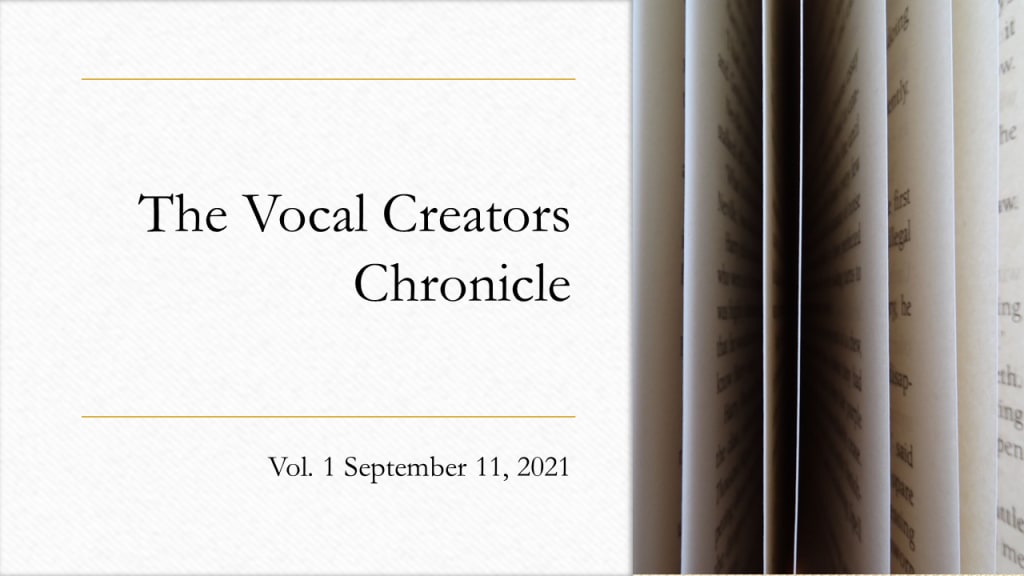 Hello all, and welcome to the inaugural edition of The Vocal Creators Chronicle.
About the Founders
Your editors, Les, James & Caroline, are firm believers in the idea that if you only look at your own work, you are missing the forest for the sake of the trees. Thousands of stories get published on Vocal each day by incredibly talented writers spanning a kaleidoscope of topics and genres. The heads of The Chronicle were inspired to create a free, online magazine out of our desire to open the eyes, minds, and hearts of the world to the brilliant creations we read daily on Vocal—whether it be through browsing or subscribing. We recognized the value good-quality reading material brings into our lives, and we value the creativity of what you, our fellow creators, have written.
About The Chronicle
Writing is an inclusive and diverse art, so The Chronicle draws on voices from 4 continents with a vast and varied spectrum of perspectives. As a team of writers, we are passionate about empowering, celebrating and rewarding the creativity flowing around us every day. This magazine is by creators, for creators, and entirely free for everyone. Follow in our footsteps as our columnists explore, grow, learn, and cultivate new ideas. Whether we are traveling the world or diving deep into the human psyche, the columns and features in The Chronicle offer you the very best of what Vocal has to offer. Most importantly, The Chronicle wants to share your voice: from whispers to yells, conversationalists to troubadours, we are scanning the archives in addition to creating content. We may even commission stories from creators through Facebook groups, like The Vocal Social Society, so be sure to stay tuned for special editions!
To Our Readers & Creators
We're glad you're here because we are "better together." Vocal is for everyone, and so is The Chronicle. Please feel free to stay awhile; we promise you'll leave enlightened and refreshed.
Regarding the 2oth Anniversary of 9/11
We at the VCC want to wish all those honouring loved ones lost during 9/11 our heartfelt condolences and positive thoughts & prayers. Justin Haywood has penned a piece about mental health in the armed forces, which we have dedicated to those who serve in our militaries. It is located below in the "Recommended Reads from Creators You Know & Love" section.
~ Be sure to click the RETURN LINK in each article to return to the main magazine OR use your Back Button on your browser. ~
From The Founders
Co-Founder and Editor: Caroline Jane
"Most of you are writers who find meaning in well placed words. You search them out irrespective of how shabbily they may be dressed. However, be honest, are you immune to the honeytrap of an old tale in a fur coat?"

In this edition we take a look at illustration and pictures and examine the validity of the adage: "A picture is worth a thousand words."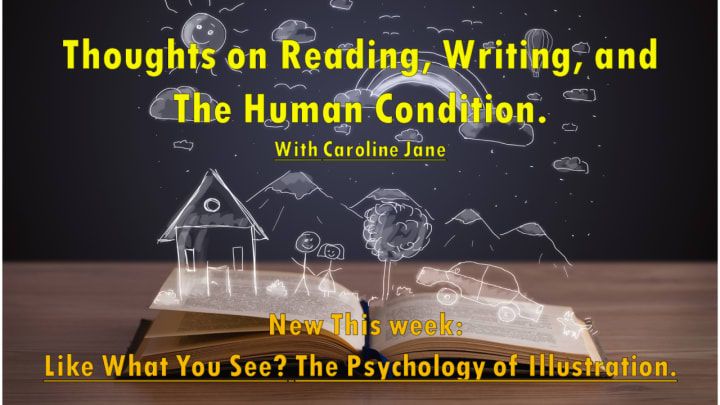 ***
Lead Editor: James U. Rizzi
The purpose of the notebook is to have it at the ready because sometimes ideas are as fleeting as soap bubbles. You want to catch them before they pop (I wrote that in my notebook prior. I practice what I preach.) It can be applied to anything; it isn't required for intricate plot points or flushing out a dynamic character. It can be something as simple as a cool name for a character.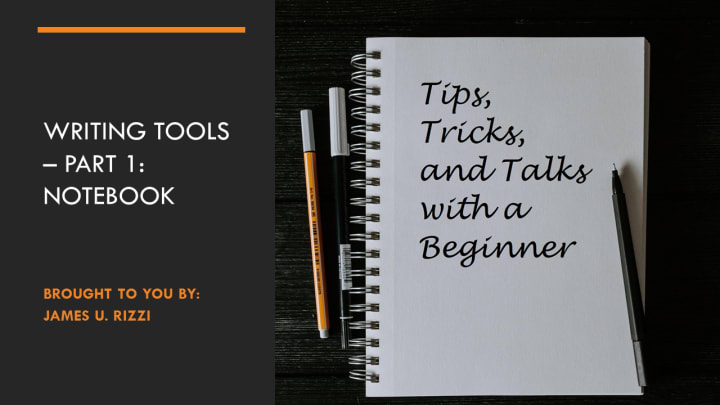 ***
Digital Editor & Public Relations: Lesley Leatherdale B.A. (Call Me Les)
The fabric of our lives is woven largely with the simpler threads of our inner thoughts, aspirations and day-to-day activities, which surround the more visible portions of the pattern in the tapestry. Ultimately, it is the "in-between" that makes for the best storytelling. "Chat with Les" is a column that is designed to ask you, the reader, to pause and examine the finer points in the lives of those around us, such as Dr. Roshdy: doctorate degree holder, mother, humanitarian and author.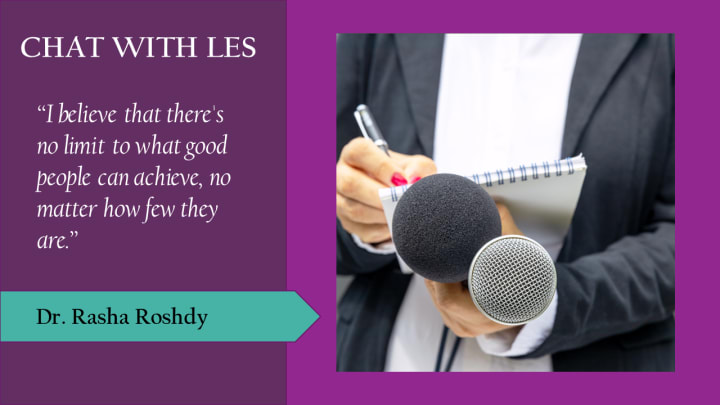 To contribute to Dr. Roshday's charitable endeavors at the Amna Sanctuary, CLICK HERE.
~~~~
Columnists
As admins of the Vocal Social Society, we have been watching, listening and celebrating talent in the background since the group's inception. The following columns are penned by creators who each bring a different voice to the table. Whether that is their specialist topic, their style or their unique content, what they all have in common is quality writing. If you would like to read more of their content sometime, click on their names and you will be redirected to their Vocal profiles.
Disclaimer: thoughts and opinions written by our columnists do not necessarily reflect those of The Vocal Creators Chronicle.
~~~~
"Music & Theatre" by: SCOTT WADE
Unlike Baum's original novel for children, the musical tells the story of Elphaba, a girl born with green skin. She is a good girl, much like the Good Witch that we are accustomed to from the Wizard of Oz, but then comes a long transition to become Wicked through a series of unfortunate events.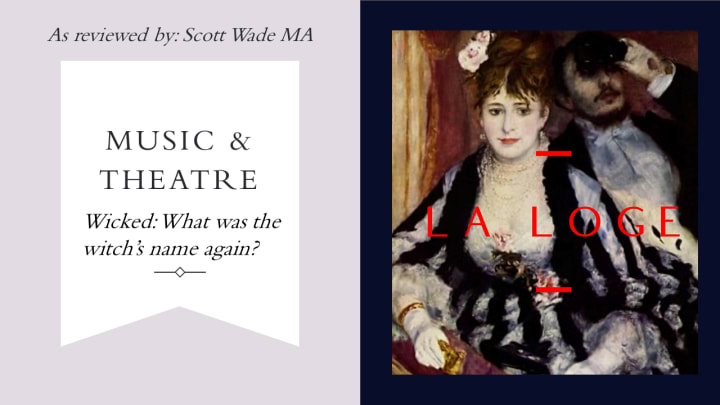 ***
"The Annals of History" by: BLESSING AKPAN
...[G]old has a long history throughout human civilization as a therapeutic agent, similar in some ways to silver. First, it was used as a metal, and then, of course, there's the dust reference in biblical times. And then it was used as a soluble salt made by alchemists, the predecessors of chemists.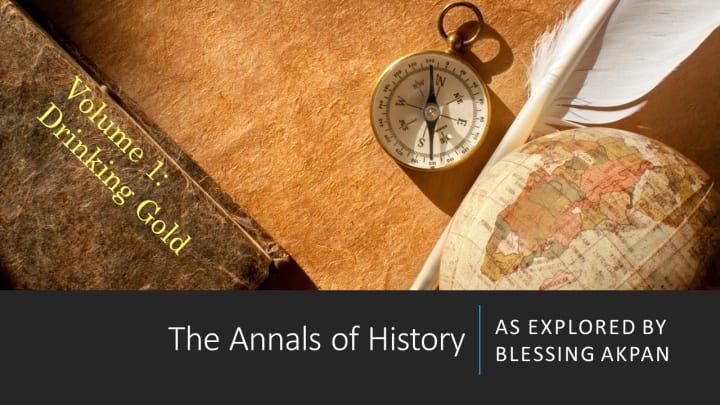 ***
"News from Down Under" by: NATASJA ROSE
R U OK?

While it seems like such a little thing, having someone to talk to can honestly be the difference between life and death for someone who is struggling to see a way forward. There's a reason that there are so many hotlines for suicide prevention, mental health, and even just loneliness.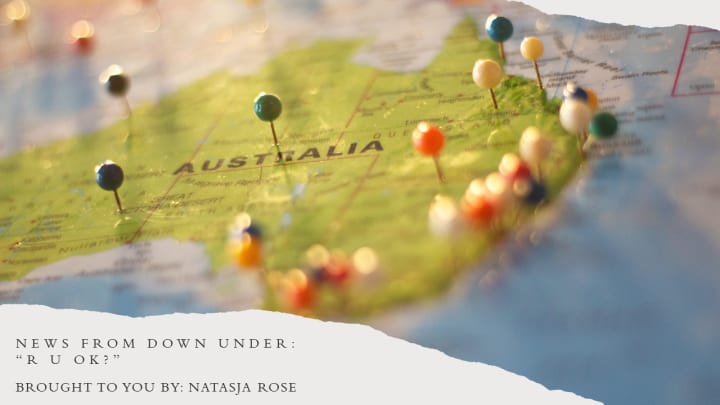 ***
"Nature & Consciousness" by: SARAH ST. ERTH
Compassion is the harbinger of the fifth dimension. Where compassion exists, love exists, where love exists, you will find, quite simply, the fifth dimension. No traveling is required, but many journeys will have been forged to cultivate this attribute amongst humans. All great teachers and Prophets have spoken about the Golden Rule, which if adhered to, would disallow many of the darker attributes of humanity.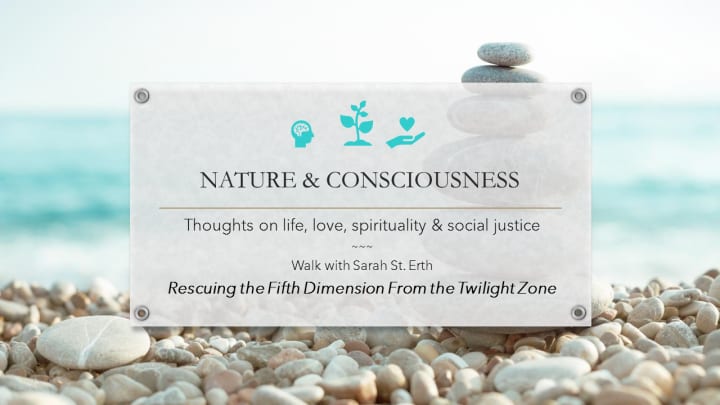 ***
"Seeking Brilliance" by: SOLEIRA GREEN
...I am a passionate player in the quantum field … that dreamland-like place where ideas go to wait for someone to come along and birth them into reality. Now I'll understand if you're sceptical about that. But as a writer I'm sure you know what I mean when I say those ideas just come pop pop popping along into your brain without you having a single thought about it.
***
"What Your Brain Doesn't Tell You" by: RACHEL JORDAN
"Cognitive dissonance is that icky feeling you get when your behaviour and belief systems don't align. Perhaps you are trying to give up smoking. You've told your family that you will and yet here you are at the drug-store purchasing another packet. That feeling sitting in the recesses of your mind? That's cognitive dissonance."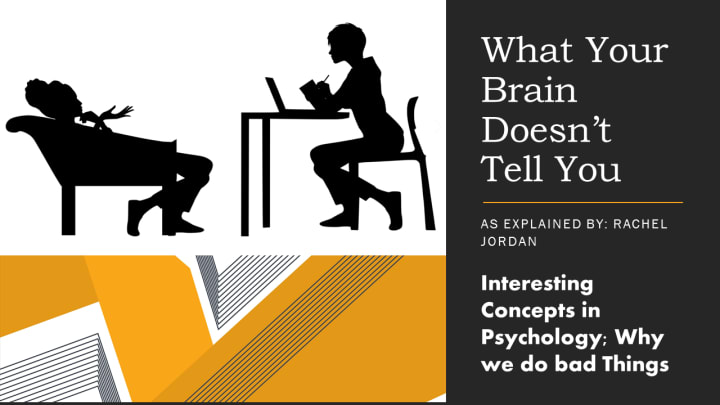 ***
"Food & Lifestyle" by: JUDEY KALCHIK
Although it's the second year for our garden, and I had broken in the canning kettle with tomato sauce, tomato juice, and crushed tomatoes over the ten days leading up to this moment, I was very unsure about the success of our plans. Or rather, I suppose I was mostly unsure about the outcome of my first peaches experience without my mother and grandmother.
Interested in learning some new recipes while also reading a good story or two (or five)? Check out the Vocal Cooks Collaborative.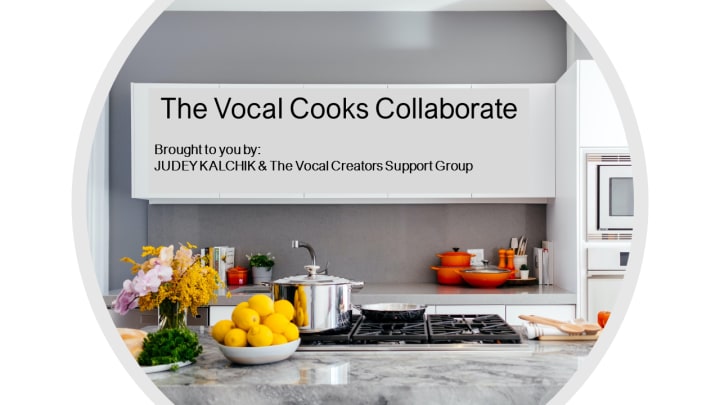 ~~~~
As we wrap up our very first edition of The Vocal Creators Chronicle, James, Caroline & Les hope you remember one thing: while writing can be hard at times, it doesn't have to be lonely. We set out to create a magazine to highlight exceptional talent, but along the way, we built a community. We are of creators and for creators. Best of all, we are so pleased that by becoming members of the Vocal community, we have uncovered our similarities and learned from one another. Lost in a fray of uncertainty and fleeting ideas, we were each able to find grounding in what we had created on Vocal. We hope you will, too.
A journey isn't about the destination, but rather the discoveries we find while travelling, and there is no better way to embark on that journey than with a fellowship. So, as we've said before, we're glad you're here, and we can't wait to see where the road leads us.
This concludes the scheduled content of your VCC magazine, but we've included some special selections below that are sure to interest you. Finish reading to the end of the page for a fun WORD SCRAMBLE.
***
VCC Special Feature: Meet Rebecca Ivey
Spotlight Fiction: "Wishing Well Questions" by Tom Brad
Belief in the supernatural, an entity or entities beyond what we can see, touch, or feel, is a defining aspect of being human. Wishing using objects, specifically throwing objects of value away from ourselves, is a near-universal practice across the globe, suggesting it is a cornerstone of how humans navigate their existence.
"Wishing wells have no interest in commerce; they are purely invested in you. Wishing Wells are for wisdom, knowledge—they are there to answer the question you need an answer to but cannot find. "
For more fiction by Tom Brad CLICK HERE.
~~~
Recommended Reads from Creators You Know & Love
Follow these refreshing prompts to fall in love with creativity all over again, hell, maybe even renew your wedding vows. Vocal as a platform is perfect to experiment with writing, so take a break from all the rules and the ghostly pressure—write for yourself.

Either as a two-week personal boot camp, or in times of need, these easy prompts will be here for you.
VCC honours veterans and remembers the heroes and civillians of 9/11. Follow the story below for a special feature on mental health in the military as told by our Justin "Jud" Haywood.
Who Do I Speak To?

This is going to sound obvious, but anyone who will listen. Tell your partner, a friend, anyone, but prioritise making an appointment with your GP, OR, speak to one of the many charities who are set up to deal with mental health in general and veterans in particular (or service related org's if you're emergency services for example).
~~~
Directly From Vocal: JOSHUA LUKE JOHNSON
As Senior Content Manager and de facto head of Content Moderation at Vocal, I read a lot of stories.

I read a lot, because I have to. We are a platform that fights back against hate speech and misinformation by employing a powerful army of human moderators.
~~~~
Vocal Is For Everyone. Join Vocal standard or Vocal+ today and start publishing your creations alongside thousands of other talented creators from around the globe.
Be sure to subscribe on Vocal to receive all the latest updates from your favourite magazine BY CREATORS & FOR CREATORS in your daily news feed.
Visit our website for additional information or to have the Vocal Creators Chronicle sent directly to your inbox FREE of charge. CLICK HERE to redirect to the VCC website.
~~~~
Member Shout-out: MIKE SINGLETON
Mike is a dynamic force of positive energy and encouragement. His presence is felt on VSS and other Vocal Facebook Groups. His best works include his vast collection of poetry dedicated to a mysterious Muse. CLICK HERE to visit Mike.
WORD SCRAMBLE
The following phrases are pulled from the 3 editor's articles and 6 columns. Answers may be found in the following issue!
1. While R U Ok? day lands on the second week of September. The month of September is more commonly known as what?
EHT TVASERH TNMHO
2. My spine is stiff, my body pale. I'm always ready to tell a tale. What am I?
A OEOBTONK
3. Understanding and reference for life outside of yourself
ITSH IS ISONCSOSSUNCE
4. A precious metal or so I'm told. Sip on me and you'll never Grow Old
ELNGOD TAWRE
5. Queens of the Stone Age 2002 hit single
OG THIW TEH OLWF.
6. The total sum of a picture
A DOSAUTNH DRSOW
7. After debuting in 1875, the now famous opera, _________ accompanied by the aria _______ was critically panned
NCMARE RBNAAHEA
8. Finish the quote. "Don't wish. Don't Start. Wishing only_________."
WDSUON HTE THRAE
9. The concept was developed in the 1950s by American psychologist Leon Festinger and became a major point of discussion and research?
EIOITGNCV DIOCESANS
~~~~
Most Recent VSS Fab 5 Winners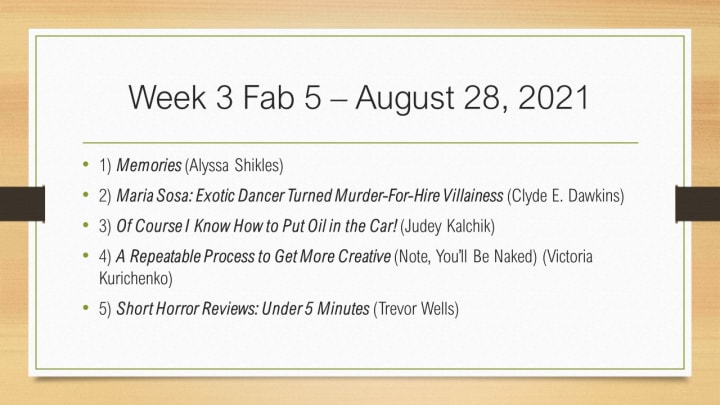 Visit the Showcase to read the stories chosen by Clicking HERE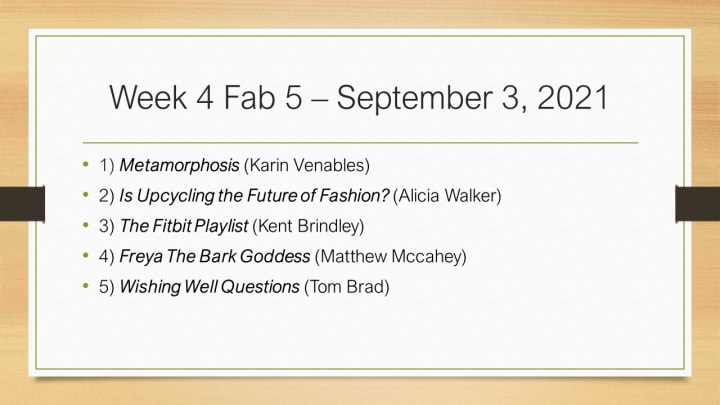 ~~~~
Have a story idea for The Chronicle?
Send the editors: Lesley, James or Caroline, a message and let them know what you are thinking about. Address: [email protected]
The Chronicle requests that all published content be as clean as possible and suggests running your work through Grammarly (or similar) before individual pieces will be considered for addition to the magazine.
Want to be interviewed? Have a new book to your name? Message Les directly for consideration. [email protected]
Accessibility & Diversity: Should you require accommodations or materials in an alternate format, please don't hesitate to let us know. The Chronicle values inclusivity and diversity and is always open to improving your experience.
Important Note: While we love the brand that gives our creations a place in the world, The Vocal Creators Chronicle is an independent publication. We are NOT Vocal Media, and we neither represent them nor answer questions on their behalf. All direct Vocal inquires should be directed to their support staff, starting here: SUPPORT. You may also find relevant information through their resources section, which can be found here: RESOURCES.
First published September 11, 2021 by The Vocal Creators Chronicle.
~~END~~
Reader insights
Be the first to share your insights about this piece.
Add your insights