New Zealand Convoy 2022
A recount of organising the initial convoy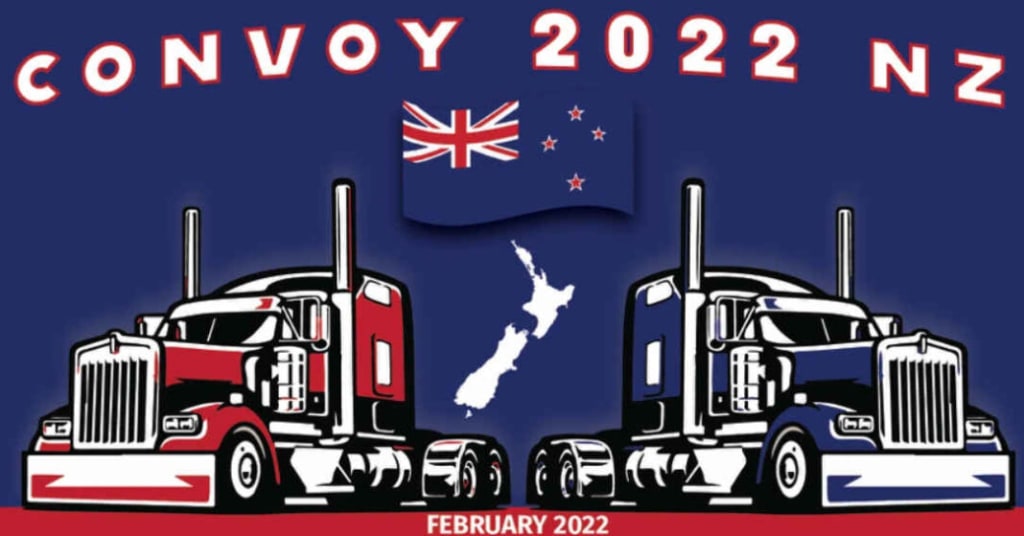 Main promo picture
I was a little sceptical about writing about the New Zealand Convoy, and the flow on effect it had around the country. The dynamics behind it was messy from the beginning. I mean, pulling off a nationwide convoy in seven days was going to be a full-on task and the communications around the whole idea was as flimsy as a newborn giraffe walking for the first time. But, that doesn't mean to say it ended flimsy. There were many challenges to be faced; between then (31st Jan) and deadline date, 8th February.
A day prior, I had shared a trucking meme or some sort with a hope that "someone would go against the grain and organise a NZ convoy." So, when my friends were tagging me in a potential convoy organised for NZ, I jumped at the chance. Joining the convoy was a spur-of-the-moment thing, you know, when you get that rush of adrenaline to agree to do something then ten minutes realise, okay, why did I do this for?
However, as I recount my involvement, I have no doubts about joining the movement. At the time, it resonated with me and it gave me hope that we could stir the pot between communication with government and our people. After all, nothing was happening and the same narrative was blowing out of the media day in and day out. We also wanted to bring the country together again. Humans need interaction whether you'd like to believe that or not, we weren't designed to be isolated or hate each other.
The week of organising the convoy went from zero to one hundred in a space of a few hours. Agreeing to putting my name and number as a contact on the contact list probably highlighted my FOMO but a decision I don't regret doing. Throughout the week, I had calls from people who really just wanted to talk to someone who understood them regarding the messy mandates. So, when people wanted to mock the convoy and say it was organised by the government or infiltrators, I can proudly say I am neither. Until people have organised one and know the real reasons why a convoy happened, I suggest you keep those negative comments to yourself. Each country's convoy is different. I am just your average Joe Bloggs who saw something that could bring some hope to a country in distress.
I woke up to madness on February 6th, Waitangi Day, and the beginning of the Convoy. One of our pilots (and organisers) decided to go rogue and break the itinerary plan. There were no communications to any of us and the public were demanding where the North Island convoy was. With a quick meeting to discuss how we could save the convoy from imploding; a new start was established in Whangarei. By the time the Convoy had hit Mercer, the line was hitting 91 KM long. Hard to believe that on Friday, I was stressing because I had heard hardly anyone had found out about the convoy so a few friends and I were ringing up trucking companies around the North Island "letting them know."
7th February had come around quickly. This was when the convoy would be arriving in Palmerston North. The idea was to have the western convoy from New Plymouth and the eastern convoy from Napier, merge into Palmy, like a zip. That would mean, Palmy would be gridlocked for a few hours as Palmy had been earmarked as a dinner stop. The day had been icky with rain and wind so praying for an awesome afternoon, was high. I am very thankful to have an awesome team that helped me, so to find out Palmy had gone all out for this event, gave me goosebumps. Palmerston North has had a bad rapt for some time. John Cleese called it the "suicide capital of NZ," many years ago and to this day, it's still considered a laughing stock in our country.
The convoy rolled through, gridlocking traffic, ending at El Prado Drive. The convoy had an on-flow effect all afternoon with three convoys (a third one came down the middle of the North Island) converging into Palmy. Throughout the convoy, the mainstream media did their best to ignore the happenings and that was expected. Why would you broadcast an event that was effectively against the hand that feeds you?
The convoy stayed overnight in Palmy which I wasn't expecting too. But hey, the challenges thrown at me within the two days of the convoy, were happily accepted. Space was found for our convoy family scattered around the city, with some continuing down the line, to Wellington.
Looking back, there were hiccups along the way and that's a given. Like I said, we had pulled out an event in just over a week and we knew of the complications. Communications was a bust up for a time there but course that was going to happen. The convoy ended in Wellington (and Picton, for the South Island) on the 8th February, 2022. What made this protest different from the rest? The occupation of Parliament grounds in Wellington and Picton, which is still going on. These back-to-back events will surely go down in New Zealand's history.
social media
About the author
Been fascinated with writing since I was 11 years old. I'm interested in crime to feel-good articles. Mostly crime.
instagram: jsp_the_curator
Reader insights
Be the first to share your insights about this piece.
Add your insights