Juneteenth 2022
Vocal Creators Chronicle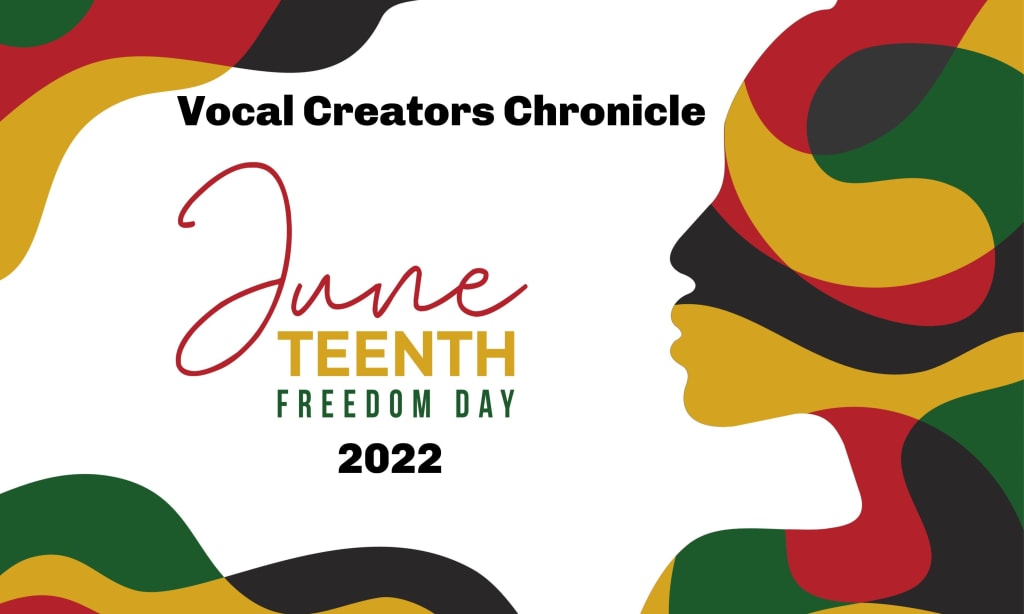 Image licensed and designed using Shutterstock.
Starting off, sincerest apologies this was not published as timely as it was intended to be. However, we felt with an issue this important, it was better to get it right, than get it done. Caroline & Les would like to thank Clyde E. Dawkins for taking leadership of this issue.
Let's start with some background reading:
~Be sure to hit that 'back button' or follow the 'return to magazine link' (available in some inclusions) to return to the main magazine and explore all of its content.~
CENTERPIECE PICK 2022
[White Noise] - Jamilah Muhammad
In just a few lines, a poem is often more profound than any other form of writing. This one spoke to us. Yes, it's gritty. Yes, it's not a walk in a garden. But then, Juneteenth is about more than a party or a classroom lesson. We felt this poem gives a backbone to all other inclusions.
*
From the Editors with love
*
2022 Juneteenth Selections
Why Juneteenth is So Important - ABIGAIL ANN

"Juneteenth may mark just one moment in the historic oppression of black people by white people, but the larger movement in the nation not only allows us, but forces us to reflect on the many contributions of enslaved black Americans of the 1800s to progressive African-Americans of today."
The Sad Golden Rule in Music: White Can, BIPOC Can't - CLYDE E. DAWKINS

"Just like in sports, BIPOC musicians get crucified for things that get glossed over when it comes to their White counterparts. There are three categories that stand out the most in this whole thing, and they are as follows: Accusations of misogyny, sexuality, and violence."
Juneteenth Lives - TAMMY REESE

"I remember when I was a little girl my late beloved mother Donna Reese who was a profound activist once was a Grand Marshall at our community Juneteenth celebration parade. I thought so cool! Wow my mom gets to lead a parade! How fun is this! When I got older and learned more about Juneteenth and the importance of acknowledging, while reflecting why black people celebrate this historical day it was way bigger than a parade."
Happy Juneteenth - SHANDA GANTT

"This year was the first year I have celebrated Juneteenth since I was a child but this time it wasn't the same feeling I had then. The naiveté that I had so many years ago as a child was replaced with the knowledge that we living in a divided nation in the middle of a war on beliefs, though in my eyes the morality of it all should be clear living with the fact that there were forces that are going to fight with everything in them to keep things the same. Living every day with this fact is what proves to be most difficult."
Are Schools Whitewashing Juneteenth And Our Curriculum? - MADISON GONCE

"Juneteenth celebrates the remembrance of the last slaves freed in the United States. It shouldn't be surprising that American school systems simply wrote over this subject when they also whitewashed things like the first Black woman who refused to give up her bus seat and taught students that Christopher Columbus was the original settler of America. Curriculums seem to undermine the serious and more difficult sides of history."
On Accepting My Blackness - KELSEA

"I was so white in fact, that I took pleasure in being called an Oreo. And being told "I talk white" or was "the whitest black person" that someone had ever met. These compliments were considered a testament to my successful chameleon-ing.

How dare anyone say colorblindness doesn't exist. I, a black woman, surrounded by all of my white friends, putting on cowboy boots to dance on the field at football games every Friday night, and rooting for Mitt Romney to win against Barack Obama, was living proof of this.

This was my identity.

Until I heard about Michael Brown."
The Real(Her)Hair - MISS DARYL **2nd Place Remarkably Real Contest**

"The Girl of 1,000 looks

"Well if it isn't the girl of 1,000 looks," he'd announce with amusement.

This greeting came at the start of every shift, as I strutted into the bar sporting a new hairstyle. While 1,000 looks was considerably generous, I was no stranger to the overnight walla-magic of my Black hair. Faux locs, platinum gray knotless braids, Peruvian curly or body wave, I rocked them all."
Harriet: Rebel of the Underground Railroad - JOE PATTERSON

"She looked up to the Heavens and the father she trust, because obtaining freedom was a definite must.

Looking at her chances she knew doubt was here, but told herself "I'm gonna make it out of here, without a doubt or fear".

Being treated as property doesn't fit me and when I leave this horrible place I'll take my family with me.

Not just the ones who share my mother's face, but also my sisters and brothers in race. "
Closing thoughts from a community ally: Mike Singleton
For more stories celebrating Black culture & history, please check out our Black History Month Issue (BHM) below. Our BHM issue was compiled by a dedicated committee focused on educating, uplifting and celebrating during the month of February. We'd like to encourage everyone to remember that while it's important to have official moments of reflection and celebration, it is equally important to acknowledge that people's identities exist year round.
Celebrate your neighbours, folks. Make the world a little kinder.
Until next time, reminding you we are #bettertogether.
Our email is always open. Share your kindness. Celebrate life.
Be sure to subscribe to The Vocal Creators Chronicle on Vocal to receive all the latest updates from your favourite magazine BY CREATORS & FOR CREATORS in your daily news feed.
Vocal Is For Everyone. Join Vocal+ today and start publishing your creations alongside thousands of other talented creators from around the globe. Click below for official Vocal merchandise!
***
Message the Editors: Les or Caroline, and let them know what you are thinking about. Address: [email protected] or through Messenger on our Facebook page.
Important Note: While we love the brand that gives our creations a place in the world, The Vocal Creators Chronicle is an independent publication. We are NOT Vocal Media, and we neither represent them nor answer questions on their behalf. All direct Vocal inquires should be directed to their support staff, starting here: SUPPORT. You may also find relevant information through their resources section, which can be found here: RESOURCES.
About our content: According to Vocal, anyone can publish on their platform. They moderate every story to ensure it complies with their Community Guidelines. However, they do not fact-check every story. Furthermore, the views and opinions expressed in the stories of the columnists and the editors of The Vocal Creators Chronicle are those of the individual Creators and do not necessarily reflect the official policy or position of Vocal nor The Vocal Creators Chronicle. The Chronicle does not accept liability for the personal opinions or use of advice of any of the columnists or editors. All advice is considered to be undertaken solely at the readers' discretion. Non-original content submitted by columnists is expected to be used in accordance with copyright laws. The Chronicle does not accept personal liability for the use of content included by its columnists.
First published June 28, 2021 by The Vocal Creators Chronicle.
~~END~~
Reader insights
Nice work
Very well written. Keep up the good work!
Top insights
Heartfelt and relatable

The story invoked strong personal emotions

Easy to read and follow

Well-structured & engaging content

Excellent storytelling

Original narrative & well developed characters
Expert insights and opinions

Arguments were carefully researched and presented

Eye opening

Niche topic & fresh perspectives

Compelling and original writing

Creative use of language & vocab

On-point and relevant

Writing reflected the title & theme
Add your insights