Jerrick's 2020 Annual Shareholder Meeting Recap
Recording & transcript of Jerrick Media Holdings, Inc.'s 2020 Annual Meeting of Shareholders.
It's been less than an hour since the conclusion of what was Jerrick's first Annual Shareholder Meeting. Before publishing the following meeting transcript (which we cleaned up a bit for clarity purposes) and releasing the video recording you see above, I wanted to once again thank my Jerrick team, who worked so hard over the last couple of weeks. It was their collective effort that not only made our 2020 virtual shareholder meeting a success, but established a baseline and foundation for us to make the next one even better.
For those who heard this presentation live, you already know that our Vocal platform is at the heart of our growth strategy–it is what enables us to continuously increase margins, leverage the organic value of our tech, and integrate acquisition targets the way we do. But be that as it may, it is the unity and shared passion of Jerrick's team that is ultimately responsible for scaling revenues and by extension, the company as a whole.
In the final analysis, an investor has to bet first on the jockey, then on the team, then on the product. I can say that I, my team, and Vocal will always do our best to deliver outsized value to all of our stakeholders.
Good afternoon, everyone. I'm Rachel David, Head of Investor Relations at Jerrick. I've sat in numerous seats over my nearly four-year tenure and along with my partners on the operating committee, have had the unique opportunity of building the foundation of our corporate communications from the ground up.
That is why I consider it a true privilege to welcome everyone to Jerrick's first annual shareholder meeting.
As most of you know, our journey toward uplisting is many years in the making. We are on the precipice of our final push toward trading on the NASDAQ Capital Markets. Today, we hope to provide you with a greater understanding of our aspirations, and the strategies we're developing to grow the Vocal platform and the entire Jerrick ecosystem.
Before we get started, let's take care of the legal formalities. For the record, our Chairman of the Board Leonard Schiller is presiding over today's meeting.
First, please keep in mind that you may hear forward-looking statements related to Jerrick's future financial results and business operations. These statements are subject to our Safe Harbor Statement, which you can find in our reports filed with the SEC.
Moving on, I'll remind you that the formal Notice of this meeting was sent to all shareholders of record. Copies of our Annual Report, and the Proxy Statement that we'll be referring to today are available on our website and on your screen.
Next, Tiffany Felton will act as our Inspector of Election for today's meeting. We've received confirmation from Tiffany that a majority of the shares eligible to vote at this meeting are either present or represented by proxy. This means we have a quorum and can proceed.
Later on you'll hear our CEO, Jeremy Frommer, describe the six proposals up for a vote at this meeting. But for the record, Jeremy, do you second the board's recommendations for proposals 1-6 as set forth in the proxy statement?
Jeremy Frommer, CEO: Yes I do.
Rachel David, Head of Investor Relations: Thank you, Jeremy, and thank you to all of our shareholders who voted by proxy prior to the meeting. Any stockholder present who would still like to vote their shares, ask a question, or inspect the stockholder registry during the meeting can do so by using the respective sections on your screen. Voting will remain open until the conclusion of this meeting
We are very excited about today's presentation. You will hear later on about our tactical plan toward uplisting, our product roadmap, acquisition strategy, and certain regulatory milestones we've been tirelessly working toward.
But to appreciate "the how"—where the company is going, and our plan for getting there—we want to reaffirm "the why"—what Jerrick's vision is, and its vision for the future.
No one can articulate that vision better than the person who started it all. I'm pleased to introduce our founder and CEO Jeremy Frommer.
Thank you, Rachel.
Good afternoon, everyone. Thanks for joining today and welcome to Jerrick's first Annual Shareholder Meeting. In these unprecedented times, I hope you are all safe, and I soon have the opportunity to catch up with many of you personally. This has always been a collective effort and in particular, I would like to thank my team and business colleagues for all their hard work and perseverance during these very strange days.
We find ourselves together in a new world, where the type of opportunities for Jerrick and its flagship product, Vocal, are expanding daily with many more on the horizon still yet to be defined.
And amidst the many challenges we face today as a society, from the global pandemic to socioeconomic disruptions, I would like to reaffirm our organizational resilience and our continued efforts to support the creative community.
As we do our best to make sense of the world, we think it's critical to continue fostering our Vocal communities—where we can help one another stay inspired, support each other financially, and continue to spread positivity. We are harnessing our resources, experience, and network to perform thoughtful actions and be a part of the solution. Community has always been core to Jerrick's principals, and I am very proud of our team's dedication and commitment to those core ideals.
Today's call will give you a look not only into where we are going, but how we will get there. I will introduce you to Jerrick's management team, who will give you scope into our flagship product Vocal, as well as our plans to uplist Jerrick to the NASDAQ Capital Markets.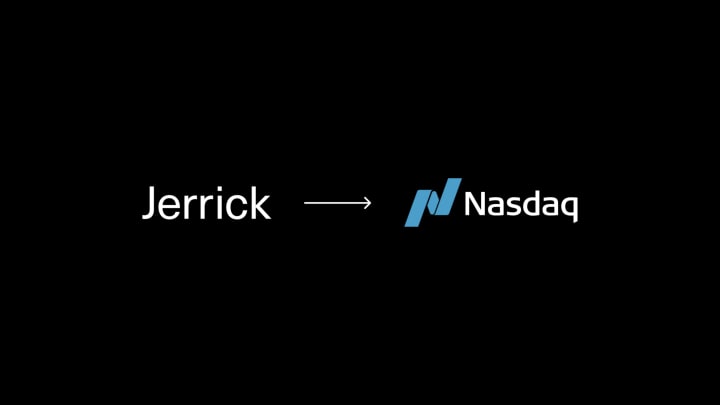 This has been our plan since the outset of the company. It is rare for a technology company to uplist to the NASDAQ, avoiding the private equity and venture capital world, altogether. In fact, other than an IPO, which is similar but larger in scope and process to an uplist, it is the only other alternative.
We owe a great deal of thanks to the public investor community. You gave our team the runway and opportunity as entrepreneurs to build our Vocal platform and realize our vision, pursue our passions.
None of this would be possible without the 7-year partnership I have had with the President of Jerrick and head of product development. Justin and I met through a series of events that I chalk up to fate and we always talk about seizing the moment. He is an exceptional fiduciary member of our management team and a leader in our company.
At this time, I would like to introduce you to my friend and partner, Justin Maury.
Thank you Jeremy, and thank you everyone for joining us today.
Before we get started, I wanted to share with you a short video highlighting how creators from around the world are using the power of Vocal to raise their voices and inspire change. From thought leaders to short fiction writers, Vocal creators are the narrators of tomorrow.
We have been so impressed with the way our network has supported the Vocal community and we are proud to be partnered with a generation of creators being Vocal.
From finding new storytelling formats to entertain and educate audiences to provide helpful resources, we are honored to be a platform of choice for the creative community.
We launched Vocal 3 years ago with 1,000 creators and six communities. And it grew and became very popular very quickly. I think it all worked because we recognized an opportunity in shifting consumer behavior. People around the world were sharing their content for free on platforms like Instagram and Soundcloud, trying to grow their audience and earn money.
While simple in theory, creators found themselves in a fragmented ecosystem with limited solutions to growing problems. So we set out to build a best-in-class platform to solve those problems. We built something that made it easy for all types of creators to share their stories and their already-published rich media, get discovered through engaged communities, and have the opportunity to earn money while pursuing their passions.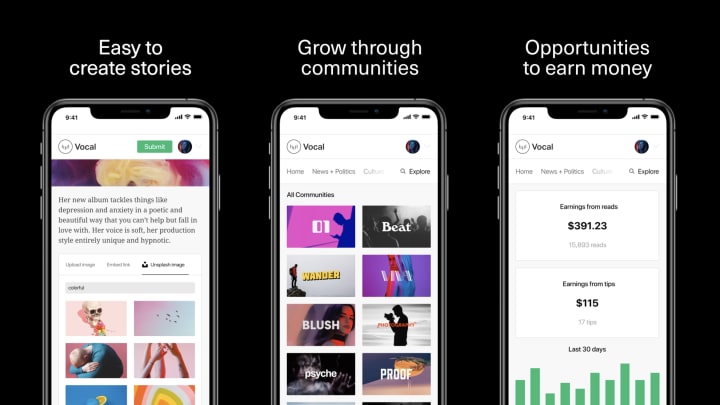 Fast forward three years to today and Vocal is one of the fastest-growing platforms for creators.
There are now 650,000 creators who have published over 150 million words, which has is attributed to over 400 million minutes of people reading stories on Vocal.
These are impressive numbers, but we believe this is only a fraction of our TAM, our total addressable market.
Every day, over 2 million blogs are published...
While 300 hours of video are uploaded to Youtube every minute...
Not to mention the tremendous amount of content that's created and consumed daily on platforms like Instagram and TikTok.
We believe there is a huge opportunity to capture market share here.
I often get asked the question: who are your biggest competitors? And I respond with the following:
We don't want to replace anyone; we built Vocal to be accretive to the whole digital ecosystem. That's why we made it easy for creators to embed their already-published videos, songs, podcasts, photographs, and more directly into Vocal. We see this as a growth opportunity by building partnerships with the world's greatest technology companies and to further spread our roots deeper into the digital foundation of society.
As we look to the future, growth is our primary objective from creators to brands to revenues. Scalability relies on the following platform principles:
• Freemium Product: Our free Vocal offering drives premium subscription growth
• Platform Universality: Our cross-platform and cross-device web application allows us to reach anyone with access to a browser.
• User experience: Our ability to analyze our first-party data to make actionable changes to improve our systems and user journey.
Over the last seven years since the creation of Jerrick, we have refined and developed a scalable, sustainable, and defendable growth strategy. We call it the Creatd Cycle.
Let's take a look at how this cycle applies to Vocal.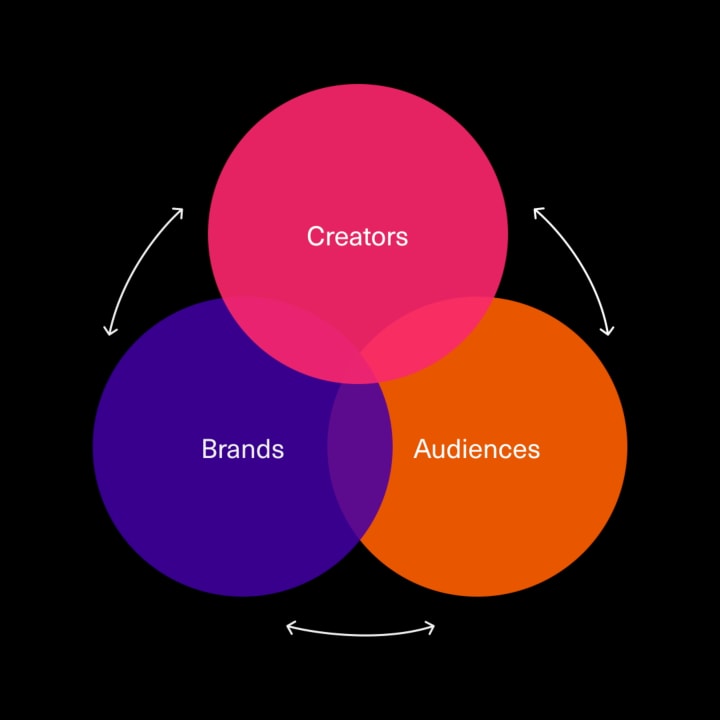 Creators are the driving force of the Creatd Cycle. Simply put, they produce the content that attracts the audience, which in return attracts the brands who are interested in reaching those audiences. That's why we believe creators are our partners, and we focus on making them stronger at creating and distributing their content, regardless of the underlying digital medium.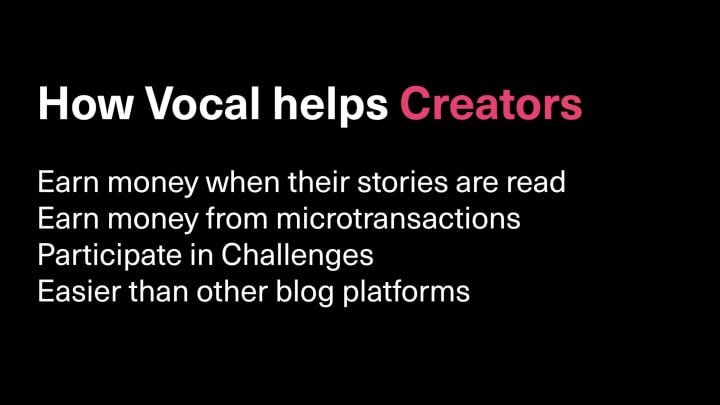 We provide creators multiple opportunities to earn money on Vocal. We were one of the first platforms to develop an algorithm to pay creators when their stories are read. We made it possible for fans and readers to access microtransactions and tips to show their support and send to the creators. And we most recently introduced Challenges, a way for creators to participate in themed storytelling contests for a chance to win money and give back to the community.
We have spent the last three years since we launched Vocal improving the user experience, building value, and adding features to make it easier to share their stories without having to worry about hosting, plugins, themes, and all of the other components of running their own blog site. When you remove those operational burdens from the equation, it allows creators to focus on what they do best: Creating.
The next component of our Creatd Cycle are audiences.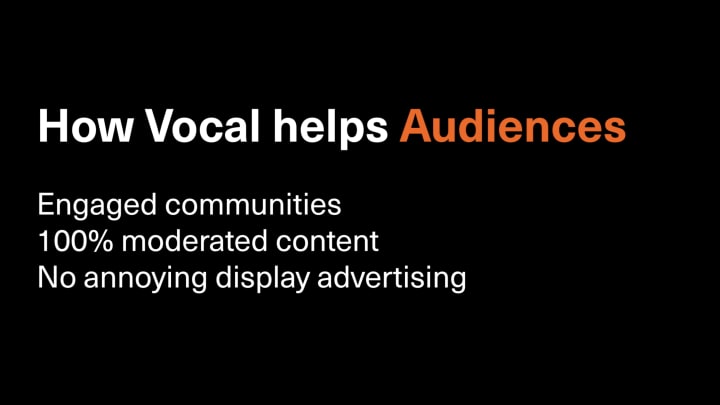 We architected Vocal to be community-based, so it was easier for creators to reach new audiences. If it's easier for people to discover and enjoy stories, then people will consume more stories. But launching a UGC platform in today's age comes with great responsibility, and we strongly believe in protecting our communities. That's why we built a proprietary moderation system into our technology that allows us to provide a safe environment for all stakeholders. We also do not have, nor have we ever served any invasive or interruptive advertising on our platform. We value and respect our creators' stories and the audiences they attract, and believe that by providing a best-in-class, non-interruptive experience, we will increase the lifetime value of both our creators and their audiences.
The last component of our Creatd Cycle are brands.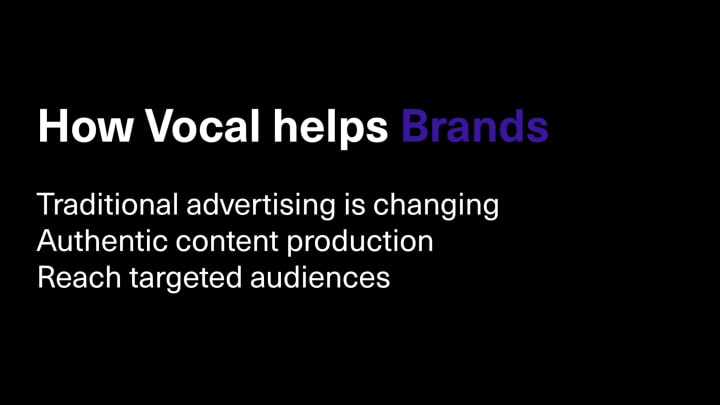 Early on Jerrick's history, prior to the creation of Vocal, we experimented with business models that were reliant on traditional advertising. However, we quickly discovered the inherent issues that plagues those monetization methods today: the rise of ad blockers, ad blindness, and ad fraud. We knew we needed to work with brands in a way that was more sustainable, and that provided more value. That's why we created our internal content studio, Vocal for Brands. Vocal for Brands partners creators with brands to produce branded content that's native to our platform. These stories build brand affinity, education, and trust with the audience, and Vocal for Brands campaigns have outperformed industry benchmarks and have provided real value for our brand partners. In addition, these campaigns provide our creators with the opportunity to earn money and build their own brands by participating in these campaigns.
And that's the foundation for our Creatd Cycle. The more stories our creators share, the more people they attract, and the more brands want to reach them. The more Vocal grows, the more creators will be successful. And that, in turn, of course, will attract more people to Vocal. That's why our north star metric is how many of our creators are finding value and success.
And in these unprecedented times, creators are in need of a platform that partners with them. We believe we have entered an environment that allows us to grow our market share at a rapid pace. That's why we will be allocating nearly one-third of our uplisting capital raise towards marketing Vocal and growing our creator base.
And as the creators grow, so do the audiences and the brands. Part of our success with brands lies in our alignment with their core principles. The brand affinity and trust that Vocal has cultivated with our own audience enables us to help brands build connections with theirs.
It takes focus and commitment to maintain those brand and creator connections. Danielle Banner, who will be officially appointed Chief Revenue Officer upon our uplisting, is here now to explain how we have been growing our partner network.
Thank you, Justin.
As you said, brand affinity and trust are core to our team's principles and underlies our approach to both our internal operations and external communications with our Vocal community and investor network at large.
If I've learned anything over the last five years, which I spent developing our roughly 25-person team, and building inroads with nearly as many external consultants, it's the fact that sustainable growth relies on meaningful communication, and authenticity above all else.
With the growth of Vocal, we have attracted and built relationships with some truly amazing brands. But it took time to build to where we are today.
First, we spent years researching and developing new digital products for brands, refining our reporting tools, and building relationships with our distribution partners. We published over 500 branded content stories and gathered first-party data to improve our audience targeting and segmentation.
As the Creatd Cycle implies, as the creators grew, so did the brands. We are proud to work with brands that share our values and who similarly seek to establish authentic connections with their consumer audience–providing them with a value-added experience, rather than a disruptive one.
A perfect example of a campaign that demonstrates how Vocal for Brands provides disruptive, non-invasive marketing is our partnership with IAC's Vimeo platform.
Three months ago we launched a branded Challenge called Pay It Forward. Vimeo came to us looking to promote their new feature called Vimeo Create, which makes it easy to make high-impact videos that help a creator stand out on social media.
At around the same time, the pandemic was in full swing, and businesses around the country and around the world were facing the most difficult period in recent history. We saw an opportunity and felt a responsibility, to use the power of our platform and give back. What resulted was the Pay It Forward Challenge, which asked creators to tell a story about a local small business they love and use Vimeo's new tool to help them do it.
This successful campaign generated over 600 submissions and achieved exactly what all parties had intended. Creators were able to publicly support their local communities through the crisis, and the winner received a $5,000 prize for the small business they highlighted.
At the same time our brand partner, Vimeo, was able to successfully achieve their campaign goal of promoting Vimeo Create. The campaign drove hundreds of signups to Vimeo, increased adoption, and provided unique insight and valuable data for the client.
This is just one example of the power of Vocal, and how we are changing the way brands reach their audiences.
I'd also like to take the time to highlight the impact of Jerrick's September 2019 acquisition of Seller's Choice. By leveraging Jerrick's business ideology and the Creatd Cycle framework, in less than one year we have been able to reduce operating costs for Seller's Choice by nearly two-thirds, while keeping revenues steady, effectively increasing margins and generating future opportunities for growth.
All of this growth and success would not be possible without the support and insights from our business intelligence and analytics department, which fuels our growth by providing data and leads. With that said, I would like to introduce you to my partner of five years, and Jerrick's future Chief Strategy Officer, Robby Tal.
Thank you Danielle for the introduction.
Since launching Vocal, we have been using our rich pool of first-party data to improve not only our users' experience, but to power our growth and reduce our acquisition costs. My team studies the interactions in our ecosystem to better understand what makes Vocal successful:
Who is our ideal creator?
What resources do they need?
And therefore, what do we prioritize on our product roadmap?
We have noticed an uptick in Vocal activity across the board. The number of unique users consuming content on Vocal has increased by over 30% during the pandemic period. Consumers are spending 12% longer on average, reading, and engaging with Vocal content.
The role of the data science department is to optimize the platform experience. We pair our Vocal data with third-party distribution platforms such as Facebook and Snapchat to provide a more granular profile of our creators and audiences.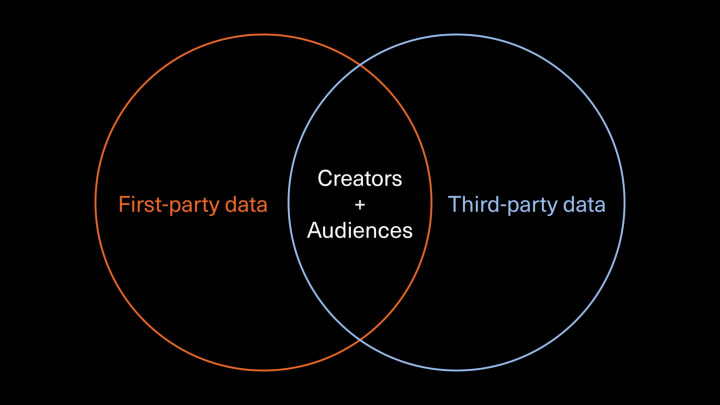 We don't sell our first-party data.
We use data to identify new users, service them properly, and upgrade them to a Vocal+ paid subscription.
Our creator acquisition objective is to maximize Customer Lifetime Value while lowering acquisition costs, with the goal of reducing the time it takes to monetize a Vocal+ subscriber.
In the past few months, our Creator Acquisition Cost and Subscriber Acquisition Cost have each dropped by as much as 50%.
Monetization features like creator Challenges, which Danielle referred to, are incentives for further conversions to the premium model. This presents a huge growth opportunity for us given its unique ability to monetize creators' content, as well as showcase brand marketing campaigns. This essentially accomplishes two things at once.
It takes a disciplined understanding of accounting principles, let alone back-office infrastructure, to oversee the thousands of creator transactions, scores of branded content invoices, hundreds of shareholders, and millions of shares to process.
We would not be able to support our creative community without the expertise of our newly named CFO, Chelsea Pullano.
Thank you Robby for those kind words, and for the countless hours, you have helped architect our back office and inspired me to study the data.
As is the case with most of our management committee, I have held many seats during my 6 years with the Company. A little over three years ago, I was drawn into the financial and regulatory side of the business upon the departure of our former CFO, and it's been an incredibly educational and fulfilling experience.
During my time here, and in collaboration with our incredible legal and accounting advisory group, I have overseen the filing of:
4 audits
10-Qs
2 Tender Offers
1 reverse split
3 effective registration statements
1 acquisition and subsequent integration
Capital raises of many shapes and sizes
Conversion of over twelve million dollars of outstanding debt into equity
Through it all, we've prioritized and been consistently committed to the goals you've heard my partners speak about today.
We continue to emphasize transparent communication with our shareholders, advisors, and business partners and are committed to increasing the value of the business and providing an ever-growing return on investment to all of you, without whom we could have never gotten to this point.
Everything we've achieved so far pales in comparison to the last several months of preparation for uplisting. Our team has been working tirelessly to get us over this finish line, and this vote provides us with one of the final pieces to the puzzle.
I look forward to a more regular meeting structure where I can provide updates to all of you, and encourage anyone who is looking for more detail on our road to uplist to reach out to me personally.
Finally, I would like to thank all of our shareholders for today's vote of confidence in our team. Our CEO, Jeremy, will conclude the meeting by highlighting these very important proposals.
Jeremy Frommer, CEO
Thank you, Chelsea.
We've learned a great deal over the last few years about the intricacies of the public markets, and you have meticulously navigated our demanding schedule of regulatory and financial filings. I know I speak for many of our shareholders and the team when I say thank you for keeping things running smoothly.
Before I summarize my perspectives on what you heard today, I would like to thank all of our investors for considering the proposals presented to you prior to today's vote.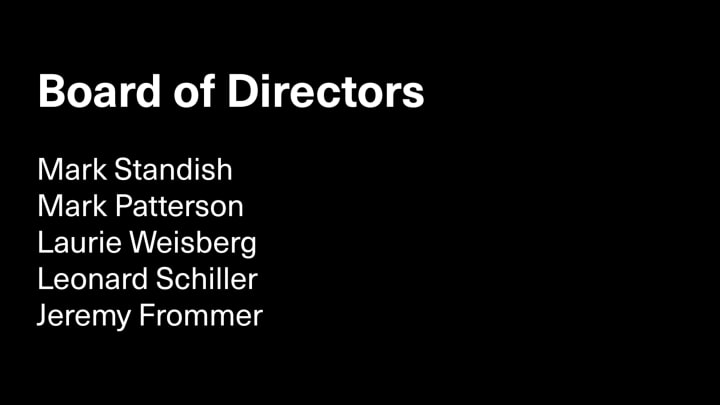 They include first the approval of our new board nominees Mark Standish, Mark Patterson, and Laurie Weisberg and they also affirm that Leonard Schiller, our Chairman will continue to serve as a board member. I am honored to serve as the fifth member of this board of directors, side by side with individuals of their caliber.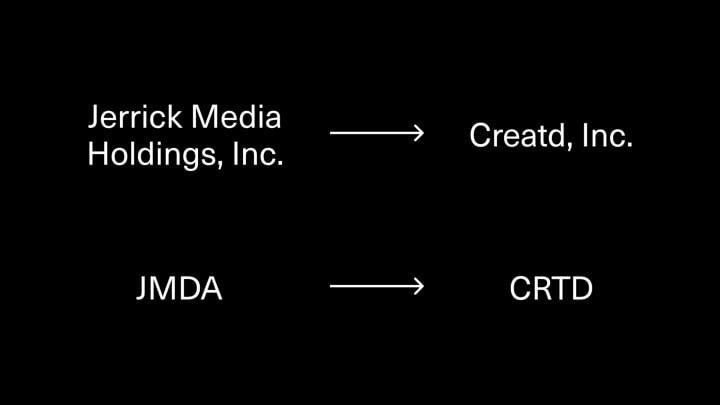 We also proposed the rebranding and renaming of Jerrick Media Holdings, Inc. to Creatd, Inc. and, upon our projected uplisting, will retire the name Jerrick and the symbol JMDA, and begin trading on the NASDAQ Capital Markets post uplisting under the new symbol CRTD.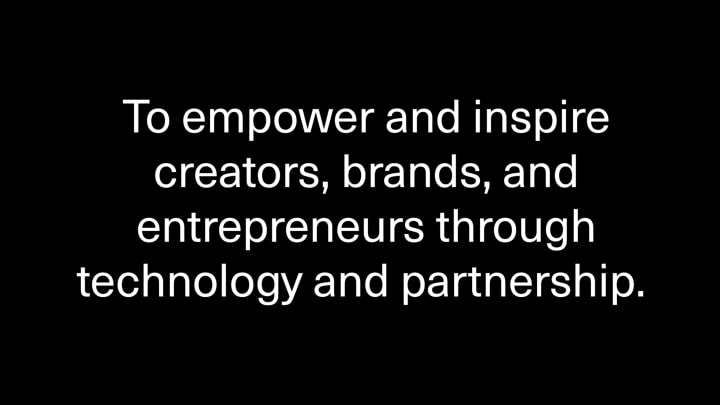 Creatd—yes, spelled without the second "e" as it appears—is the next evolution of the mission that we started nearly seven years ago: to empower and inspire creators, brands, and entrepreneurs through both technology and partnership.
In addition, shareholders voted on our amended and restated articles of incorporation, which includes an increase in authorized shares, as well as the appointment of RRBB as our registered public accounting firm.
With the success of our flagship product Vocal, we have found many interesting acquisition targets and investment opportunities.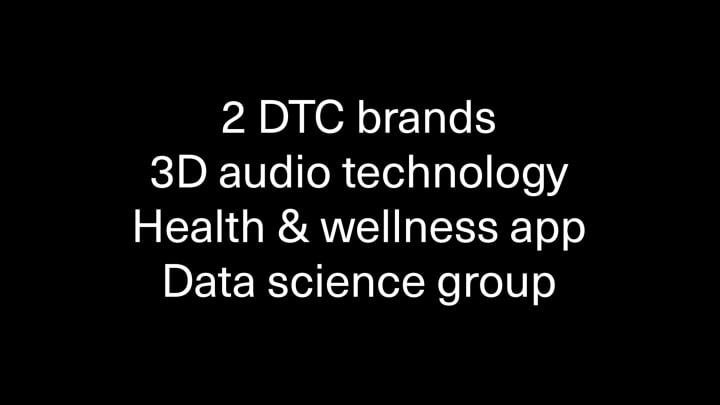 Currently, we are actively engaged with two direct-to-consumer brands, a technology platform revolutionizing 3d audio, a health and wellness app pairing private fitness instructors with 1x1 sessions, and a unique data science group. The authorized shares in today's vote will be used to enable our investment growth strategy, as well as to attract today's leading talent in the technology space that can add value to the Creatd Cycle.
In particular, I know I speak for my team when I thank our shareholders for voting on our Equity Incentive Plan. We've worked hard these past few years and will continue to do so in the future. This plan is meant to reward those who have been together since the early days of our company and those who, in subsequent years, will help contribute to value and growth.
Finally, we have taken a step to get your approval for the possible effectuation of a reverse stock split if needed. That will depend on the next few weeks of discussions between myself and many of you here today.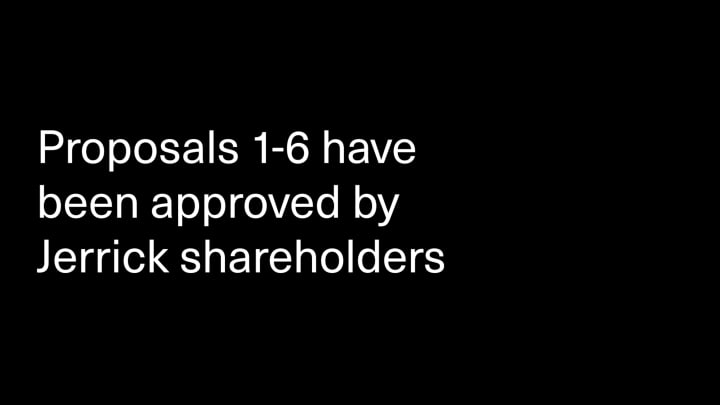 Before I conclude, I wanted to let our shareholders know that voting is now closed. The preliminary report from the Inspector of Election shows that proposals 1-6 have been approved by Jerrick's shareholders.
Thank you to all those who participated in the vote. My team and I are very excited about the next few weeks. There are nearly 500 hundred attendees at our first annual shareholder meeting. This is our maiden journey so to speak, and we hope to do these quarterly where we can review revenues and expense models.
I think I would be remiss if I did not offer some big picture perspective.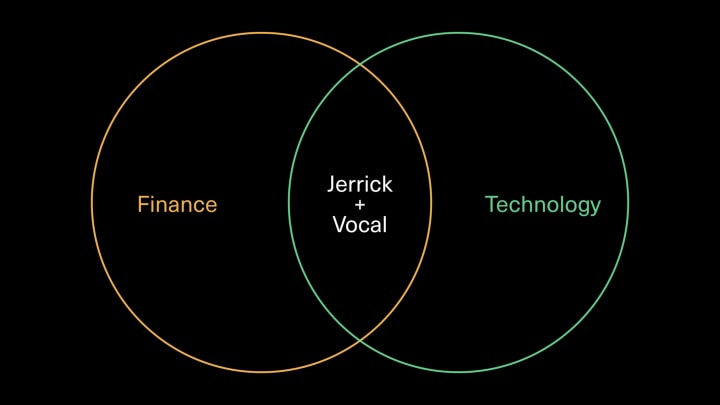 I have two passions in my career: finance and technology. I spent a great deal of my career on the finance side. Back then, I had a knack for solving problems. I was able to understand how a machine worked and made it work better. I was very fortunate to leverage that knowledge when it came to building Jerrick and the Vocal platform.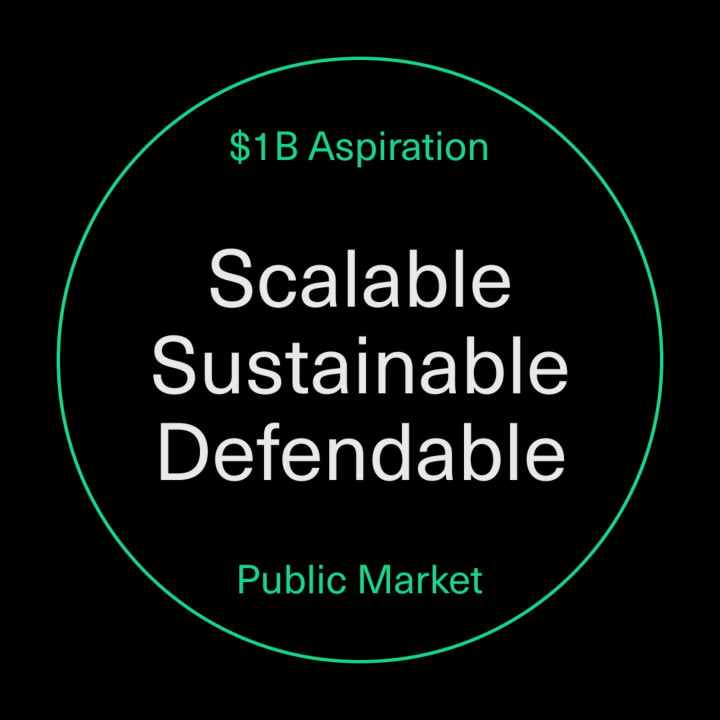 I explained to early investors that I wanted to build a technology company worth at least 1 billion dollars. And to keep things unambiguous, I wanted to do it in the public markets. This way, transparency would be unquestionable, both in our team's actions as well as in our future valuation as a publicly-traded stock.
In the spring of 2014, I was introduced to my partner, Justin. He introduced me to the notion that, in one way or another, we are all creators, and together we created Vocal, a platform for creators.
From there, we envisioned our collective community and the Creatd Cycle. By the time Vocal launched in December of 2016, I was convinced that we had found the billion-dollar idea and, for the last 3 and a half years since then, we have been preparing for today.
Our company, Jerrick Media, is on the launchpad for uplisting, and ready for ignition.
The final step is to check the conditions for lift-off. What does the environment today look like for a company like ours? Do we have blue skies? The answer is, resoundingly, yes. While there are risk factors ahead, we have put a great deal of thought not only as to how to avoid them, but how to leverage the knowledge of their existence to better ourselves. Blue skies for launch.
But that is just the beginning of the mission. Just the first step. In the first year post the uplist, given the development road map, our expansion will continue at a newfound pace. Going from 4,000 to 10,000 Vocal+ creators will happen quickly. They each pay $10 a month. Going from 10,000 to 100,000 creators should be easier than going from 0 to 10,000. The move to 100,000 creators should happen faster than either of the previous jumps. That will be the tipping point moment. That sweet spot when an astronaut finally gets above the earth's atmosphere and has a clear view of the path ahead.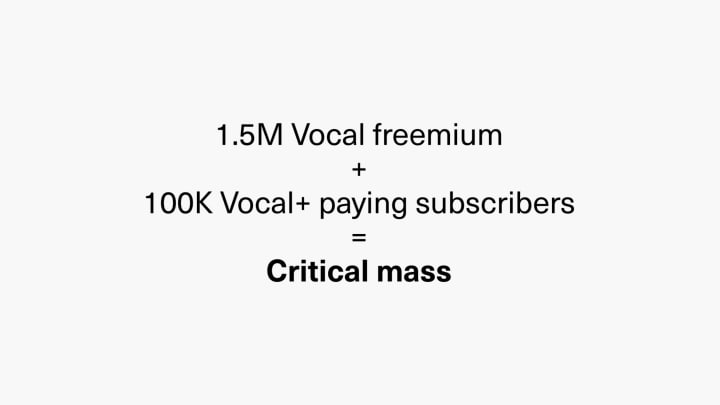 Unobstructed from the noise, disruption, and interference that it took to get there, he or she is excited by the visibility ahead. This is the path to critical mass for a platform like ours. At 100,000 creators the math says we will be one of the largest online platforms in the world.
I have spent years studying the numbers. Whether it is 500,000 creators generating 5 million dollars a month in subscription fees, or 10 mainstream brands spending $500,000 on branded content, the company's opportunity for scale is massive while maintaining a seriously capital-light infrastructure and controllable fixed costs.
I've seen $500,000 campaigns from large brands on legacy publishing sites with well-known names that generate results that our platform Vocal could have accomplished for a fraction of the cost, and none of the intrusive and disruptive nature of traditional ads.
The only thing that stands between us and the $500,000 campaigns is awareness of our product. That is why nearly a third of our operating expenses are spent on marketing. The difference between our platform Vocal and the legacy example is how Vocal applies our data.
Our ecosystem is scalable vertically and horizontally. So the notion of scaling 10, 20, or 100 $500,000 campaigns is something that we are both prepared for and expect. Same as our ability to go from 10,000 to 500,000 Vocal+ subscribers.
Couple this with accretive acquisitions of user-generated or subscription-based platforms at what I believe will be distressed levels, and you can take those theoretical organic revenues and probably double them.
As I said, on the launch pad... Ready for ignition.
With the conclusion of today's meeting we now have blue skies. Once we uplist, we will be on a straight shot to critical mass and an amazingly valuable company.
Reader insights
Be the first to share your insights about this piece.
Add your insights