Jerrick CEO's Week in Review: 12/16/19 - 12/20/19
A weekly recap of the most relevant news, updates and insights from Jerrick, Vocal and across the industry.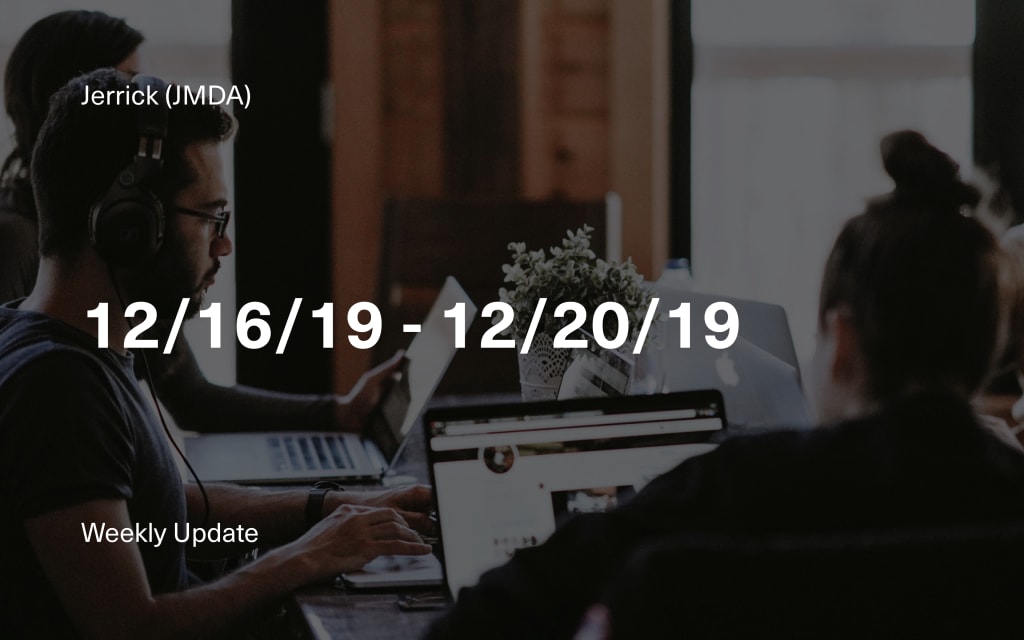 The company's current revenue expectation of approximately $305,000-$315,000 for the fourth quarter 2019 is in line with previous public guidance. This is as compared to the $91,386 in revenues reported for the third quarter, over a 300% increase. $91,386 represented nearly a 100% increase over a combined $41,515 for the first 2 quarters of fiscal year 2019.
In addition to the continued growth of deferred revenues from the Vocal+ subscription model, the company has visibility on its expanding revenue pipeline for 2020. As CEO, this marks the first material quarterly guidance that I have been able to communicate in advance and meet in expectation. It sets the baseline for measuring future exponential growth on a quarter over quarter basis without materially increasing operating expenses. Jerrick and its shareholders will soon have an even clearer and unobstructed line of sight to cash flow breakeven.
My Executive Priorities
In practice, a CEO faces the prospect of failing to meet expectations once he or she sets them, but still we continue to offer guidance irrespective of that reputational risk. While there is not necessarily a specific tangible gain to be made from updating the market this way, communicating and putting together the public pieces of the corporate narrative is one of the CEO's essential duties. I have found time and time again that explaining the business strategy and actually meeting expectations builds lasting investor confidence. I suggest that this was a big part of how Jerrick's largest shareholders accumulated their positions over time. Educating them and instilling in investors a deep understanding of the company creates long term value. Repeated confidence based on previous execution and behavior by a CEO can create a self-propelling cycle for a company's valuation and financing flexibility for future growth or acquisitions.
Revenues, Past and Future:
The studio side of Jerrick's revenue pipeline for 2020 is growing at a rapid pace, as is our reputation among third party marketing platforms who understand the value of collaborating with Vocal as a key part of their distribution channels. There is scalable demand for a number of our brand-oriented products and services launching over the next sixty days, including a new Vocal product feature called Challenges, which will maximize our ability to efficiently scale revenues while continuing to expand the platform's brand offerings.
Challenges, expected to launch in January 2020, are themed story contests that offer the creator a new avenue through which they can be rewarded for their content.
Creators will be able to enter various Challenges across a wide range of topics and interests for the chance to win cash prizes, brand interactions, and much more.
We have already seen significant interest from well known brands in sponsoring and collaborating directly with the Vocal platform to participate in these branded Challenges. The introduction of Challenges has another crucial and less obvious purpose from a business intelligence perspective. Initial data from our beta tests suggests that the introduction of Challenges will translate into a significant increase in creator lifetime value (LTV) as well as a material drop in our creator acquisition cost.
The math supporting this prediction is complex, and will be fleshed out in more detail in a future article, but is basically tied to the fact that Challenges, which come with the opportunity for creators to win cash prizes, recognition and other rewards, inherently increases the incentive for a creator to join Vocal. Increased incentive means that far fewer additional resources are necessary to onboard a new creator. The link between incentivizing creators and lowering creator acquisition costs is well measured and an important consideration for every feature we introduce into Vocal.
Jerrick to Creatd
The last five years of teamwork culminated in a best-in-class executive team, a best-in-class product in Vocal and an in-house creative studio that affords brands an alternative to the agency business and legacy advertising structures that are intrusive and frustrating. The next 5 years will be spent expanding our technology and cultural ecosystem resulting in exponential value for shareholders. To mark the beginning of our company's next chapter, Jerrick will be rebranded to Creatd in the near future.
For more on the rebrand and our 2020 strategic business plan, I encourage you to review the Jerrick to Creatd investor presentation.
The Evolution of Vocal
On February 22, 2016, nine months before Vocal launched, Jerrick became a public company—OTCQB:JMDA—with 300 million authorized common shares. We set out raising further development and operational capital through the OTCQB public equity market. Over the years, we utilized a little under 200 million of 300 million authorized shares to finance the company and create a clear line of sight to cash flow breakeven in the technology space.
Key to the path was providing a quality platform to an ecosystem that was in need of a solution to a systemic problem. If you could find stakeholders like our creative community, introduce them to a platform that solves their problems like Vocal does, and cultivate an ecosystem in which they could thrive, then not only could we capture revenues within that ecosystem such as subscriptions and transaction fees, we could do so sustainably and scalably. This concept is best understood visually, in what we refer to as our platform's Virtuous Cycle.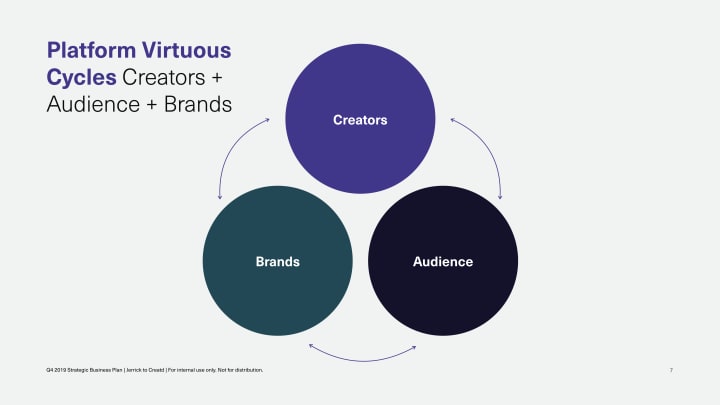 It's worth noting here that partnering with creators was a unique strategy that few other platforms were moving toward when Vocal was first designed. In a world of rapid digital commoditization at scale, we recognized long ago that the audience has too many options and too little time to pay for anything but quality and efficiency. Unlike most of the content platforms that came before and many that came later, our primary client has always been the creator. Once we established this very fundamental framework, Jerrick and our platform grew to become exceptional at identifying and capturing derivative revenues at various points in the cycle.
On July 30, 2019, the company effected a 1-for-20 reverse split of all of its authorized, issued, and outstanding shares. The company's 300 million authorized shares mentioned earlier became 15 million, and the price of the stock went from 15 cents to $3.00. It has since appreciated to over $4.00. Today, there are a little over 9 million issued and outstanding shares and approximately another 2 million committed to other purposes, including the exercise of warrants, options, and the conversion of convertible notes. That leaves in excess of nearly 4 million shares in Jerrick's authorized float for issuance and financing going into the New Year.
Our current S-1 indicates we will raise seven million dollars as part of our path to uplisting. If one assumed, for example, a price of $4.00 on the stock, the minimum pricing requirement to uplist, we would theoretically utilize 1.75 million shares of the 4 million shares still in the company's authorized allotment, leaving well over 2 million shares still in the authorized float for future issuance. Simply put, one would multiply the value of the stock by the excess authorized shares to determine the potential capital that can be raised in the public markets. The reverse split marked a critical moment for the company. Having now announced Viewtrade as our underwriter, reflected in our recent S-1 amendment, we have taken another big step forward to completing our journey to the NASDAQ.
In Viewtrade, we saw a company that would embrace Jerrick's core ideology, disciplines and efficiencies that are at the backbone of the success of our company and technology. Their firm's back office capabilities and risk management were important considerations as well. We needed to make sure that our investors have a smooth process participating in the uplist and unlocking the value in their shares and with Viewtrade, we trust that the process of the uplist will indeed be smooth for all participants. Viewtrade has a proprietary online trading platform and understands the fundamental part technology plays in a company's success. Key to our selecting an underwriter was reputation and the executive alignment with Jerrick's principles. With Viewtrade as our partners we expect a successful financing and uplisting.
JMDA OTC Weekly Report
This past week, for the seventh week in a row, Jerrick's stock (OTCQB: JMDA) maintained above the $4.00 threshold. The most recent weekly OTC report can be viewed here.
Use this link to access the previous week's report for comparison. While the market has maintained a bid and offer in the $4.00 to $4.40 range, it has done so on much lighter trading volume heading into the holidays. Our year-end stock performance report will contextualize our recent and historical trading patterns and articulate what we expect in terms of trading volume, price, and other key performance indicators as Jerrick's target uplist date approaches. Raising awareness and increasing liquidity in JMDA is, of course, a priority for me and an important initiative in the new year, as is rallying the current shareholder base to see as we do that the current price of the stock does not reflect the underlying value of the company. We are working with a number of external resource groups to maximize distribution of news and weekly updates, as well as conferences, appearances and media placement, but the best distribution is the network the company spent building these last five years.
Stock Watch
We watch a number of stocks for both specific, strategic opportunities as well as more general observational and comparative analysis. These stocks and their respective management teams are discussed as part of our regular business development and corporate finance meetings. Success today is as much about networking as it is knowledge.
Alexa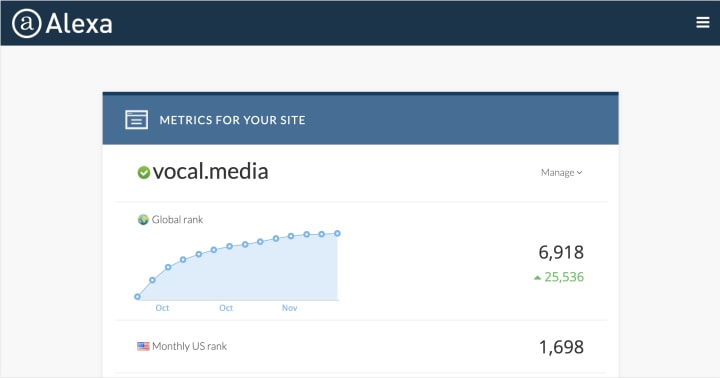 Our Alexa rank continues to rise week after week. We had anticipated a sharp increase starting in summer 2019 when we combined our community domains with our publishing hub, but the current trajectory has outpaced initial projections, with Vocal currently ranking at #1,698 in the U.S. and #6,918 globally. This growth pattern applies outside the U.S., too; Vocal ranks #1,407 in the United Kingdom and #1,397 in Canada, those countries representing the second and third largest audience on Vocal after the United States.
Vocal Staff Picks
Vocal's moderators reviewed hundreds of creator submissions this week, and picked out some of their favorites to feature as Staff Picks. Here are some of the recently published stories that stood out to us which included, of course, plenty of holiday-inspired content.
Creator Experiences
Vocal's Creator Spotlight features creators that catch the attention of our Curation team for their unique content and manner of expression. Last week our Curation team put the spotlight on creator Justin Clark.
Check out his feature here:
It has been a few months since we introduced Likes on Vocal, which were specifically designed to give valuable feedback to the creator. Since launching the feature we have seen exponential growth in engagement.
Read more about Likes here:
Industry News
Each and every individual on the Jerrick team is trained from the get-go to constantly seek alpha, to educate and inform their teammates to elevate the collective. Here are some of the must-reads that were shared internally this week:
Fact-checking site Snopes is hoping to transition away from its dependence on advertising. So it is asking its supporters to help the brand grow in 2020. Launching a new membership model in early 2020, the company, which is projected to bring in just over $3 million this year in revenue, is hoping to transition away from its dependence on advertising and be mainly funded by reader revenue.
The Securities and Exchange Commission is investigating the listings of Slack Technologies Inc. and other major companies on the New York Stock Exchange, in a probe looking at how trading was handled on the first day.
Spotify is prototyping a new way to see what friends have been listening to, called "Tastebuds." Despite how discovering music is inherently social, Spotify has no features for directly interacting with friends within its mobile app after axing its own inbox in 2017 and keeping its Friend Activity ticker restricted to desktop.
2019 has been a historic year for female-founded unicorns, which were born at an unprecedented pace. For context, in 2018 there were 15 unicorns born with at least one female founder. This year, there were 21 startups founded or co-founded by a female that became unicorns.
Stay tuned for another recap next week. In the meantime, for regular updates please follow me on LinkedIn as well as the company's other social pages for regular updates:
Jerrick
LinkedIn: https://www.linkedin.com/company/jerrick-media
Twitter: https://twitter.com/JerrickMedia
Facebook: https://www.facebook.com/JerrickMedia/
Vocal
Instagram: https://www.instagram.com/vocal_creators/
Facebook: https://www.facebook.com/VocalCreators/
Twitter: https://twitter.com/Vocal_Creators
LinkedIn: https://www.linkedin.com/company/vocal
Reader insights
Be the first to share your insights about this piece.
Add your insights