Jerrick CEO's Week in Review: 12/09/19 - 12/13/19
A weekly recap of the most relevant news, updates and insights from Jerrick, Vocal and across the industry.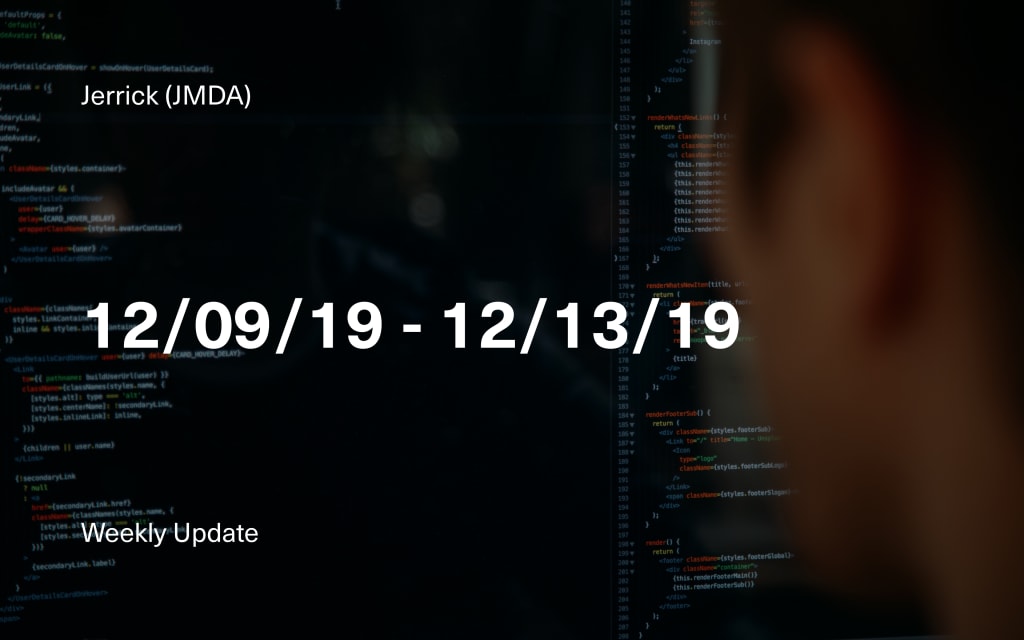 The success of the Vocal platform thus far is predicated on the notion that content as a commodity in the digital space has continually appreciating value. Or, more precisely, content has potentially ever-appreciating value when it exists on a platform that is powered by strong technology and armed with a strategic distribution methodology that not only disseminates and monetizes the content, but optimizes its platform for scale. That is exactly what we built in Vocal, a proprietary platform whose technology is self-evident and driven by data.
The small cap space has historically been limited to companies with market caps from $250 million to as high as $1 billion, but the last seven years has expanded the definition to include new versions of small cap success stories.
The Elusive Unicorn
Let's start with the story of the unicorn. A unicorn is defined as a privately held startup company with a valuation of over $1 billion. The term was coined in 2013 by venture capitalist Aileen Lee, who chose the mythical animal to represent the statistical rarity of such successful ventures. According to CB Insights, as of December 2019 there are more than 400 unicorns worldwide, with recent additions including companies like Duolingo, Grove Collaborative and Grammarly. Then there are the unicorns that, like Jerrick, are in the platform business–companies like Airbnb, Vice Media, Buzzfeed and Postmates.
This post-financial crisis phenomenon of unicorn chasing is seen as a high end entry point to public markets. But the truth of the matter is that the unicorn is not just statistically rare, it's also not necessarily an investor's best bet for a long-term value play. You can refer to examples such as WeWork, once deemed a unicorn, where the valuation did not represent actual investor value in the long term. Those who seek to become or invest in unicorns are chasing something that they may never find and, more importantly, allocate time away from other logical investment avenues.
The second of this new wave of small cap success is the rare group of companies with a sub $150 million market cap, which is to say, companies whose ultimate value is yet to be understood by the marketplace. Executive teams move through periods of evolution and disruption that can create opaque futures for the untrained investor. In actuality though, such confusion for investors can be circumvented with a deep understanding of the technology platforms beneath the business model. Presuming, of course, that data analytics is being accreted and utilized to drive efficiencies while creating a safe and compliant ecosystem for platform constituents.
A key principle for investors is maintaining the same yield while lowering risk. I believe that a particular group of small cap technology companies on the public markets offer that very tradeoff, making them analogous not to the mythical unicorn but to an endangered species. These endangered species companies can be incredible opportunities if managed effectively and internally aligned. Statistically, a number of them will evolve into either that which is consumed by the unicorn, or the unicorn itself.
There are a number of companies I am watching these days to see how they react to the rapidly evolving digital and technology based business models. This rare breed has a shot at reaching the same mythical success as so many unicorns once did, without the inflated promises and risk that come with creatures that don't actually exist.
JMDA Stock Watch List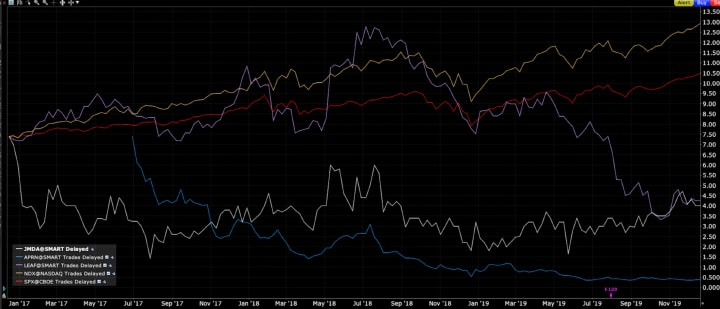 For those not yet familiar, it's worth highlighting what, exactly, gives Jerrick its shot at greatness. Jerrick's edge lies in its flagship product, Vocal, and specifically in Vocal's unique capacity for exponentially increasing value across the board. I share below a visualization of the Vocal process. This is the model that explains why Vocal is not just a valuable tool for creators to storytell, but a platform with embedded and limitless value to every Vocal or Jerrick stakeholder.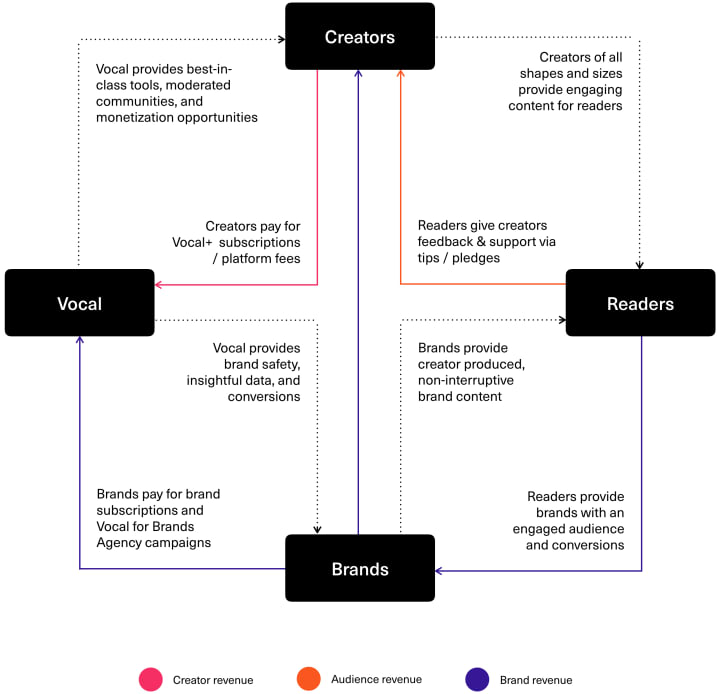 The value of Vocal lies in the platform's virtuous cycle ecosystem. I encourage you all to take a look at our presentation discussing Jerrick (soon to be renamed Creatd) and the past, present and future of our platform here:
OTC Weekly Report
This past week, for the sixth week in a row, Jerrick's stock (OTCQB: JMDA) maintained above the $4.00 threshold. The most recent weekly OTC report can be viewed here, and offers a more detailed look at the performance of the stock. For comparative purposes, use this link to access the previous week's report. Our year-end stock performance report will contextualize our recent and historical trading patterns and speak to which indicators will be most important for Jerrick in the coming months as our target uplist date approaches.
It's relevant to bring attention to a few of the other stocks on our radar recently for competitive analysis purposes. Companies like Leaf Group (NYSE: LEAF), Enthusiast Gaming (OTC: ENGMF), Blue Apron (NYSE: APRN), publicly traded platform companies like we are, each with their own approach to the platform concept and occupying its own niche corner of the space. What I find interesting about their historical stock performance is that it validates how we expect Jerrick's stock story to evolve.
Alexa
Vocal's Alexa rank is still steadily rising, with last week showing continued growth momentum from the previous week. At last count, Vocal is ranked the #1,714 most popular website in the U.S. and the #7,252 most popular website globally.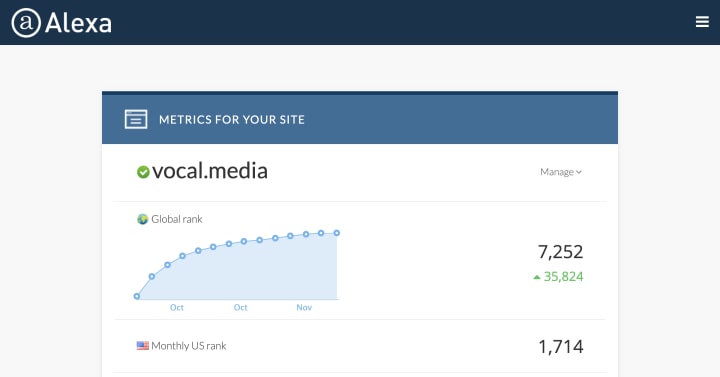 Vocal Staff Picks
Vocal's moderators reviewed hundreds of creator submissions this week, and picked out some of their favorites to feature as Staff Picks.
Here are the stories that inspired us the most last week:
Vocal Curation
The Vocal Curation team is tasked with rewarding exemplary creators for a job well done, and setting up the Vocal community at large for success. One of the ways our curators do this is by selecting stand-out creators to feature in our recurring Creator Spotlight series. I encourage you to meet the creators featured in Vocal Spotlight to learn what it takes to make your Vocal experience a successful one.
Alpha
Jerrick's internal Alpha channel is the Slack channel where we disseminate relevant articles and industry knowledge amongst the team. We select the most important of these and post them on a dedicated tab on our corporate site, with the goal of spreading the same knowledge to our surrounding audience that fuels our own growth. Here are some of the must-read pieces of content that was shared this week:
Stay tuned for another recap next week. In the meantime, for regular updates please follow me on LinkedIn as well as the company's other social pages for regular updates:
Jerrick
LinkedIn: https://www.linkedin.com/company/jerrick-media
Twitter: https://twitter.com/JerrickMedia
Facebook: https://www.facebook.com/JerrickMedia/
Vocal
Instagram: https://www.instagram.com/vocal_creators/
Facebook: https://www.facebook.com/VocalCreators/
Twitter: https://twitter.com/Vocal_Creators
LinkedIn: https://www.linkedin.com/company/vocal
Reader insights
Be the first to share your insights about this piece.
Add your insights