Jerrick CEO's Week in Review: 12/02/19 - 12/06/19
A weekly recap of the most relevant news, updates and insights from Jerrick, Vocal and across the industry.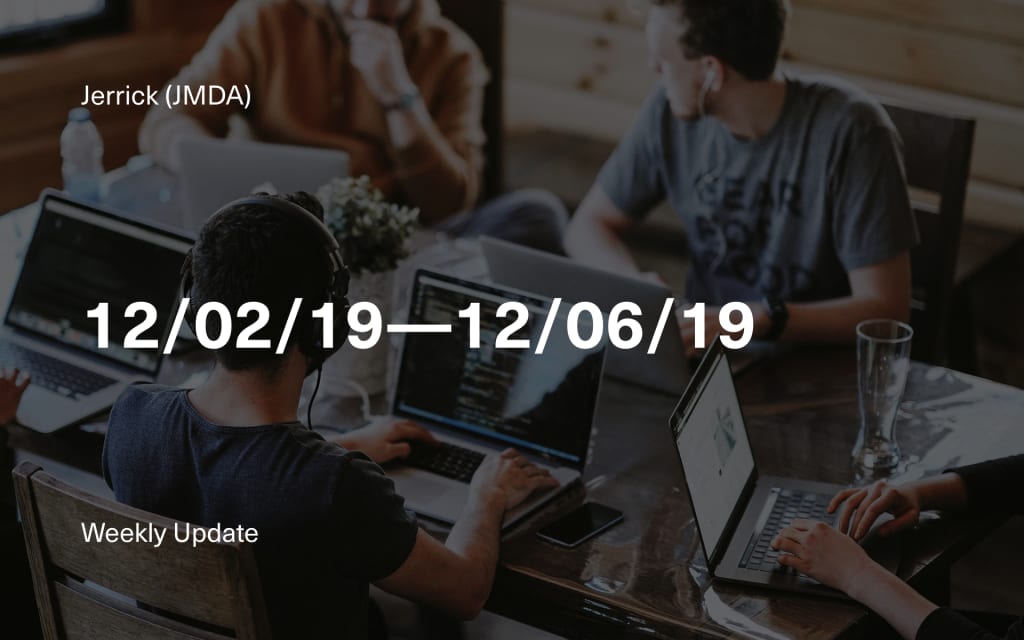 At its core, Vocal is a platform for creating, sharing and distributing content. It turned out that, while building a best in class, long form social platform, we found ourselves with a very powerful IR product to boot. The assembly, digital distribution and search engine optimization of corporate materials and messaging in a structured environment like Vocal is far superior to patched-together data platforms or paying for research on forgettable websites. Simply put, there is no one better to piece the puzzle of public information together and define the narrative of a company than a CEO and executive team, and no better medium to share it than Vocal. My partner Justin Maury and I use the Vocal platform for more in depth discussions about the digital space, as well as Vocal product updates and Jerrick's uplisting process. Each week, we'll be publishing this recap, which will amalgamate and contextualize the various updates from the previous week and is designed to maximize communication and transparency with our shareholder and creator communities alike.
OTC Weekly Report
Jerrick's stock (JMDA) maintained above the technical $4 level this past week, as it has for the last five weeks straight. The most recent weekly OTC report can be viewed here, and offers a more detailed look at the performance of the stock. For comparative purposes, use this link to access the previous week's report. We will be putting together a year end recap for distribution, offering a more comprehensive look at the past few years of stock performance.
My most recent article, A Microcap's Guide to Uplisting, may help explain the regulatory and approval process the company is undergoing since its filing of its Form S-1 on September 27, 2019.
Alexa
Vocal's Alexa ranking continues to increase. This week we reached a record-breaking U.S. Alexa rank of under 2,000.
There's a reason we've monitored this metric obsessively over the years. The Alexa score is the foremost indicator of a website's popularity (the lower the score, the more popular a website is). For Alexa's purposes, popularity is essentially quantified by a combination of site traffic and engagement. This definition, of course, is deceptively simple, and I recommend doing some additional reading for a foundational understanding of how Alexa rank is determined and what it can tell you about a website.
Over the last year or so, the team has watched as our Alexa score steadily lowered (i.e. improved). In the last few months though, we entered into a moment of hypergrowth that has yet to let up. To put our growth rate in perspective, just 6 months ago in mid-June 2019, our Alexa ranking was around 215,000 globally. Over the next 2 months, by mid-August, Vocal had made steady progress, reaching around a 156,000 global ranking on Alexa.
There are many intermingling factors that together contributed to an improved Alexa rank, including the ever-increasing caliber of creators using Vocal, page view metrics and our internal SEO capabilities. However, it would soon be apparent that the platform's true value was embedded in its very architecture.
The replatforming of Vocal, or Vocal 2.0, was released earlier this year and gave users enhanced features on the front-end; but more importantly, was a significant upgrade to Vocal's back-end architecture and dramatically expanded the team's capacity to utilize first-party data internally as opposed to the traditional models that sell it for advertising purposes. You can read more about Vocal 2.0 here.
As it happened, after the launch of Vocal 2.0, our Alexa numbers began to improve at a rate that they hadn't before. Within 1 month of the replatforming, by mid-October 2019, Vocal had a 33,765 global Alexa ranking and was the 3,700th most popular site in the U.S.
One month later, the momentum continued:
And now, 2 months after that, here we are having broken into Alexa's top 2,000 ranked sites in the U.S. (Vocal's U.S. ranking is 1,773 as of today) and a global ranking of well under 10,000 (Vocal's global ranking is currently 7,311).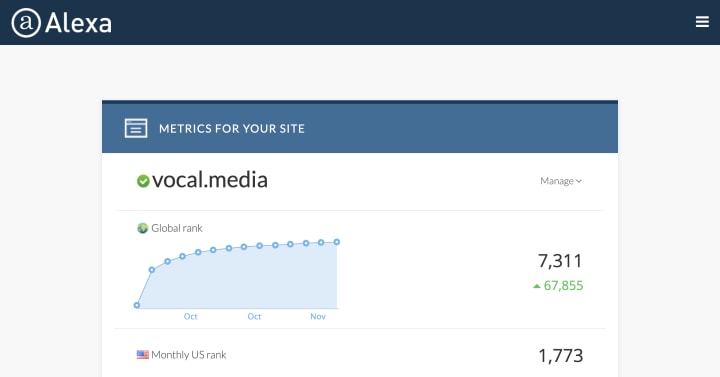 The closer we get to the top, the fiercer the competition and the more it will take for Vocal to continue rising in the Alexa ranks. At the same time, as Vocal gets closer and closer in rank to other companies in our competitive landscape, the better it bodes for Jerrick's valuation. The below table plots the Alexa rank of some of our competitors over a 6 month period; notice how all but Vocal's have remained relatively unchanged.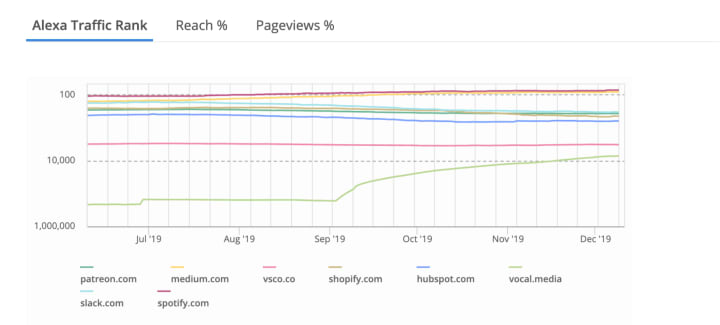 For a long time, and until today, Jerrick's stock price has not been indicative of its true value. With that said, the digital environment of today is one where traffic is the gold standard for internet companies. And so it stands to reason that as Vocal's popularity becomes increasingly established, the market will soon recognize Vocal's value as has happened with the companies you see in the chart above. With a newly fortified platform, an internal management team as sophisticated as ours, and our technology being continuously validated both in our revenue growth and our traffic metrics, we're confident the growth we've seen so far is just the beginning for Vocal.
Vocal Staff Picks
Vocal's moderators reviewed hundreds of creator submissions this week, and picked out some of their favorites to feature as Staff Picks. Here are the stories that inspired us the most last week:
Vocal Curation
Each week, the Vocal curation team selects a stand-out creator to feature in our weekly Creator Spotlight. In this week's Spotlight, Vocal introduced creator Alyson Lewis and her body of work:
We also released the latest installment of 'To the Beat', Vocal's monthly round-up of the best music curated by our music-loving creators on Beat. Check out To The Beat: November 2019 here:
Alpha
Jerrick's internal Alpha channel is the slack channel where we disseminate relevant articles and industry knowledge amongst the team. We select the most important of these and post them on a dedicated tab on our corporate site, with the goal of spreading the same knowledge to our surrounding audience that fuels our own growth. Here are some of the must-read pieces of content that was shared this week:
Stay tuned for another recap next week. In the meantime, for regular updates please follow me on LinkedIn as well as the company's other social pages for regular updates:
Jerrick
LinkedIn: https://www.linkedin.com/company/jerrick-media
Twitter: https://twitter.com/JerrickMedia
Facebook: https://www.facebook.com/JerrickMedia/
Vocal
Instagram: https://www.instagram.com/vocal_creators/
Facebook: https://www.facebook.com/VocalCreators/
Twitter: https://twitter.com/Vocal_Creators
LinkedIn: https://www.linkedin.com/company/vocal
Reader insights
Be the first to share your insights about this piece.
Add your insights