Fanvue Vs Patreon: What is the Difference Between The Two?
What is the difference between Fanvue Vs Patreon? Which subscription platform is best for creators and influencers?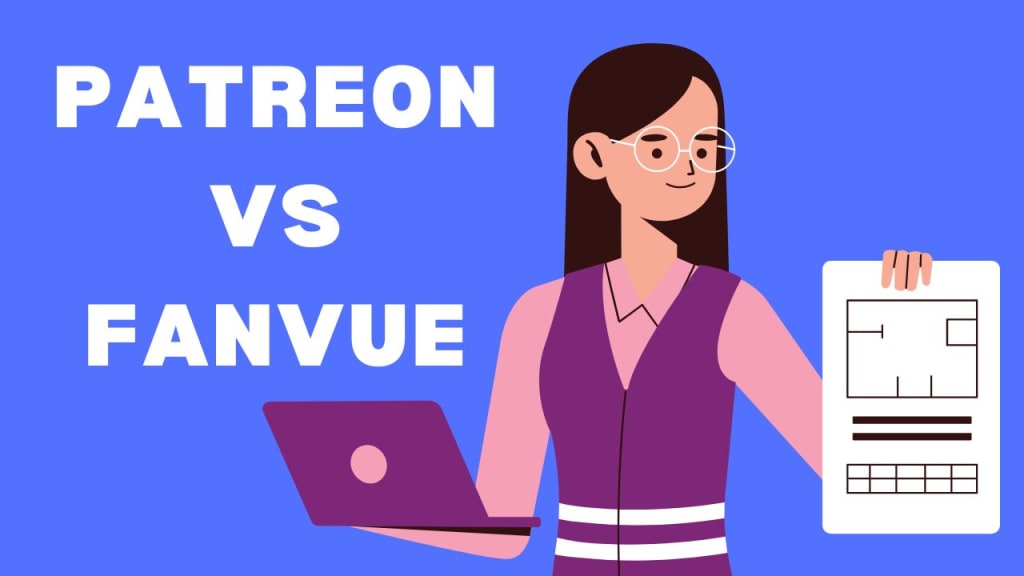 What is the difference between Fanvue Vs Patreon? / Picture by the author
Fanvue Vs Patreon: What is the Difference Between The Two?
The popularity of subscription-based sites has increased suddenly in recent years and was exacerbated during the pandemic.
In this article, we will discuss two sites: Fanvue and Patreon. We will introduce both the sites, how they work, how you can make money using them, and the differences between them.
What is Patreon?
Patreon is perhaps the oldest subscription-based site for writers, artists, and podcasters to make a secondary income stream and produce content for which the subscribers pay them directly. The popularity of Patreon remains unparalleled to this day.
Patreon began as a content hosting platform in 2013 for those who already created content and wanted a form of sustainable secondary income through their work and to release exclusive content to their Patreon subscribers.
What is Fanvue?
Fanvue is a relatively new content-sharing platform that works similarly to Onlyfans. Fanvue is primarily an NSFW and adult content sharing platform, but it allows and encourages other types of artists to share their content.
Fanvue also has a monthly subscription-based model but advertises itself as a primary source of income for content creators, unlike Patreon, which works as a secondary source.
Difference between Patreon and Fanvue
Perhaps the primary difference between Patreon and Fanvue is the kind of content they allow sharing and hosting. Patreon is not an NSFW-friendly platform, while Fanvue specializes in hosting adult content.
However, Patreon does allow nudity, as long as it is not explicitly adult content. It allows for nude and semi-nude art and modeling. But if you are an artist working within the NSFW zone, Fanvue will be your best option.
How to make money: Patreon Vs Fanvue
The basic money-making model for both platforms is quite the same: subscribers pay a regular monthly fee to access the content created by users. Occasionally, one can also put more exclusive content for an added fee.
However, what helps Fanvue stand out between the two is that it allows the subscribers to tip the content creators if they really love the content. Moreover, on Fanvue, content creators can send private messages to their subscribers, which they can access for a certain fee.
Due to these added modes of income, Fanvue is a more desirable and durable option for content creators, which also helps sustain Fanvue as a "primary" stream of making income.
Interface and user-friendliness: Patreon Vs Fanvue
Since Patreon is an older site, using it in 2022 can be a bit tricky and difficult. Many users have experienced certain awkwardness when starting out on Patreon, saying that revenue streams and fees are not as clearly explained as they would like.
However, once you set up your profile and get it running, it pretty much does all the work by itself. You just have to keep adding your content and share it.
Fanvue has a slight edge when it comes to easy interface and user-friendliness. This is partly because this site is relatively new and has learned much from its competitors and predecessors.
Fanvue's interface is intuitive and easy to follow, like Instagram's. Most users believe that the information is clearly presented and the website is easy to navigate.
Discoverability: Patreon Vs Fanvue
As already mentioned, Patreon is supposed to be used as a secondary source of income. Thus, it helps if you already have an established brand elsewhere. For this reason, Patreon does not have a so-called discoverability feature, where you can "find" a user's work.
For example, if you already have a brand on YouTube, your subscribers would know how to search for your work on Patreon. But if you are a newcomer with no established brand, there is no way for Patreon subscribers to "discover" your work on the platform itself. It is recommended that the advertisement for Patreon be done elsewhere, like on Instagram or YouTube.
Because Fanvue works largely the same way as social media, it has a "recommendation" algorithm, like Netflix and Instagram. It identifies the kind of content a user consumes and recommends similar content creators. This way, it is relatively easier for content creators to get discovered and start making income through subscribers early on.
Furthermore, Fanvue also has what it calls "a channel promo video." This is an introduction video to the kind of content you can expect from a certain content creator. Instinctively, this video does not hide behind the subscription paywall but is a way for content creators to market themselves on the platform to gain subscribers.
Payouts: Patreon Vs Fanvue
Patreon charges a fee between 5% to 12% from a content creator, depending on the membership they have opted for. However, Fanvue charges a flat 20% of all income generated by the content creator.
Payouts happen on the 1st of every month on Patreon, and content creators are encouraged to withdraw by the 5th of that month. The processing takes around 7 to 10 days. On the other hand, Fanvue payouts depend upon each subscription received from a user. If you have a new user subscription, the fee will remain in Fanvue for a week until it is disbursed to your account, from which you can choose to withdraw whenever you like, provided that you have a minimum of $20 in your account.
PS: Difference between Fanvue Vs Patreon:
While Patreon has more popularity, reputation, and a lot more audience on its platform, Fanvue is slowly making waves in the content-sharing industry, especially regarding adult and NSFW content.
Its intuitive interface, advertising options, and various modes of gaining income make it an attractive platform for adult content creators while ensuring the safety of content and the security of payments. Fanvue is definitely predicted to give Onlyfans a run for its money!
social media
Reader insights
Nice work
Very well written. Keep up the good work!
Top insight
Expert insights and opinions

Arguments were carefully researched and presented
Add your insights