Civil Rights Activist Irene Morgan Kirkaldy (1917-2007)
Her act of civil disobedience during a 1944 bus ride struck an early blow against segregation.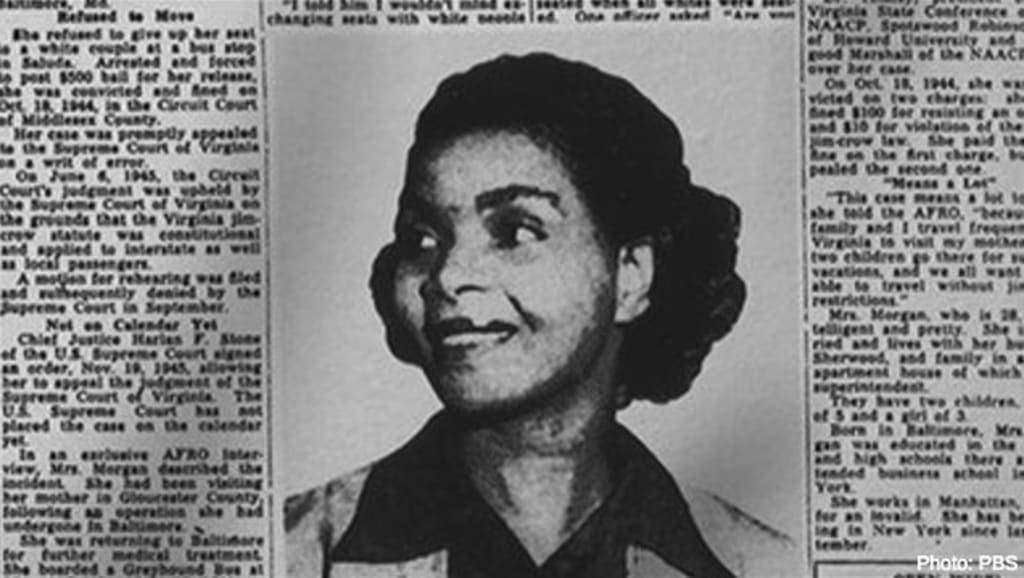 "I didn't do anything wrong. I'd paid for my seat. I was sitting where I was supposed to… [The sheriff's deputy] grabbed me. That's when I kicked him in a very bad place. He hobbled off, and another one came on." ~ Irene Morgan Kirkaldy
In 1944, eleven years before Rosa Parks made a similar choice, twenty-seven-year-old Irene Morgan refused to give up her bus seat to a white couple. Her action wasn't an effort backed by any organization but that of a young lady standing her moral ground against an injustice. Her defiant act of civil disobedience struck an early blow against segregation in the South.
Irene Amos Morgan (later Kirkaldy) was a black woman born in Baltimore, Maryland, on April 9, 1917, to Robert and Ethel Amos. She, along with her eight brothers and sisters, was raised as a Seventh-day Adventist. Morgan dropped out of high school during the Great Depression in order to help her family. She met Sherwood Morgan while working on a B-26 Marauder production line in Baltimore. The couple soon married and had two children, a boy and a girl.
On July 16, 1944, she was a passenger on a Greyhound bus traveling from Hayes, Virginia, to Baltimore, Maryland. She'd recently suffered a miscarriage and had taken her two children to spend time with her mother in Gloucester, Virginia. Irene was sitting near the back of the bus in a section designated for black passengers while on a long trip home to see her doctor.
About an hour into her trip, the bus, already crowded with people, stopped, and a white couple boarded. The driver ordered Morgan and the woman sitting next to her—a young lady holding a baby— to move from their seats. Morgan refused. The driver eventually drove the bus to the jail in Saluda, Virginia, and a sheriff boarded and presented Irene with a warrant for her arrest.
She tore it up and threw it out the window.
The sheriff attempted to pull Morgan from the bus by grabbing her arm. She fought back, kicking the man in the groin so hard he let her go and hobbled away. A second sheriff soon followed, and a second bitter fight ensued. In the end Morgan was forced off the bus and charged with resisting arrest and violating segregation laws in Virginia.
She pleaded guilty to resisting and paid a $100 fine. However, she refused to plead guilty to violating any segregation laws. After all, she'd done what she was told. She paid $5 for her ticket and sat where she was supposed to. With the help of attorney Spottswood Robinson III, she argued her case in front of a Middlesex Circuit Court. Morgan was found guilty and told to pay a $10 fine.
She refused.
With the help of the NAACP, Morgan appealed her conviction to the Supreme Court. On June 3, 1946, in Morgan v. The Commonwealth of Virginia, lawyers Thurgood Marshall and William H. Hastie argued segregation in interstate travel was unconstitutional as an "undue burden on interstate commerce." The court agreed, ruling in her favor by a margin of 6—1. This decision helped set precedent for the NAACP to use in future battles against segregation.
The essence of the ruling was that to ensure profitability, interstate bus travel was required to follow federal law — which prohibited segregated seating. Passengers deserved to know the rules wouldn't change from location to location. Anything short of that could keep them from riding. In the eyes of the court, a consistent experience promoted and protected national travel.
Southern states refused to recognize the ruling; however, the fight was far from over. On April 9, 1947, sixteen black and white activist "freedom riders," members of the newly formed Congress of Racial Equality, tested the court's Morgan decision with a two-week "Journey of Reconciliation" through Virginia, North Carolina, Tennessee, and Kentucky.
The floodgates of change had officially been opened. On May 17, 1954, the Supreme Court ruled in Brown v. Board of Education that segregation violated the Equal Rights Protection Act. And then, in Montgomery, Alabama, on December 1, 1955, Rosa Parks famously refused to give up her bus seat.
During their ride, the activists sang a song to honor Morgan, "Get on the bus, sit anyplace, 'Cause Irene Morgan won her case. You don't have to ride Jim Crow." Her brave stance and the later "Journey of Reconciliation" were catalysts for the more significant civil rights movements that followed.
In 1995, she was recognized for her contributions to civil rights on the PBS series P.O.V. titled "You Don't Have to Ride Jim Crow." The show introduced Morgan to a new generation of 'freedom fighters.' On January 8, 2001, she was one of twenty-eight honorees to receive the Presidential Citizens Medal from President Bill Clinton. In 2010, Morgan was inducted into the Maryland Women's Hall of Fame.
She died in her daughter's home in Gloucester, Virginia, of Alzheimer's complications on August 10, 2007. She was ninety years old.
Irene Morgan Kirkaldy didn't set out to make America a more just nation when she boarded the bus to Baltimore in July 1944. She just wanted to be treated fairly. However, her decision to question authority and do what she thought was right helped change the world.
Sources
Hill, Michael. "Journey of Reconciliation, 1947." NCpedia NCpedia. Last modified 2008. https://www.ncpedia.org/journey-reconciliation-1947.
Hulshof-Schmidt, Michael. "Celebrating Irene Morgan Kirkaldy." Social Justice For All. Last modified April 19, 2012. https://hulshofschmidt.wordpress.com/2012/04/19/celebrating-irene-morgan-kirkaldy/.
Maryland Commission for Women. "Irene Morgan Kirkaldy, Maryland Women's Hall of Fame." Maryland State Archives. https://msa.maryland.gov/msa/educ/exhibits/womenshall/html/kirkaldy.html.
Nielsen, Euell A. "Irene Morgan Kirkaldy (1917-2007)." Welcome to Blackpast •. Last modified September 20, 2019. https://www.blackpast.org/african-american-history/irene-morgan-kirkaldy-1917-2007/.
Pilgrim, David. "Irene Morgan V. Commonwealth of Virginia - 2007 - Questions of the Month - Jim Crow Museum - Ferris State University." Ferris State University: Michigan College Campuses in Big Rapids MI, Grand Rapids MI, Off Campus Locations Across Michigan. Last modified December 2007. https://www.ferris.edu/HTMLS/news/jimcrow/question/2007/december.htm.
"President Clinton Awards the Presidential Citizens Medals." Welcome To The White House. https://clintonwhitehouse5.archives.gov/textonly/WH/new/html/Mon_Jan_8_141714_2001.html.
"Remembering Irene Morgan." Inn at Warner Hall | Virginia Bed and Breakfast Inn. Last modified February 24, 2014. https://www.warnerhall.com/words-from-our-innkeepers/remembering-irene-morgan/.
About the Creator
Historian for The Streets of St. Paul and Minnesota Then. I'm using this platform to share stories about Minnesota history and whatever else (or wherever else) I find interesting at the time.
Reader insights
Be the first to share your insights about this piece.
Add your insights