The Death of "Dapper" Dan Hogan
Prominent gangster killed by a car bomb (December 4, 1928)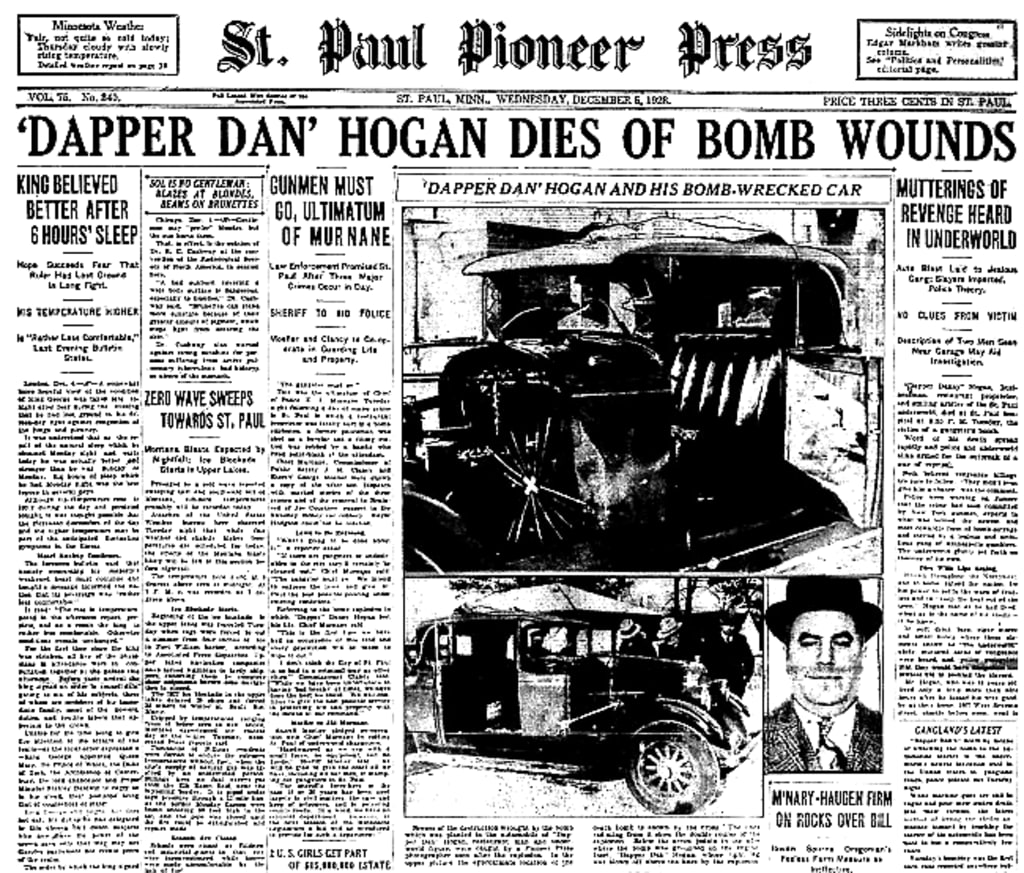 Dan Hogan's death reported in the December 1928 Pioneer Press (Historic Twin Cities)
Gangster Dan Hogan, nicknamed "Dapper" because of his stylish dress, was not only a hotel proprietor and restaurant owner in St. Paul, but an essential liaison between criminals and local police. He helped make sure incoming criminals didn't commit crimes in the city. Today, we recognize this understanding as the O'Connor Layover Agreement. Hogan controlled this deal until his death.
He rose to prominence as the city's underworld ambassador around 1909. Under the umbrella of the O'Connor Agreement, Hogan organized the city's various criminal elements without worrying about interference from local law enforcement. He was an adept politician, a "Smiling Peacekeeper" ready to lead the lawless after the 1913 death of William H. "Reddy" Griffin, the city's first criminal liaison.
With that promotion, Hogan rocketed to notoriety previously unseen in the city. He was adept at keeping the "heat" out of St. Paul, and the Justice Department considered him one of the country's most resourceful criminals. Hogan understood allowing criminals to bring too much attention to the city would end the lucrative O'Connor Agreement. He controlled this arrangement until his death.
He was considered a kind man who would help others. While this made him something of a modern-day "Robin Hood" to some, others resented his stranglehold on the goings-on within the city. In the days leading up to his death, he reported seeing an individual hanging out in the alley behind his house. Hogan believed someone was trying to get him and installed a home alarm system for added protection. Unfortunately, the batteries to the security device were outdated and no longer working the day he needed them most.
On December 4, 1928, at around 11:30 AM, after a large, late morning breakfast with his wife and father-in-law, Hogan went to the garage of his home at 1607 W 7th Street, got in his Paige Coupe, turned the ignition, and pressed the starter. A bomb detonated with such force it blew the car backward out of the garage. Because he was a heavy-set man, Dan's stomach shielded his head from the blast. He was rendered unconscious, but didn't die from the impact; however, his right leg was completely pulverized and later amputated in hopes of saving his life.
After nine hours in the hospital fighting for his life, Hogan slipped into a coma and succumbed to injuries. The local underworld was so upset over this act that after initially lining up to give blood for transfusions, they offered to help the police find the perpetrators. The initial rumor was the killing was done as an "outbreak of a feud" by either an outlaw band he'd attempted to keep from working in the city or a gambling organization. Hogan's wife and sister-in-law both spoke of seeing men by the garage behind their house.
Popular opinion later shifted to the theory Hogan's second in charge, Harry "Dutch" Sawyer, had him killed. Sawyer was angry Hogan had not repaid a $25,000 bond in 1924 and cheated him out of a percentage of revenues from The Hollywood, a casino located south of St. Paul near Mendota Road.
Hogan had placed a large sum of money in a safe deposit box for his wife to have in the event of his death, and when she went to get the money, it was gone. Sawyer was the only other person who had a key. Despite all of this, the mortally wounded Hogan, forever the reputable gangster, refused to name potential assailants.
The respect shown to Hogan during his life continued after his death. Over twenty-five hundred people, along with two-hundred automobiles, came to mourn him. Over five thousand dollars worth of flowers from underworld bosses in New York, Chicago, and the Twin Cities adorned Hogan's casket. A six-foot-high wreath was placed near the coffin, with a large ribbon with the words "Our Danny" stretching across it. A who's who of both city officials and local crime attended. Former middleweight champion Mike O'Dowd was a pallbearer.
The criminal underworld was taken aback by his death and went dark for a short time as a tribute to Hogan. Many assumed there would be retribution, but it never came to be. "Dapper" Dan Hogan was laid to rest at Calvary Cemetery in St. Paul, MN.
His killer was never brought to justice.
Sources
"Daniel "Dapper Dan" Hogan." Find A Grave - Millions of Cemetery Records. https://www.findagrave.com/memorial/8848360/daniel-hogan.
""Dapper Dan" Hogan Home - Historic Twin Cities Dan Hogan." Historic Twin Cities. Last modified February 18, 2020. https://www.historictwincities.com/2020/01/15/dapper-dan-hogan/.
History.com Editors. ""Irish Godfather" Killed by Car Bomb in St. Paul." HISTORY. Last modified December 4, 2018. https://www.history.com/this-day-in-history/dapper-dan-hogan-irish-godfather-killed-minnesota.
Maccabee, Paul. John Dillinger Slept Here: A Crooks' Tour of Crime and Corruption in St. Paul, 1920-1936. 1995.
Reicher, Matt. "O'Connor Layover Agreement." MNopedia | Minnesota Encyclopedia. Last modified July 14, 2014. https://www.mnopedia.org/thing/oconnor-layover-agreement.
Woltman, Nick. "Saint Paul Police Historical Society — Our Matrons & Police Women." Saint Paul Police Historical Society — Home. https://www.spphs.com/history/dapper_dan.php.
Reader insights
Be the first to share your insights about this piece.
Add your insights