Care Work Enhanced My Life
Giving can heal the soul.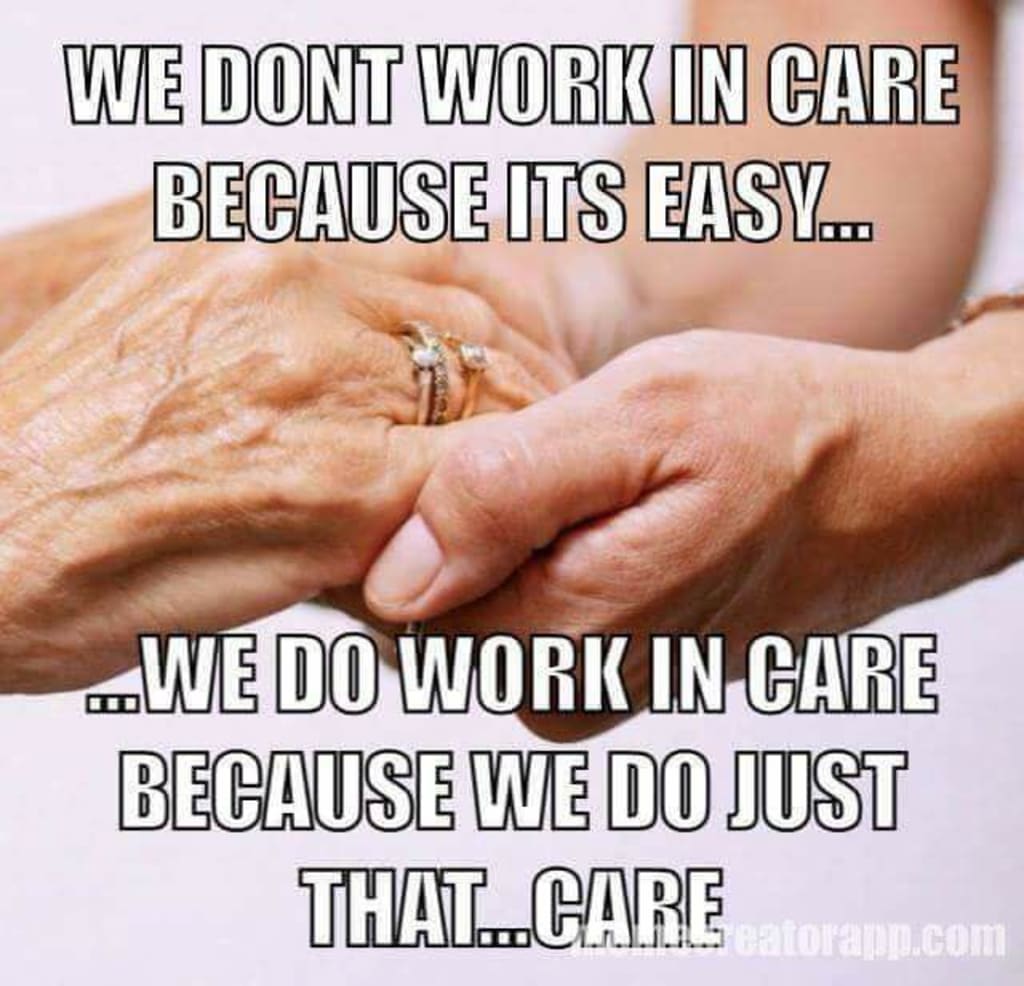 A heart filled with passion and desire to do good, but no real talent or formal qualifications, can lead to a frustrated heart. A body with little energy, fighting depression on a daily basis, but still, the heart yearned to help others. Three years ago, while still caring for and living with my beloved dad, and being a parent to an adult child, I saw an advert for a support worker in the community. I had previously been blessed with care work, but had taken some time out due to care on the home front, so I wasn't really sure if I could do this again and care for my family while battling my own depression. However, the company was understanding and very flexible with accommodating my needs, so in return, I am pretty sure I gave them good service as an employee.
Their uniform I wore with a certain amount of pride, collecting my rota on a weekly basis, gave me meaningful distraction and gainful employment. Visiting clients in their own homes is an awesome responsibility, to be trusted by them to allow you to help them with their needs. The work itself, varied and no two calls were really the same. Some needed help with their personal care, but you had to be very careful not to take their independence away, and only assist as needed, this could be helping them shower, sometimes just being there to help them feel confident, others needed more active help, by actually washing and drying, assisting to dress or undress, others needed it all doing for them. Luckily, this is mostly determined by care plans, and as you engage with the client, you find out just how much or little support they need. Making meals and encouraging diet and fluid intake, domestic chores, such as washing up, or seeing to their laundry needs, all varied in each call.
After about six months of working with this firm, my dad became very ill and sadly passed away. I was devastated. Having lived with him all my life and caring for him for ten years, this left a huge hole in my life, heart, and soul. There were times when I just wanted to join him. Although I still had my daughter, there were no friends or family around to help me, only those I engaged with on social media. That hole needed to to be filled, or I would have sunk further into my depression. I found then my passion grow stronger for work in the community, if I was called in or asked to do extra calls, it meant the world to me. I was needed and wanted, I was useful and had a purpose. Loving every moment, trying hard to make each client feel special, as my work was my world and my gratitude to them for allowing me to care for them was immense. Yes, I was caring for them, but in a way, they were caring for me allowing this. However, after about fourteen months after my dad had died, my health started to shake. I was diagnosed with chronic fatigue syndrome and Polymyalgia. Fatigue meant I could not work as much as I would have liked to, although my record remained clean, in my mind I increasingly felt I was not giving a hundred percent. Although there were no complaints, I could not help how I was feeling. This continued for about a year, and was only a month ago I crashed, I think the saying is 'hit a wall' metaphorically speaking! I resigned due to health issues.
Reason for writing this short story, although with no literacy skills whatsoever, is to thank the company for enriching my life with daily texts or calls offering me work, being patient when I had to change my committed hours, understanding my health conditions, both mentally and physically, and giving me a purpose in life. It's also to thank my clients for letting me be part of their lives. I would like to encourage anyone thinking about going into care work, do not doubt yourself, if there is desire there, then you will probably make a good carer, take that first step to apply today, there must be more good companies like the one I was blessed to work for.