Title: Captivating Kashmir: Pakistan's Seasonal Splendor
Pakistan's Seasonal Splendor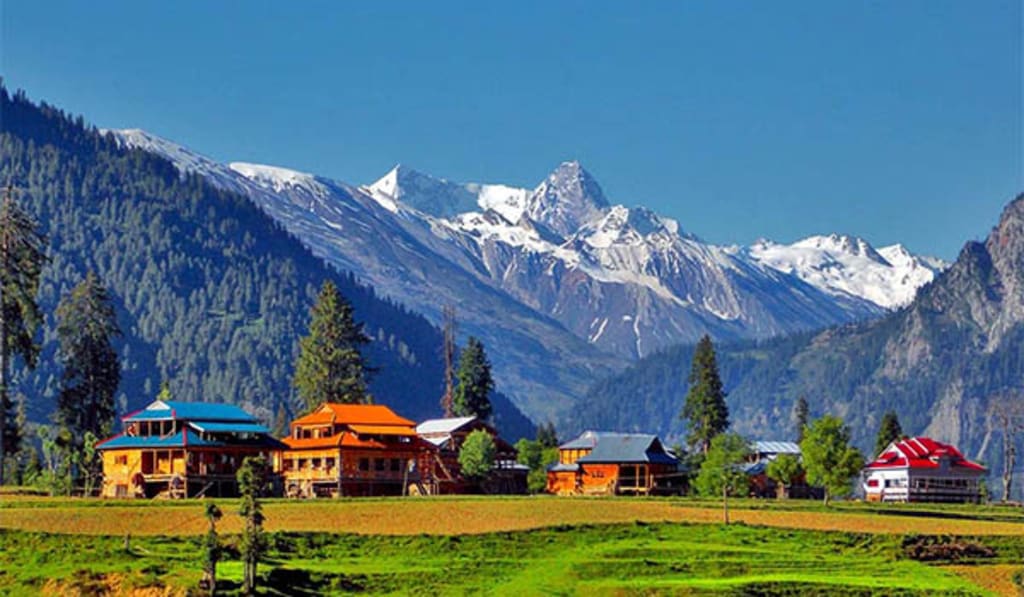 Captivating Kashmir: Pakistan's Seasonal Splendor
Introduction:
Nestled in the heart of South Asia, Pakistan's northern region is blessed with awe-inspiring landscapes and breathtaking beauty. Amongst the many jewels of this majestic land, Kashmir stands out as a paradise on earth. Known for its unparalleled natural beauty, rich cultural heritage, and warm hospitality, Kashmir in Pakistan boasts distinct seasons, each with its unique charm. In this blog, we will delve into the seasons of Kashmir and explore the captivating experiences they offer.
Spring:
As winter bids adieu, Kashmir awakens to a riot of colors during springtime. The valley comes alive with vibrant blossoms, transforming the entire region into a picturesque wonderland. The iconic Shalimar and Nishat Bagh gardens in Mughal Gardens bloom with tulips, daffodils, and cherry blossoms, creating a mesmerizing sight. Visitors can also enjoy boat rides on the serene Dal Lake, surrounded by floating gardens and the backdrop of snow-capped mountains. Nature's Masterpiece As winter bids adieu, Kashmir adorns itself with vibrant hues during the spring season. From March to May, the valley witnesses a spectacle of blossoming flowers, blooming fruit trees, and lush green meadows. The famous tulip gardens in Srinagar burst into a riot of colors, painting the landscape with a palette of reds, pinks, and yellows. The soothing breeze carries the sweet fragrance of blooming almond, cherry, and apple blossoms, adding to the sensory delight of visitors.
Summer:
Summer in Kashmir is a pleasant escape from the scorching heat of the plains. The temperature remains mild, making it the perfect time for outdoor activities and exploration. Adventure enthusiasts flock to the region to indulge in trekking, mountaineering, and river rafting. The verdant meadows of Pahalgam and Sonamarg provide a refreshing respite, where one can relax amidst nature's tranquility. The picturesque hill station of Gulmarg entices visitors with its snow-clad peaks, offering thrilling opportunities for skiing and gondola rides. A Cool Retreat With the arrival of June, Kashmir transforms into a cool retreat from the scorching heat of the plains. The summer season, lasting until August offers respite to travelers seeking solace amidst breathtaking natural beauty. Verdant valleys, gushing rivers, and tranquil lakes come alive, providing ample opportunities for boating, fishing, and leisurely walks. The world-famous Dal Lake in Srinagar, with its charming houseboats and floating gardens, becomes a must-visit destination.
Autumn:
As the leaves turn golden and the air grows crisp, Kashmir embraces autumn with open arms. The entire landscape is drenched in warm hues, creating a surreal ambiance. The iconic Chinar trees add to the charm, with their fiery red foliage. The popular town of Verinag showcases the captivating Mughal Gardens, surrounded by majestic Chinars. It is a perfect time to savor traditional Kashmiri cuisines, such as Rogan Josh and Kashmiri Pulao, which are known for their rich flavors. A Symphony of Colors Autumn in Kashmir, spanning September to November, is a visual extravaganza. As the leaves turn into vibrant shades of red, orange, and gold, the landscape appears as if it were painted by a master artist. The iconic Chinar trees create a captivating backdrop against the snow-capped mountains, making it a photographer's paradise. The famous Lolab Valley and Pahalgam are perfect places to witness the breathtaking transformation of nature during this season.
Winter:
Winter in Kashmir paints a picture straight out of a fairytale. The entire valley is blanketed in a pristine layer of snow, transforming it into a winter wonderland. The famous hill station of Muzaffarabad becomes a hub for winter sports enthusiasts, with skiing, snowboarding, and ice climbing attracting adventurers from all around. The frozen lakes, such as Wular Lake and Manasbal Lake, offer breathtaking views and unique experiences like ice skating and ice fishing. A Snowy Wonderland When winter arrives in Kashmir, it transforms into a mesmerizing snowy wonderland. From December to February, the region experiences heavy snowfall, enveloping the land in a pristine white blanket. The scenic hill stations of Gulmarg and Sonamarg become popular destinations for winter sports enthusiasts. Skiing, snowboarding, and sledding down the powdery slopes offer thrilling adventures to both locals and tourists. The frozen Dal Lake and the floating ice sculptures at Nagin Lake present a surreal sight.
Conclusion:
Kashmir, the crown jewel of Pakistan, showcases its diverse beauty through its distinct seasons. Whether you visit during the vibrant spring, pleasant summer, enchanting autumn, or magical winter, Kashmir offers an unforgettable experience at any time of the year. From its blooming gardens to snow-covered peaks, from adventurous sports to serene boat rides, every season brings a different facet of this mesmerizing region to life. So, pack your bags, and immerse yourself in the captivating allure of Kashmir, a place that truly exemplifies heaven on earth.
About the Creator
I am a prolific writer and passionate blogger, consistently delivering compelling content that captivates readers and resonates with a wide audience.
Reader insights
Be the first to share your insights about this piece.
Add your insights