Though All are Called...
God Reaches Heathens Too!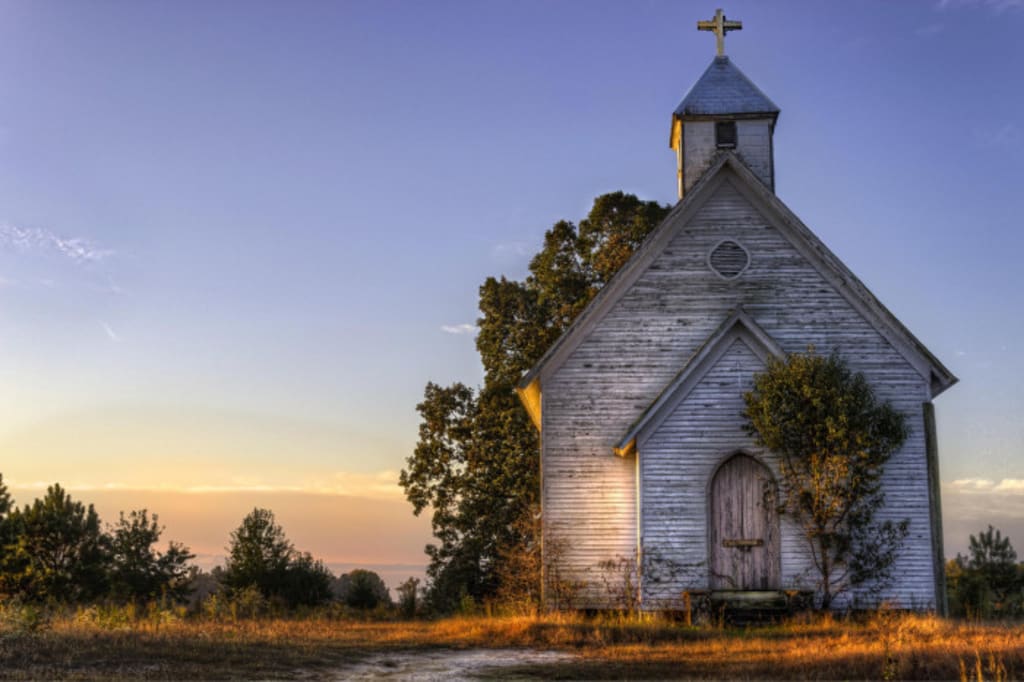 Wallpapercave.com-Country Church Wallpapers
As a child, I thought church people were just a bunch of stuck-up folks who liked to put on airs and go to church to flaunt what they have. They drove nicer cars, wore nicer clothes, lived in bigger, nicer houses and they all had money to put in that saucer when it came around.
I hated church. Unless my grandma or one of my aunts dragged me, I didn't go. In fact, my mother didn't believe in the institution of the church, so we rarely attended at all.
The only time I really got church was on Sundays when I didn't even go. A little Methodist church behind where we lived, broadcasted every Sunday service over a loud speaker. They began with the first verse of Amazing Grace, then the preacher asked them to be seated and preached fire and brimstone for a couple of hours.
There was no escaping it for us because the church butted up to the property. They broadcasted that service like a gospel horn and it didn't matter what we were doing, we had to hear it. The service always finished with the second verse of Amazing Grace and then we all took a deep breath of relief.
Years later, my brother who had become a pastor, asked me to sing in his church one Sunday. Thanks to the church on the hill, I actually knew the first and second verse of Amazing Grace, but he said that was enough and he'd do two more. (Which was great because I didn't know any other Christian songs) After his two verses, we would finish together with the first verse again. Not only did I get saved, I started singing Christian songs and even started writing and recording them.
In fact, while in the recording studio on my final night, the studio guy asked me if there was anything else before we called it a night. I recalled all those years listening to those two verses and decided then and there to record the song just as my brother and I had sung it as a way of dedicating my album to God so that His work would be done in it.
I gave away a lot of those CD's. I can't even tell you who all got one because even my kids were handing them out.
One afternoon I was in a Cusseta, Georgia grocery store picking up some snacks to carry to a Barbecue at my mother's place, when I exchanged glances with a woman waiting to speak to Ms. Coleman (the lady who owns the store.)
She was standing there in shorts and flip-flops, had her hair in curlers and was carrying two 12-packs of beer. She was waiting for Ms. Coleman to cash her check and suddenly dropped everything. She walked up to me and asked...
"Are you a singer"?
As I nodded, she threw her arms around my neck and started sobbing. (Yep. My music often brings people to tears, but not in a good way so I was a little surprised to say the least.) I hugged her back and asked if she was okay. She said she was just glad to finally meet me, (my picture was on the inside jacket of the CD), because God had worked miracles in her life and she was just dying to tell me about it.
Now, I'm not going to lie. I was eyeballing the beer and the curlers but trying hard not to judge. She gave me her story and any judgment I might have held was instantly gone.
Her husband had been a police officer for many years in a neighboring county. He often was gone nights and weekends and she worked in a convenience store there in Cusseta. She said one of my children came into the store and gave her the CD, so she took it, (gave them $2.00 I never saw), and promised to listen to it, even though she hated church and church music.
One Saturday afternoon while cleaning house, she said she popped my CD into the computer to give it a listen as she worked, and then said the song Amazing Grace came on. She stopped in her tracks. Both her mother and father, now deceased, sang that to her when they put her to bed as a child. It touched her deeply and I'm sorry to say, she never listened to the rest of the CD that day. She just looped that song to play all day while she worked.
She said when her husband came home from work, he too fell in love with it and asked her who it was. She told him the story of the little boy who gave her the CD and how much she loved that song. He asked her what the rest of the CD was like and she couldn't tell him, so he played it from front to finish.
For the first time in many years, they both attended church that Sunday. She said for months they were members of their church and had pitched in with community events and were really enjoying working with the Lord. Then one Saturday night while involved in a high speed chase, her husband was in a near fatal accident and hospitalized.
The sheriff's department he worked for denied their worker's compensation claim based on the fact that they felt he broke procedure somewhere during the chase, and the two of them were devastated. While her husband was in a coma, the department let him go and hired someone to take his place. She said if not for the love and support of her new church, they would surely have died.
Doctors told her to start making funeral arrangements because her husband had suffered so much blunt force trauma to his head and many organs were not in working order, that they couldn't guarantee he would recover, and in fact were pretty sure he wouldn't.
She refused to give up. She prayed day and night. Then one afternoon, she decided to bring him some music. She could only think of one song she knew for sure he would love to hear and she played my version of Amazing Grace over and over again for two days. On the third morning, he woke up singing with me. She said even though he wasn't able to fully recover and go back to work, the Lord gave him back to her. Pain killers sometimes didn't help and she had learned that one beer at dinner time was working with the medicine to help him handle the pain until he got better.
I only wish Brother Brinkman was alive that I could call to tell him. I'm sure he never knew how many heathens he reached up on that hill, or how many heathens we would reach either, but it only goes to show that God can do anything He wants and if we're lucky... He'll use us to do it!
Me singing Amazing Grace:
About the Creator
I'm a mild-mannered business consultant by day, a free-spirited writer, artist, singer/songwriter the rest of the time. Let's subscribe to each other! I'm excited to be in a community of writers and I'm looking forward to making friends!
Reader insights
Outstanding
Excellent work. Looking forward to reading more!
Top insight
Heartfelt and relatable

The story invoked strong personal emotions
Add your insights