Table For One
The first date that was so perfect, it felt staged…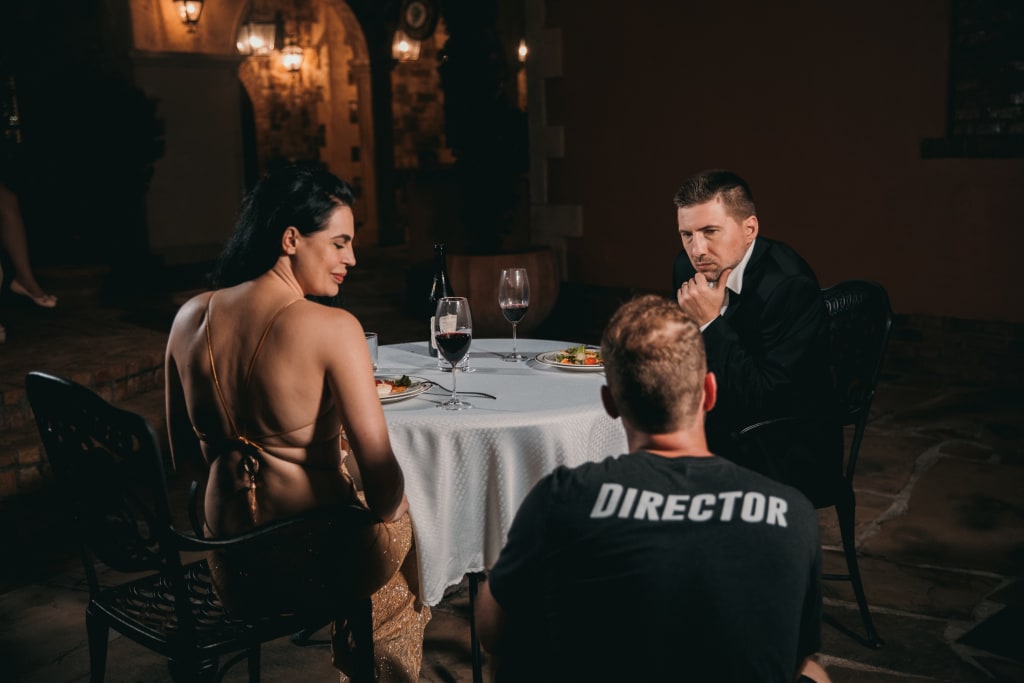 Photo via Unsplash
He gently turned the bottle in his hands to expose the label.
Perfect.
You could see the sparkle in her eye as the waiter Jerry…no, wait. Jansen? Or was it Jacob? Yeah, his name was Jacob. The sparkle in her eye was all he needed to know it was the right choice.
Jacob began to work that cork out like a seasoned pro.
I wonder if he's a sommelier?…I thought to myself.
I didn't know how this night could be any better.
Perfect restaurant.…
Perfect candles…
Perfect ambiance…
Perfect woman…
Can a fella be so lucky?
Her hair.
Her eyes.
Her lips.
Oh, her lips.
I couldn't take my eyes off them as Jacob mumbled something.
Did I nod my head?
I can't even remember to tell you the truth.
Mesmerized is the word.
I guess I did nod my head though, because Jacob poured a little taste…he made a throat-clearing sound, probably because the wine sat there.
Because I was…
Captivated.
By her.
Hadn't even noticed the little pour Jake had done.
What's that even called?
You know…where the waiter in a nice place pours the fella a small sample?
Who knows.
Heck, I'm not even sure what to do with it, but I know you should be checking for faults or flaws.
I twirled the glass the way they do it on TV.
Took just a tiny sip.
It tasted good.
Jacob poured two glasses.
My eyes never left her.
Glasses lifted.
Cheers.
Eyes locked.
Bad luck to toast and not be looking at one another.
Damn.
Her lips again.
Now they matched the wine.
A Merlot, was it?
What's it called? I didn't want to take my eyes off her but darn it, I didn't wanna forget the name of the wine either.
It was more than wine.
Like nectar.
Yeah.
Nectar of the Gods.
The name…where is it?
There it is.
Jetbird. That's it. Jetbird Merlot 2019. A California wine.
I made a mental note.
Maybe I could sneak a pic with my iPhone?
Is that weird for a first date?
I digress…
Time to order. Jacob recommended the roasted chicken. Said it paired to near perfection with this wine. She ordered a filet.
Wow. A beef kinda girl.
Maybe I should have ordered the filet too? Damn. I'm second-guessing myself. Women don't like men who can't make up their minds with confidence. And even more so, they don't want a fella who doesn't know the basics of wine.
At least that's what my ex always told me.
Idle banter now.
---
Her dog is named Bixby.
A Corgi.
Mine is Bob.
A lab.
Crazy how both dogs' names start with a "B".
---
Yes, yes, she does like reds. Not a huge fan of Chardonnay, though.
Napa Valley. Oregon. Washington. Texas. Been to wineries in all these places.
Wait?
Texas?
Yep. Texas. There are some up-and-coming places there that are kind of cool to see and visit.
Fredericksburg, she said.
Hmmm… I never heard of it.
Maybe I can order some wine from different parts of the US, I thought to myself. Would they ship to Ohio?
---
My dinner is here now.
Lamb.
I ordered lamb.
It seems I'm never able to make just the right choice at the right time, and that's why I, of course, got the lamb and this darn bottle of a random local beer.
If I had only ordered that Jetbird, then maybe…JUUUUST maybe…I wouldn't be sitting here alone.
Again.
I think they're having a perfect date. Jacob seems to be enamored with them at least. They honestly look perfect together.
And me?
Yeah.
I'm at a table for one, witnessing that wonderful couple share what seems to be the perfect first date conversation and the merlot to match.
Guess my ex was right.
About the Creator
I help CEOs & entrepreneurs write & publish books that give them authority & legacy | Bestselling author | Former CEO turned ghostwriter |
California born, Texas raised.
Reader insights
Be the first to share your insights about this piece.
Add your insights