Something Lost...
A Love Story That Ended Wrong...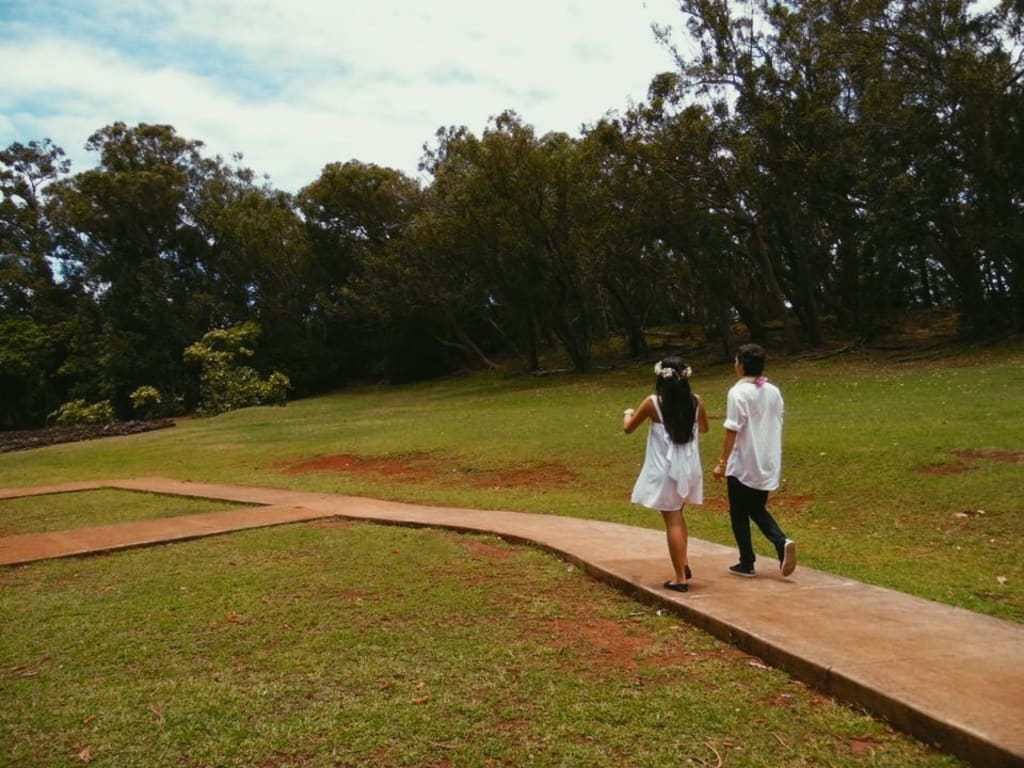 That bright morning in Los Angeles, California, I saw the sun beaming through my shades. I woke up slowly to my husband greeting me with breakfast in bed.
"Good morning my queen. Happy birthday," said my husband.
"Good morning, my love, and thank you," I said. Pancakes with bananas, side of bacons and orange juice. So simple and basic. Just how I like it.
After eating breakfast, he handed me a box.
"What is this?" I asked.
"Just open it. That's one of your first few presents for your birthday today," he said.
"How many do you have?!" I asked curiously.
"Just open it!"
As he laughed, I opened the box and it was the most beautiful necklace that I had ever seen: a necklace with a small heart as its pendant. It was perfect. I looked up and jumped into my husband's arms. "I love it so much! And I love you so much. Thank you, honey," I exclaimed.
"I hope you do 'cause there are going to be more gifts coming your way! Now get up and go get dressed! We're going to have an adventure, baby."
I got up quickly and got ready. I was so excited, so nervous, so curious! I just couldn't wait to see what he had planned for today. I walked into the living to see my husband watching TV, waiting for me patiently. "Ahem. I am ready, sweetheart."
He looked up at me. "Whoa! No one told you to look THIS good! I mean, you always look good but, um. Wow. Boy, am I glad to be your husband," he said.
I giggled. "You're so silly! C'mon! Let's go! We don't want to waste the day away, do we?" I said. We walked out of our house and walked to our car. We got into the car and started driving away. "Are you going to tell me where we are going NOW?" I asked.
"Stop asking questions! Just wait!" he said. I couldn't help but pout and be upset. I hate surprises.
He parked his car in front of this park, and I had a confused look on my face. I asked him, "What are we doing here for?"
He just smiled and got out of his seat to go open the door for me. He grabbed my hand so I could get out from the car. I got out of the car, he closed the door and locked it, and we proceed to walk to the park. While walking to the park, I was so amazed at how the park looked. It was huge and it was very beautiful.
"What's the name of this park?!" I asked him.
"Castaic Lake State Recreation Area," he said.
I was just so amazed with everything. I felt like I was in paradise. We stopped in front of a lake and all I saw were swans, geese, and ducks. I was too busy looking at the lake not realizing he was preparing a picnic for us. After he prepared the picnic, I heard a camera shutter go off and I immediately turn to my right and I see my husband taking pictures of me looking at the lake. I ran straight to him but he just grabbed me and hugged me.
"Stop being so hard-headed. Let me take pictures. It"ll be a good memory," he said. I looked into his eyes and he leaned in and kissed me on my lips. I stopped and hugged him again.
"I've never met anyone as amazing as you, Ahn Daniel," I said.
"I love you, honey," he said. While we were hugging, I realized there was a picnic setting.
"What is this all about?" I asked.
He smiled and took my hand to the picnic setting and sat me down. "I didn't make a big breakfast for us because we are going to have a big lunch here at this beautiful park."
I giggled and pushed him. "You're so cheesy still!" I said.
"Aren't you blessed to have me still, baby girl? I could have just left you for some older girls, or someone younger than you," Daniel said. I stared at him with anger. He chuckled and kissed my cheeks. He said, "Baby, I'm kidding. I'll never leave you for anyone! You are the only girl for me. I'm so blessed to have you."
I looked away with a little smirk and pretended to be mad at him still. He grabbed my chin to make me look at him. He leaned in and our lips touched once again. Then we continued our picnic with laughter and happiness.
We went back to the car and put the picnic equipment into the car, went into the car, and drove off to another place. He grabbed my hand once again while driving, playing with my fingers, and touched the wedding ring he gave to me at the wedding. "This wedding ring. I realized you never took it off since the day we got married," he said.
"Why should I take it off when the world's greatest husband gave it to me on the day I said 'I do'," I replied.
He chuckled and kissed the wedding ring.
"Where are we going next?" I asked.
"Somewhere. Stop asking so many questions, darling. It's suppose to be a surprise!" he replied.
"Grr," I said. I hate surprises. It makes me anxious and makes me want to know so badly! We parked our car somewhere busy and I was thinking: Are we going to do business things now for my birthday/anniversary?! He walked out of the car and closed it, then came to my side, opened the door, and took my hand and closed the door and we walked.
"Why are you parked here? Are we doing business for my birthday now?!" I said.
He chuckled. "No, no, no! Just calm down, darling! Just wait," he said. We started walking towards this place with a lot of people and I saw that there were a lot of people. We came to Hollywood Walk of Fame. I gasped. I ran away from my husband to go see all the stars' names on the ground.
"Honey! Stop! You might get lost without me!" he said. I stopped and laughed at him while he was running towards me. "You slow poke! Catch up." I ran away again. I didn't see where I was going. Suddenly a red flash, force, and darkness embraced me. It was all over…
The sound of sirens drowned everything in sight away from Ahn Daniel as he was escorted to the hospital. "I can't believe she's dead," he thought, as he burst into tears as the sight of her body. She was on a cold metallic surface with nothing but a white blanket covering her body; she was cold as death.
"It appears that this woman was killed on impact. I am so sorry about your loss, sir," said the Coroner. "Are you sure this is your wife?" asked the Coroner.
"Of course she is! What type of question is that?" said Ahn Daniel angrily.
"Oh, I'm sorry. I didn't mean that way. It's just that this woman was pregnant…" said the Coroner.
love
About the author
Reader insights
Be the first to share your insights about this piece.
Add your insights