November Breezes; She Remembers
November breezes find their way in.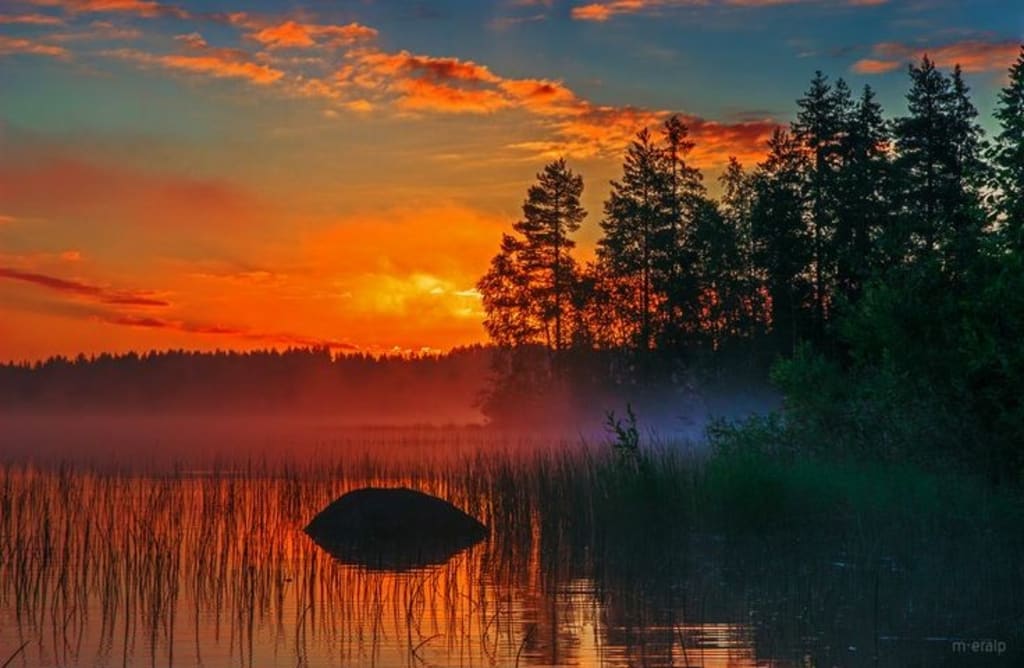 The sun rises over the parking lot at Wal-Mart; announcing its presence with an array of oranges, reds and yellows.
Seagulls flying overhead, in spite of the cold, causing you to wonder if they even know where they are.
November breezes find their way in, penetrating the cold steel and fill every gap waking you up so cold you're shivering.
The sunrise is so beautiful it brings back memories for her as she solemnly watches the brilliant colors engulf the morning sky.
"Where would I be right now?" She asks herself out loud, yet softly, in order not to wake him.
He shivers and she covers him up.
She misses lying next to him, feeling the warmth of his naked body pressed up against hers.
This last year has been so hard on both of them that it all seems so long ago, but in reality, it's only been a matter of months.
Starting up the car to warm them, she looks around to make sure everything is in order.
She checks the back for yesterday's take and spots the bag of returnables waiting on her to deposit.
Then she sits back and closes her eyes and she remembers.
Waking up to the sounds of the dogs playing told her that early morning had come.
Slipping silently out of bed to let them out had become part of her daily routine.
She especially loved how they showered her with affection; showing her their unconditional love with nuzzles and kisses.
The window above the kitchen sink brought in such an amazing view of the sun rising it could take your breath away.
Most mornings she found the lake calm and peaceful and she would linger doing the dishes, watching the waves gently roll in.
The distance between their place and the beach was filled with smaller trees and beach grass that could easily reach chin high.
Fall rolled in early this year and snatched up the remaining leaves from the smaller trees, widening their view of the lake.
This was her favorite season and she loved watching fishermen move quietly to the beat of unheard drummers; looking quite musical as they cast and reeled in and then cast out again.
The fish were eagerly jumping in and out of the frigid water, hollering out to them, "pick me, pick me!"
And in the distance, she can hear the train's whistle blow as it roars through town like a lion at feeding time at the public zoo.
A rooster announcing morning has arrived comes from a few farms over, and now that she's thinking about it, you were able to hear the old son of a gun all day long.
Starting about 6 AM, the little birds would gather in the big maple tree in her front yard, chirping so loudly they created their own symphony.
She recalls the day they came and took down her maple tree.
She pleaded and pleaded for the tree guy to leave it; the tree was grand, it was beautiful, it was hers.
"No ma'am, can't leave it. Bosses orders. It's too tall. Come winter time this tree is gonna be big enough to take out the whole damn park!"
The guy babbled on and on shaking his head.
"Can't risk that, ma'am."
She watched as they took down the top first, then the rest, leaving her a stump and some bomb firewood.
Her husband held her while she cried, petty as it may seem to you, it was rather significant to her.
For the remainder of their stay there, not a day went by that she didn't miss that tree.
Oh, and they never did burn any of that bomb firewood.
She caught herself daydreaming as she bent over the kitchen sink, thinking just one more inch would bring the sun's warmth closer to her face.
Her two dogs sitting at her heels were beginning to get restless, wanting to be let out to do their morning duty.
Smiling, she filled their food and water bowls, and placed them outside the door, hoping they wouldn't trample them as they sprinted out towards their freedom.
She closed the front door gently behind them to keep out the cold air and laughed out loud as they played, nibbling on each other's ears.
She took the coffee pot out and started to brew a pot of their favorite vanilla beans and made peanut butter toast for both of them.
Her husband wasn't yet fully awake, but she knew the dogs playing would surely stir him up this morning.
Sunday mornings were their favorite.
It's the only morning they both were able to lounge around and truly enjoy each other's company without any pressures of the daily grind.
But this morning everything felt different, she thought, it felt as if she was revisiting, an overwhelming feeling of de ja vu.
As soon as the coffee was ready, she poured their cups; his made according to his liking and hers made now just the same.
Her thoughts are interrupted by the dogs barking and scratching to be let back in.
She quickly opened the door and some of the November cold air followed them in causing her to shiver.
She gathered the toast and coffee onto a tray and brought it into their bedroom.
She found him sitting up in bed watching the local news.
He didn't look very happy this particular morning and started talking about the current events the moment she crossed into the room.
"Good morning baby. There's rarely anything positive reported lately," he expressed.
"I'm just tired of all the negativity. School shootings, gang violence, house fires, people scamming people. It's become exhausting just watching the local news."
She brought him his toast and coffee and sat down alongside him.
He sipped his coffee and ate a bit of his toast, "perfect, thank you love."
She snuggled under the blankets next to him and he held her so very tightly, she whispered back to him, "perfect, thank you love."
And nothing in this world seemed out of reach, nothing appeared out of place.
They both were where they were supposed to be.
And they both were happy.
She remembers moments like these as if they were just shared yesterday, back when things were right in their world.
Seagulls flying in circles, bouncing into each other, appeared to be fighting for the one or two pieces of food scrap they found in Wal-Mart's parking lot.
Shopping carts slamming into the guard rails of the return corrals, parents hollering after their kids telling them not to dash out in front of moving vehicles.
A college kid unloads his pick up truck, filling a shopping cart with empty beer bottles from the night before, representing by numbers, a good time had by all.
He is the first one to wake up this time.
The sound of clanking glass bottles startles him and he sat up looking around, Wal-Mart, he sighs.
He glances over to see her resting in the driver's seat, she looks cold this time so he covers her.
She must be dreaming, he thinks, watching her now for a few minutes.
He leans over and plants a kiss on her forehead, she sighs and reaches for him.
They hold each other and take this moment to tell each other a few things they may have neglected to say along the way.
And nothing in this world seems out of reach, nothing appears out of place.
They both are where they are supposed to be.
The End.
literature