No Moore Power …
The Drag Show Must Go On!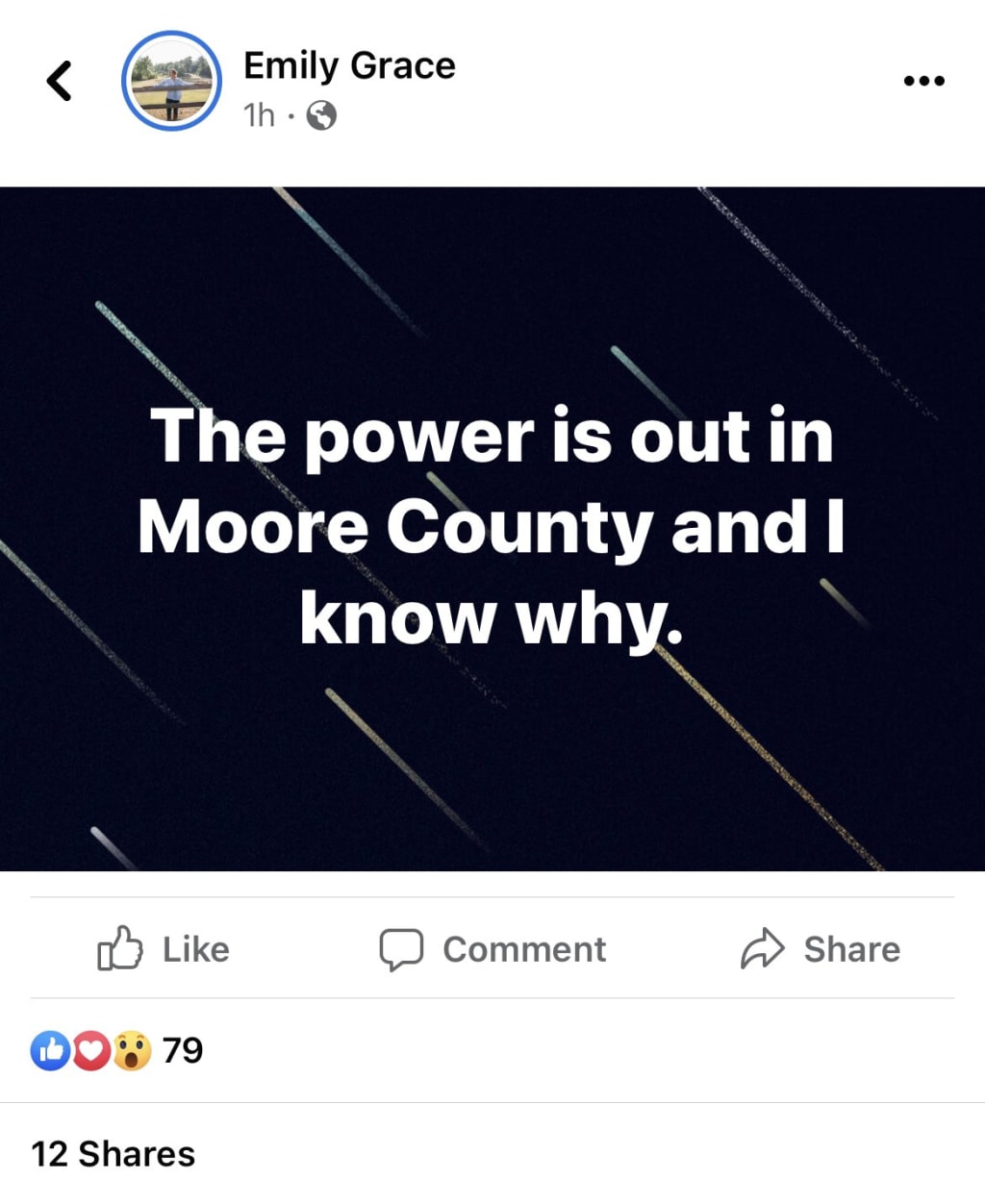 She knows. We know.
I don't post about politics here; I dabble in my poetry. Honestly, I haven't truly participated in political activism since I was arrested with the Reverend Barber during NC's Moral Monday marches, which occurred long before "Trump's America" took hold and began unraveling democracy one frayed thread at a time. I left the fight long ago.
So this isn't truly a political essay, and I hope it's not interpreted as such… This is simply a first-hand account by a middle-aged woman stuck in the daily evolution of a national news story.
I should be enjoying the Christmas season with my children, my husband, my pups, and my community.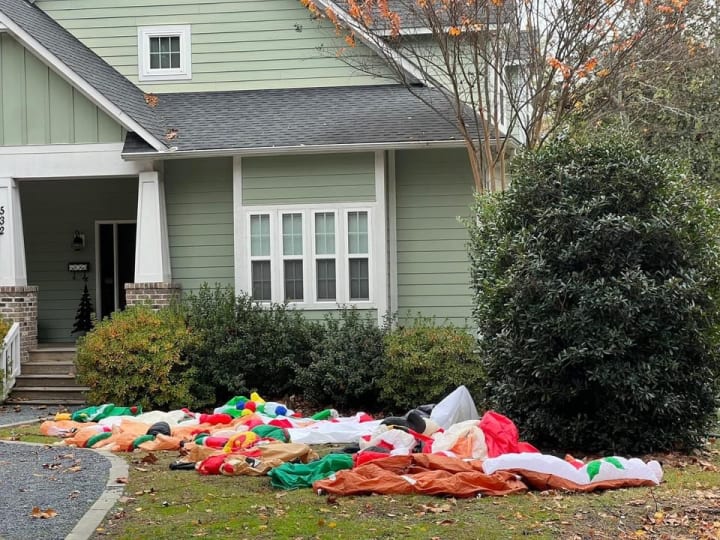 Alas, I find myself sitting here in my dark and rather frigid living room in front of my shadowed Christmas tree pondering "Why?"
My hometown was attacked by domestic terrorists two nights ago.
The "How?" is rather simple.
"Vandals" shot up two power substations in the area, taking down the power grid for the whole county.
In the little county my family calls home, over 40,000 citizens have been out of power since Saturday night, and reports say that it will take several more days to repair the damage done. Thursday is their best bet for when the lights will shine again.
The assumption is that there was more than one person and more than one gun. Some rumored accounts report that as many as forty bullets were fired at one of the stations.
Today we made the national news.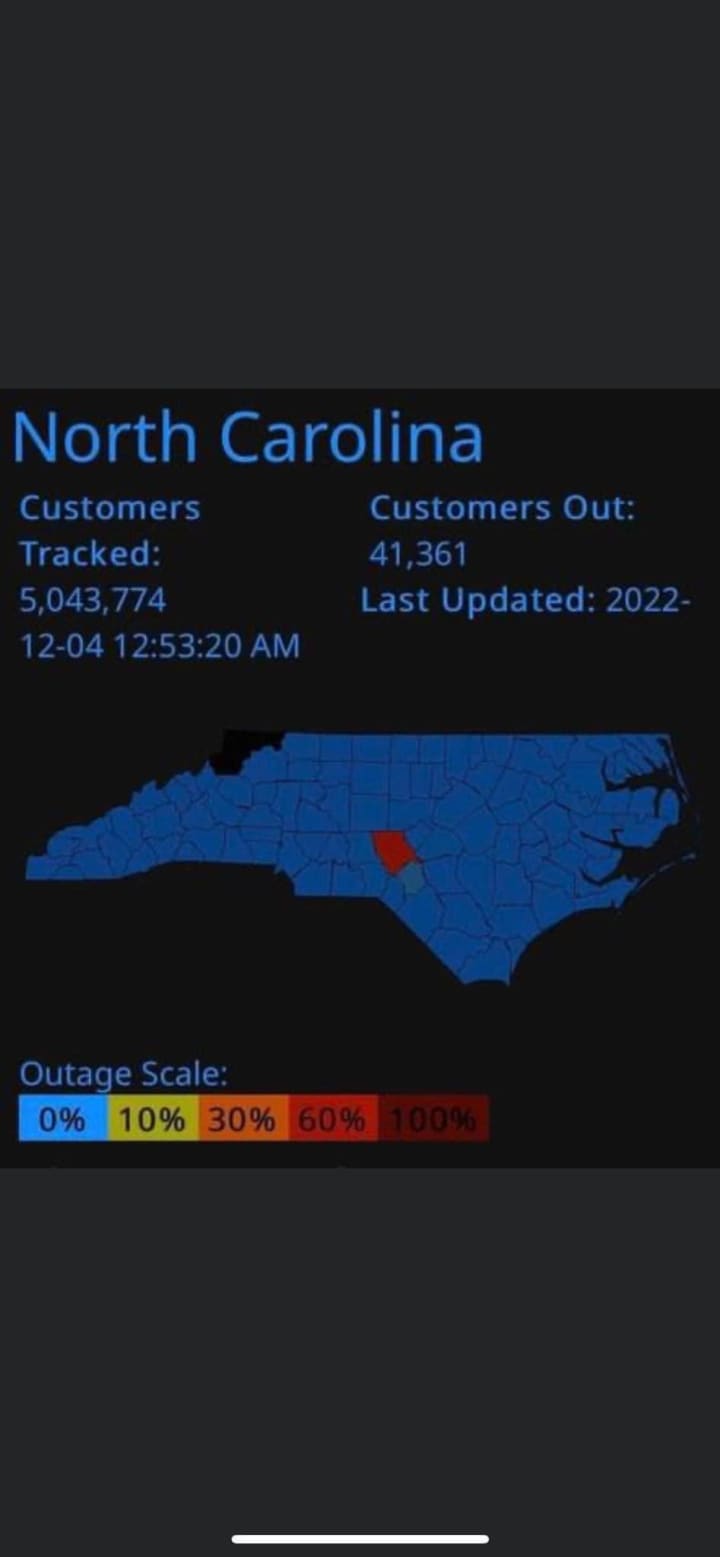 Cars are piling up on the highways; babies are cold in their homes; the elderly can't turn on their medical devices; groceries are spoiling; businesses can't open; workers can't work … the list of consequences goes on and on. The damages are estimated to be well over a million dollars already.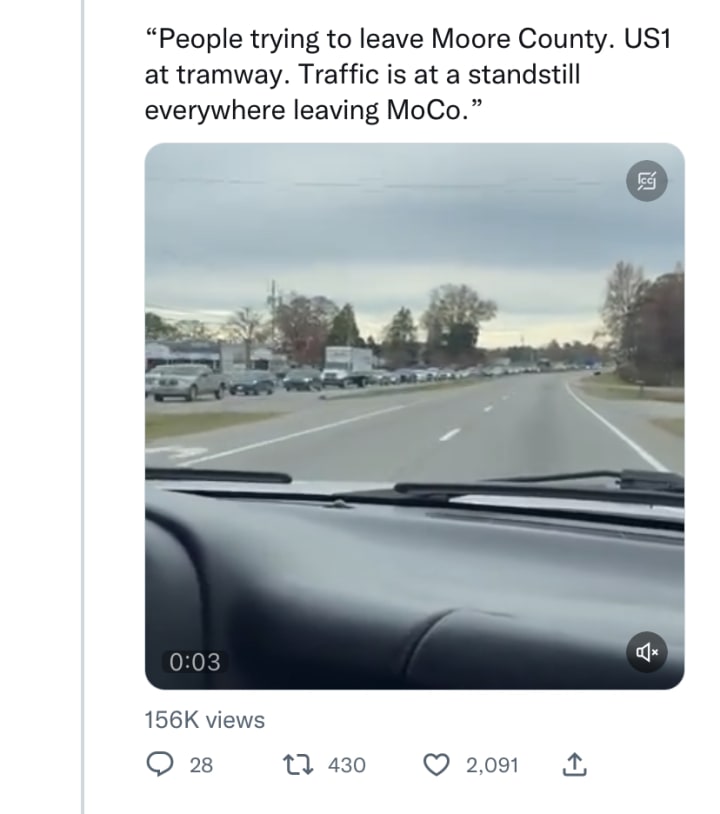 So the big question: WHY?
The community believes they have solved the crime. Our sherrif disagrees. Luckily the governor has stepped in and charged the SBI and the FBI with unraveling the tangle ball of yarn.
So far the ONLY plausible theory to emerge is that some "Christians" upset about a drag show in downtown Southern Pines decided to cut the lights on the show themselves.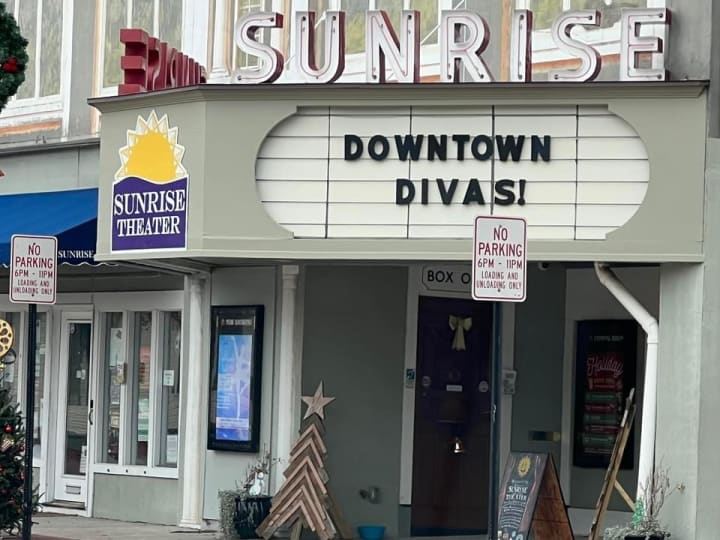 These "Christians" lobbied unsuccessfully for weeks to get the show shut down. They got a permit to protest from 5-7pm across from the venue. Those supporting the show also got permits for their counter protest. I am happy to report that ultimately the Southern Pines police and the antiprotest proved that love wins.
The show started safely at 7pm, protesters on both sides were dispersed, and power across the county disappeared by 8pm.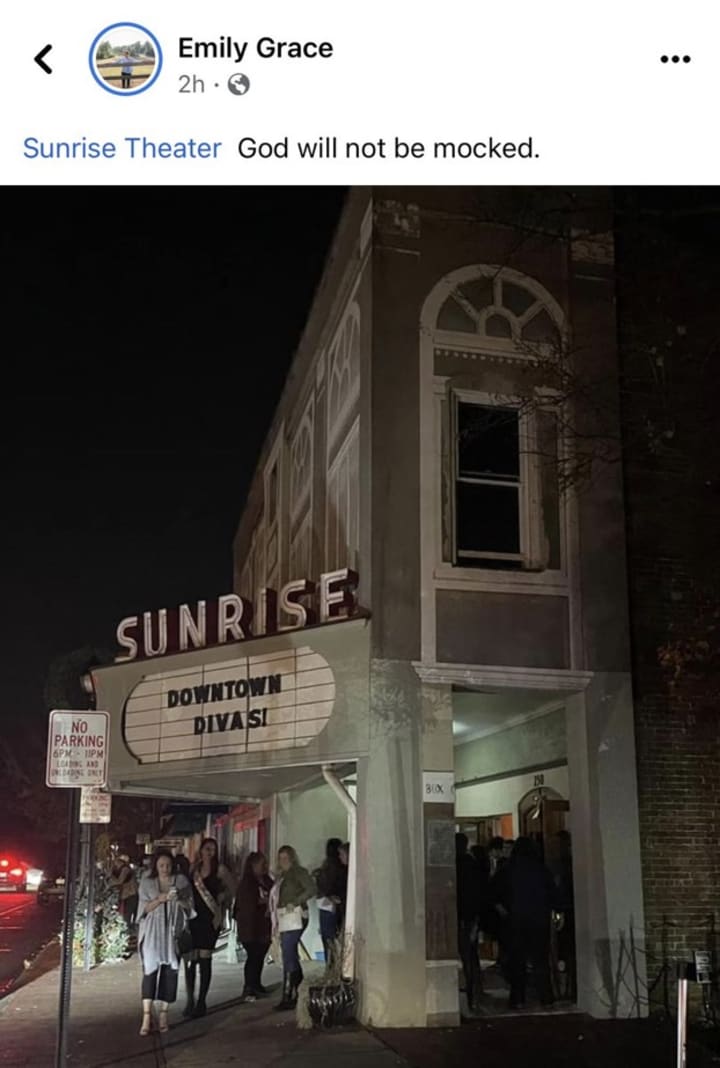 Once again, the fact that darkness can not defeat light was proven as the audience members took out their phones and illuminated the theatre with their flashlights while the HDQIC (head drag queen in charge) continued the show.
If there is one thing drag queens in America have taught us over the decades it is that the show will always go on; love will always trump hate.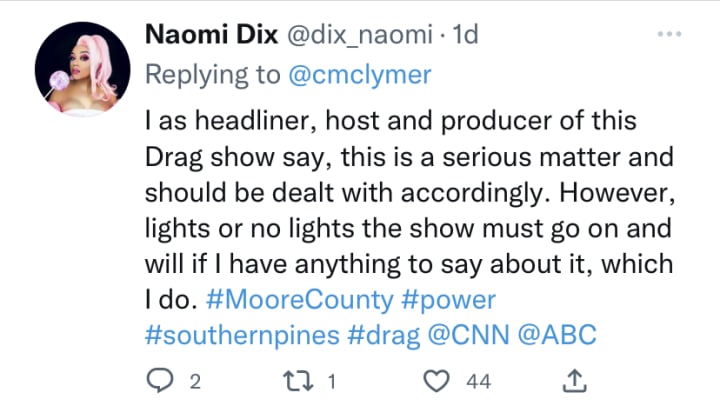 The drag show went on illuminated by cell phone flashlights for another hour or so. The extremists failed to stop the show. Love won a small victory over hate.
It wasn't until several hours later that the county began to realize that the hate was a little darker than we all originally expected. We expected protests, we never expected domestic terrorism.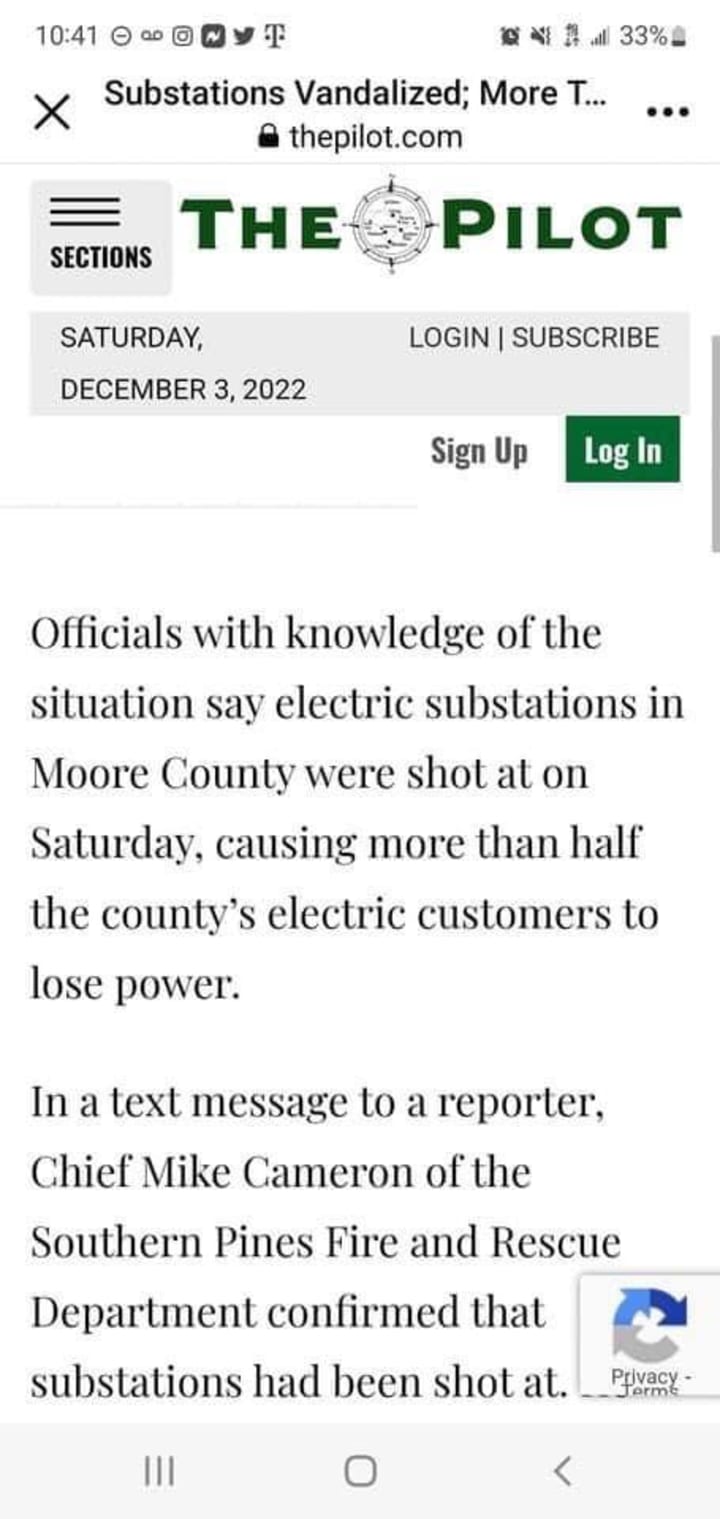 The Department of Homeland Security had been warning us all along. DHS raised concerns about potential threats to the LGBTQ, Jewish and migrant communities from violent extremists inside the United States just last Wednesday (see NBC link in comments). We had been warned.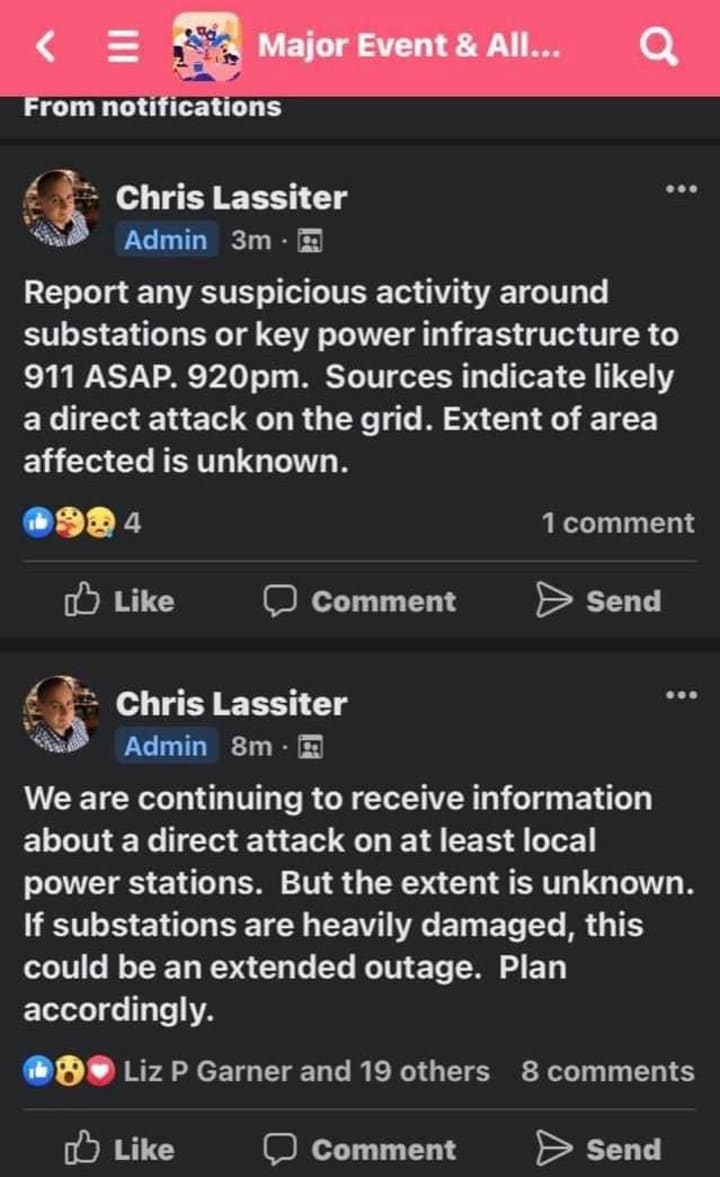 Unfortunately, we had little to no understanding of what these threats would ultimately mean to our little community.
Moore county wasn't just dealing with angry, trump-loving, patriotic "Christians," it was dealing with domestic terrorists hell-bent on perpetuating a hate fueled attack against all of us.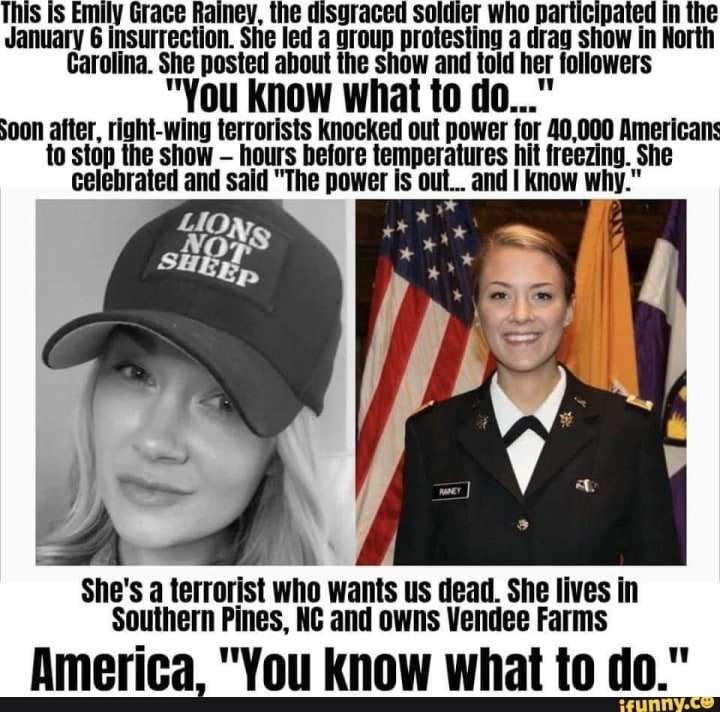 We didn't heed the warnings because we have been bombarded by the rantings of these hypocritical lunatics for over two years now. Of these "Christians," Emily Grace Rainey, a former U.S. Army psychological operations officer, is the loudest of them all. She claims to be their leader.

She is our local (not so local) nut job. She made several posts about the drag show on social media, attempting and failing to get it canceled. We all laughed at her while we pushed back softly.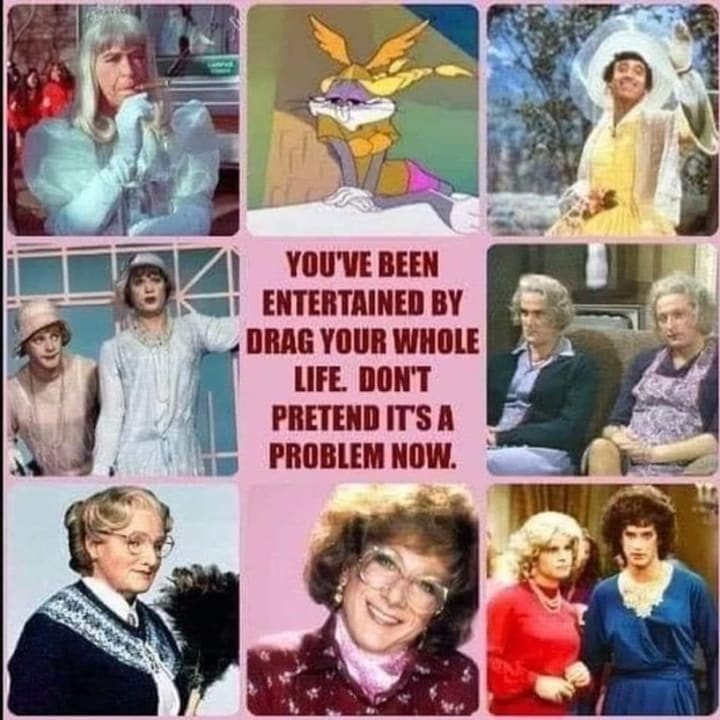 Then she gloated about the attack, saying: "The power is out in Moore County and I know why."
The Moore County Sheriff's Office had no choice but to interview her. She "told them that God works in mysterious ways and is responsible for the outage. I used the opportunity to tell them about the immoral drag show and the blasphemies screamed by its supporters. God is chastising Moore County. I thanked them for coming and wished them a good night. Thankful for the LEOs service, as always." (see WRAL link in comments)
The Sherriff was pacified, prayed with her and left. No, seriously: he prayed with her.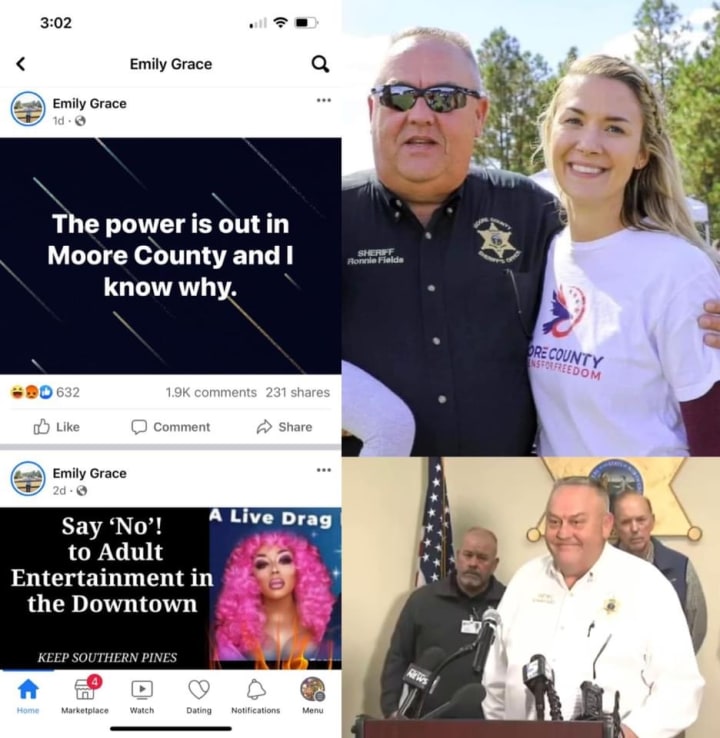 Rainey led the Sheriff in prayer. Just in case you are wondering what qualifies her to lead anyone in prayer, Rainey, as a Captain in the Army, slept with a married Colonel, got pregnant, broke up his marriage, and now waits "chastely" for the Catholic Church to bless their marriage. (see her social media for more of this unfolding drama)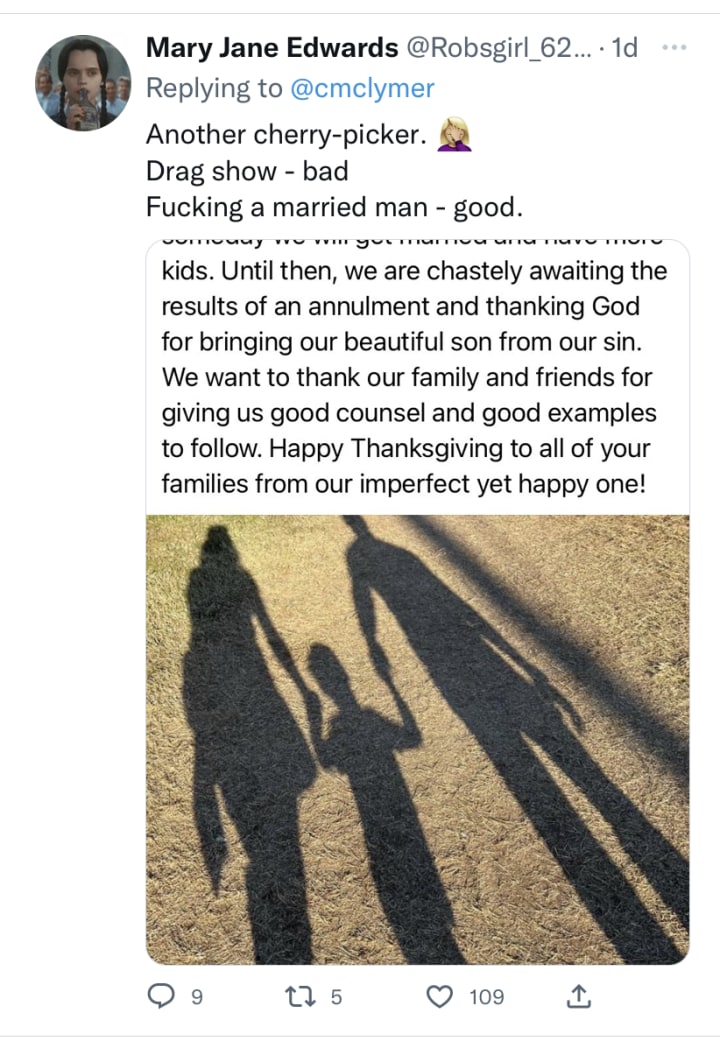 This "Christian" has been featured on Tucker Carlson's "Patriot Purge" documentary series on Fox News, and she was just on Steve Bannon's "War Room" tonight. She loaded up a bus and made her way to DC on January 6th. She is consistently found on the wrong side of history, spouting hateful nonsense, while living a life full of the very sin she shuns in others.
Her voice is being amplified because she's pretty and she sounds intelligent on film. But the ideas she spouts are poison. She seeks to demonize those not like her. Her beef with the drag show isn't about family values, she has none. It's straight up LGBTQIA+ hate, and you know what? She does not speak for our county. We have let the fools among us hold the mic for too long. Their hate has no place here.
As one would expect, Sheriff Ronnie Fields was asked about her timely Facebook post about the power stations at the press conference on Sunday:
Reporter: "How did you determine it was false?"
("It" being Rainey's post that "The power is out in Moore County and I know why.")
Sheriff Fields: "We… uh…. Good law enforcement" [smiles]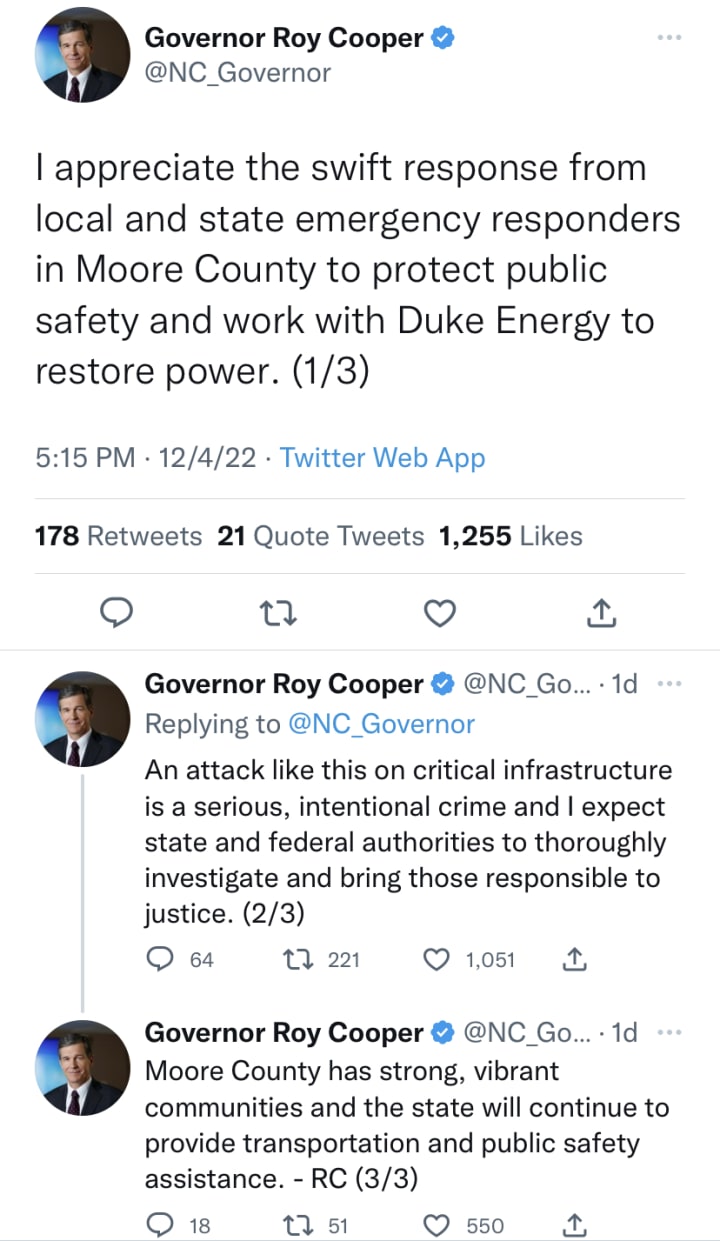 If Fields is just going to pray and smile it away, I for one am grateful that Governor Cooper called in the North Carolina State Bureau of Investigation and the Federal Bureau of Investigation to dig into this incident properly.
While the FBI and the SBI search, we will wait for the investigation to produce evidence. We will hope that there were cameras at the substations. We will hope that internet crime fighters continue to find evidence, confessions, and proof of biases and conflicts of interest. We will hope that those involved come forward and take responsibility for their actions.
But until then, Emily gloats, the sheriff stupidly grins (or cries depending on the outlet), innocent children stay home, food rots, water runs low, cell service is overwhelmed, phone lines and cable go down, a large swaths of elderly patients are denied proper medical care and services, and we all suffer through one of the coldest nights in NC so far this winter.
So here I sit shivering in our cold, dark home wondering why anyone believes they have the right to judge another. After all, I am pretty sure these "Christians" read the same bible I do… "Judge not, that you be not judged. For with what judgment you judge, you will be judged; and with the measure you use, it will be measured back to you." (Matthew 7:1-2)
Why don't they understand that their hate serves no one?
Why have we let it get this far?
How long will we all be left sitting in the dark this time?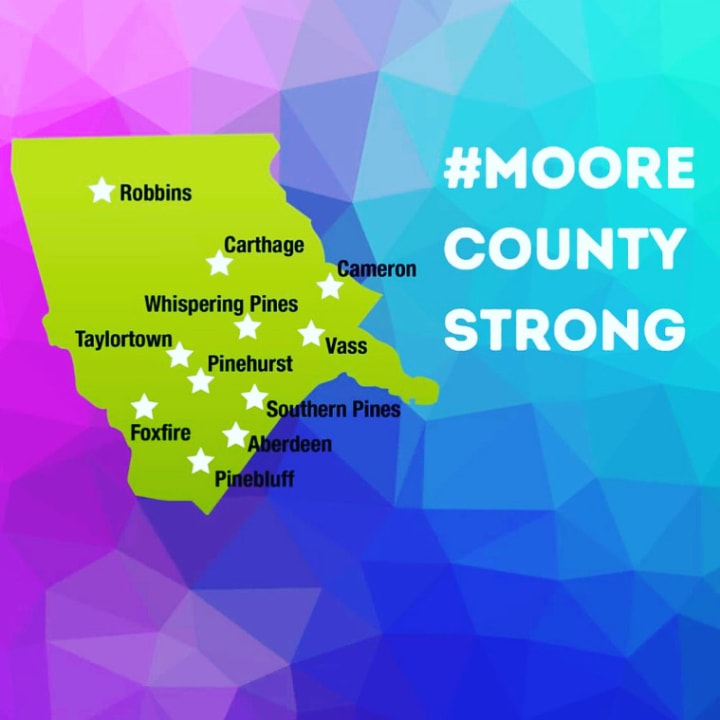 =============================
Articles Referenced:
DHS warnings:
https://www.nbcnews.com/news/amp/rcna59426
WRAL story on EGR:
https://www.wral.com/amp/authorities-investigate-social-posts-claiming-knowledge-of-moore-county-blackout/20612783/
More on EGR's activities:
https://heavy.com/news/emily-rainey/amp/
Sheriff answers the reporter's questions regarding the EGR lead at 26:22:
https://www.wral.com/amp/authorities-investigate-social-posts-claiming-knowledge-of-moore-county-blackout/20612783/?fbclid=IwAR05wbJfLAEooBdjDKwtXlHK4UnauUhcyWaNbGc1bPV5qRYzqO865PuUOjo
About the Creator
Once a wandering military brat, I found a place to call home in NC. My days are now spent adulting. My daydreams are filled with an unquenchable wanderlust. My sleepless nights are haunted by an unrequited love affair with words.
Reader insights
Be the first to share your insights about this piece.
Add your insights